Question about Spice Storage
Question:
Good day. A couple of months ago, my wife received a newsletter from your company. In the newsletter, were some products that stored fresh herbs, and perhaps some other things. I mentioned to her to buy them, but she decided that she did not want to. Anyway, what I would like to do, if you perhaps know about the products that i am referring to, is to buy them for her for a present. So, I was wondering if I could get an email copy of that newsletter, please.

Thank you very much,
John B.
Answer:
Hi John, I think the article you may be referring to is in the Sep 11, 2015 Cook'n newsletter. I've copied pertinent info below that I hope may help you. The point of the article was that herbs and spices should be ground fresh and stored in the freezer, if possible. Hence the container suggestions.
Let me know if this isn't what you're hunting for and we'll keep looking. And thanks for subscribing and reading!
My best,
Alice Osborne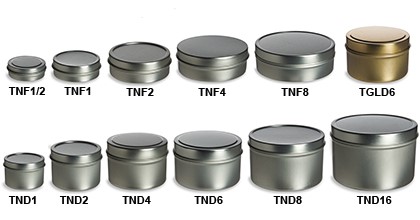 First, various sizes of stainless steel tins. These come in two shapes (flat or deep), have air-tight lids, stack well, look nice, are super affordable, and the lid doesn't let any light in (as do those tins from IKEA with the see-through plastic lids). They come from Specialty Bottle, a supplier of bottles, jars and metal containers. Many of their customers are in the gourmet food, natural products, and candle industries. But they supply both small and large companies, as well as individuals.

I'm not affiliated with this company in any way, I just love their products. You can place your order online (http://www.specialtybottle.com/tincontainersmi.aspx) or call them at 206-382-1100. Specialty Bottle has NO minimums, no handling or service charges, and almost all items can be ordered in less than case quantities. And affordable? The smallest tin holds ½ an ounce and costs 42¢ as a flat tin. The 1-ouncer is 46¢ as a flat tin or 57¢ as a deep tin. The 4-ounce deep tin is only 76¢. I label with wipe-off labels so I can change the date of purchase.