Weekly Method that SIMPLIFIES Healthier Eating
While downing a bowl of jazzed-up oatmeal this morning I caught some dietary advice on the news show I was watching: "Include more whole grains and legumes in your diet for smart weight and diabetes management," said the show's on-staff medical expert (Sanjay Gupta, actually). I bet we've all heard this counsel ten times in the last three weeks.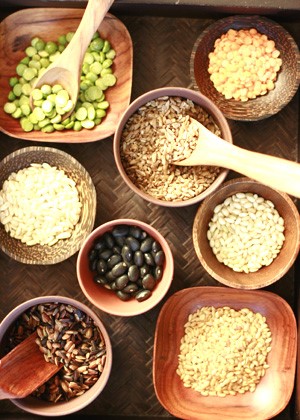 So it's with this recommendation on my mind that I thought I'd pass on my own suggestion: Follow this advice, but simplify the process. Plan and prep ahead. Once or twice a week do 4 things:
1. make a batch of whole grains
2. make a batch of beans
3. place them (cooked and cooled) in refrigerator
4. when mealtime rolls around, pull them out, add a big pile of veggies and any meat compliments, and you'll have dinner on in minutes.
Cooked whole grains and beans are two of the most versatile foods available. Consider all the things you can do with them. For instance:
Fill your plate with 1/2 cup of whole grains, 1/2 cup of beans, and 1/2 cup lightly cooked vegetables, a little seasoned pulled pork, and there's dinner deluxe.


If you've decided to enjoy a meatless meal once in awhile, then blend the whole grains and beans together with some herb, spices, and a beaten egg to bind it all. Form into "burger" patties and fry in a little extra virgin olive oil and serve with a big side of lightly steamed vegetables. Overcooked beans and legumes work well this way because they smush so easily.
Guy Fieri, of the Food Network, suggests seasoning your veggie burgers with finely chopped onion, finely diced or chopped garlic, smoked paprika, and dried oregano as a base. From there you can go the Mexican route by adding cumin and chili pepper, or the Italian route by adding basil. And a good flavor punch always comes by adding either fresh bell pepper (finely chopped) or red pepper flakes. But whatever route you go, seasoning to taste is Guy's approach.
Sauté the beans with some dark green leafy vegetables such as Swiss chard, collards, or spinach in a little garlic-infused olive oil. Serve with a side of seasoned whole grains.
Make a big slow cooker pot of soup in the morning with stock or broth and your already cooked beans and grains. Cook this on low. About an hour before dinner toss in some chopped or sliced vegetables such as kale, onions, carrots, tomatoes, squash, celery, potatoes, etc.
If you're not wanting to do this in the morning, it's OK. This soup cooks through quickly, so even if you've left dinner prep to the last minute-30 minutes is all you really need to have soup on.
Make an easy stir-fry by combining whole grains and chopped, sliced, or diced vegetables in a large pan, season to taste. Serve with a side of beans.
Wrap grains and beans in a tortilla, and serve with a side of steamed vegetables and a freshly tossed salad.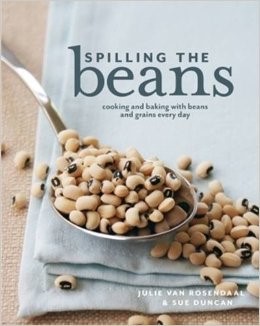 There are a lot of cookbooks on the subject of cooking with beans and whole grains.
Spilling the Beans
is a personal favorite. I found it used for $9.49 (plus $3.99 shipping) on amazon.com.
But with or without a cookbook, combinations are limitless-left only to your imagination. There's really nothing that can stop you from making a yummy meal in minutes when you have pre-cooked beans and grains waiting in the fridge. To get you started, though, here are a couple of our favorite and very simple healthy bean and whole grain recipes: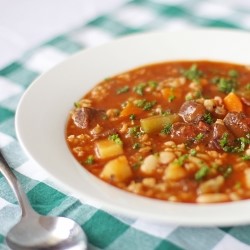 RUSTIC VEGETABLE SOUP (
serves 4)
No need for pre-cooked barley and quinoa here. They soften quickly, so all you need are pre-cooked beans.
6 cups veggie broth (my favorite is veggie bouillon by Organic Gourmet)
1/3 cup pre-soaked barley
1/2 cup quinoa, rinsed
1/2 cup onion, chopped
4 medium carrots, cut into 1-inch chunks
4 red potatoes, skins on, cut into 1-inch chunks
2 cups cooked black beans
Pinch of celery seeds
Place veggie broth in a large pot and bring to a boil. Add pre-soaked barley and rinsed quinoa, cover, and bring back to a boil. Lower heat, and simmer for 10 minutes. Add onion, carrots, and potatoes and bring back to a boil, covered. Lower heat, and simmer for 30 minutes, or until all veggies are tender. Add cooked black beans and celery seeds and heat until warmed through.
No need to add any ingredients to flavor the soup-the flavors of the grains and veggies were shining so brightly, the soup was just perfect as is. (An addition of a little squirt of flax oil to each bowl helps to give a further bump in nutrition, and is optional.)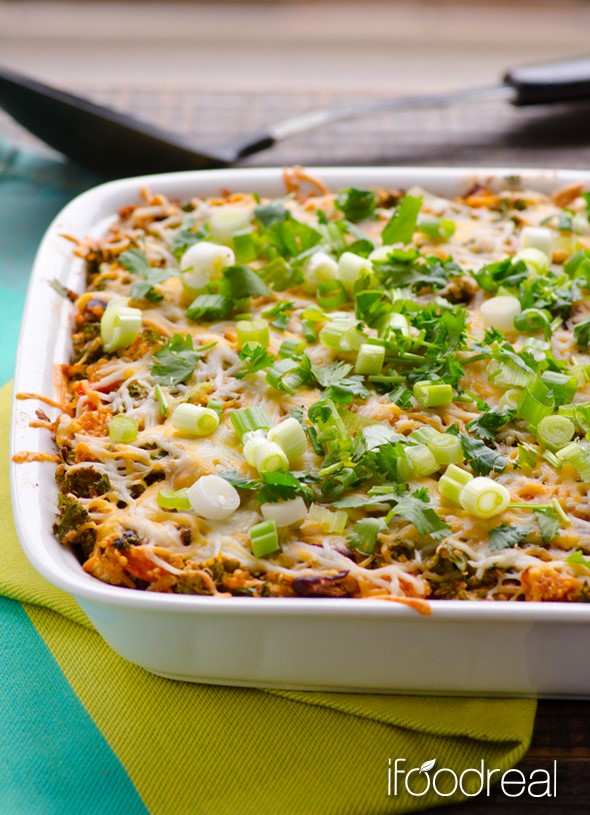 QUINOA AND CHILE CASSEROLE
(serves 4)
2/3 cup pine nuts
1/4 cup vegetable broth (or a swipe of olive oil)
1 cup pre-cooked quinoa
1/4 cup sundried tomatoes in oil, julienned
1 additional cup vegetable broth
3/4 cup sliced green onions, divided
1 tablespoon balsamic vinegar
1 (7 ounce) can whole green chiles
½ cup grated Monterey Jack cheese
Heat oven to 400°F; place pine nuts on a baking sheet. Bake 'til browned (5-10 minutes). Watch carefully so they don't burn. Remove from oven to let cool. Turn oven down to 375°F.
Heat large skillet. Place quinoa in pan. Add tomatoes, 1/2 cup veggie broth; bring to boil. Reduce heat, cover; simmer 10 min, 'til quinoa is tender and split. Add more broth if needed, to get a fairly dry, fluffy grain. Stir in pine nuts, ½ cup green onions, vinegar, salt & pepper. Cover; let rest 10 minutes.
Grate cheese (if using) and slice chiles in half, opening them out into flat pieces. Lightly oil a medium-sized casserole dish. Spread half of the quinoa mixture in the dish, top with sliced chiles, then remaining quinoa, ¼ cup sliced green onions, then grated cheese*. Cover with foil and bake at 375F for 20 minutes, or until cheese is melted.
Add Recipe to Cook'n
Sources:
www.skinnychef.com
www.care2.com
www.amazon.com
www.tastespotting.com
www.ifoodreal.com

Alice Osborne
Weekly Newsletter Contributor since 2006
Email the author! alice@dvo.com