The ONLY Way to Prepare Fresh Corn on the Cob!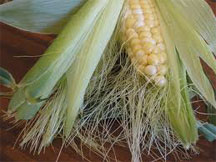 We've all experienced the hassle of de-husking and de-silking ears of fresh corn to get it ready to either boil or grill. What a hassle. And do you ever really get all the silky stuff off? It's so time-consuming and messy.
Well, check out this amazing online video of a fellow that shows us an easier and quicker method. Go to Wimp.com/shuckcorn. He calls it "Clean Ears Every Time or How to Shuck Corn Like a Boss." I wanna hug this guy - talk about a genius.
So OK, I'm doing my fresh corn this way from now on. But did you notice something in the video - something we ought to talk about? WHAT did Ken have on his hands?

He was wearing OVE GLOVES, and that's why he could handle those scalding ears of corn fresh out of the microwave. Not to say he couldn't have done the same using a regular potholder, but you witnessed how much more dexterity he had because of gloved hands. He not only could get the corn from microwave to cutting board easier, he could firmly hold onto the ear for accurate and easier cutting. And he could continue holding the ear as he removed the husk. It seems like one of the smartest kitchen tools I've seen in a long time!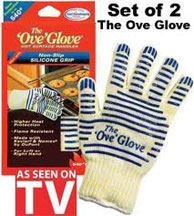 I found them on my favorite shopping site, amazon.com. A single glove runs about $12, but we can get a pair for around $17. Of course there's shipping and handling to factor in. I've never seen these in stores, so if you have, please let us know. Here's the product description, in case you need a little sales pitch:
Comfortable. Five-fingered flexi-grip. For left or right hand. Withstands extreme heat up to 540 degrees F. The Ove Glove is perfect for the kitchen, barbeque and handling hot surfaces around the house. The Ove Glove exterior layer is made of DuPont Nomex and Kevlar. Interior layer of soft doubleknit cotton. Machine washable. The thermal properties of The Ove Glove outer layer, which is made of Nomex and Kevlar dramatically extend the time you can handle a hot object in your hands. The tough exterior of this glove forms a thermal isolation barrier, slowing the temperature increase in the interior layer of soft doubleknit cotton. When exposed to an open flame, the outer layer of glove does not catch fire and does not melt. Classified UL: Protective kitchen apparel as to heat and flame resistant only.
I'm so sold on this product that I'm seriously thinking of giving them as Christmas presents to all the avid cooks and bakers in my life.
Now, just for giggles, how about a wonderful recipe using that fresh corn we've just cooked? You'll want to wear your OVE GLOVE to cut the fresh kernels off the cob. This is a super way to use any leftover corn.
---
Jiffy Corn Pudding
Serves 8
This isn't the typical souffle-type corn pudding most folks make. You'll love the texture and taste!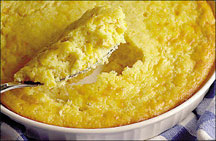 4 cups fresh corn kernels (or you can use canned whole kernel corn; two 14 1/2 oz well-drained cans will work)
3/4 cup heavy cream
1/4 tsp salt
6 tablespoons butter
1 cup sour cream
1 egg
1 (8 1/2 oz) box JIFFY cornbread mix (or use your own recipe)
Butter an 8x8 casserole dish. Mix corn, cream, and salt together. Melt butter in the microwave in a large bowl; add corn mixture, then add sour cream; combine well. Add egg. Fold in JIFFY mix.
Bake at 350 degrees for about 1 hour. Check at 45 minutes - this can easily over-bake, depending on your oven.