Bake the PERFECT Chicken Breast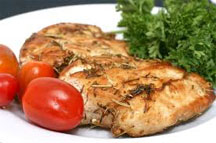 Until I learned some basic chicken tips, my baked chicken breast was always either raw or dry when I cut into it. But because chicken breast is such a healthy main dish, I've persisted in learning to bake and grill it right.
One common mistake I've made (and I bet I'm not alone in this) is to cook it for a set period of time (say, 30 minutes), regardless of size or thickness. Not a good idea. My co-editor at the Cook'n Magazine, and cook extraordinaire, Jeanne Wolfley, taught me to filet the breasts then pound them to an even thickness. That makes for even cooking - such good sense, don't you think?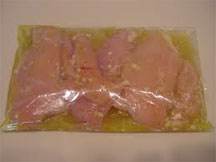 Another thing Jeanne and I learned in our Cook'n test kitchen was to marinate the breasts overnight. We did this in a zippered plastic bag to save clean up time and so we could also press the juices into the chicken periodically throughout the day.
By the way, a clever idea here is to freeze chicken breasts in marinade (in zippered plastic freezer bags) for use later on. Not only is this smart planning ahead, but it also gives the chicken extra time in the marinade - always a good thing.
Anyway, the acids in the marinade do something chemically magic to the flesh and make the chicken ultra moist. We grilled these breasts and everyone that tasted them said that they've never had such good chicken. We watched the grill time like hawks, though, because it's so easy to overcook chicken.
I've experimented now with several marinades and I'm finding that it doesn't make a bit of difference what recipe I use - it's all good. Our favorite results have come from using a citrus-based marinade - orange juice and orange marmalade being tops.
The point though, whatever flavor marinade you use, is to give the chicken enough time in the marinade for the ingredients to work their magic.
Another approach, one many professional cooks and dieticians suggest, is purchasing bone-in chicken breasts with skin. They say baking chicken with the skin on locks in moisture and helps prevent the flesh from shrinking and drying. And the bone adds flavor and promotes even cooking.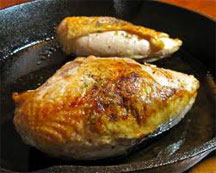 If bone-in, skin-on is the route you want to take, then season the breasts with your favorite herbs and place them in a 9x9 baking dish (cast iron, clay baker, a Dutch oven, etc.). Bake at 375 degrees for about 45 minutes. (If you have a chicken breast that's one pound or bigger, give it 55 minutes.) After the chicken cools for 15 minutes, cut it from the bones and remove the skins to slash the fat count.
So now that I know how to bake and grill chicken the right way, the results are no longer raw or dry and family is raving. Try these ideas and see if your results aren't worth bragging about, too!