Patty's Preparedness Corner: How Bad Will You Smell?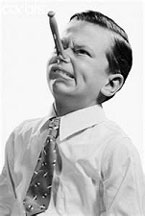 The temperature is in the triple digits and The Joker (my hubby) is outside teaching several of our grandsons how to fix air-compressors, motorcycles and generators. My daughter is all about her boys learning how to work and make their own money. No problem. Great idea. Important to know how to use your hands and fix things. Just please don't come into the house. Why? Well, have you ever been into a boy's locker room after a football game? Exactly. Knock me out and pass the smelling salts.
Of course, women can get a little funky-smelling as well. However, as one woman said, we don't sweat, we "mist". Whether or not you believe that, the truth is without basic hygiene, you smell, and when you smell, so do your clothes. It is also true that billions are spent by consumers on deodorant, perfume, body wash and floral detergents and fabric softeners, to make sure you don't. But sometimes, none of those conveniences are available.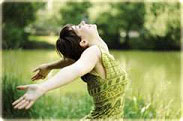 I am reminded of a Tide detergent commercial that ran just after the devastating tornado that ripped through Joplin, Missouri. The families of Joplin escaped with the clothes on their back and had been wearing these same clothes for days. Various Tide representatives set up booths where one could drop off their dirty laundry and have it returned clean and fresh. The gratitude on the faces of those who received this service, spoke volumes. There is something about putting on clean, fresh clothing, that makes you feel human again.
Recently, fires with mandatory evacuations and freak weather patterns have left thousands of families without power and/or the basic comforts of home. The Preparedness Corner has addressed various scenarios in order to help prepare you for an emergency. Should something occur, the Tide people may not get to your neighborhood for several days - if at all. Knowing how to keep yourselves, your surroundings and your clothes clean during such a time, will not only be good for morale, but it will help defray odors, and germs that can pass on infections.
Learn how to make your own laundry detergent
After browsing through several sites I discovered that making your own laundry detergent is not only economical but essential to preparedness. You would be amazed at how many women - and men - are making their own soaps and are more than satisfied with the results. Having several detergent bottles in storage, as well as the ingredients to make more, should be part of any family emergency preparation.
The following very simple laundry detergent recipe came from the website OneGoodThingByJillee.com
3 Tablespoons Borax
3 Tablespoons Washing Soda
2 Tablespoons Dawn Dish soap (or any GOOD liquid soap)
• Jillee suggests lining up your 3 - one gallon jugs and then adding the ingredients, "assembly line style". (See pictures below)
• Have a small plastic funnel to help prevent spillage.
• Once the jugs have the 3 ingredients in them, pour 4 cups of VERY HOT water into each one. This does not need to be boiling water - hot tap water will do.
• Give the jugs a good shake to make sure that all of the ingredients are dissolved in the hot water.
• After shaking, fill the bottles to the top with cold water.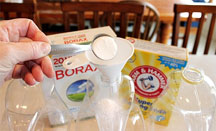 Line up your bottles and put everything in.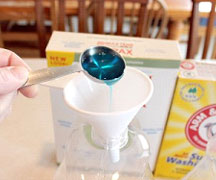 Use a funnel.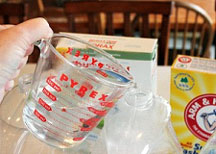 Add your 4 cups of hot water.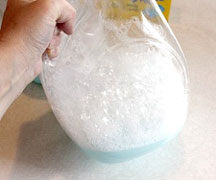 Shake.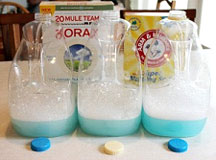 Soap will not be thick.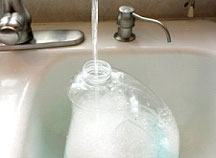 Fill almost to the top with cold water.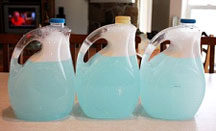 This recipe is $0.17 cents per gallon!