Save Time and Eat Your Pancakes, Too!
OK all you ultra-busy pancake lovers, this one is for you! I just read a post from Food 52 (www.food52.com) with a tip that can save you a lot of time during your busy mornings, and allow you to eat your pancakes, too.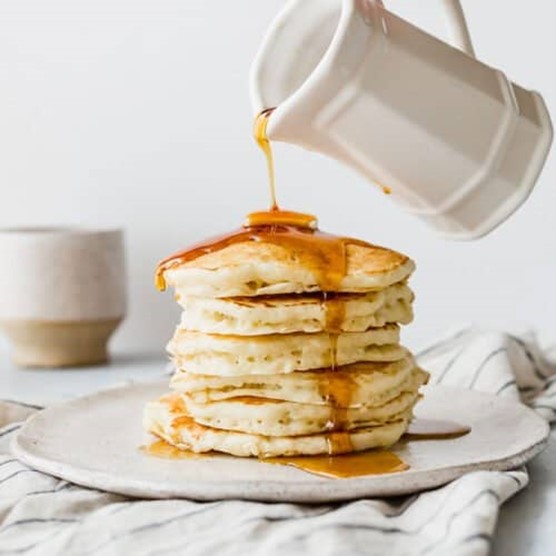 The process is straightforward: make a standard pancake batter, pour it into ice cube trays, add toppings (like blueberries, chocolate chips, or bananas), and keep it frozen until you are ready for homemade pancakes sans measuring, whisking, or excess cleaning. When you're craving pancakes, pop out a few cubes of batter onto an oiled pan over low heat. Flip once and serve.
The folks at Food 52 had a few things to say about this clever idea: "It's easy to see how this technique gives you an opportunity to preserve fruit that may be on its last legs. For instance, if you've got a couple of berries hanging around (or perhaps a single, nearly-all-brown banana) throw them into the batter cube instead of the trash can.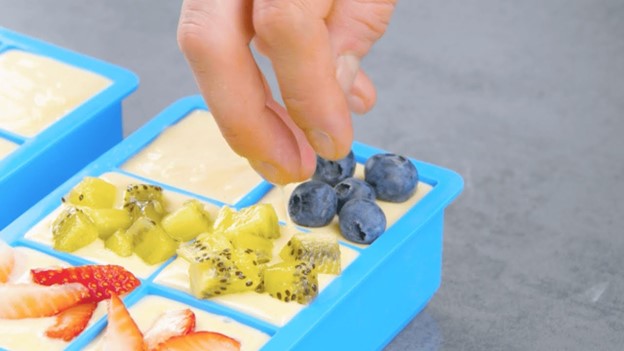 "Also, the batter can last in the freezer for up to three months (although it's best eaten within a month of its initial freezing). So, if you do love how these hold up over time, it's entirely possible that the fifteen minutes it takes to mix the batter and pour it into cubes might be all the breakfast prep you'd need for the next month.
"More than anything, it's nice how preparing these frozen pancakes is a passive exercise. Since they cook up slowly over
LOW HEAT
(about 3 or 4 minutes per side), you're able to work on other morning tasks (think about drinking a glass of water, make coffee, gather items for work, pack a lunch, and so on) while the pancakes cook."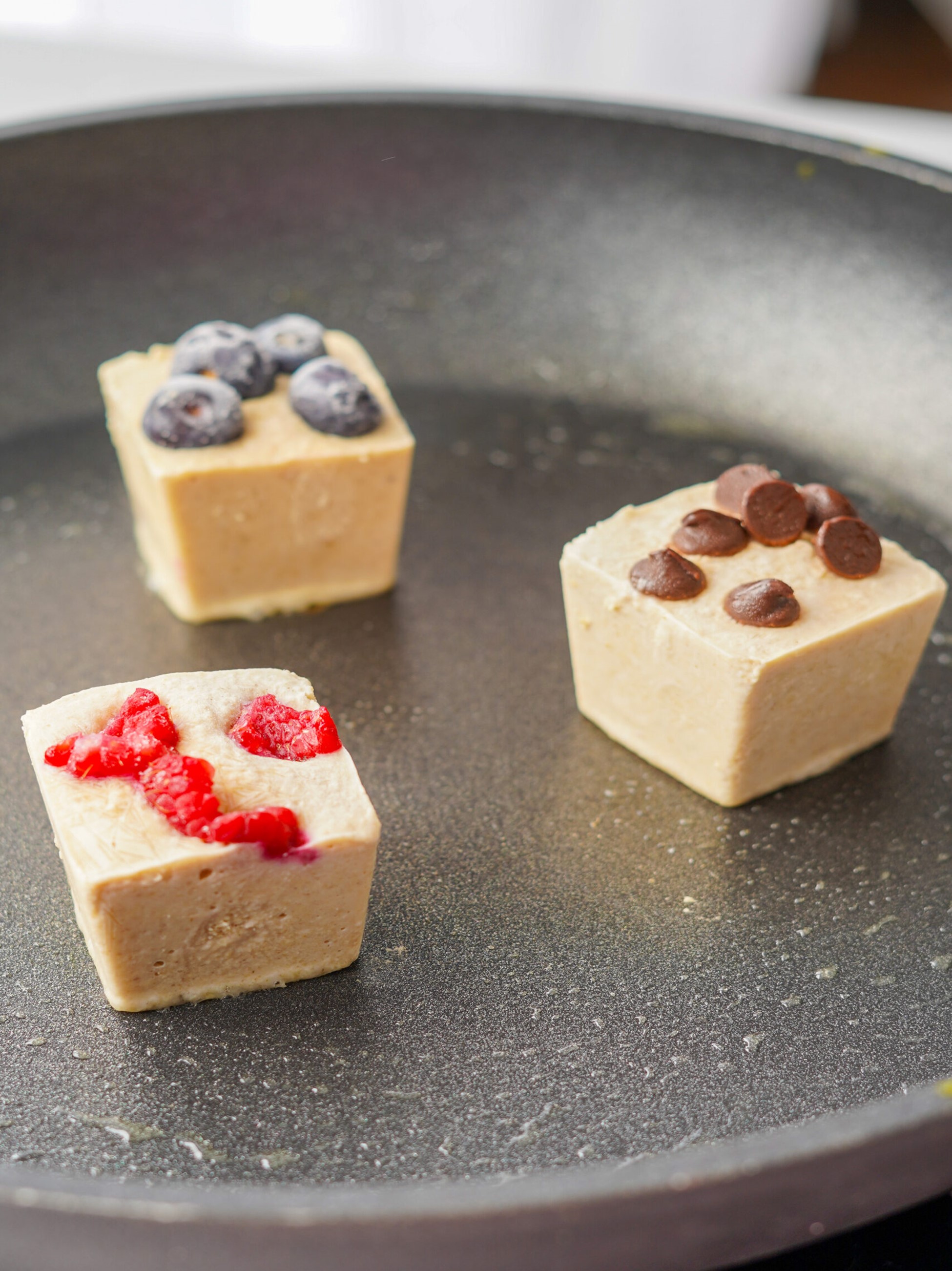 I think this is an ingenious suggestion. I would add just one comment, however. Silicone ice cube or muffins trays are the best for this sort of thing (as the picture above shows). Being flexible, there's no need to wait for the cubes to thaw a smidge before trying to extract them. They'll pop right out without losing any batter (left behind on the insides of the cubes), thus leaving practically no mess to clean up.
To conclude, I'll leave you with one of our favorite from-scratch pancake recipes. Lots of pancake aficionados claim a pancake shouldn't have to depend on maple syrup to be good. That may be true, but frankly, I eat pancakes to GET to the maple syrup. My husband always says, "Alice, you want a little pancake with your maple syrup?" This doesn't mean I don't believe a pancake should taste good all on its own (this recipe certainly does), but if it doesn't, that's not a deal breaker for me. ANYway, you might give this a try if you don't already have a favorite.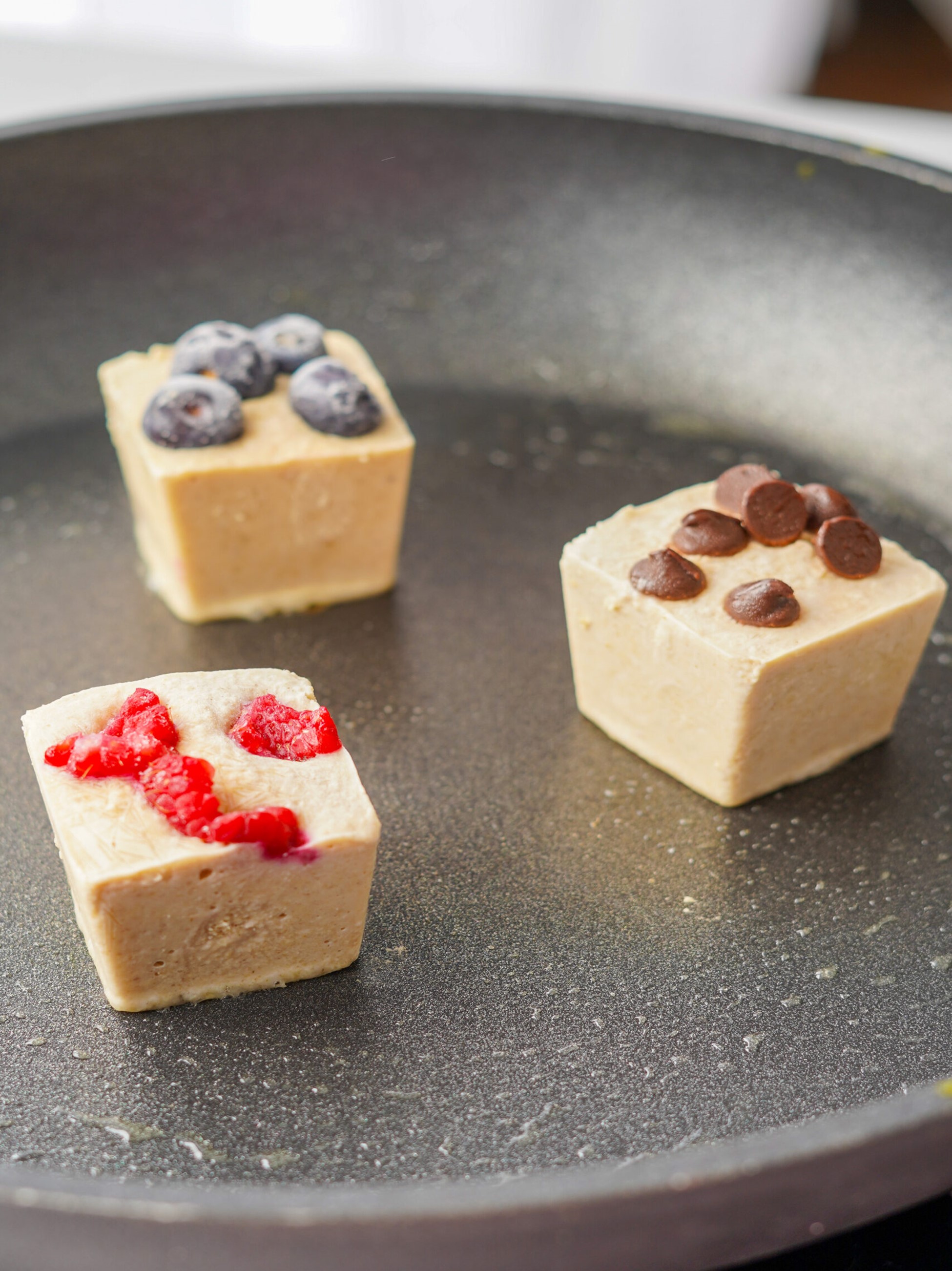 BEST Pancakes EVER
Ingredients:
2
cups
all-purpose
flour
1/3
cup
granulated
sugar
or sweetener of choice
4
teaspoons
baking powder
1/2
teaspoon
baking soda
3/4
teaspoon
salt
1 3/4
cups
milk
1/4
cup
butter
2 1/4
teaspoons
vanilla extract
1
large
egg
Directions:
1. Combine together the flour, sugar (or sweetener), baking powder, baking soda and salt in a large-sized bowl. Make a well in the centre and add the milk, slightly cooled melted butter, vanilla and egg.
2. Use a wire whisk to whisk the wet ingredients together first before slowly folding them into the dry ingredients. Mix together until smooth (there may be a couple of lumps but that's okay).
(The batter will be thick and creamy in consistency. If you find the batter too thick -- doesn't pour off the ladle or out of the measuring cup smoothly -- fold a couple tablespoons of extra milk into the batter at a time until reaching desired consistency).
3. Set the batter aside and allow to rest while heating up your pan or griddle.
4. Heat a nonstick pan or griddle over low-medium heat and wipe over with a little butter to lightly grease pan. Pour ¼ cup of batter onto the pan and spread out gently into a round shape with the back of your ladle or measuring cup.
5. When the underside is golden and bubbles begin to appear on the surface, flip with a spatula and cook until golden. Repeat with remaining batter.
6. Serve with honey, pure maple syrup, fruit, yogurt.

Recipe formatted with the Cook'n Recipe Software from DVO Enterprises.
Add Recipe to Cook'n

Alice Osborne
DVO Newsletter Contributor since 2006
Email the author! alice@dvo.com
Sources:
www.saltandbaker.com
www.youtube.com
www.plantyou.com
www.joyfoodsunshine.com
---
Subscribe to Cook'n Premium and get newsletter articles like this each week!