The Most Perfect, Hearty American Beef Stew
While most of the country are looking forward to spring time and aren't trying to put many of their thoughts toward snowy days, warming up by the fire and eating a nice hearty stew to feel warm, cozy and full, once you find a good thing, you've just got to share it. Which is why I feel I must share this recipe with you today.
But honestly, I don't think of only fall and winter as good times for a hearty stew. I am a meat and potatoes girl through and through and I think any ol' time is a good time for stew. It just feeds your soul, you know what I mean?
There are plenty of amazing recipes for stews to simmer the day away in a slow cooker, but today's recipe gives you all the tenderness of the slowly simmered beef, but makes it in a fraction of the time by making it in the Instant Pot. 
One of my favorite reasons I love the Instant Pot so much is the sauté setting. I use it all the time and here is another great recipe that utilizes this wonderful setting. First, you sear your beef with just a drizzle of olive oil, and some salt and pepper so it gets a nice crusty coating on all sides. While that is searing you peel a few carrots and a potato or two and you simply add the rest of the ingredients and set it and forget it.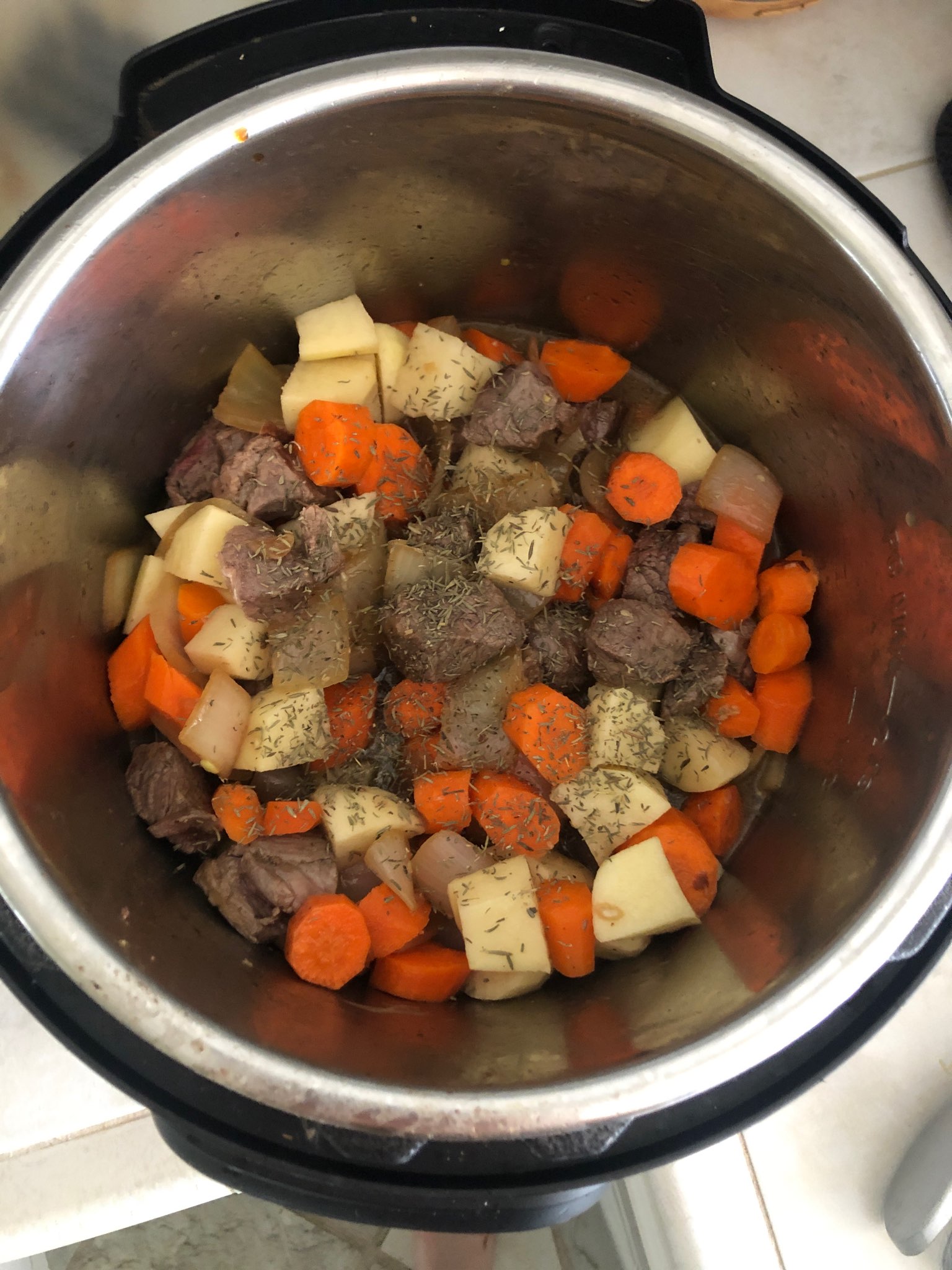 I love the seasonings in this particular recipe with some dried thyme, a bay leaf and a splash of Worcestershire sauce. Combining that with the beef broth and tomato sauce you have a rich, silky broth that warms you through. When it is nearly done cooking, you mix up a little bowl of equal parts water and cornstarch to create a thickener. When the stew is done cooking, you take out the bay leaf, add this thickener, give it a good stir and you are good to go. I made mine with my favorite cornbread and I had my dream meal. It was in the 70's outside and I was eating stew and I could not have been happier! :)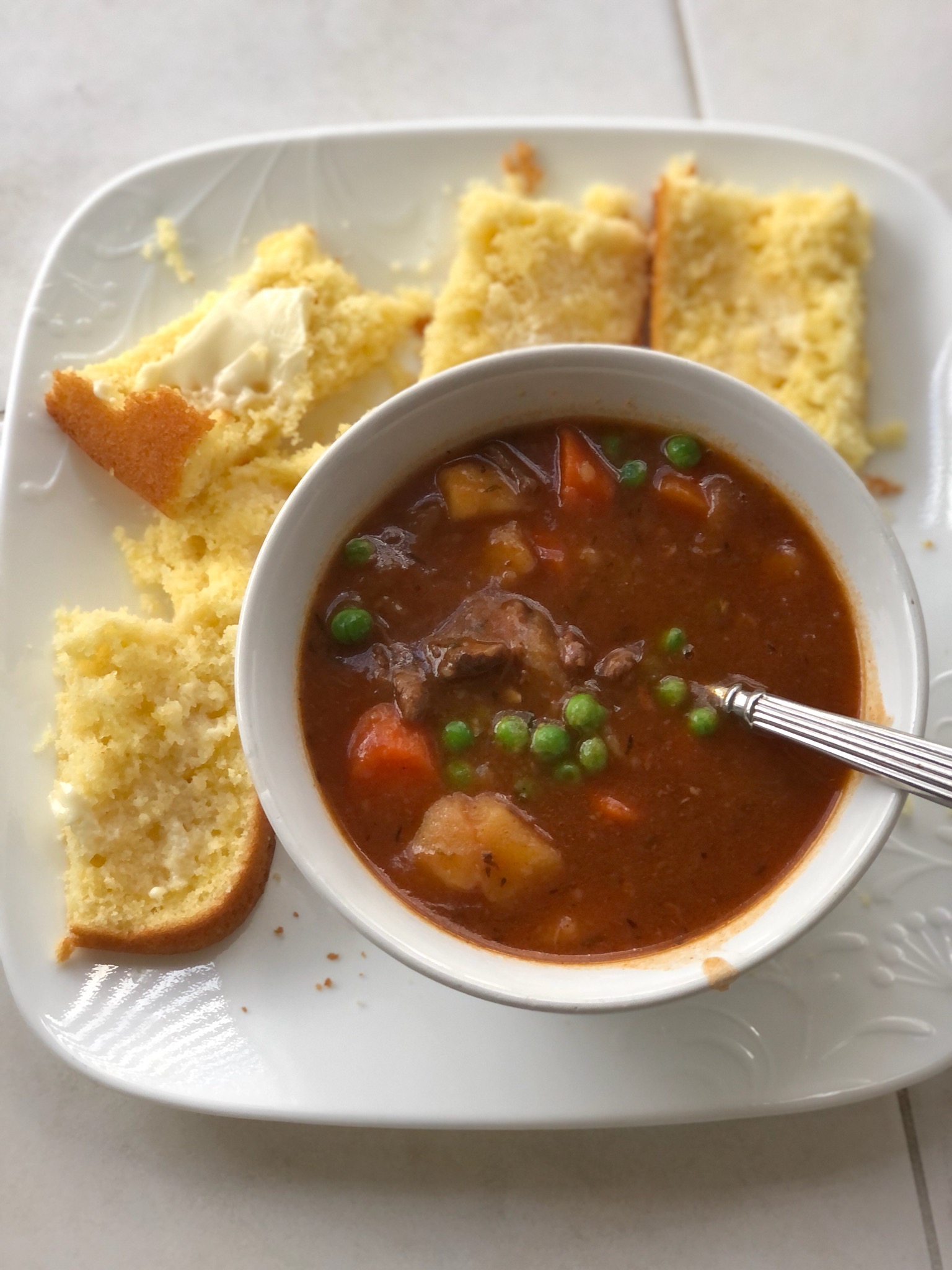 I was trying to research the origins of traditional American beef stew and the interwebs led me to a Reddit thread. It's funny when you find yourself there because there are lots of very educated and impassioned opinions, but you have to wonder if the commenters are history majors or just Joe Shmo on the couch spouting off some random knowledge. But it seemed like legit information :) 
Nevertheless, the great historians on Reddit believe that the origins of American beef stew, because of its mild flavor profile, stemmed from French and UK origins. We're talking about a traditional American version with beef, onions, peas, potatoes and carrots. The French version of stew, known as boeuf bourguignon, has mushrooms instead of potatoes and almost always has red wine, whereas traditional Irish beef stews don't have peas. They are both very similar to what most Americans think of as traditional stew.
Do you eat stews and soups in the warmer months? What is your favorite side to eat with stew? Please share your thoughts in the comments below.
Instant Pot Beef Stew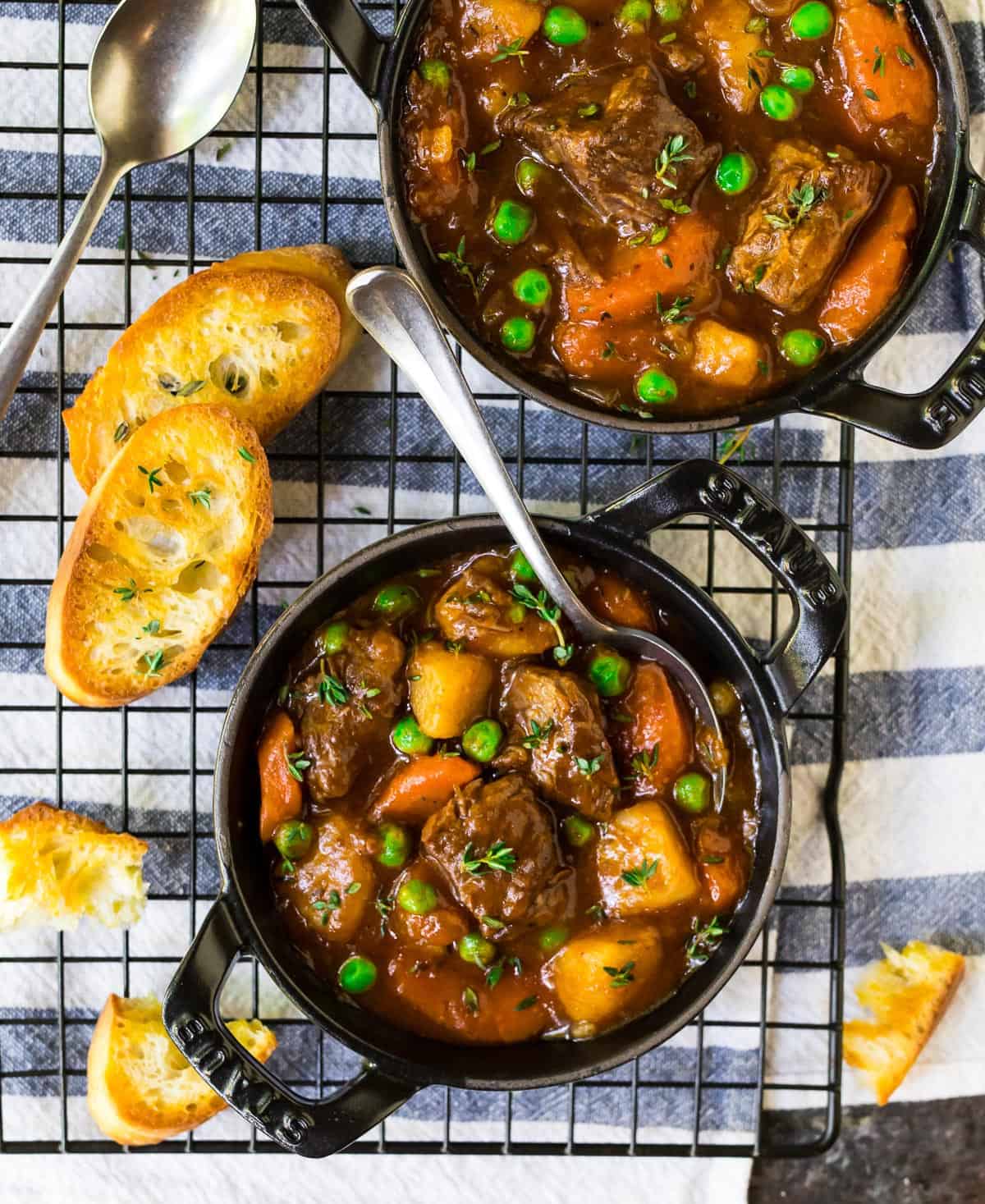 The best easy Instant Pot Beef Stew. Fall-apart tender beef in a rich, flavorful sauce! Loaded with veggies, comforting, and ultra satisfying!
Serving size:
7
Calories per serving:

140




Ingredients:
2
pounds
boneless chuck roast
3
tablespoons
extra-virgin olive
oils
divided
2
teaspoons
kosher
salt
divided
1/2
teaspoon
ground black
pepper
divided
1
large
yellow onion
2
cloves
garlic
1
pound
carrots
about 6 medium
1
large
russet potato
1
ounce
14.5- can low-sodium
beef broth
1
tablespoon
worcestershire sauce*
1
bay leaf
1
teaspoon
dried
thyme
1
can
(8-ounce) no salt added
tomato sauce
2
tablespoons
cornstarch*
2
tablespoons
water
1 1/2
cups
fresh or frozen
peas
no need to thaw
fresh
parsley
optional for serving
Directions:
Cut the chuck roast into 1 1/2-inch cubes, removing any large, tough pieces of fat or gristle.
Turn the Instant Pot to SAUTE. Add 1 tablespoon of the oil. Once the oil is hot and shimmering (a drop of water should sizzle if added to the surface of the pot), add half of the beef, 1 teaspoon salt, and 1/4 teaspoon pepper. The cubes should be in a single layer and not too crowded so that they brown nicely. Let the cubes of beef cook undisturbed for 4 to 5 minutes (resist the urge to peek!), until the bottom of the cubes develop a dark-brown crust and come away from the pan easily. Turn and continue searing until dark and brown all over, about 4 additional minutes. Transfer the seared meat to a clean plate or bowl. Add another 1 tablespoon olive oil to the pot. Once hot, add the remaining beef and remaining 1 teaspoon salt and 1/4 teaspoon pepper. Sear the remaining beef. If the pan gets too dry, add a bit more oil as needed.
While the meat browns, dice the yellow onion. Mince the garlic. Peel the carrots and cut them into 1/2-inch-thick diagonal slices.
Remove the second batch of browned beef to the plate with the first batch. Add the remaining tablespoon olive oil and the onion to the Instant Pot. Cook, stirring occasionally, until the onion begins to soften and browns, about 6 minutes.
While the onion cooks, scrub and peel the potato and cut it into 3/4-inch chunks. If you haven't finished cutting the carrots, do so now.
Add the garlic to the Instant Pot. Cook, stirring constantly until fragrant, about 30 seconds. Add the beef broth and use a spoon to scrape the brown bits from the bottom of the pan. Make sure you remove every last bit of stuck-on food so that you don't receive a "burn" warning.
Stir in the carrots, potatoes, Worcestershire sauce, bay leaf, thyme, and the browned beef, along with any meat juices that have collected on the plate. Pour the tomato sauce on top. Do not stir again.
Close and seal the Instant Pot. Cook on high pressure for 35 minutes, then allow the pressure to release naturally for 10 minutes. Vent to release any remaining pressure, then carefully open the lid. Remove and discard the bay leaf.
In a small bowl, whisk together the cornstarch and water to create a slurry. Add to the Instant Pot and stir until the stew thickens. Add the peas and stir to warm through. Serve hot, sprinkled with fresh parsley.
Source:
wellplated.com

Recipe formatted with the Cook'n Recipe Software from DVO Enterprises.
Add Recipe to Cook'n
Sources:
www.reddit.com
www.wellplated.com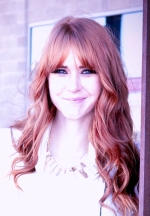 Mary Richardson
Weekly Newsletter Contributor since 2014
Email the author! mary@dvo.com
---
Subscribe to Cook'n Premium and get newsletter articles like this each week!