Incredibly Delicious Chocolate-Dipped Shortbread Cookies
My cute 8-year-old daughter has been really excited about cooking and baking lately. We go to the public library on a regular basis and she loves to check out cookbooks. She also likes to go through my cookbook collection at home. She gathers the cookbooks and gets a stack of post-it notes. She then goes through the cookbooks, page by page, and uses the post-it notes to mark the pages of the recipes she wants to make. Her influence is rubbing off on her brother and sister too as I found all three of them looking at cookbooks for over an hour one morning…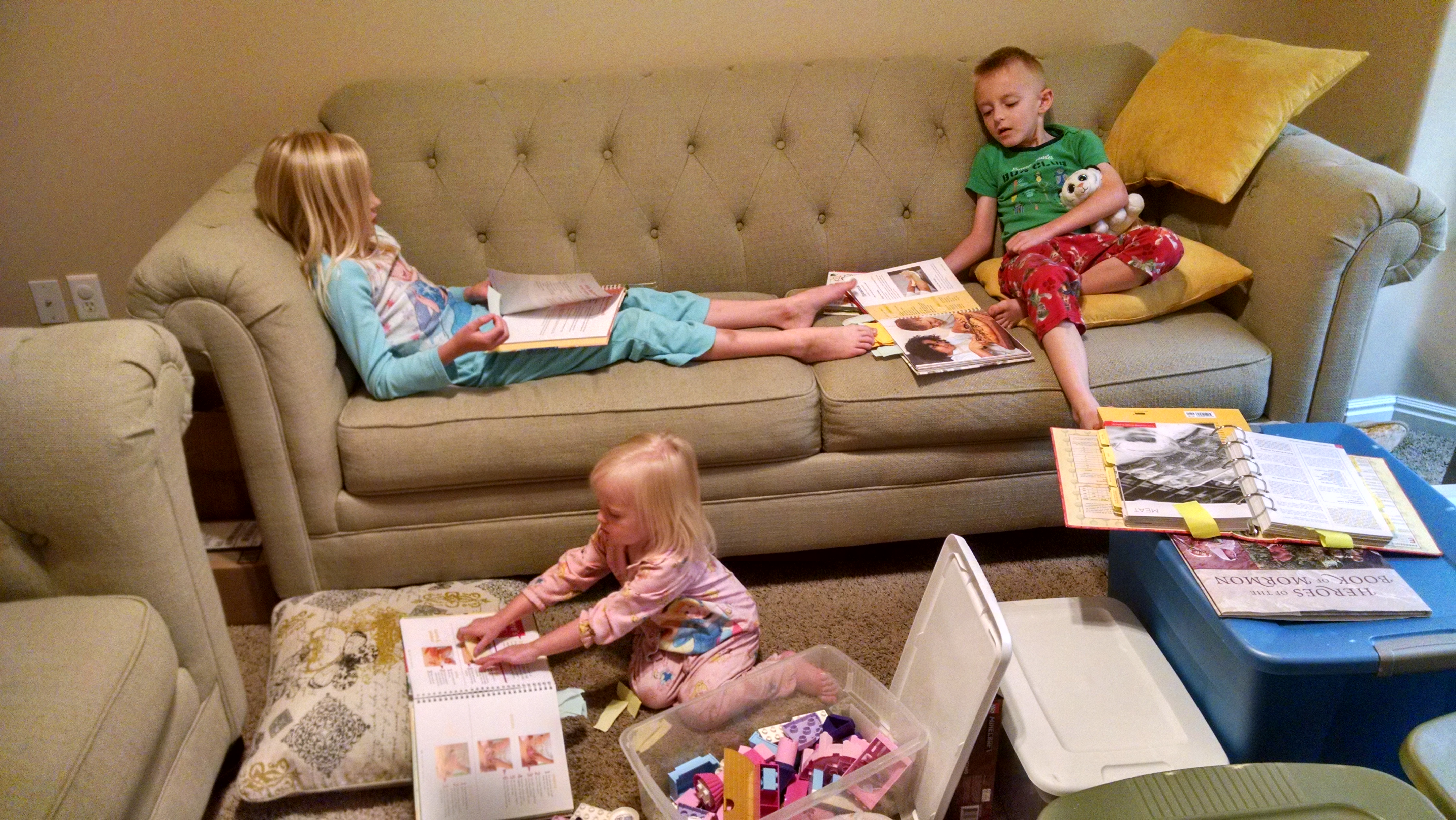 I have to admit that such a sight made my mommy heart happy. It's fun to share a passion with your children. (I just may need to stock up on more post-it notes in the future)!
Most of her post-it notes end up in the dessert section. I can't blame her too much, dessert is one of my favorite things too. We don't get around to making everything she marks, so I usually have her pick 2 or 3 recipes that she is the most excited about, and then we see what ingredients I have on hand. A couple of months ago, she came across a "Chocolate Dips" cookie recipe that she REALLY wanted to make. Luckily, I did have the ingredients on hand, so we spent a Sunday evening baking Chocolate Dips. They turned out so incredibly delicious that I just had to share them with you!
This particular recipe comes from a cookbook titled, "Children's Quick and Easy Cookbook" by Angela Wilkes. This was a cookbook she checked out from the library and I'm so glad she did.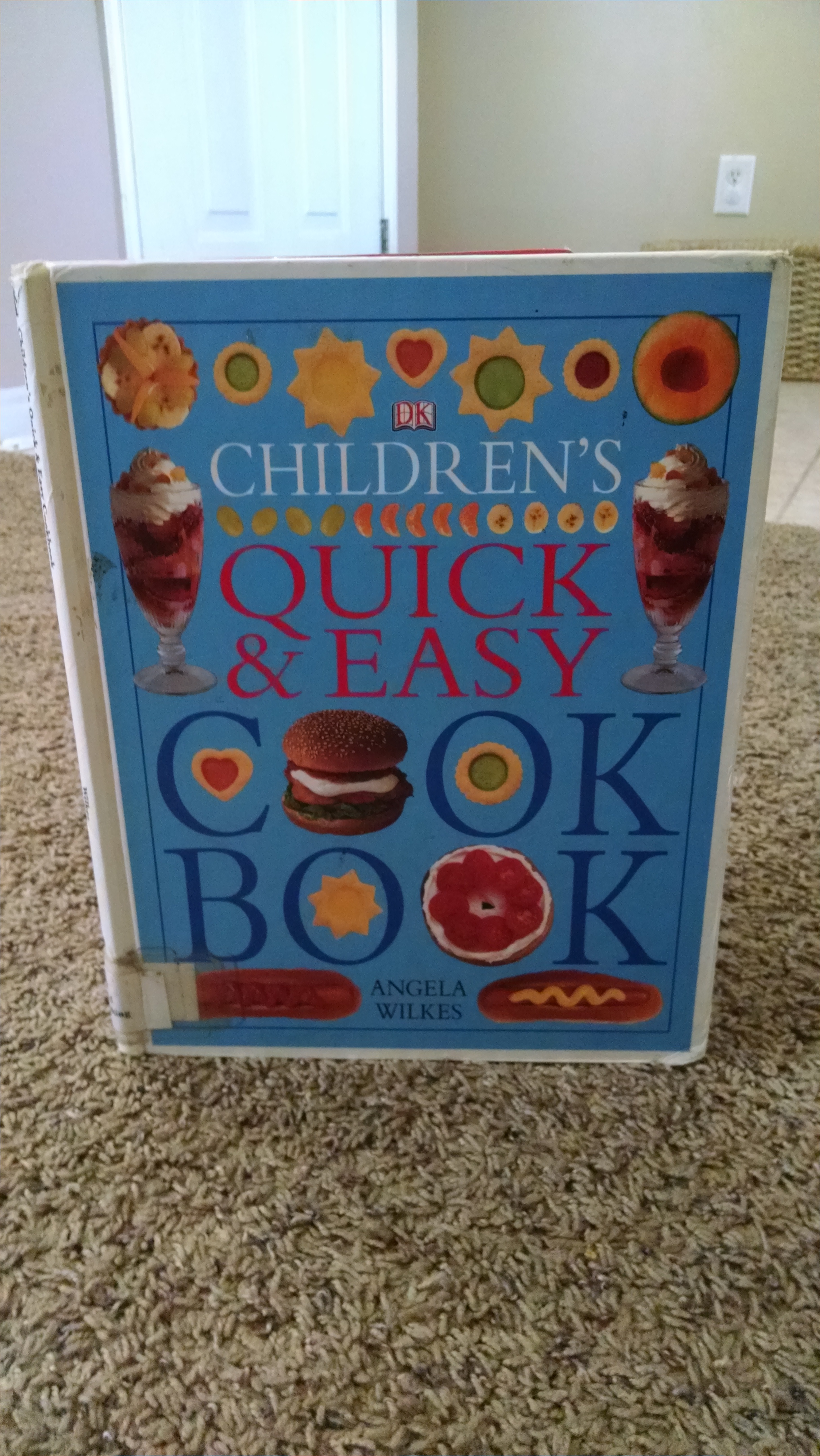 Chocolate Dips
1 cup softened butter
½ cup powdered sugar
1 ½ cups all-purpose flour
½ cup cornstarch
Few drops of vanilla extract
Grated zest of orange
6 oz of semisweet chocolate
Directions:
Preheat the oven to 350 degrees. Line a cookie sheet with parchment paper. Cream the butter and sugar together in a mixing bowl. Add the flour, cornstarch, vanilla extract, and orange zest to the mixing bowl and mix together well. Put the cookie dough into a piping bag and pipe short lines onto the cookie sheet. Bake for 15 minutes until golden brown. Cool cookies on a wire rack. As the cookies are cooling, melt the chocolate on the stove over low-medium heat. When the cookies are cool, dip one end of a cookie into the melted chocolate. Place the cookie onto a sheet of wax paper until the chocolate has set. Repeat for the remaining cookies. Makes about 25 cookies.
Add Recipe to Cook'n
I did change a few things from the original recipe when we made the cookies. First of all, I did not have any oranges or orange zest on hand so we just left that out. I had only milk chocolate chips instead of semisweet chocolate, so we melted the chocolate chips that we used for the chocolate dip. I also was too lazy to pipe the cookies, so we just shaped them into small bars by hand. Because of this, we did not end up with as many cookies, and the cookies we did have were thicker and required more baking time. Even with the changes, they still turned out amazing!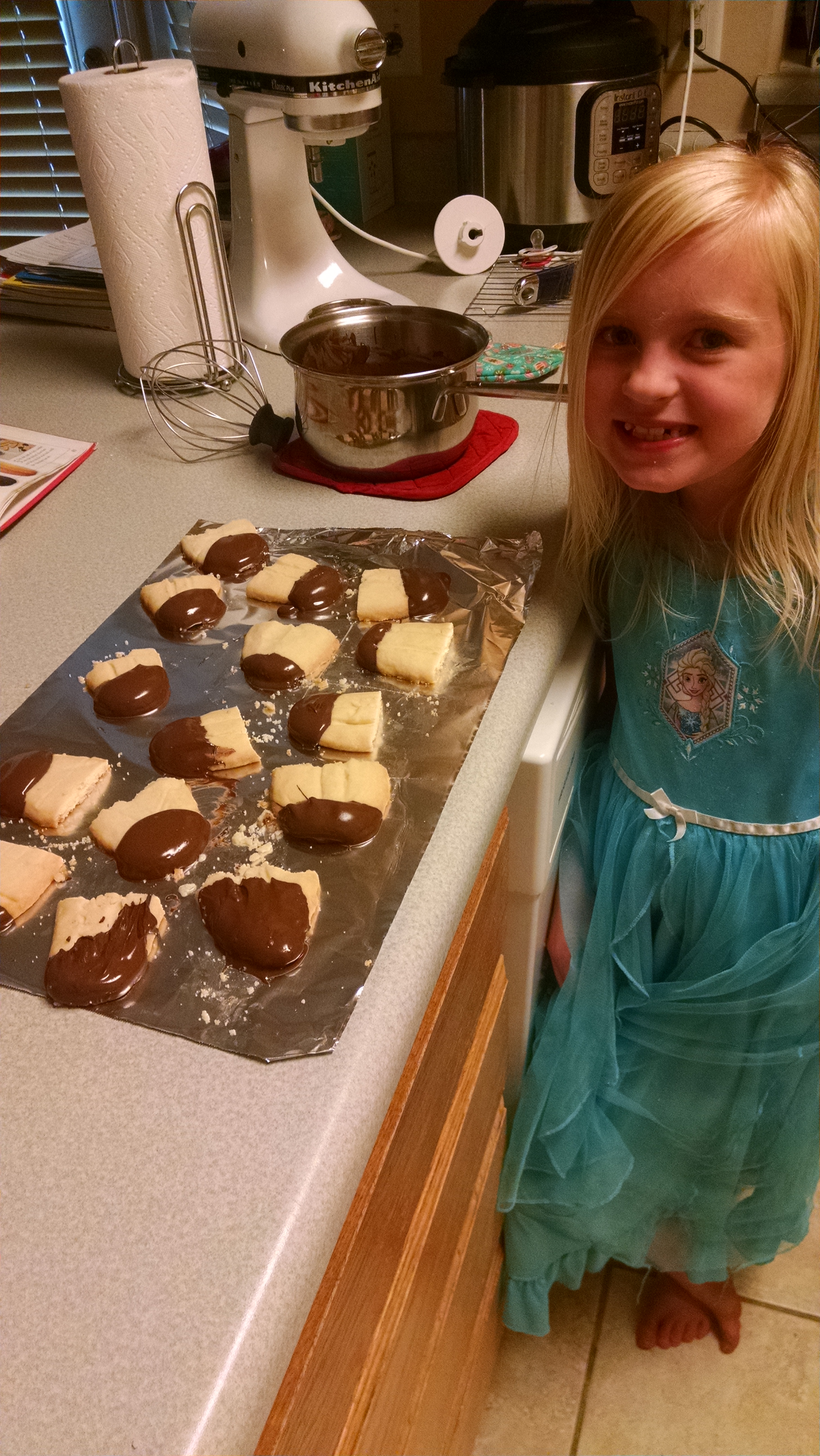 I would love to play around with this recipe some more. You could dip them in butterscotch or vanilla chips. Add some mint extract or another flavor instead of the vanilla extract. Add some lemon zest instead of orange… So many ideas! How would you make them? Enjoy!
Sources:
DK Children's Quick and Easy Cookbook by Angela Wilkes. Dorling Kindersley Limited, London, 1997

Cristina Duke
Monthly Newsletter Contributor since 2014
Email the author! cristina@dvo.com