COMPACT is an Important Kitchen Trick!
Here's something you'll probably never hear from most cooks: "I have plenty of kitchen storage." Research shows the average home doesn't have the best kitchen set up—not enough space for things is the biggest complaint.
But have you noticed that lack of space doesn't keep most of us from adding to our stash of tools and gadgets? So what to do if you've got kitchen tools and appliances you truly do like, use, need, and want, but don't have room for? One trick is to look for products that collapse or fold to ease the space crunch. For instance: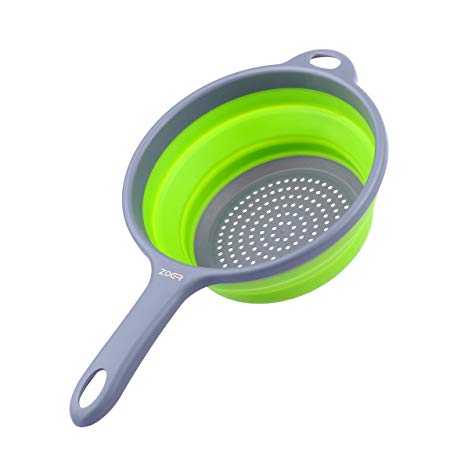 COLLAPSIBLE STRAINER.
Colanders usually take up lots of cabinet space, but this ZOER Kitchen Foldable Silicone Strainer fits in a drawer, can be hung by a hook, or will stand up in a narrow tray/cutting board cupboard. It also has a tab that fits nicely over the edge of a saucepan so you can blanch vegetables. I found this on amazon.com for $11.99.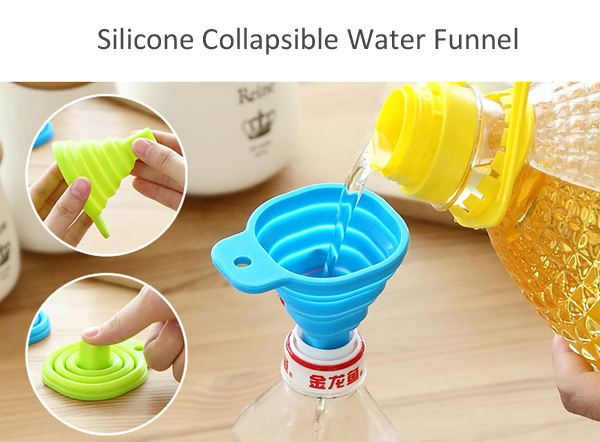 COLLAPSIBLE FUNNEL.
Your funnel is another space-eater. So why not go the silicone collapsible route with this space-saving tool, also? This comes in a set of 3 for about $8 (also found on amazon.com).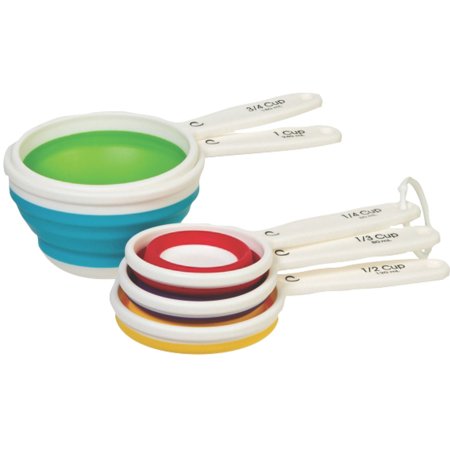 COLLAPSIBLE MEASURING CUPS.
How'd we live so long without silicone? We all know measuirng cups can also eat up space, so here's the answer. These space-savers are also found at Walmart for under $10. I've seen other silicone collapsible cups at Kohl's as well.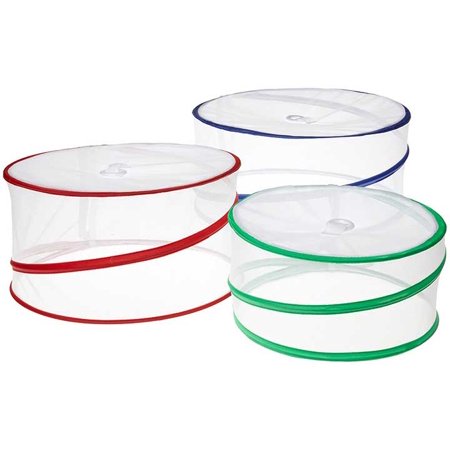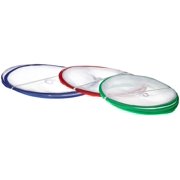 FOLDABLE FOOD PROTECTORS.
Here's another smart space-saver. This set of three collapsible mesh food protectors is available online from Walmart for $9.98. Includes 3 sizes of pop-ups: 12 Inch, 14 Inch and 15 1/2 inch in diameter.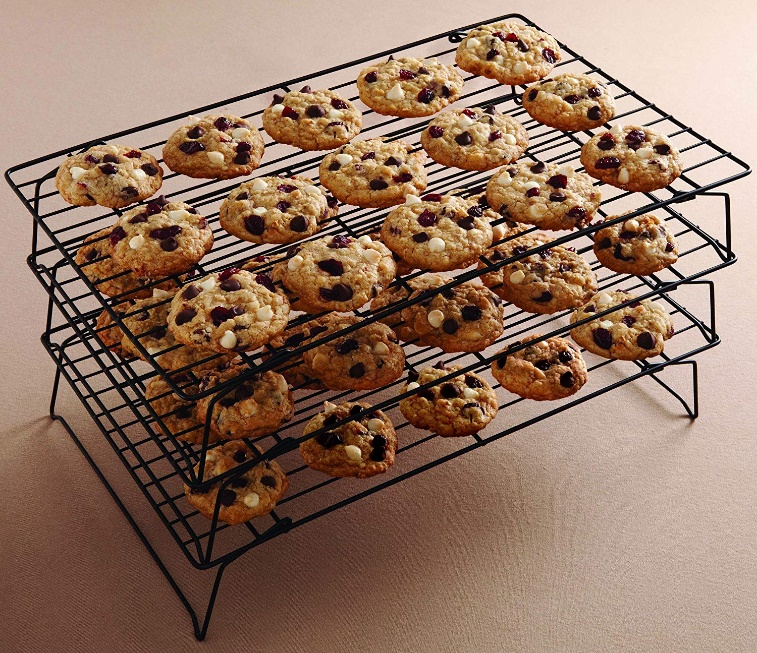 STACKED COOLING RACKS.
Cookie bakers will appreciate these nonstick stackable cooling racks, which make the most of limited counter space by going vertical. The racks are about 16x10 inches and can also be used singly. The three-tier set is $11 from www.Wilton.com, but this is another item I found for less online at Walmart.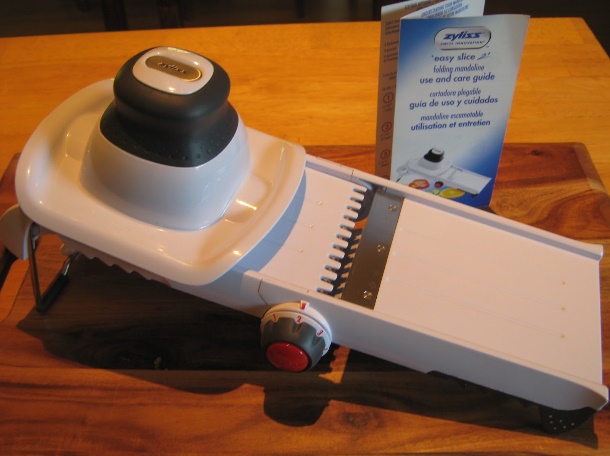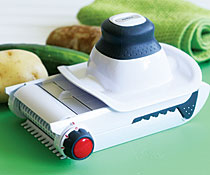 FOLDABLE SLICER.
A mandoline makes quick work of slicing and cutting vegetables into julienne, but its awkward size can make it tough to store. This Zyliss Easy Slice 2 folds in half to a compact 7-3/4 x 4-1/2 x 2 inches. To switch among four slicing thicknesses, ranging from 1 mm to 6 mm, you turn a knob that raises or lowers the cutting platform, so there are no separate blades to remove or insert (or lose). It comes with a food holder to protect your knuckles and fingers from the blade. The lightweight plastic mandoline retails for $35, and you can find a list of stores at Kitchencollection.com.
There's an old saying that relates to doing hard things (in this case finding new places in your existing kitchen spaces): "By the inch it's a cinch!" Every little bit of space saved adds up. So if you're dealing with minimal kitchen storage space, these ideas might just be your inch-to-cinch answer. Turns out, COMPACT really is a smart kitchen trick!
Sources:
www.preparedpantry.com
www.walmart.com
www.robinsdinnernight.blogspot.com
www.thekitchencollection.com

Alice Osborne
DVO Newsletter Contributor since 2006
Email the author! alice@dvo.com