Kick-Off Counterfits for Any Party
Whether you are planning to party for a big game or you just like to have a few friends over to watch your favorite college team make the march, good food is a must-have for game day celebrations. You could always order from your favorite restaurant, but then you are paying a ton for food that will likely be cold by the time your guests get their game-day hands on them! You could pick it up right before game time, but we all know if you miss kick-off, there's going to be trouble!
The perfect solution puts the control in your hands. You can enjoy all the same fan favorites on your own terms, cooked in your own kitchen. Here are a few recipes to get you ready for game day, but if there is something specific you are hoping to snack on, I recommend simply googling it with "copy cat" in the search terms. You will be amazed at what recipes you can find out there.
---
Bennigans Monte Cristo Sandwich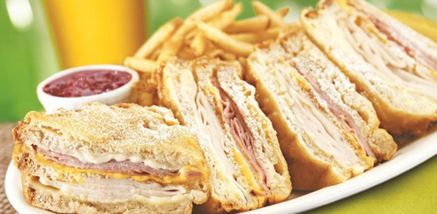 Author: Mysterygirl
Ingredients:
9 slices

whole

wheat bread
3 slices

cooked

turkeys
3 slices

cooked

ham
3 slices
American cheese
3 slices
Swiss cheese
1
egg
1 1

1 -/4 cup

water
1/2 teaspoon
salt
1 teaspoon
sugar
1 1/2 cups
flour
1 tablespoon
baking powder
vegetable oil

(for deep frying)
Directions:
1 Place turkey and Swiss cheese on one slice of bread and ham and American cheese on another slice of bread.
2 Place third slice in-between and secure the triple-decker sandwich in the corners with tooth picks.
3 Place egg in mixing bowl, add water and beat together.
4 Add salt, sugar, flour, and baking powder.
5 Beat batter until smooth.
6 Dip sandwich in batter and carefully cover all the sides and surface.
7 Carefully place in hot oil and fry until golden.
8 When sandwich has turned a warm gold color remove from hot oil and place on paper towel.
9 Let cool for a few minutes before removing the tooth picks.
10 Before serving slice into fourths and sprinkle with powder sugar.
11 Serve with Raspberry jam.
Source:
deep-fried.food.com

Recipe formatted with the Cook'n Recipe Software from DVO Enterprises.
---
Chili's Boneless Buffalo Wings - Copycat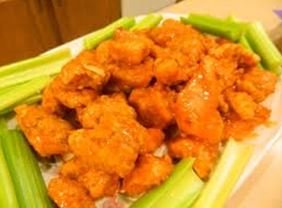 Author: dayla
Ingredients:
1 cup

all-purpose

flour
2 teaspoons
salt
1/2 teaspoon
black pepper
1/4 teaspoon
cayenne pepper
1/4 teaspoon
paprika
1
egg
1 cup
milk
2

chicken breasts

fillets
4 6 cups

4 -6

vegetable oil
1/4 cup

hot

sauce

(crystal or frank's louisiana)
1 tablespoon
margarine
bleu cheese

salad dressing

(for dipping)
rib
celery
Directions:
1. Combine flour, salt, peppers and paprika in a medium bowl.
2. In another small bowl, whisk together egg and milk.
3. Slice each chicken breast into 6 pieces.
4. Preheat 4-6 cups of vegetable oil in a deep fryer to 375 degrees.
5. One or two at a time, dip each piece of chicken into the egg mixture, then into the breading blend; then repeat the process so that each piece of chicken is double-coated.
6. When all chicken pieces have been breaded, arrange them on a plate and chill for 15 minutes.
7. When the chicken is done resting, drop each piece into the hot oil and fry for 5-6 minutes or until each piece is browned.
8. As chicken fries, combine the hot sauce and margarine in a small bowl.
9. Microwave sauce for 20-30 seconds or just until the margarine is melted, then stir to combine.
10. You can also use a small saucepan for this step.
11. Just combine the hot sauce and margarine in the saucepan over low heat and stir until margarine is melted and ingredients are blended.
12. When chicken pieces are done frying, remove them to a plate lined with a couple paper towels.
13. Place the chicken pieces into a covered container such as a large jar with a lid.
14. Pour the sauce over the chicken in the container, cover, and then shake gently until each piece of chicken is coated with sauce.
15. Pour the chicken onto a plate and serve the dish with bleu cheese dressing and sliced celery on the side.
Source:
deep-fried.food.com

Recipe formatted with the Cook'n Recipe Software from DVO Enterprises.
---
Copycat Applebee's Hot Artichoke and Spinach Dip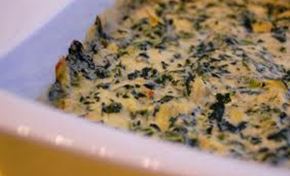 Author: Vitameatavegamin Girl
Ingredients:
1 (10-ounce) box

frozen chopped

spinach

, thawed
1 (14-ounce) can

artichoke hearts

, drained and roughly chopped
1 cup

shredded parmesan-romano cheese

mix
1/2 cup

shredded

mozzarella cheese
10 ounces

alfredo, prepared

sauces
1 teaspoon

minced

garlic
4 ounces

softened

cream cheese
pepper

(optional)
Directions:
1 Preheat oven to 350 degrees. 2 Combine ingredients thoroughly in a bowl and spread mixture into a small baking dish (I used an 8" X 8" dish). 3 Bake for 25-30 minutes or until cheeses are bubbling and melted. 4 Serve with chips or bread and enjoy.
Source:
food.com

Recipe formatted with the Cook'n Recipe Software from DVO Enterprises.
---
---
An unbeatable value with exclusive benefits for members only.
Get a newsletter like this each week when you join the Cook'n Club.