The Best of the Rest, From Pinterest
Spicy Black Bean Burgers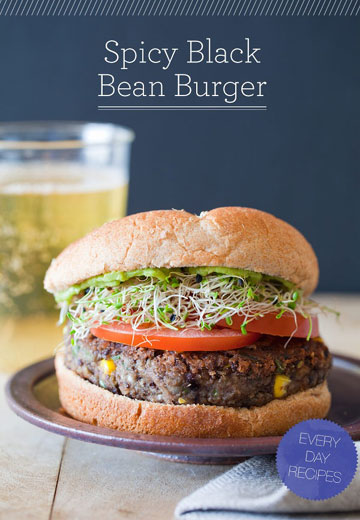 I am a carnivore. I am willing to admit, that I adore meat, never the girl who orders a salad on a date. My husband on the other hand could turn vegetarian without much persuasion. As the new year came I started thinking that I would like to learn a few new meatless dishes, both to cut our budget, and to cut down on some of the meats we eat. I ran across this pin, and thought it looked good. So, I gave it a whirl. I did some adjusting. I will post my changes, and you can click on the link to see the original recipe. The reason that I changed it was for two reasons. I have a goal for 2013 to not only eat healthier (I am sure this goal will go by the wayside in a few months) but also to find recipes to help rotate my canned food storage.
The changes I made were few, rather than the jalapeno, I used a small can of diced chilis. I also substituted the ear of corn for 1/3 of a can of corn (drained), this is about 1 1/2 cups. I omitted the green onion, though I think they would have been great, I just didn't have any on hand and taking a five month old to the grocery store for green onions was not feasible. I needed additional breadcrumbs, I used about 1 cup instead of 1/4 cup. I pan fried the patties in olive oil, over a medium heat. They really do require a good browning to help solidify them.
The results were a deliciously moist burger, that was not too spicy. I have never been a huge cumin fan, however, the spices in the burger were perfect, in my opinion. It was a bit earthy, but not so much that I needed to bust out my Birkenstock sandals. The burger was not overly beany either, which was also a fear I had. I do not typically enjoy the texture of beans, however when blended up in a food processor, that was not a problem.
Here is what I did:
---
Spicy Bean Burgers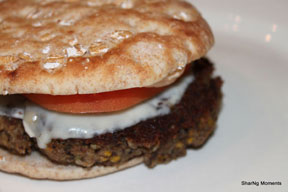 Ingredients:
1/2

yellow onion

, chopped
1 can

, small

diced chilis
3 cloves
garlic
1 (14.5-ounce) can

black beans

, rinsed and drained
1/2 cup

plus 2 tablespoons

rolled oats
1 1/2 cups
corn
2 teaspoons
cumin
1/2 teaspoon
curry powder
1/4 teaspoon
cayenne pepper
1 cup

plain

bread crumbs
salt and pepper to taste
4 tablespoons

olive oil

, divided
Directions:
Place onion, chili and garlic in a food processor and pulse 8 times. Add beans, oats, corn, cumin, curry powder, and cayenne. Season with salt and pepper and pulse 8 additional times. Place mixture into a mixing bowl, cover with plastic wrap and place in the refrigerator for at least two hours (this is essential, I chilled mine overnight). Remove chilled mixture from refrigerator and stir in breadcrumbs. You want the mixture to be able to hold together in a patty. Form mixture into patties. Cook in skillet over medium heat, with 2 T. olive oil, add additional oil as needed. Cook patties for 5 to 7 minutes on each side or until a crust develops and the patties are heated through, this crust is essential in holding the burgers together. Hint- The crust will look dark, and may look burned, mine were dark and not burned.

Recipe formatted with the Cook'n Recipe Software from DVO Enterprises.
---
My patties fit on smaller sized hamburger buns (the flat, healthy ones), and were very, very filling. The beans are high in protein so they take the place of meat nicely. We served our burgers with spicy mayo. My husband informed me that the spicy mayo was not needed. Note- this guy puts sriracha on everything, prior to even tasting it. We also served provolone and tomato on our burgers. These would have been delicious with avocado and sprouts... and maybe even a fried egg, BUT we are going for healthier here.
We froze our leftover cooked patties in a stack, with waxed paper or freezer paper in between patties. My husband has been eating them for lunch in a wrap. Maybe next time I will whip up some kind of fancy burger dressing perhaps yogurt based, avocado and do a side of sweet potato fries!
This is our final product. Keep in mind that I am just a regular chef in the kitchen, and I don't doctor or fancy up any of my food photos. So this is what this recipe might look like in YOUR kitchen!
Source:
Original Spicy Black Bean Burger
---

Sharon Ng
Monthly Newsletter Contributer since 2012