Strawberry Delights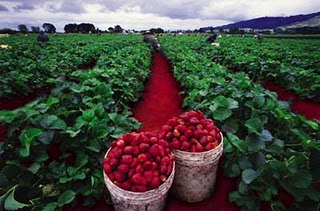 Strawberry fields forever! That's how I felt as a young girl growing up in the State of Washington. When strawberry season hit, I was sent out to the fields to pick strawberries all morning.
For many mothers, this was actually a great way to keep kids occupied so they could get there work done and maybe to teach them the value of work. But my mom usually came along with me. I think it kept me from getting kicked out of the berry patch which wasn't uncommon for some unruly boys and girls.
We would get up early in the morning and walk to the bus stop where a truck would pick us up for the trip out to the fields. If it rained, the whole thing was a muddy mess and you wished you could be anywhere else but the berry patch. When the sun was shining, it was beautiful, you ate as many strawberries as you could sneak and then wished you could be any place else but picking strawberries! On days that you buckled down and worked hard, you actually made some money, but not very much!
So the next time you pick up a carton of strawberries and grit your teeth because of the high price, think about the person that's down on his hands and knees for hours carefully picking strawberries so the stems will remain on them just for you! Here you should visualize the picked-on attitude I must have felt! You're not laughing are you?
Now that I have that off my chest, I must tell you I have always loved strawberries, especially fresh, ripe strawberries. It's still amazing to me that in all adolescent years, never once did we put strawberries on a green salad. Whoever came up with that idea was brilliant! Hopefully you will find these included recipes marvelous if not brilliant.
---
Strawberry Tossed Salad
16 ounces romaine lettuce
1½ cups sliced strawberries
¼ cup finely chopped red onion
½ cup crumbled feta or blue cheese
¼ cup sliced sugared almonds


Clean lettuce leaves in salad spinner. Combine sliced strawberries, feta cheese and red onion. Toast almonds in a pan with 2 Tablespoons of sugar on low heat stirring constantly until sugar is dissolved and has adhered to the almonds. Take out of pan and let cool. Add almonds before serving along with dressing of choice poppy seed or raspberry vinaigrette.
---
Creamy Raspberry Vinaigrette
½ cup low fat mayo
2 Tablespoons sugar
1½ Tablespoons raspberry vinegar
1 Tablespoon poppy seeds
1 Tablespoon seedless strawberry jam

Whisk ingredients together. Thin the dressing with milk if needed. Drizzle over salad just before serving.
---
Strawberry Dessert Sauce
This sauce is pretty when drizzled on a plate or great on ice cream, cakes, brownies etc…

1 (10 ounce) package frozen strawberries
1 Teaspoon lemon juice
½ Teaspoon almond extract
½ Teaspoon unflavored gelatin

Blend strawberries in a blender; add lemon juice, almond extract and gelatin in a pan. Stir and let sit for 5minutes. Cook over medium heat; stirring until the gelatin is dissolved and mixture is hot. Remove from heat and let set for several minutes as it will thicken as it cools. This makes two cups of sauce.

If you want to get rid of the seeds, squeeze strawberries through a sieve or cheesecloth instead of using a blender. Recipe ingredients are still the same as above.
---
No-Bake Strawberry Cheesecake Recipe
Crust
6 whole graham crackers
2 Tablespoons melted butter
1 Tablespoon honey

Prepare an 8x3 inch spring form pan with nonstick spray.

Crush graham crackers to fine crumbs. Mix butter with honey and add to crumbs. Press firmly over the bottom as well as ¾ inch up the sides. Place in freezer.

Filling
1 (3 ounce) box strawberry flavored gelatin
1(16 ounce tub) cottage cheese
2 (8 ounce) fat free cream cheese
2 Tablespoons sugar
1 Teaspoon vanilla extract

Dissolve gelatin in boiling water. Purée cottage cheese in food processor or blender until creamy. Add gelatin, cream cheese, sugar and vanilla; process until smooth. Pour into prepared crust; smooth top. Cover and refrigerate for 4 hours, or until set.

Topping
1 pint fresh strawberries
2 Tablespoons strawberry jelly, melted

Wash and dry strawberries; quarter each lengthwise and place in bowl. Add melted jelly and gently toss to coat. Remove side of spring form pan; place cheesecake on serving plate. Spoon berry mixture on top of cheesecake.
---