Capturing Recipes from blogs and other unformatted websites is easy with the new
Snip-It Tool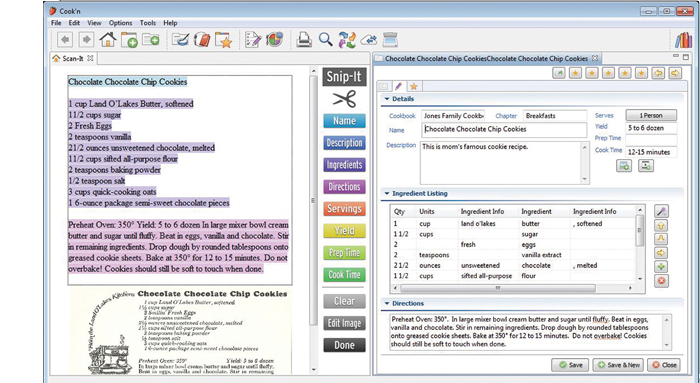 Cook'n
Snip-It Tool
Most of the time, you can capture internet recipes with just one click. However, this doesn't work with web pages that are not formatted properly (like the recipes posted on many blogs). Enter Cook'n Version 11.
When Cook'n Version 11 detects web pages that are not marked up properly, it will automatically split the screen and display the Snip-It toolbar in the middle. Simply highlight the recipe directions and click the Directions button. Highlight the recipe ingredients and click the Ingredients button. With the new Snip-It Tool capturing recipes from your favorite blogs is a snap!
When you get recipes from your favorite blogs into Cook'n using the Snip-It Tool, you can:
Adjust serving sizes
Analyze nutritional values
Make shopping lists
Create menus, meal plans and much more!