---

Recipe from the June 2011 Newsletter
---
Ingredients:
2 c plain yogurt
1/2 c canned crushed pineapple (in its own juice instead of packed in syrup), or use fresh!
1 can frozen pineapple or orange-pineapple juice concentrate, thawed
---
Directions:
1. Drain the can of crushed pineapple so all the juice runs out.
2. Put all the ingredients in the bowl and mix together.
3. Spoon the mixture into the paper cups. Fill them almost to the top.
4. Stretch a small piece of plastic wrap across the top of each cup.
5. Using the popsicle stick, poke a hole in the plastic wrap. Stand the stick straight up in the center of the cup.
6. Put the cups in the freezer until the mixture is frozen solid.
7. Remove the plastic wrap and peel away the paper cup. You'll have pineapple pops to eat and share!
June 2010 Newsletter
Be sure to check the Cook'n Recipe Archive for more recipes.
---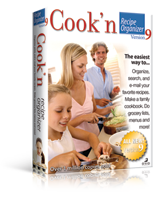 Be sure to check the Cook'n Recipe Archive for more recipes.
Piles of recipe cards in your drawer? Download Cook'n today and get organized!
Buy the CD or download of Cook'n right now! Includes over 300 of our best recipes.
---
"I might learn how to cook yet with all this software of yours. You can't believe how much it has helped. I've had friends come over (I'm just a single guy with a dog - but looking for the right woman) and rave about the meals I prepared for them. It's not all that hard if you just follow the directions. In the end I have to tell them my secret, it's not talent - it's your software.
Oh well, the food is still delicious. Now if I could just figure out how to use the dishwasher.
-John
Cook'n Is Several Products in One!