White Chocolate Raspberry Cheesecake Santacafé
---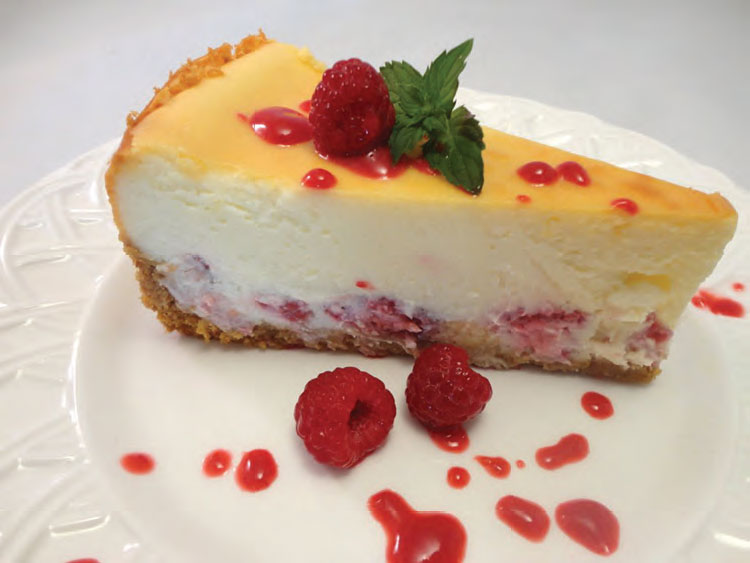 Serves: 12
Total Calories: 601
Prep time:
Cook time:
Total time:

For Crust:
In food processor, blend graham cracker crumbs and almonds until almonds are ground fine; add butter, and combine well. Press onto bottom and 2/3 of the way up side of 10-inch springform pan.

For Filling:
In metal bowl set over pan of barely simmering water, melt chocolate, stirring until smooth; remove bowl from heat.

In large bowl with an electric mixer, beat cream cheese until light and fluffy. Add sugar, and beat in whole eggs and egg yolks, one at a time, beating well after each addition. Beat in flour and vanilla. Add melted chocolate in a slow stream, beating until combined well.

Scatter raspberries over the bottom of crust; pour filling over, and bake in middle of a preheated 350° oven for 1 hour, or until top is firm to the touch. Let cool in the pan on a rack; chill, covered loosely overnight, then remove side of pan.

For Raspberry Sauce:
Use syrup from 1 package of raspberries; drain the other. Combine all ingredients in food processor or blender; strain to remove seeds. Chill until ready to use. Drizzle over plate; place cheesecake slice on top.

Note: Butter is made up of butterfat, milk solids, and water. Clarified butter is the translucent golden-yellow butterfat left over after the milk solids and water are removed. You can do this yourself by melting butter over low heat and skimming off the milk solids and water, which look like foam, leaving just the clear, golden butterfat.


Even if you don't clarify the butter, it is perfectly delicious!