Sometimes Amazon.com products can draw a lot of humor. This listing is one of them! Just check out the reviews for the book, "How to Avoid Huge Ships".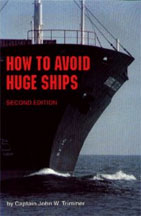 And, you gotta love the user-provided picture: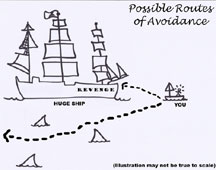 Here are some great reviews!...

As the father of two teenagers, I found this book invaluable. I'm sure other parents here can empathize when I say I shudder at the thought of the increasing influence and presence of huge ships in the lives my children. I certainly remember the strain I caused so long ago for my own parents when I began experimenting with huge ships. The long inter-continental voyages that kept my mom and dad up all night with worry. Don't even get me started on the international protocols when transporting perishable cargo. To think, I was even younger than my kids are now! huge ships are everywhere and it doesn't help that the tv and movies make huge ships seem glamorous and cool. This book helped me really approach the subject of huge ships with my kids in an honest, open and non judgmental way. Because of the insights this book provided, I can sleep a little better and cope with the reality that I can't always be there to protect my kids from huge ships, especially as they become adults. I'm confident that my teens, when confronted by a huge ship, are much better prepared to make wiser decisions than I did. At the very least my children certainly know that they can always come to me if they have any concerns, questions or just need my support when it comes to the topic of huge ships.
---------------------------------------

I bought How to Avoid Huge Ships as a companion to Captain Trimmer's other excellent titles: How to Avoid a Train, and How to Avoid the Empire State Building. These books are fast paced, well written and the hard won knowledge found in them is as inspirational as it is informational. After reading them I haven't been hit by anything bigger than a diesel bus. Thanks captain!
---------------------------------------

This book really is one of the best huge ship avoidance references I've come across, not just for the effective methods it teaches as to avoiding huge ships, but also for exploding some of the huge ship avoidance myths that many of us take for granted.

For example:
- Do not charge the huge ship at full speed in an attempt to scare it off. This may work with coyotes, but it is less effective with huge ships.
- Similarly, do not roll your boat over and play dead. Unless the huge ship is captained by a grizzly bear, this will not work.
- Do not attempt to go under the huge ship. This is typically not successful.
- Do not attempt to jump over the huge ship.

Captain Trimmer presents a rather novel technique for avoiding huge ships - move your boat out of the path of the huge ship. I know what you're thinking, this goes against conventional wisdom, but Trimmer presents significant empirical evidence to support his theory. Indeed, over the long run, moving out of the way will dramatically decrease the number of huge ship collisions you will have to endure in your daily life.
---------------------------------------

After reading this book, I relized exactly what I was doing wrong everytime I was run over by bardges on the mighty Mississippi. I always played dead and hoped the boats would go away, like I was taught by a book I read, "How To Survive Bear Attacks." I guess I thought the lessons taught by that book applied to everything life, but it clearly meant just bears. Now I am surviving the waterways better than a BP oil rig.
---------------------------------------

Read this book before going on vacation and I couldn't find my cruise liner in the port. Vacation ruined.
---------------------------------------

I'm the first to admit that I have a number of problems colliding with various objects in my day-to-day life, and while I have yet to discover that elusive all-in-one compendium, Captain John Trimmer's "How to Avoid Huge Ships" has absolutely filled the nautical gap. Whether it be a Panamax tanker in the fog or an Arleigh Burke-class guided missile destroyer bearing down on you, Trimmer leaves the reader with both the confidence and the know-how to pilot your dinghy or other small craft to safety. Neither creeks nor ponds nor lakes nor the great blue beyond will be too much for you to handle after settling down in your easy chair by the fire and plowing through this book.

Just speaking from my own experience, maritime accidents are down 16% over this same month last year. I truly have Captain Trimmer to thank for that. Even my wife has experienced the quality of life benefits that the book provides. She's praised my new and near-flawless vessel detection skills, improved balance and coordination, and more better diction that have all been enhanced dramatically as a result of reading this. There's little Trimmer could have added, though inanimate hazards of the ocean, such as icebergs, garbage patches, or pirate-infested islands would have been a welcome addition - perhaps a followup volume is in order?

But really, whether you don't know your mizzen from your jib or you're an experienced sail-trimmer(!), "How to Avoid Huge Ships" is a book you cannot afford to ignore. Stop smashing into things and falling down uncontrollably: take charge of your life, and allow Captain T's sophisticated analysis of seaborne misadventures to truly penetrate your being.
---------------------------------------


And there's many more!