HOMEMADE CONVERSATION HEARTS:
1
(1/4-ounce) package
(or 2 teaspoons) unflavored
gelatin
1/2
cup
water
2
teaspoons
light corn syrup
2
pounds
powdered sugar
, plus additional for dusting
assorted flavoring extracts of your choice
assorted
food coloring
of your choice
heart shaped cutters
food coloring markers, such as the "Gourmet Writer" markers from Americolor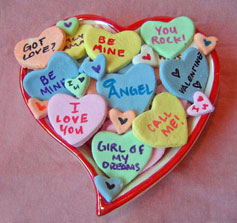 1. Place the corn syrup, gelatin, and water in a small microwave-safe bowl. Stir until the gelatin is well-distributed. Microwave the mixture for 30 seconds, so the gelatin dissolves, and stir well.

2. Pour the gelatin mixture into the bowl of a large stand mixer fitted with a paddle attachment. Alternately, if you are using a hand mixer, pour the gelatin mixture into a large bowl. Add 1 cup of powdered sugar and turn the mixer to low, mixing until the sugar is incorporated.

3. Once the sugar is mixed in, add another cup of sugar, again mixing on low until it liquefies. Continue to add the remaining powdered sugar, one cup at a time, pausing in between additions to allow the sugar to mix in, until the full two pounds of powdered sugar is added. Periodically, stop the mixer and scrape down the bottom and sides of the bowl. The candy will progress from a thin, watery liquid to a very stiff dough.

4. Once all of the sugar is incorporated, dust a work surface (counter or large cutting board) with powdered sugar and scrape the candy out onto the work surface. The candy will be very sticky and stiff. Generously dust the top of the ball of candy with powdered sugar, and begin to knead the candy like bread dough: fold the ball of dough over onto itself, then use the heel of your hand to push it down. Give the candy a quarter-turn, and repeat the process, dusting it with more powdered sugar as often as necessary to prevent it from sticking to the board or your hands. Knead until the candy is satiny and not sticky.

5. Decide how many colors/flavors of conversation hearts you want to make, and divide the candy dough into that many portions. To flavor and color the candy, take one of the balls and flatten it into a palm-sized disc. Add a few drops of food coloring and flavoring extract to the center of the disc, and fold it over on itself. (It is a good idea to wear disposable plastic gloves during this step to keep your hands free of colors and odors.) Knead the dough ball, just as you did before, until the color is evenly dispersed throughout the candy, and all streaks have disappeared. Repeat this process with remaining candy balls and colors/flavors, until all of your candy is colored and flavored.

6. Dust your work surface and a rolling pin with powdered sugar, and roll out one of the candy balls to your desired thickness. Small store-bought conversation hearts tend to be fairly thick, generally over 1/4" thick. I find that this thickness works well for small hearts (under 1"), but it makes larger heart sizes very substantial and a little overwhelming. However, the thickness is entirely a matter of personal preference and does not affect the taste of the final candy.

7. Use heart-shaped cutters to cut hearts out of the rolled candy, and transfer the hearts to a baking sheet lined with parchment paper. Smaller hearts are more realistic, but larger hearts are easier to write messages on. Once you have cut out your hearts, you can re-roll the scraps to get more shapes out of the candy. Repeat with remaining candy balls.

8. Allow your hearts to air-dry for at least 24 hours before you write on them. This step is VERY important, because the extra moisture in the hearts will cause the ink to run if you do not let them dry properly.

9. After the hearts have dried for a day, use the food writing markers to write messages or draw designs on the hearts. Once all of your hearts are decorated, they are finished and ready to eat, or give as gifts. Store your conversation hearts in an airtight container at room temperature. While they technically last a very long time, their texture does get harder over time.