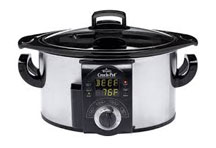 Traditional family style cooking continues to change. Our needs change, our time constraints change and even our pallets have changed over the years. Although we live in a fast paced world, we still love and value the time we have to make and share meals. We still enjoy eating those traditional home cooked meals and are always looking for new ways to get the job done more efficiently. I think we could give the Crockpot 5 stars for being a time saving and convenient kitchen tool. I appreciate being able to prepare dinner in the morning and have a nice hot meal ready for dinner in the evening with very little fuss.

To Brown or Not To Brown

One of the most frequently asked questions about slow cooking is whether or not you need to brown your meat before putting it into the Crockpot. I've concluded that browning your meat has advantages, but is not a necessity. Some people worry about the pot staying at a low temperature for a long period of time, but don't we often do the same process in the oven?

Personally, I like to brown roasts and precook hamburger meat. Doing so seals in juices and adds a rich color to the meat and its sauce. I do have a little bit of a problem with hamburger not being precooked only because I don't want the extra fat in my dishes and color is also important to me! Browning your meat does take a few extra minutes. However, I think it's worth the time. What's your verdict?

Hamburger can also be precooked and frozen in individual baggies. Our friend Alice, who writes the Cook'n Club Weekly Newsletter, calls this "gravel" and is one of the many suggestions she has for working "smarter not harder in the kitchen."

What are the Best Cuts of Meat for Slow Cooking

Lucky for us, the best cuts of meats for slow cooking are usually the cheaper ones. Here are some suggestions for cheaper cuts of meat - shanks, shoulders, round or rump roasts. Ask your butcher if you need help.

Meat that is well marbled with some fat makes for tender meat that will fall apart and make its own gravy. Leaner cuts of meat can also work well in the Crockpot, especially if you use a cooking wine or a marinade to help tenderize.

I must admit that I rarely brown my chicken before adding it to the Crockpot and often put it in frozen. Here again we have the issue about leaving meat on a low heat for a long period of time. All I know is that everyone that I know does this all the time and we have never had a problem.

Adding Juices

Slow cooking creates lots of juices, mostly because of the slow cooking process but also because the juices have nowhere to go, they don't evaporate but stay in the pot. If you are trying an old family recipe that has traditionally been done in the oven or stove top start out with a little less liquid so you don't end up with soup unless that's not what you are making.

Oh, I do love my Crockpot! We have become really good friends! Try this super quick meatloaf and pork roast recipe.