Dissolve yeast and sugar in 1/2 cup warm water. Add powdered milk, sugar. Add flour 1/2 cup at a time until mixture forms a ball. Let rise for 15 to 20 minutes. Pinch off 2 inch balls of dough and roll into a snake shape. This recipe makes approximately 48 2" balls.

Set Up: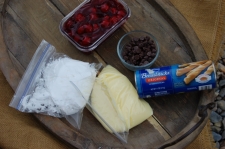 Prepare your fillings. These are just a few ideas. Experiment, it's half the fun! Use zip lock bags with a small cut in one corner to insert soft fillings


Pie fillings (fruits or puddings)
Pizza fillings
Cream cheese and tiny fruit slices
Peanut butter and jelly (stirred up together)
Mini marshmallows and chocolate pieces
Cinnamon sugar or powdered sugar to sprinkle on the outside of the Cannoli.
Chocolate for drizzling
Basic Instructions: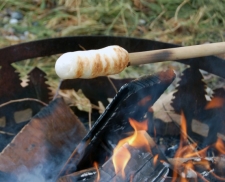 1. Make sure the dough is in a strip. If you are using homemade dough, shape into 2" balls and roll into a snake shape. Flatten as you roll the dough around the dowel.
2. Starting at the tip of the dowel, pinch one end of the strip of dough onto the end tip of the stick. Wrap the dough strip around the stick like a coil. Keep the dough close together so there are no gaps. Pinch the end of the last wrap onto the last wrap itself.
3. Cook over hot campfire coals, not high flames, slowly rotating so the dough browns but does not burn. (A little adult supervision is a good idea.)
4. When the dough is nicely browned, remove from heat and pull off from the dowel.
5. Now have fun with the fillings of your choice.