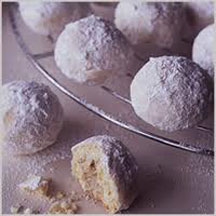 Cream butter until fluffy. Add sugar and beat until light. Stir in vanilla. Add sifted flour and mix well. Stir in chopped nuts.

Shape dough into small balls about 3/4 to 1 inch in diameter. Place on a greased baking sheet. Bake in moderate oven, 350 degrees, 15 - 18 minutes. Roll in sifted confectioner sugar while hot.

-------------------------------------------------------------------------

The recipe search has made me realize the need to hold on to generational recipes. After talking with several family members, I realized how few actually had recipes, and even fewer of those recipes were written down. With the Cook'n software you can import your own recipes, and organize them into cookbooks that you can share with your family, extended family and friends. Now is a great time to start compiling recipes, and give those to family for Christmas.

Special thanks to Diane and Jana Fortune for assisting me in researching this article.