From the Finding Fun in Food Traditions article


Birthdays are about feeling special and spoiled. These fun little ideas aim to do just that!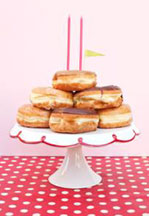 Birthday Breakfast Donut Cake: Just stack donuts (store-bought or homemade) into a cake shaped stack and decorate with candles and sparkles. It's a fun way to start the day!

Birthday Pancakes: Dress up normal old pancakes for the special affair.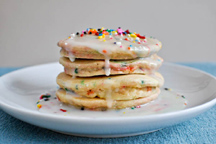 Lunch Date: Whether you are talking about your mom, your spouse, or your kids, everyone loves having one-on-one attention from the person that matters the most. Take the time to make a special lunch for the birthday boy or girl and spend some time talking about what the last year brought and your hopes for the year ahead. Honestly, this is even worth missing a bit of school for. Kids feel so special when they get to leave school for a little lunch and have Mommy's (or Daddy's) attention all to themselves. This is sure to be something they request year after year.



Birthday Dinner: Most families have some variation of this. In my husband's family you got to pick where you were going out for dinner. In my family you got to choose what meal Mom would cook for you. We have had to have a little flexibility here to make everyone happy. I always feel like I have won a great victory when a child chooses my home cooked food over a restaurant for their birthday!

Give and Get: My mom's birthday is on Valentine's Day and she would always give us little gifts on that day. As a child I thought it was funny that she gave gifts to us on her birthday. I was telling my son that story and he said he thought it would be fun to take a treat to a neighbor on his next birthday. We haven't done it yet (he has a few months to wait, but I agree with him that this could become a fun little tradition and since I am already baking on that day anyway, why not throw in something a little extra?