As a college student I had the awesome opportunity to go to Hawaii for two semesters of school. At every meal the cafeteria had fresh cut pineapple available and I thoroughly enjoyed it! Being the Utah girl that I am this was new to me. Not necessarily having fresh pineapple, but having it so readily available. I loved it!

Because they would prepare it for every meal and for such a large group of students they cut it in a way that was quick and easy for them, but not quite so easy for those eating it! After walking around with stringy pineapple between my teeth for a couple of weeks, you can imagine, that the glamour wore off!

One evening at dinner I was sitting with a friend for dinner. He made a couple of quick cuts to his piece of pineapple and then ate little pieces with a fork rather than my less-graceful attack technique! I thought he was a genius, and I am fairly sure he just thought I must have lived under a rock for the first 19 years of my life. He was quite amused by the silly girl from the mainland that had never thought to alter the slices they prepared for me. Needless to say, I was soon back to fully enjoying my seemingly endless pineapple source and this time it was without my teeth full of pineapple!

I tell you this story not only to prove that I am a bit of an airhead (thought I can see how you might have arrived at that!), but to point out how much more enjoyable it is to eat something like pineapple when it is well-cut and well-presented. If the old adage "every rose has a thorn" is true then certainly the "thorn" to pineapple's amazing taste is the work it requires to cut off that poke rind and hard core. With a few little tricks you will be back to enjoying fresh pineapple, without an arm-wrestle, in no time!

Tools: Sharp knife, cutting board

1. Remove the stalk from the top. Cut it or twist it right off.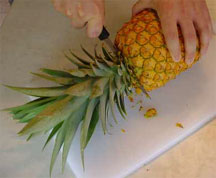 2. Lay the pineapple on the side and cut the top and bottom off.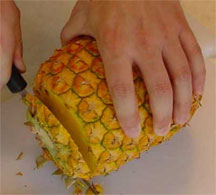 3. Stand the pineapple on its side and cut the skin off of the sides in strips.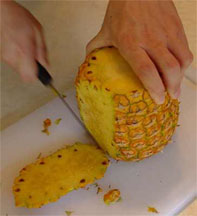 4. Continue cutting strips around the pineapple until you have cut all of the skin off of it.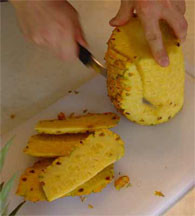 5. Depending on how close you sliced when removing the skin you will most likely have some divots left, you can remove these with a melon baller or potato peeler easily.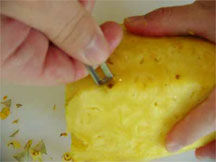 6. Work your way down the pineapple until the entire thing has been sliced up. You can go as thick or as thin as you want. Consider how you will be using it when you decide how this to slice it.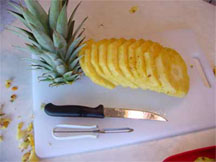 7. Taking a slice firmly in your hand, begin cutting around the core. Some pineapples have soft cores that can be eaten, but most of the time it will be pretty hard. Cutting all of the core out will make all the difference in your pineapple!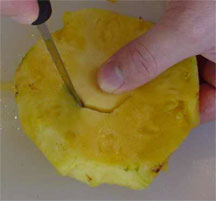 8. Depending on the knife you use it will be easier to cut by either 'sawing' or by 'stabbing' your way around the core, the method shown here is 'stabbing'.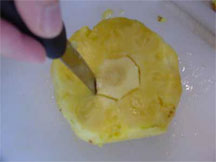 9. Once you've cut all the way around the core, use your fingers to dislodge it and voila! Now you have delicious rings. Cut them in to chucks from here if that is what you are after.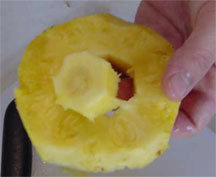 CHEAT SHEET!!

Now that I have given you step-by-step instructions for the "right" way to cut a pineapple, I am going to share a couple of "cheats" with you!

1. Use and electric knife! This makes it much easier to cut the skin off and makes for prettier pieces too! You may find that cutting in to wedges first is easiest with this method. Just be sure that you cut the core edge off!

2. Use a special Pineapple Cutter. These are great, but be warned that they take a little muscle!

However you cut it... Enjoy your pineapple!!!