Low-Carb Frozen Treats To Help You Through the Summer!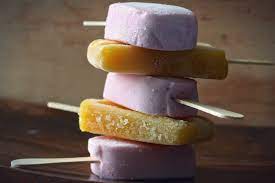 Summer is here!! There are so many fun things to love about summer, but one thing I love is all the cold treats. Nothing is more refreshing than a cold shaved ice or scoop of ice cream on a hot afternoon! And it just throws me back to my childhood.
But, I've got a slight problem. I'm still a few weeks away from delivering my little baby girl, but I've got gestational diabetes (3rd time for me). While it's nothing new, it does mean I'm limited on the carbs I'm able to consume for the next few weeks. And let me tell you, when it's blasting hot outside and I'm swelling all over, nothing sounds better than some cold delicious treats!
If you're looking for some tasty cold treats to satisfy your cravings without going high on the carbs (for whatever reason- Keto, diabetes, special diets, etc), I've compiled a little list of treats that will hopefully satisfy that craving without blowing your low-carb diet!
Just keep in mind- low carb doesn't necessarily mean low-calorie ;). These are still treats, after all!
If you just want to pick something up at the store:
Halo Top Ice Cream.
There are so many different flavors, and they have significantly less carbs than your typical ice cream! I've tried a few different flavors and they're not bad at all! They definitely satisfy that cold treat craving. There are also cheesecake bars and other Halo Top treats that are worth checking out if that sounds more appealing.
Firecracker Ice Pops.
They have 8 grams per serving, so while they still have carbs, they're low enough that if you're really feeling desperate for a cold treat, these could definitely fit the bill! These were so much fun as a kid- and let's be honest, they still are as an adult!
Enlightened Ice Cream.
Another really low carb option. I haven't tried this one, but it's only got 3 carbs per serving! They also have ice cream bar options, if that's more your thing. I'll have to try these at my next grocery store trip!
If you're in the mood to create your own tastiness:
Yogurt Bark.
Spread full-fat greek yogurt on a sheet pan, and add a few of your favorite berries. When frozen, you can break it into pieces for a healthy and refreshing snack! You can also add dark chocolate chunks if you really want to make it dreamy!
Homemade Chocolate Frosty Shake.
I've included the recipe below. This looks and sounds delicious!
Keto Frosty Chocolate Shake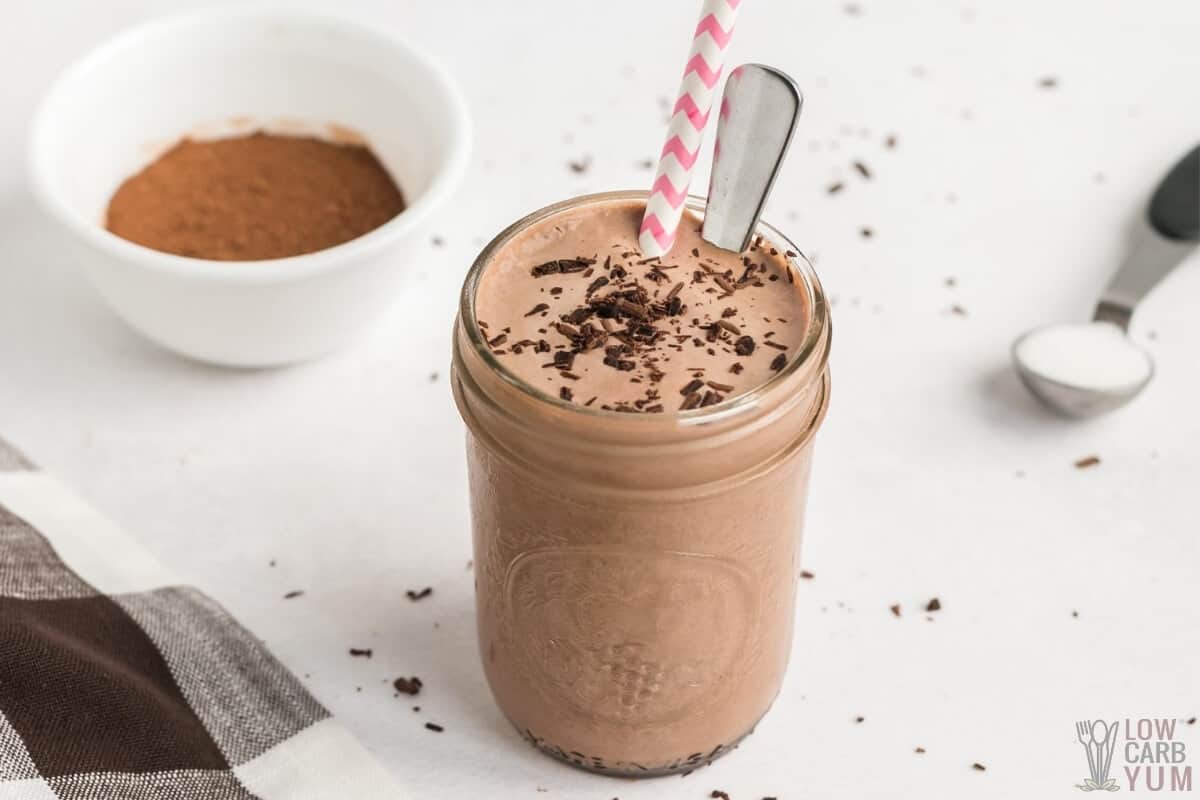 This is a really quick and easy way to make thick low carb milkshakes at home. The creamy chocolate shake is perfect for cooling off in summer.
Prep time:
Serving size:
4
Calories per serving:

85




Ingredients:
6
tablespoons
heavy cream
5
tablespoons
almond milk, unsweetened
1/8
teaspoon
sugar free
vanilla extract
2
tablespoons
unsweetened cocoa
power
1 1/2
teaspoons
truvia or 2 tablespoons equivalent
artificial sweetener
Directions:
Start whipping cream with mixer until soft peaks form.
Slowly add remaining ingredients.
Continue beating until stiffer peaks form.
Put mixture in freezer.
After 20 minutes, remove from freezer and stir with fork to break up frozen areas around edges.
Keep checking mix every 20 minutes and stir until it's cold enough and the right consistency.
Source:
slowcarbyum.com

Recipe formatted with the Cook'n Recipe Software from DVO Enterprises.
Add Recipe to Cook'n
Jello Pops.
These Jello Pops look amazing! Maybe it's because I crave all the fruity flavors when I'm pregnant, but these just look perfect! And I bet my kids would have so much fun helping me make them. I read a comment that said they substituted coconut milk for the cream and it still worked great! This sounds like a great substitution to me!
Low Carb Jello Pops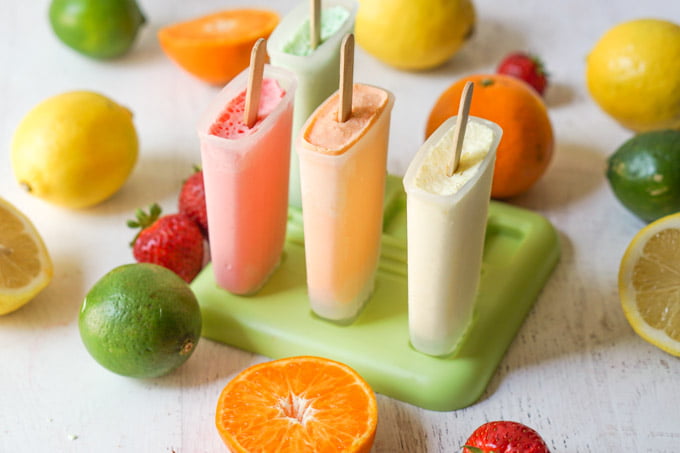 These low carb jello pops are a delicious and easy treat for summer. Only 2 ingredients and 1.1 carbs for these creamsicle pops.
Serving size:
6
Calories per serving:

139




Ingredients:
1
(.3-ounce) box
sugar-free
gelatin
(in the flavor of your choice)
1/2
cup
boiling
water
1
cup
heavy cream
, cold
Directions:
Pour the boiling water in to a blender and then the gelatin mix.
Blend on the lowest setting for a couple seconds until the gelatin is dissolved.
Pour in the cold heavy cream and blend on the lowest setting until well combined. (Just a few seconds).
Pour into your popsicle molds, add the sticks and freeze for at least 6 hours.
Source:
smylifecookbook.com

Recipe formatted with the Cook'n Recipe Software from DVO Enterprises.
Add Recipe to Cook'n
Strawberry and Cream Popsicles.
And finally, these Strawberry and Cream popsicles. Again, these are just calling my name! Cold + fruity = perfection!
The Best Paleo Strawberry and Cream Popsicles
Creamy and guilt-free Paleo and Keto creamy strawberry popsicles that is sure to kill your cravings on a hot summer day. Kid approved and tasty!
Yield:
Yield: 8–10 popsicles 1x
Serving size:
8
Calories per serving:

0




Ingredients:
1
can
coconut milk
1/3
cup
Paleo
artificial sweetener
of choice
1
teaspoon
vanilla extract
2
tablespoons
lemon juice
large
strawberries
(stem removed)
Directions:
Add all of the ingredients to a blender and blend until combined and smooth.
Pour the strawberry mixture into each popsicle mold.
Make sure to not overfill it or the mixture will spill out the sides when putting the lid on.
Put in the freezer for 2-3 hours before serving. Remove and enjoy. (These popsicles will last up to 3-4 weeks covered properly in the freezer.
Source:
shealthylittlepeach.com

Recipe formatted with the Cook'n Recipe Software from DVO Enterprises.
Add Recipe to Cook'n
I'd love to hear from you- what are your favorite cold treats to snack on? Especially low-carb opinions? Share with us below!
Source:
https://www.popsugar.com/fitness/Best-Low-Carb-Frozen-Treats-46436533
https://lowcarbyum.com/creamy-low-carb-chocolate-frosty-shake/
https://mylifecookbook.com/low-carb-jello-pops/
https://healthylittlepeach.com/guilt-free-paleo-strawberry-and-cream-popsicles/
https://pxhere.com/en/photo/597836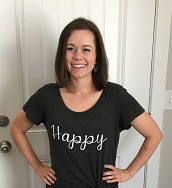 Camille Hoffmann
Weekly Newsletter Contributor since 2014
Email the author! camille@dvo.com