Year of Disney- Lady and the Tramp with Cheesecake Factory's Farfalle with Chicken and Roasted Garlic Sauce!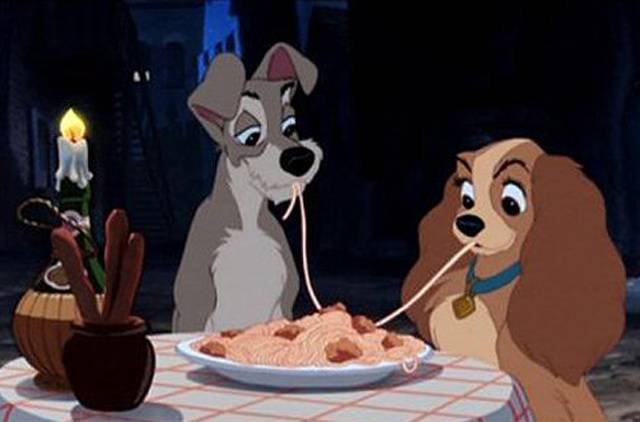 On to another Disney classic! This was probably one of the easiest meals to prepare for; what's the first food that comes to mind when you think of Lady and the Tramp? The iconic spaghetti and meatballs, of course! So I already knew what our main course would be- I even had the leftover Costco meatballs in the freezer from our Peter Pan night! I personally am not a huge fan of marinara, so I made a side of alfredo sauce as well. And of course- with all the consuming of deliciousness going on, I didn't take a picture of the classic spaghetti and meatballs!! But, I'm sure you can imagine what it looked like ;).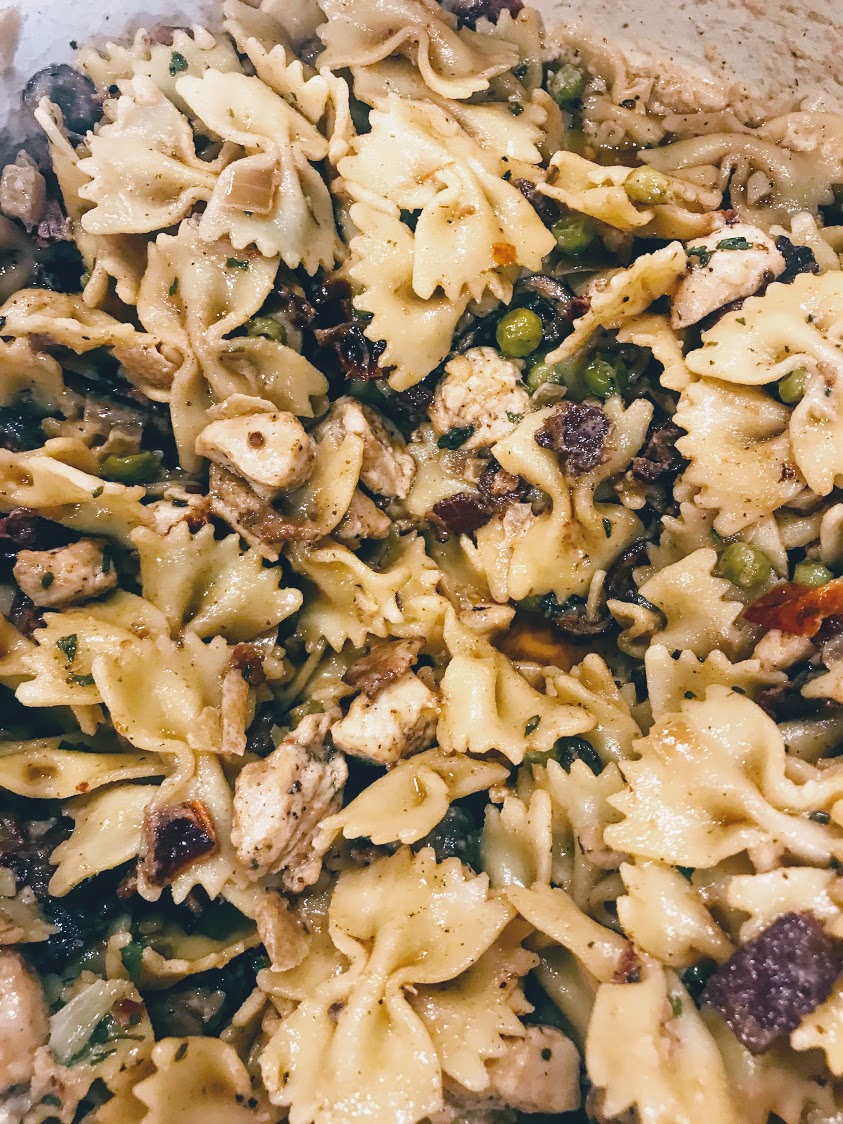 My sweet mother-in-law, who also knows I don't love tomato sauces, showed up with a FABULOUS pasta dish that was certainly the star of the show. It is a copycat recipe from Cheesecake Factory- the Farfalle with Chicken and Roasted Garlic Sauce and it was superb. I've included the recipe she used down below- and it's definitely one worth trying!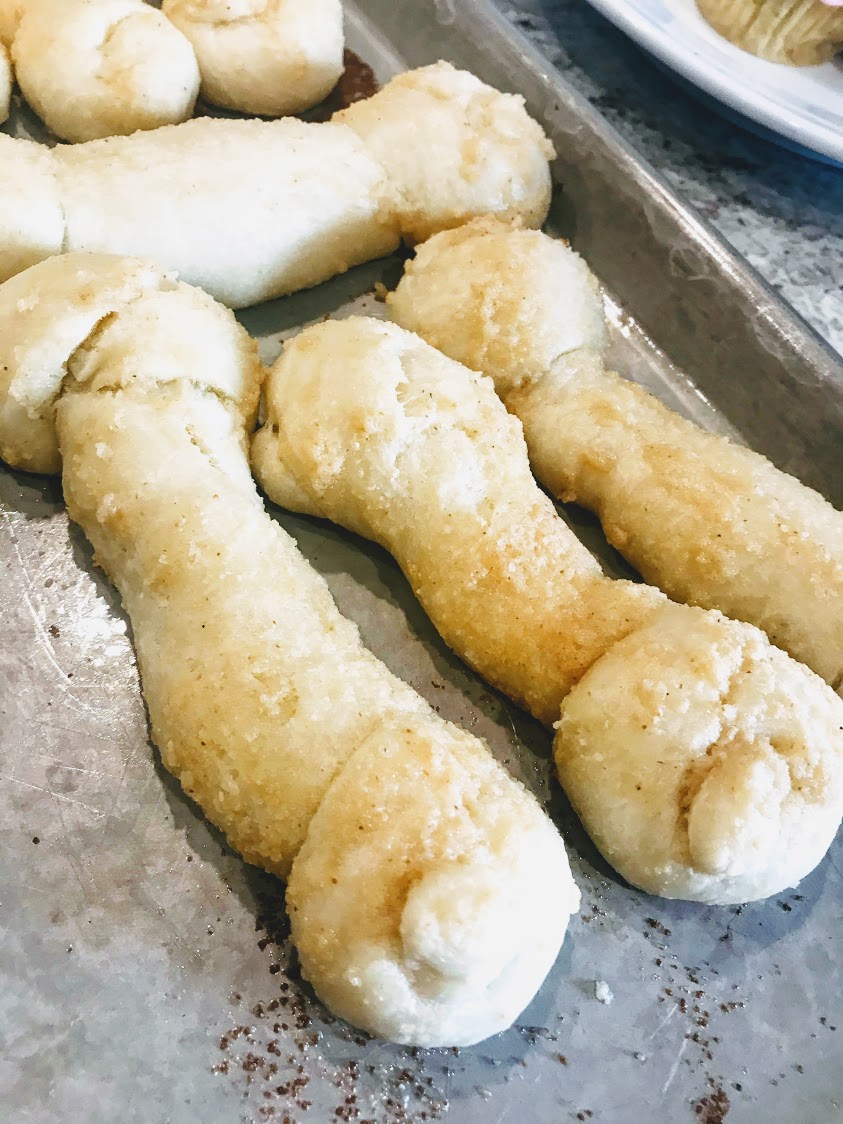 While we had enough pasta dishes to keep us happy for days, the fun didn't stop there! I made one of my favorite breadstick recipes, but tied the ends in knots when I was finished rolling them, so that when they baked they resembled bones. My kids thought this was hilarious!
In keeping with the Italian theme, I also served Italian sodas. I had already been debating on whether or not I should include them in our menu, but when my husband specifically asked on his own if we could do Italian sodas, that cinched the deal in my mind!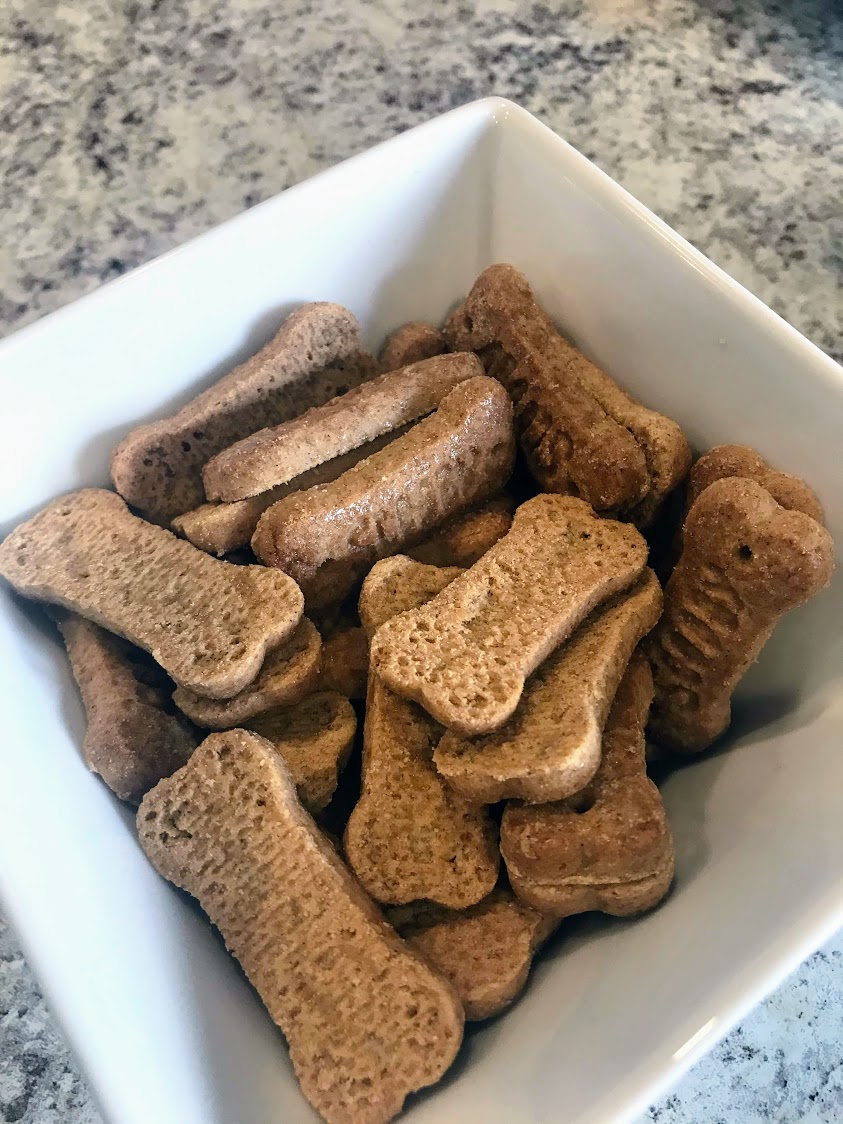 I also set out a few fun snacks. I was SO excited to find these Scooby- Doo graham cracker snacks. I loved these as a kid, and I didn't know they still made them! They were such a fun treat to add to our doggie Disney night. My kids kept asking if they were real dog treats, and I had to reassure them more than once that these were definitely people treats. Once they tried a bite they definitely didn't need more convincing ;).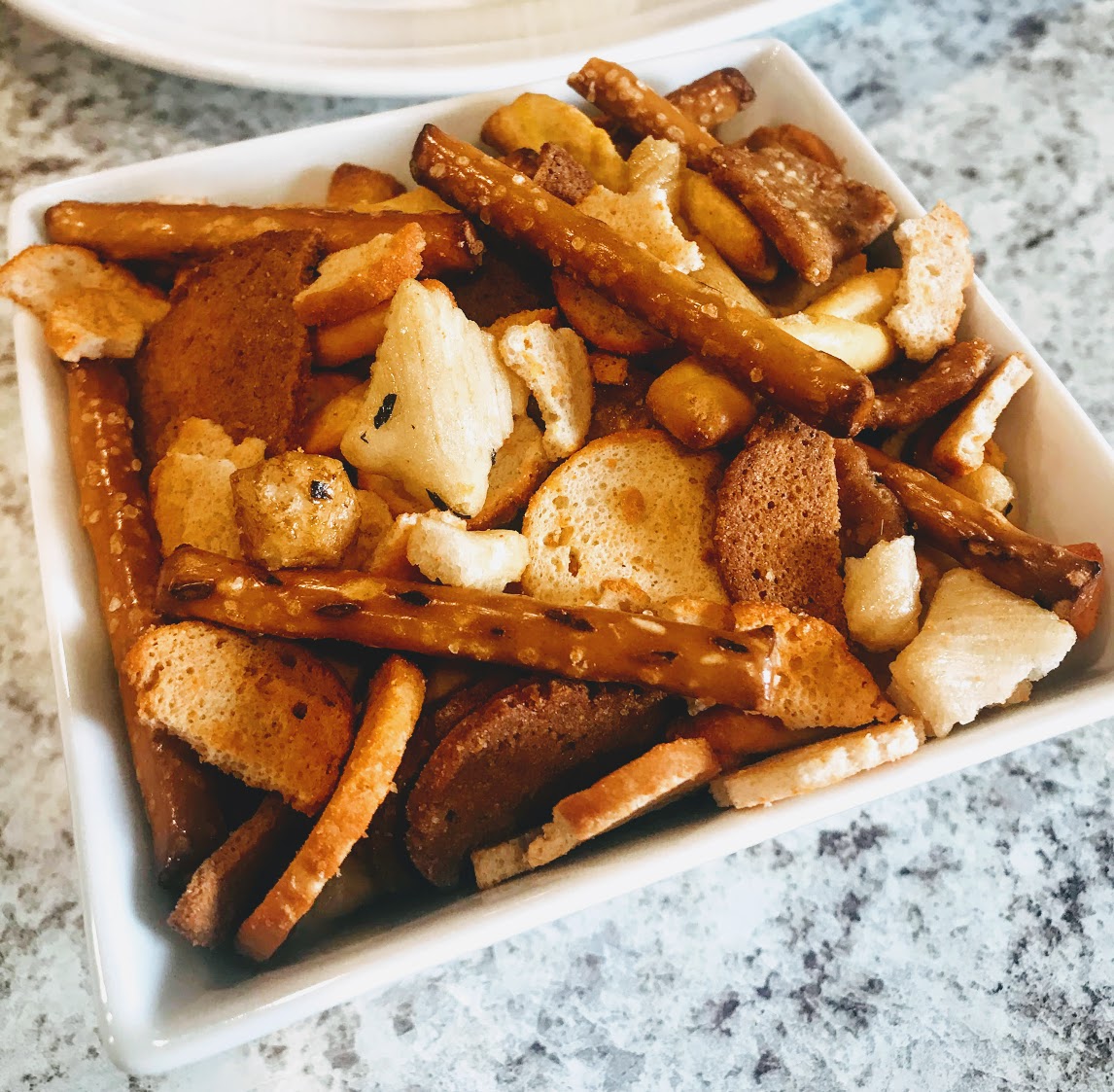 I also bought some Pub Mix and put it in a bowl to act as Kibble- you could really use anything and pretend it's dog food! Reese's Puffs, Munchie Mix- whatever you like to snack on! I just thought the Pub Mix was super fun because of all the variety!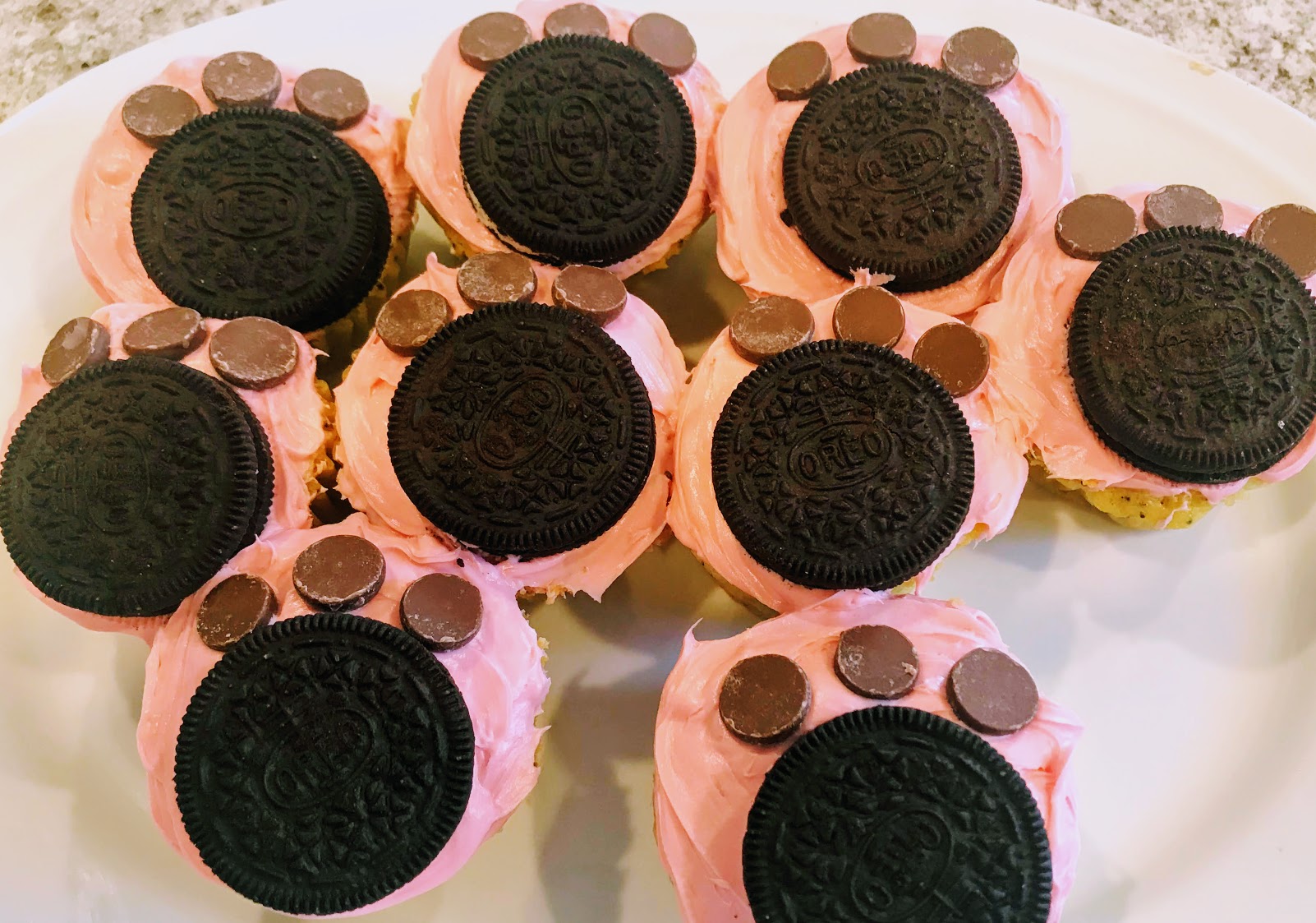 And to top everything off, we had these cute little paw print cupcakes. I just pulled out the lemon poppyseed cupcakes from the freezer from our Cinderella night and used the strawberry icing leftover from our Alice in Wonderland night, and they came together perfectly! I love using things up instead of wasting them! I also loved how very little cooking was actually involved in this meal- my pregnant body certainly thanked me ;). To top off the cupcakes, I just used Oreos and chocolate chips. Easy, and tasty!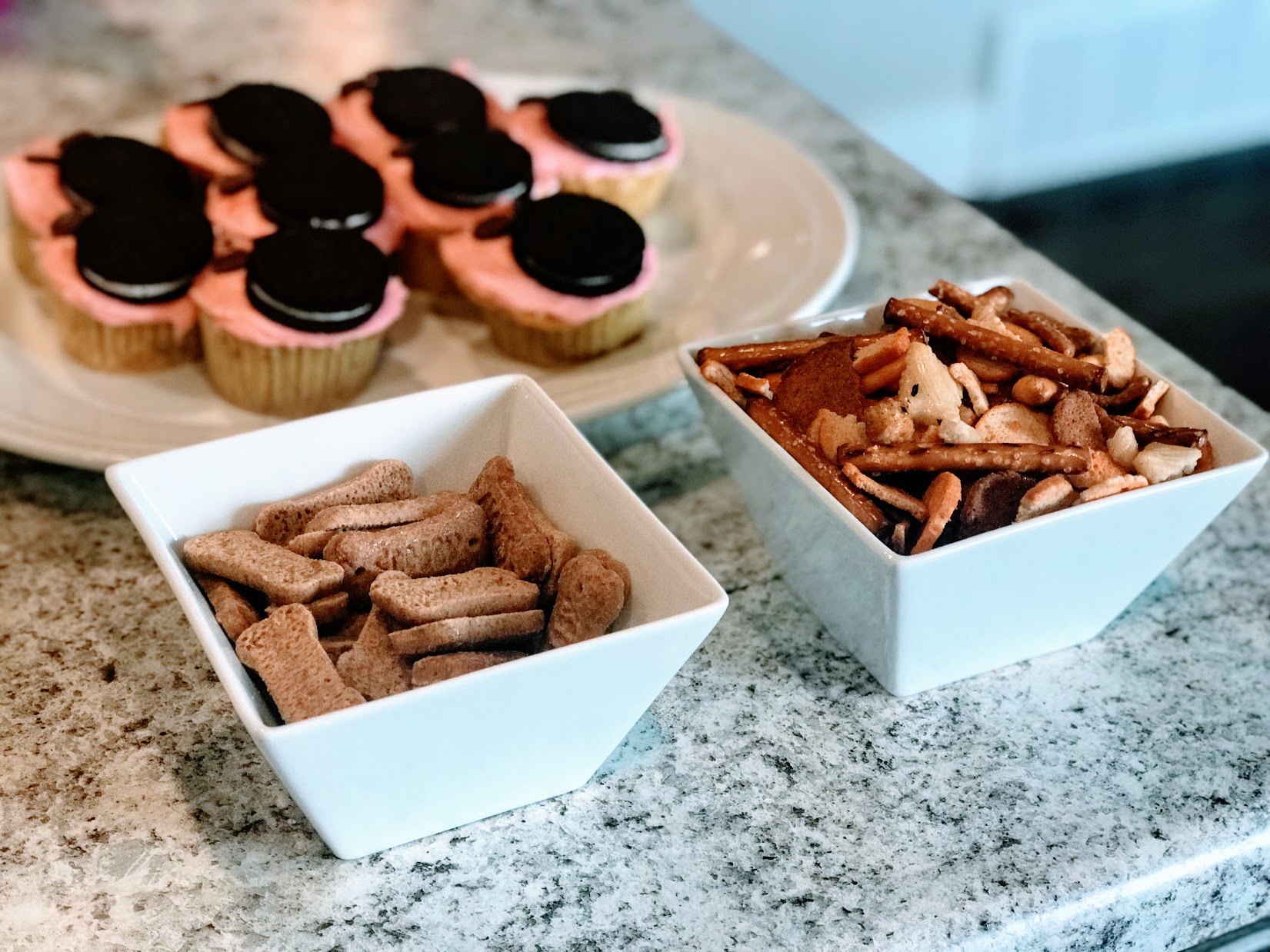 It was so fun to watch this classic with my kids. We actually got a puppy in December, and they loved comparing our dog's behavior with the ones in the movie. And they kept commenting "I bet this is Rosalie's favorite Disney movie, because of all the dogs!" I'm not sure how our goldendoodle Rosalie felt about the movie, but she certainly lifted her head whenever there was barking and whimpering- which is quite a bit ;).
Definitely give this pasta recipe a try, and tune in for our next Disney adventure!
Farfalle With Chicken and Roasted Garlic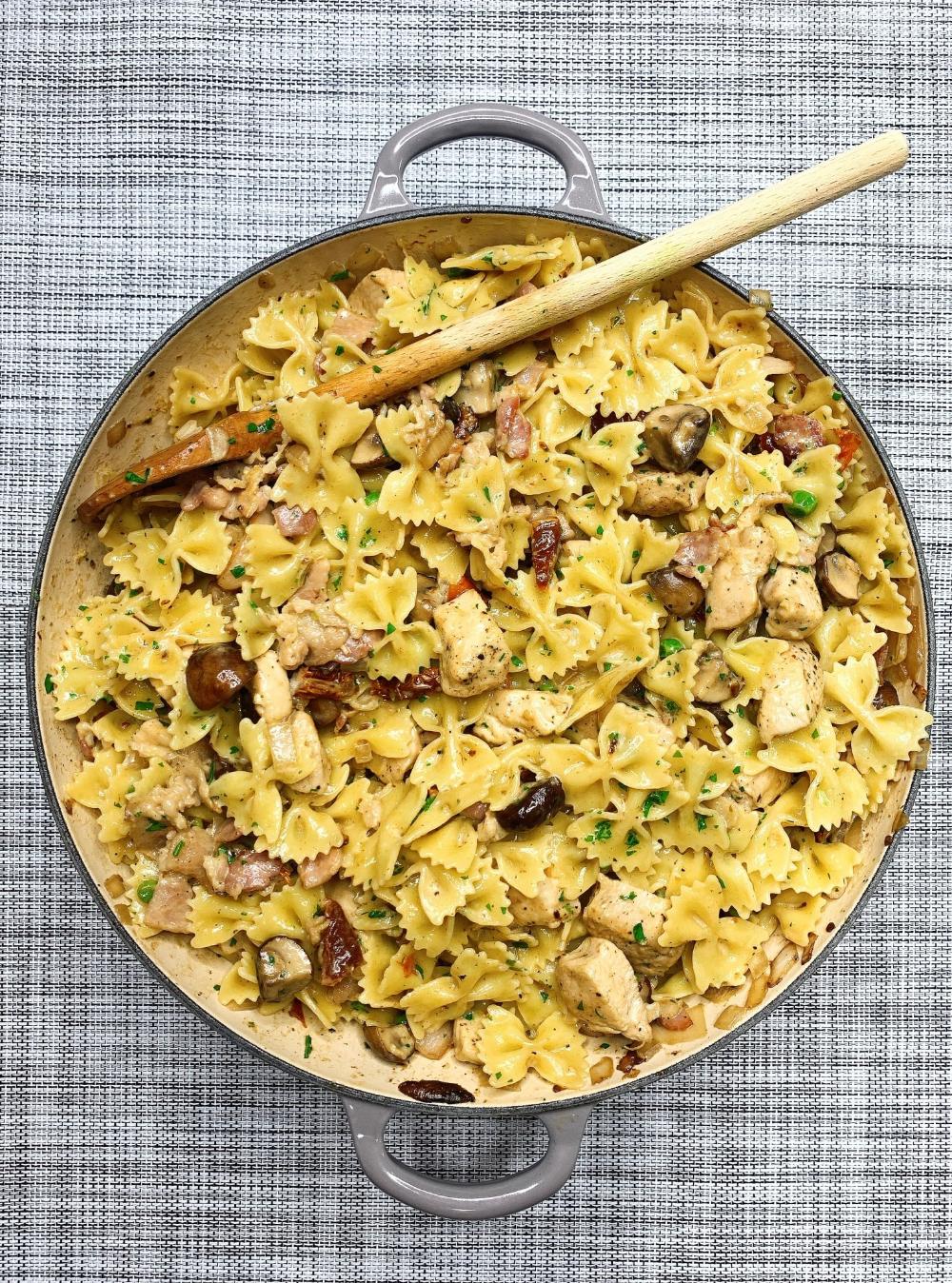 Ingredients:
2
chicken breasts
(about 1 lb), cut into 1 inch cubes
2
tablespoons
olive oil
2
tablespoons
butter
1/2
tablespoon
black pepper
12
ounces
bacon
, cut into strips
8
ounces
portobello
mushrooms
, cut into quarters
1
small
yellow onion
, diced
3/4
cup
white wine
1
cup
heavy cream
5
ounces
sun dried
tomatoes
, chopped quarterly
1
(16-ounce) package
farfalle
, cooked, drained, but not rinsed
1/3
cup
frozen green peas
Parmesan cheese
, for garnish
parsley
, for garnish
Directions:
1.Cut the chicken breasts into 1 inch cubes and season with salt and black pepper.
2. Using a large skillet cook the bacon on high heat and render the fat from the bacon. Once the bacon is crisp remove from the skillet and set it to the side.
3. Now add the chicken breast to the skillet and seared the chicken until browned on each side. Remove the chicken from the skillet once it is cooked.
4. Using the same pan add in butter to sautéed mushrooms. Half way through cooking the mushroom, add in the onions and follow by the sun dried tomatoes.
5. Add in white wine to deglaze the pan. Reduce the white wine by half, then add in the green peas.
6. Add in the heavy cream and bring it to a simmer and add in the mashed roasted garlic. Stir well to fully incorporate the roasted garlic to the sauce.
7. Add back in the bacon and chicken to the sauce and cook the sauce for 3 – 4 minute for it to thicken. Add in the pasta and the chopped parsley. Mix the pasta until the sauce is completely combined with the pasta.
8. Remove from heat and serve. Garnish the dish with parmesan cheese and 1 parsley leaf. Enjoy!
Source: https://foodtravelshoppingchannel.com/2020/11/10/farfalle-w-chicken-roasted-garlic/

Recipe formatted with the Cook'n Recipe Software from DVO Enterprises.
Add Recipe to Cook'n
Sources:
https://foodtravelshoppingchannel.com/2020/11/10/farfalle-w-chicken-roasted-garlic/
http://recipeshoebox.blogspot.com/2011/02/dairy-free-chocolate-cake-with-paw.html
https://www.flickr.com/photos/cozinhandofantasias/12909527393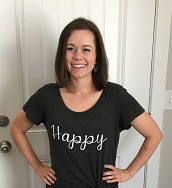 Camille Hoffmann
Weekly Newsletter Contributor since 2014
Email the author! camille@dvo.com