Olives Are More Than a Tasty Temptation!
I was reading an article on olives that was filled with interesting and happy news: They're actually good for us. I didn't know this. I'd been under the assumption that they were just high-sodium little taste temptations.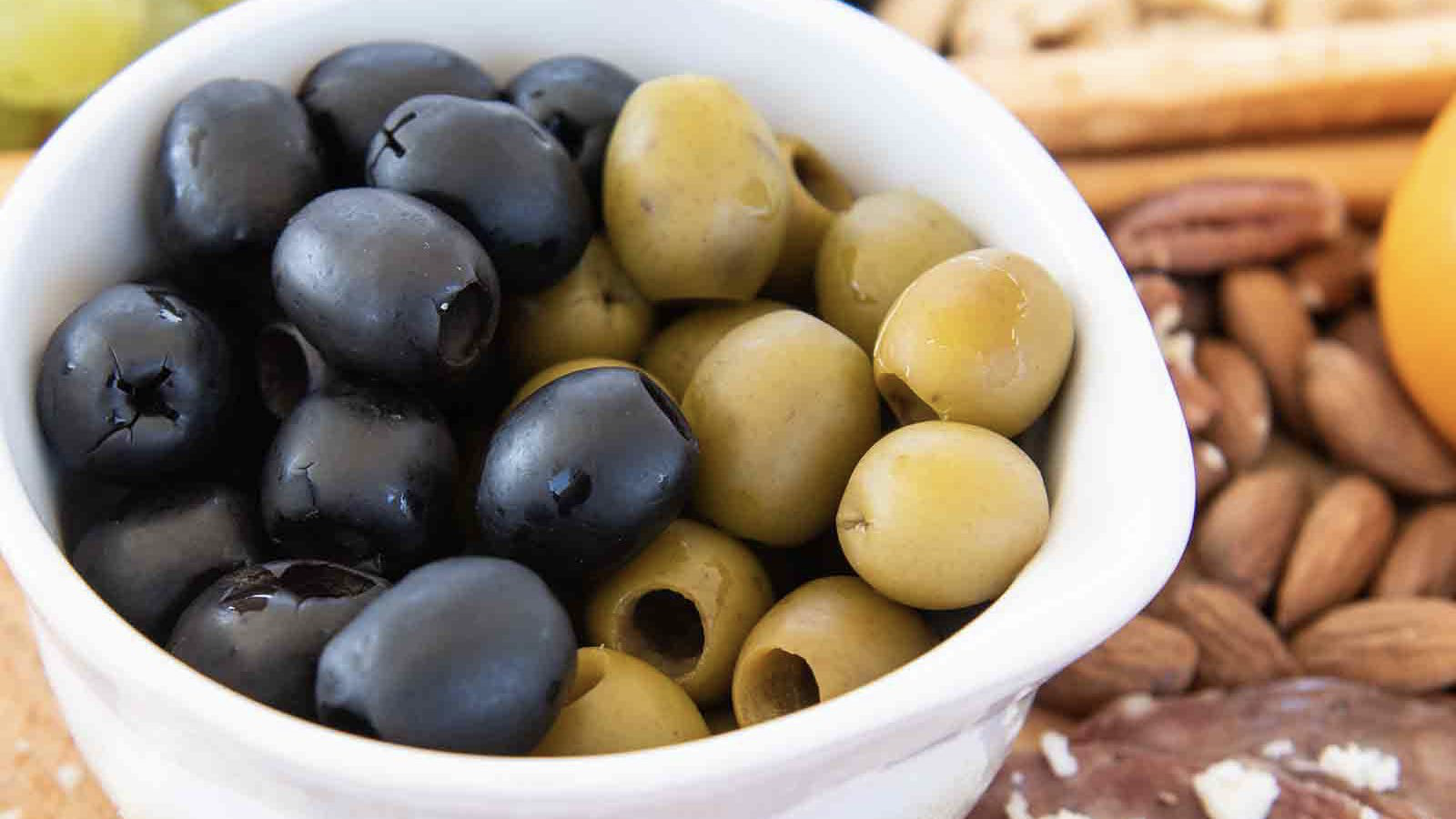 Turns out, these heart-healthy single-seeded fruits are not just delectable, they're a dynamic treat. A single olive includes monounsaturated fat, phytonutrients, omega-3 fatty acids, antioxidants, calcium, iron, and vitamins A, C, and E. Studies show that they are good for the heart and help protect against osteoporosis and cancer. Who knew?
The recommended serving is 8 large black ones or 10 stuffed green ones (at about 45 calories and 5 grams of fat). Easy ways to get more of them into the diet are as a tapenade or tuna spread, diced into sauces (such as puttanesca, a type of marinara that's wonderful on pasta), sliced over pizzas, added into salads.
It is true that they can be high in sodium. So, nutritionists suggest rinsing canned olives before cooking or eating them, which effectively reduces the sodium.
And in terms of insulin resistance and diabetes (over 10% of our population dealing with this, according to the USDA), research shows olives benefit glucose and insulin homeostasis, as well as improve insulin sensitivity. And, because they're high in monounsaturated fats, they help reduce the risk of cardiovascular disease among diabetics.
Such good news. Now, instead of seeing olives as some tasty little temptation, we can dive in with gusto. And their sweet, sour, salty, bitter and pungent flavors are singularly complex, making them an essential tool in any home cook's arsenal. What a treat to find something that is not only good, but is good for us, as well!
There's more to the olive story than it's tastiness and health benefits, though. Like how many varieties there are (literally hundreds). A few decades ago, your average American knew of only a few—some were green, some were black, some were pitted, and the best ones were pimento-stuffed. To widen your horizons, here are 14 of the most classic and easiest to find in the U.S (thank you www.seriouseats.com for this tutorial):
KALAMATA. The king of Greek table olives, they're deep purple, with tight, snappy, shiny skin, and a pretty almond shape. They're typically preserved in red wine vinegar, red wine, and/or olive oil for a distinctive rich, smoky, fruity flavor. This variety is great in tapenades or served simply with roasted cauliflower.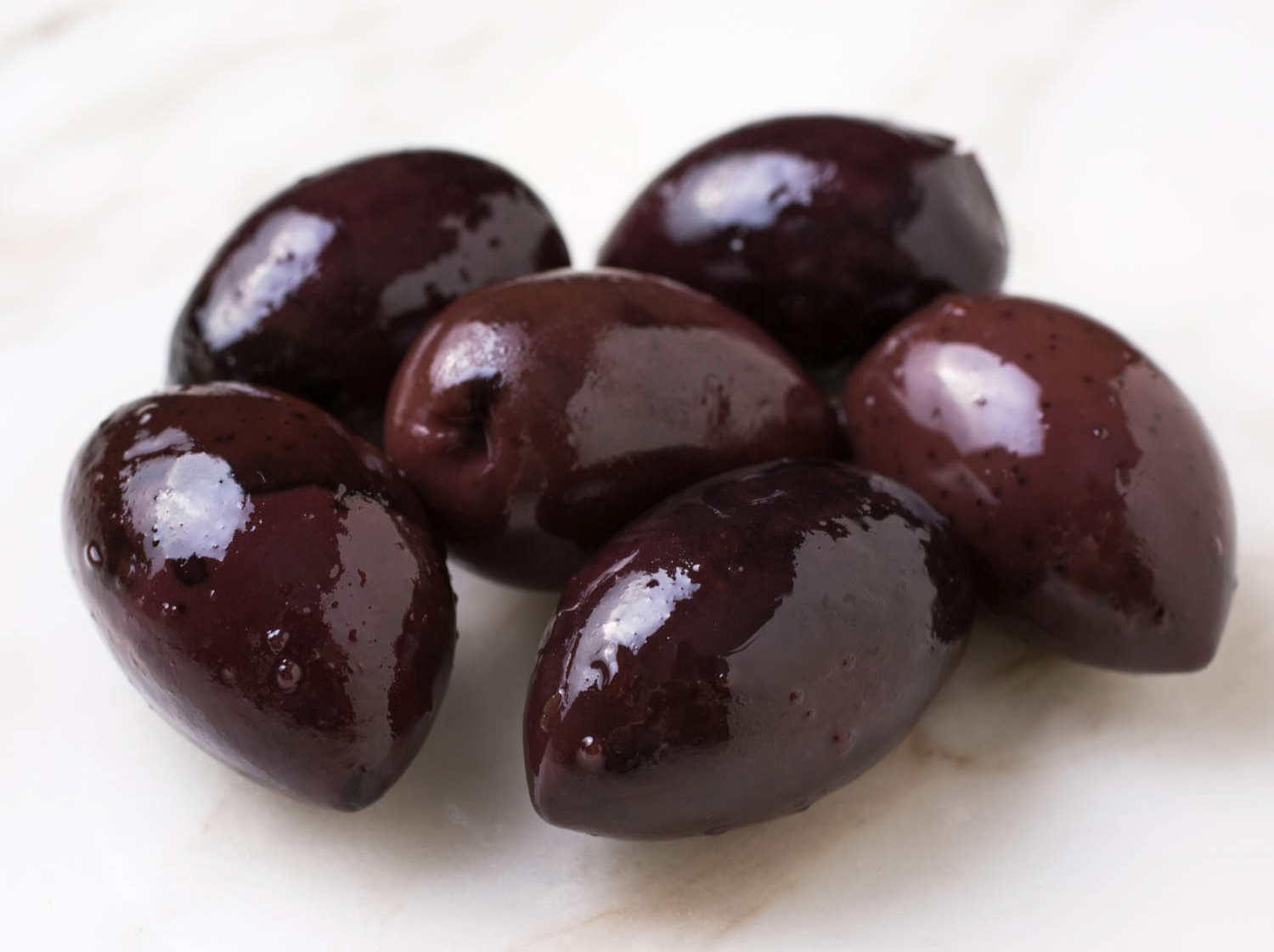 CASTELVETRANO. Italy's typical snack olive, they're bright green, and often referred to as dolce (sweet). They have a green hue, meaty, buttery flesh, and mild flavor.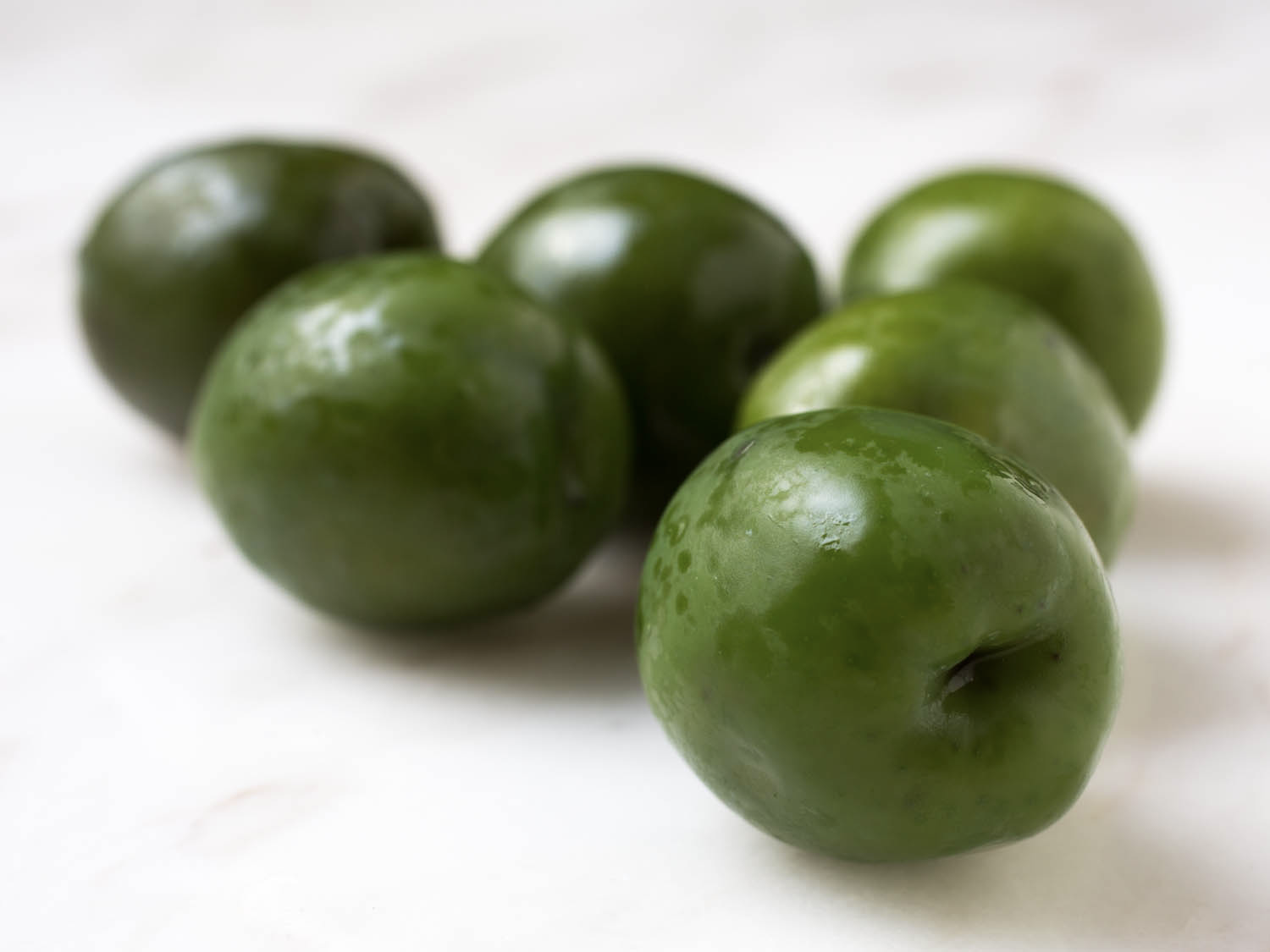 CERIGNOLA. Gigantic green olives, they're crisp and fantastically buttery. Their hefty size makes them easily stuffable. They complement garlic, cheese, capers, and anchovies.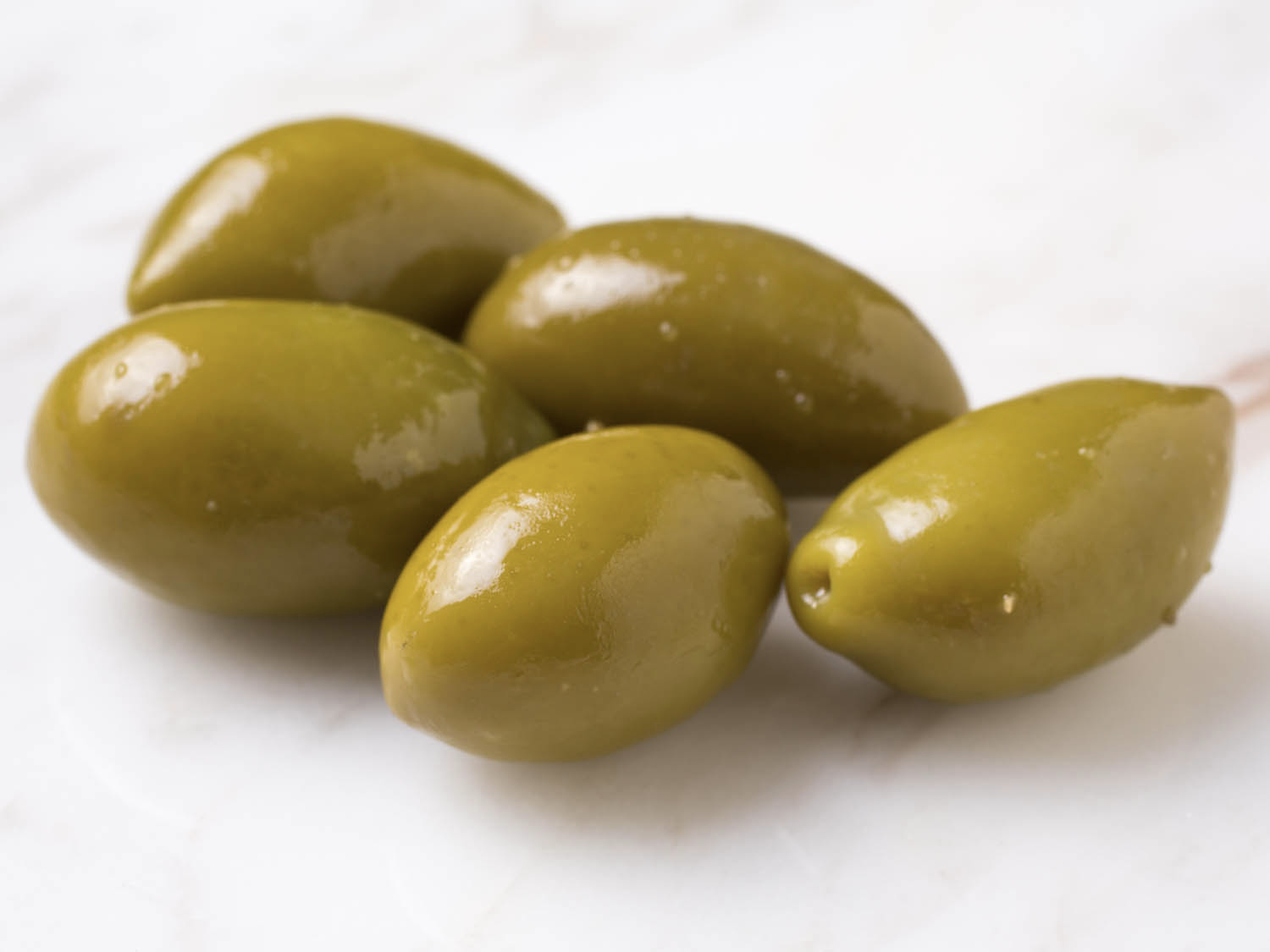 NYON. These petite, jet-black olives are dry cured, then aged in brine. Plump, wrinkly, meaty, and just-a-bit bitter, they're packed with aromatic flavor. They're especially delicious dressed with olive oil and fragrant herbs like rosemary and thyme.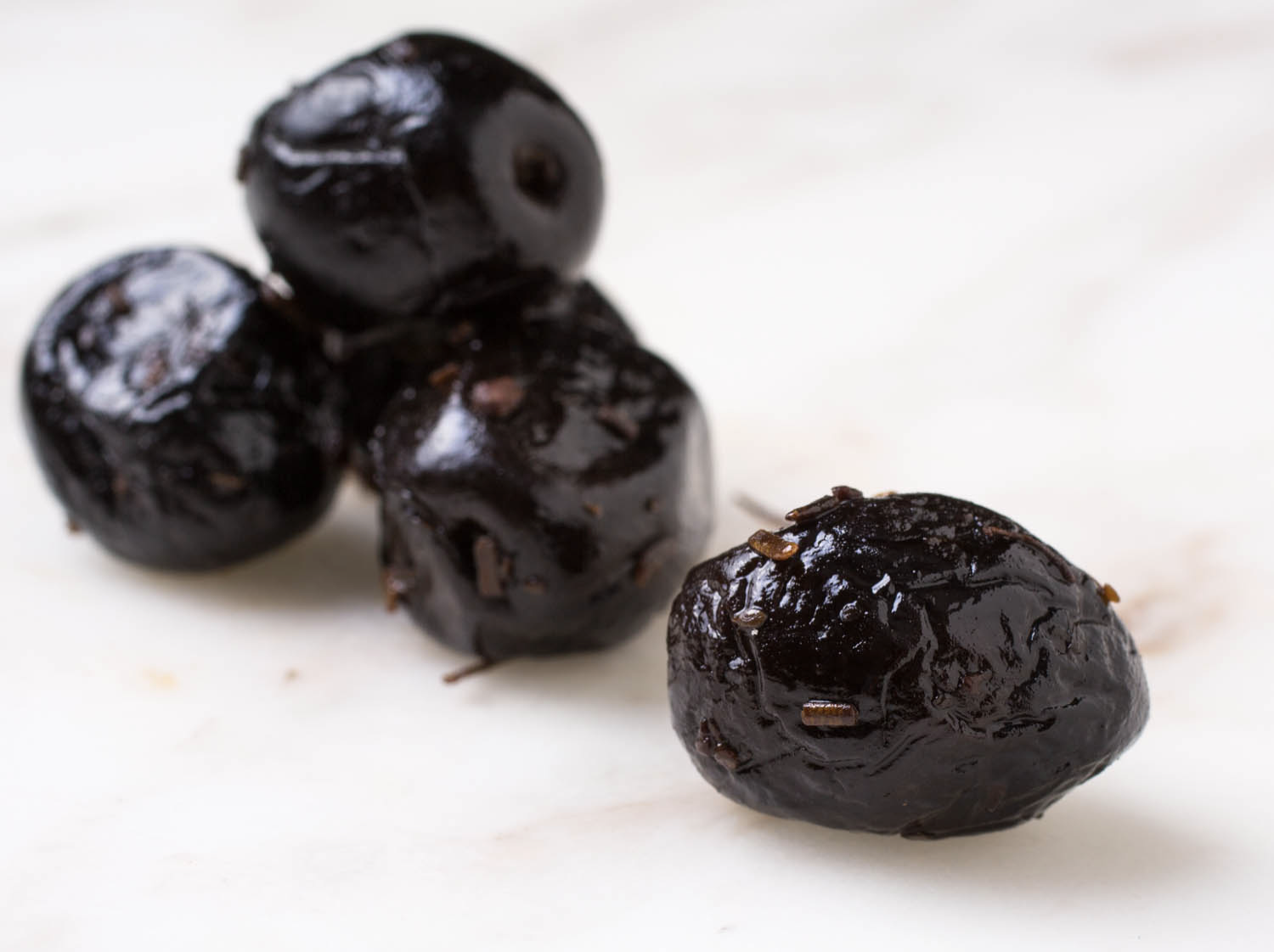 NICOISE. This olive is a key ingredient in salade Niçoise and tapenade, but equally wonderful nibbled on their own. Not overpowering, the Niçoise has an enticingly herbal fragrance with faint notes of licorice.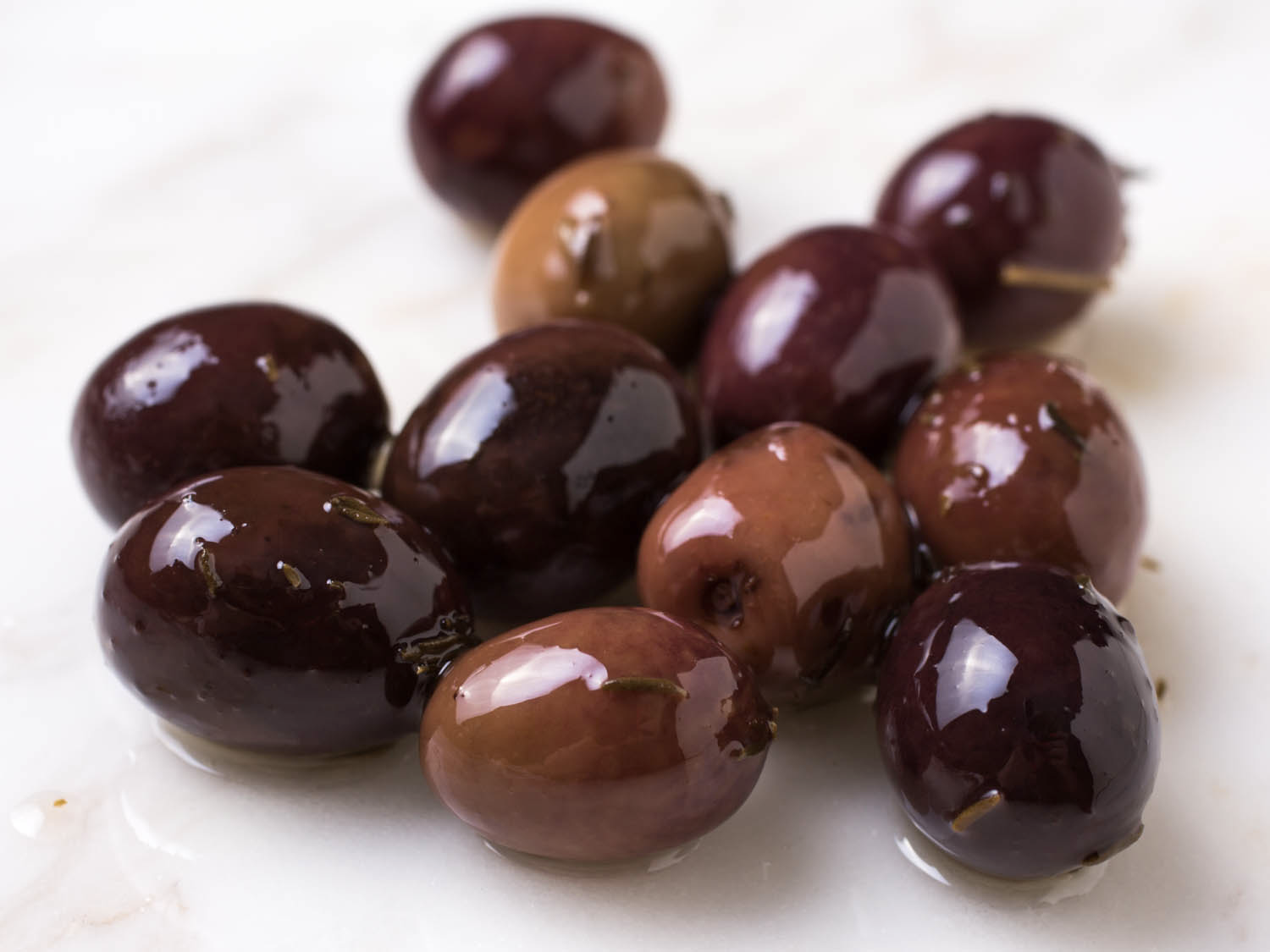 LIGUIRA. Also called Taggiasca olives, this petite variety packs a big flavor punch for their small size. Similar to the niçoise olive, they're usually cured with an aromatic mixture of bay leaves, rosemary, and thyme.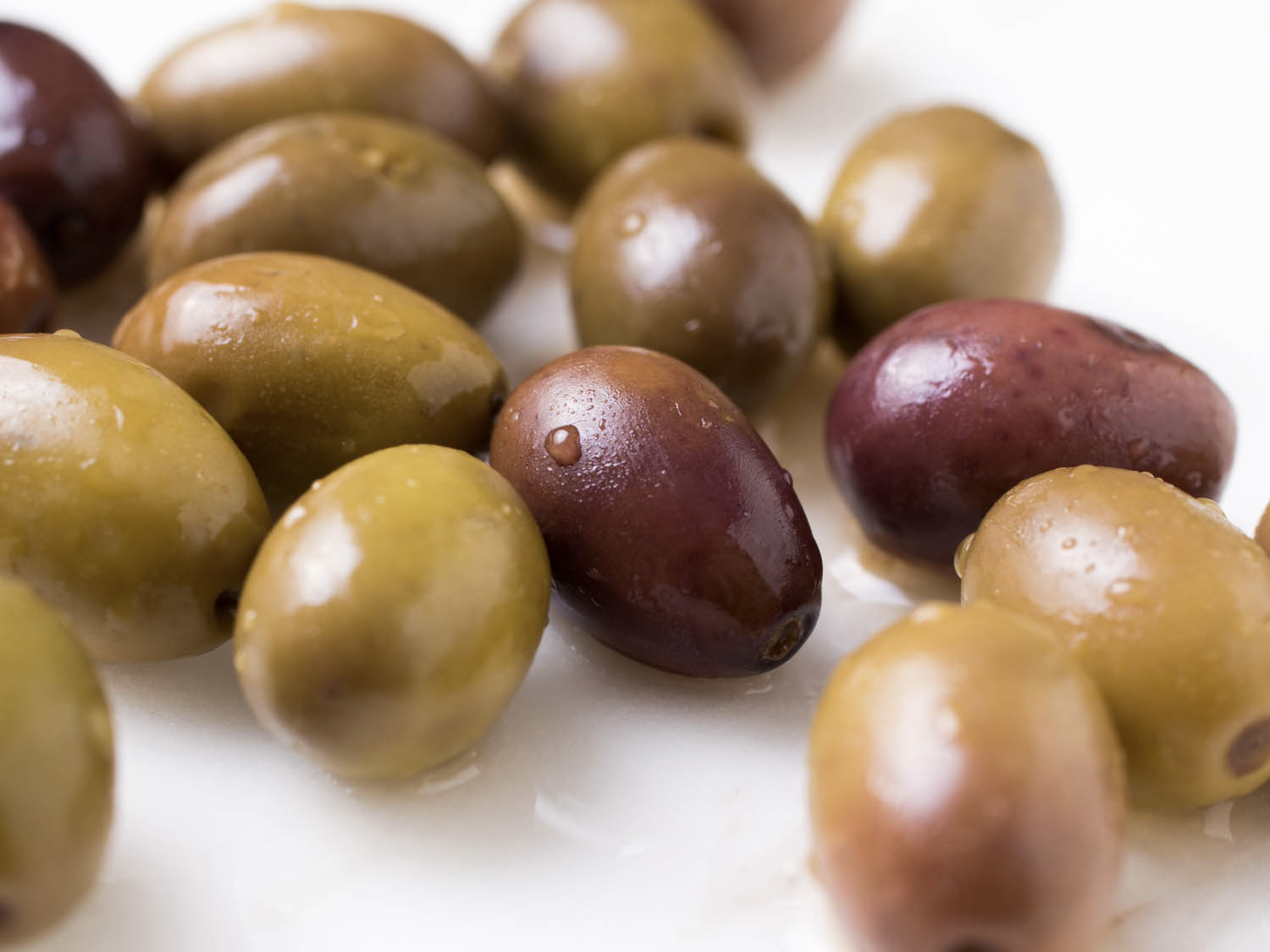 GAETA. These small, purplish-brown, wrinkled olives have soft, tender flesh and a tart, citrusy taste. Gaetas can be either dry-cured (shrivelly, chewy) or brine-cured (plump, juicy). They're yummy for snacking and served over spaghetti with capers and pine nuts.
PICHOLINE. These torpedo-shaped French green olives are wonderfully crisp and crunchy, with a tart, nutty, anise-y flavor. They're pretty and elegant enough to serve as hors d'oeuvres, and give a welcome punch to risotto or a hearty stew.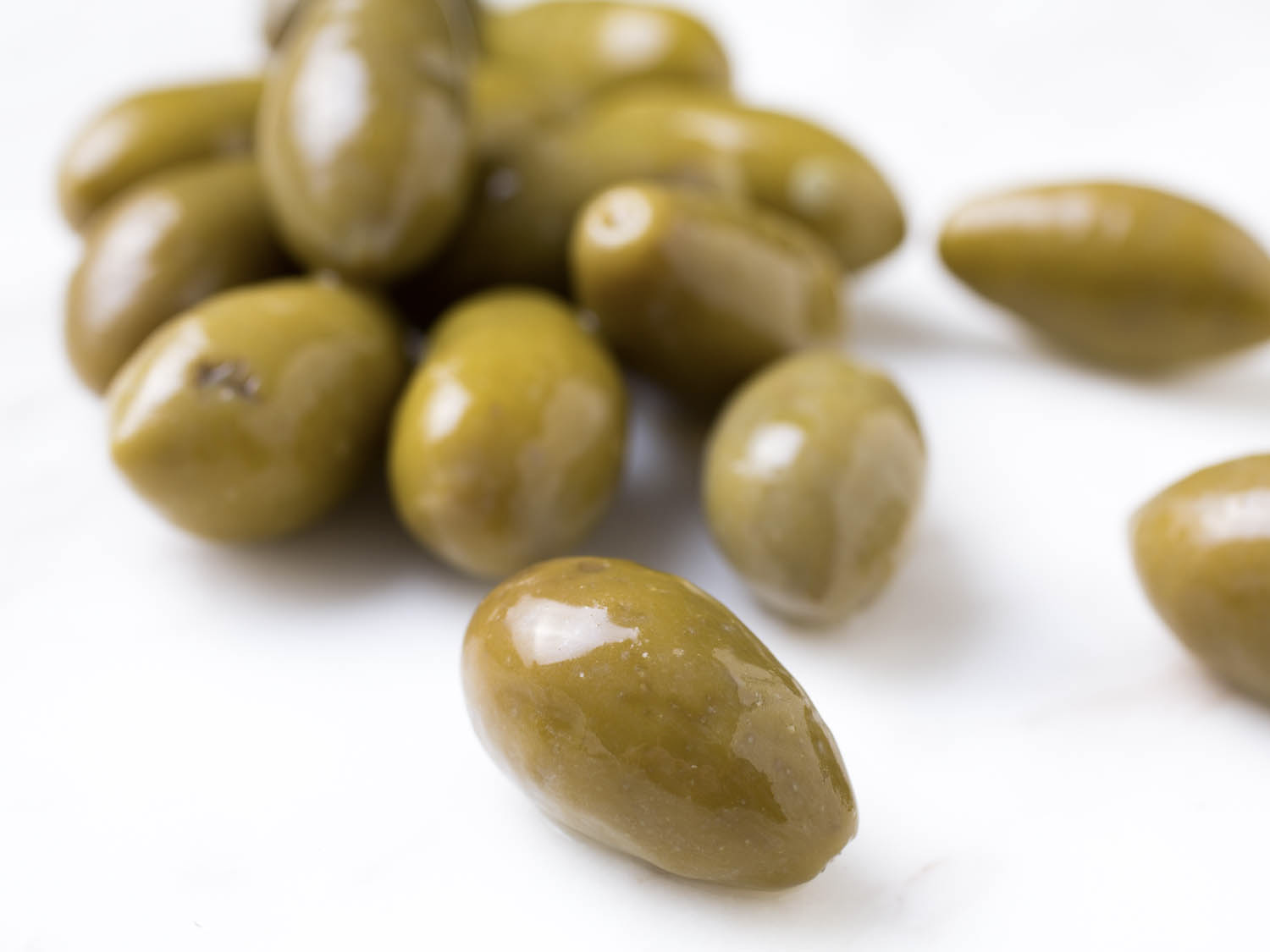 GORDAL. Spanish for "fat one," these are some BIG olives, with plenty of firm, meaty richness to match their imposing size. Add them sliced, to your pizza toppings. Delicious!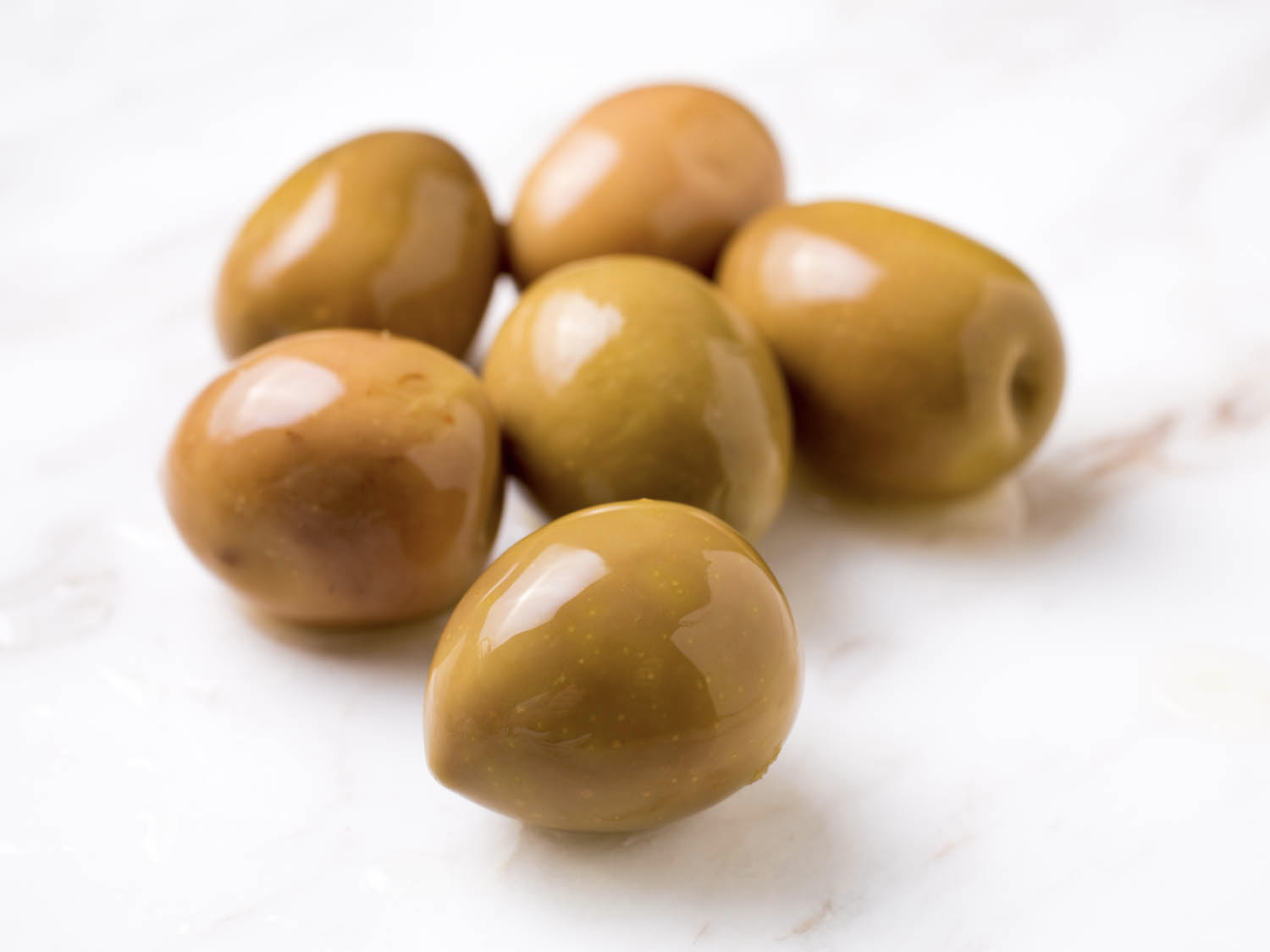 ALFONSO. Traditionally considered Chilean, these are huge, deep purple olives that are brine-cured, then macerated in red wine. They are supple, juicy and fleshy, with a hint of sour bitterness.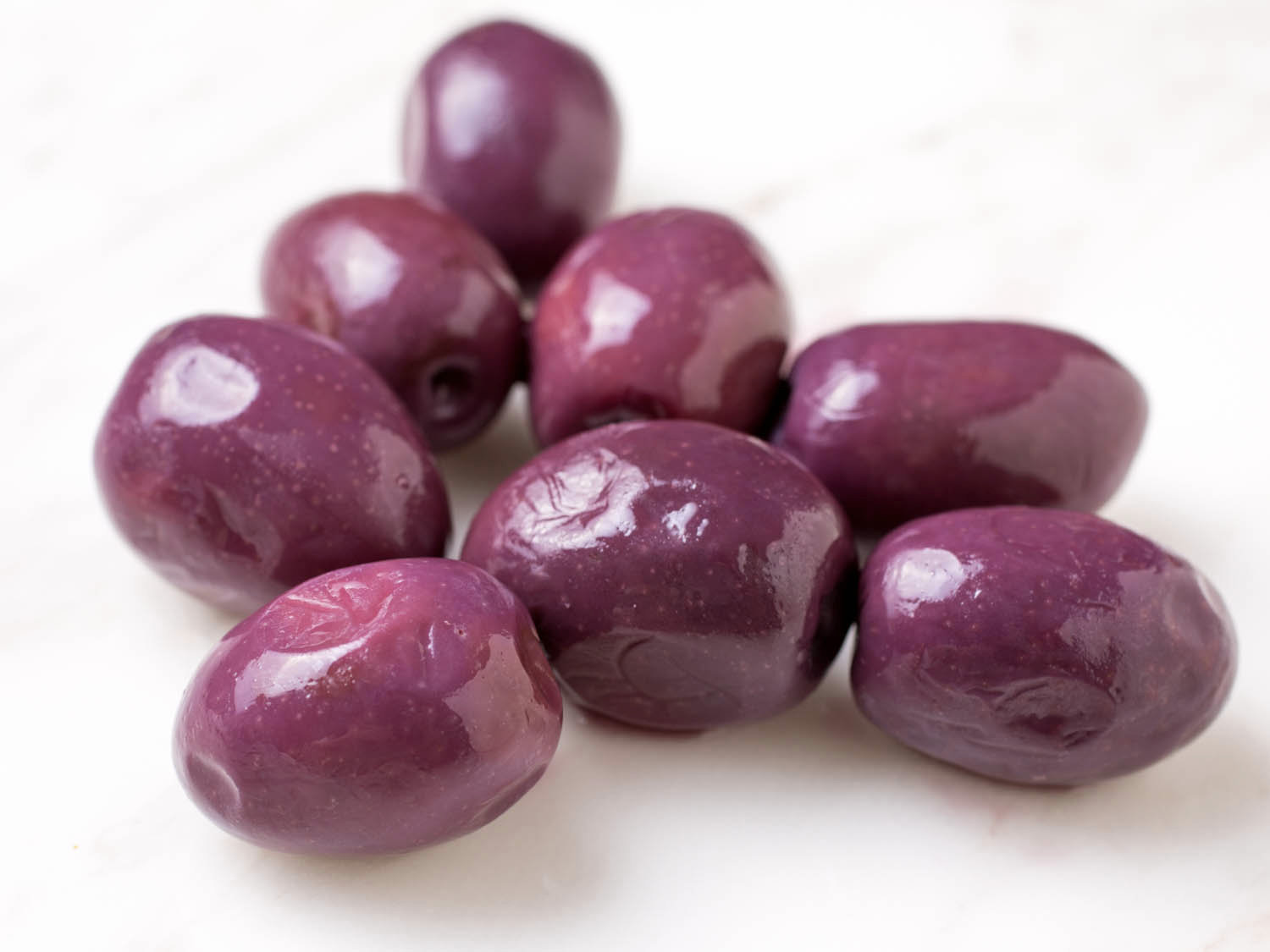 MISSION. The USA's very own olive baby. Mission olive trees have flourished in California since the 1700's; most of the yield goes to make olive oil, but black oil-cured and green brine-cured table olives are both mild, grassy, and bright in flavor.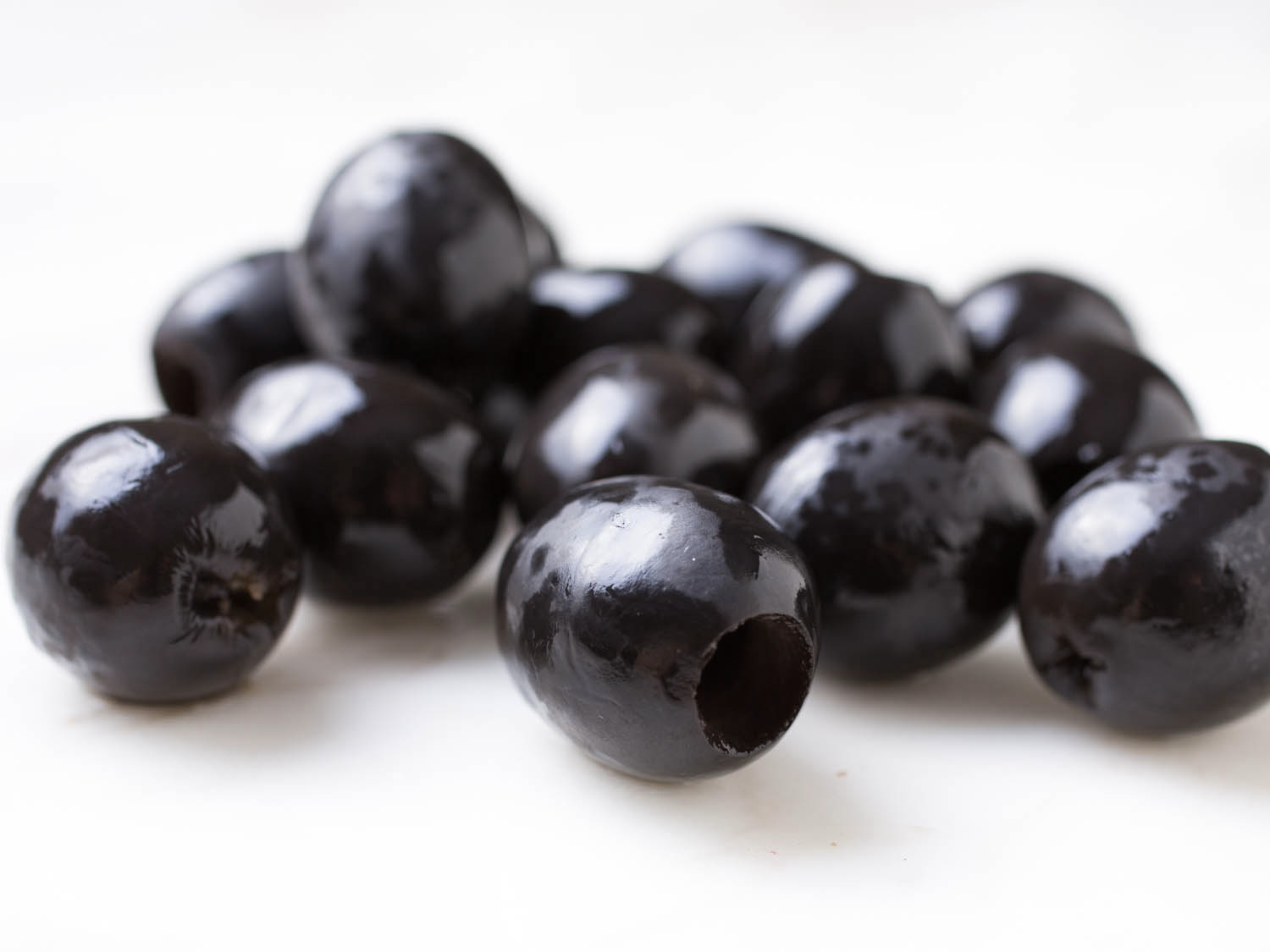 MANZANILLA. This familiar, friendly, oval-shaped olive from Spain is brine-cured, with a crisp texture and a slightly smoky, almond-y flavor. This is the olive most often stuffed with pimientos, or cracked and dressed with olive oil and fresh garlic.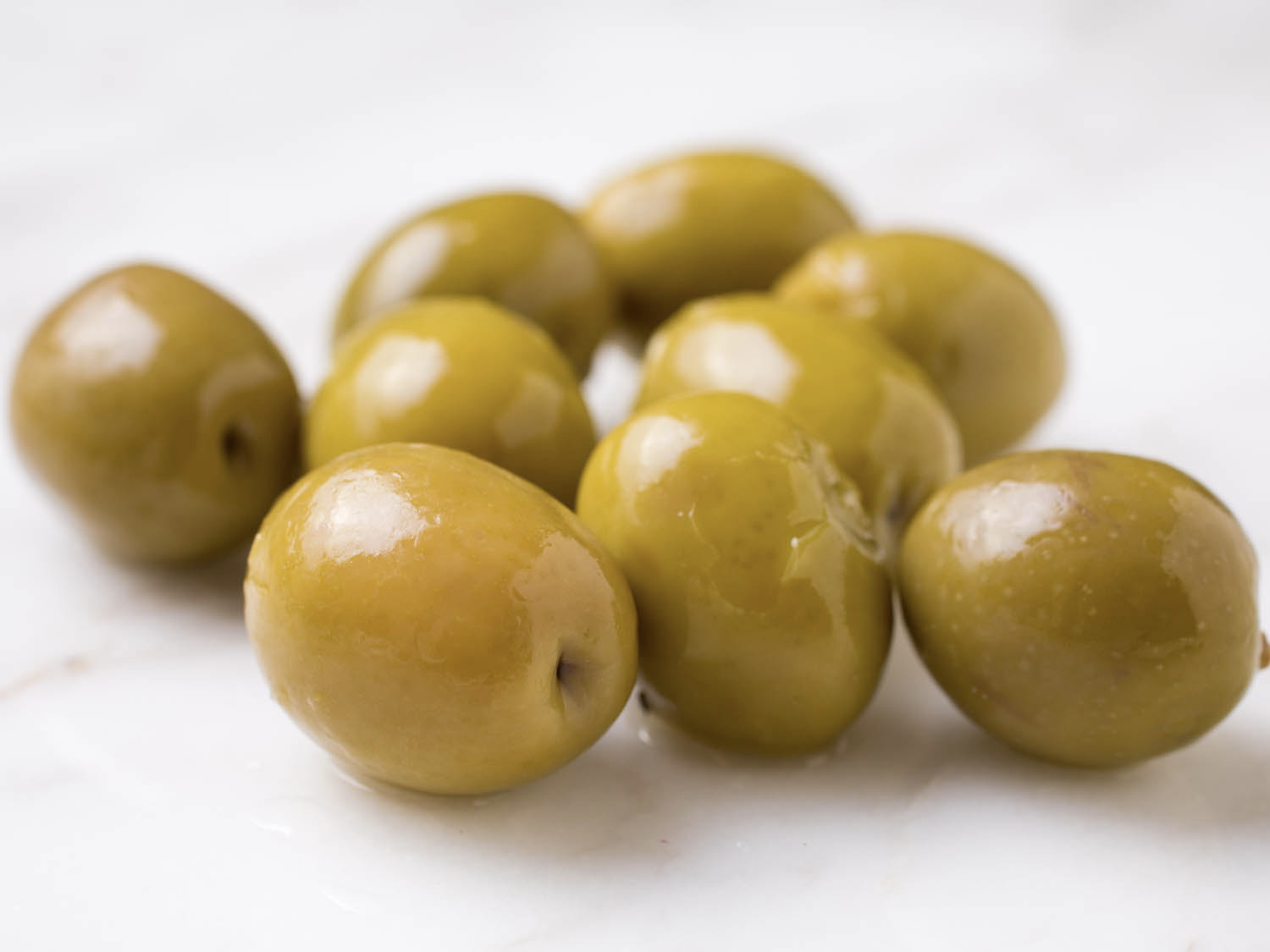 BELDI. Morocco produces hundreds of varieties of olives, but exports only a few. If you can get your hands on these, you're truly lucky. They are dry-cured and wildly, intensely flavorful. Serve them in salads, tagines, or sprinkled with good olive oil and hot peppers.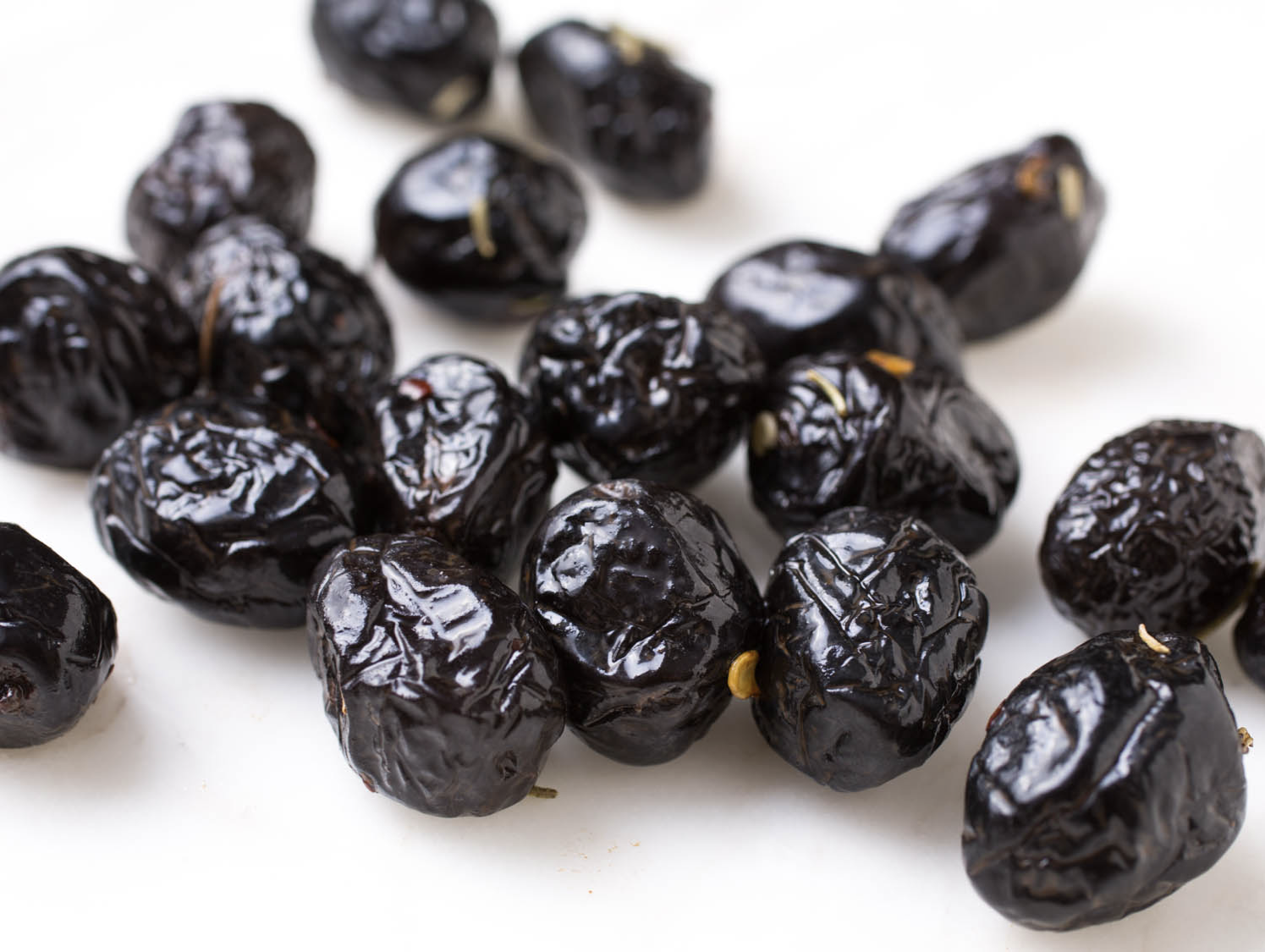 AMFISSA. These hand-picked olives are harvested when very ripe, and are slowly brine cured to coax out a mild, fruity flavor and a melt-in-your-mouth softness. They're served in soups or stews and are perfect with cheeses and cured meats.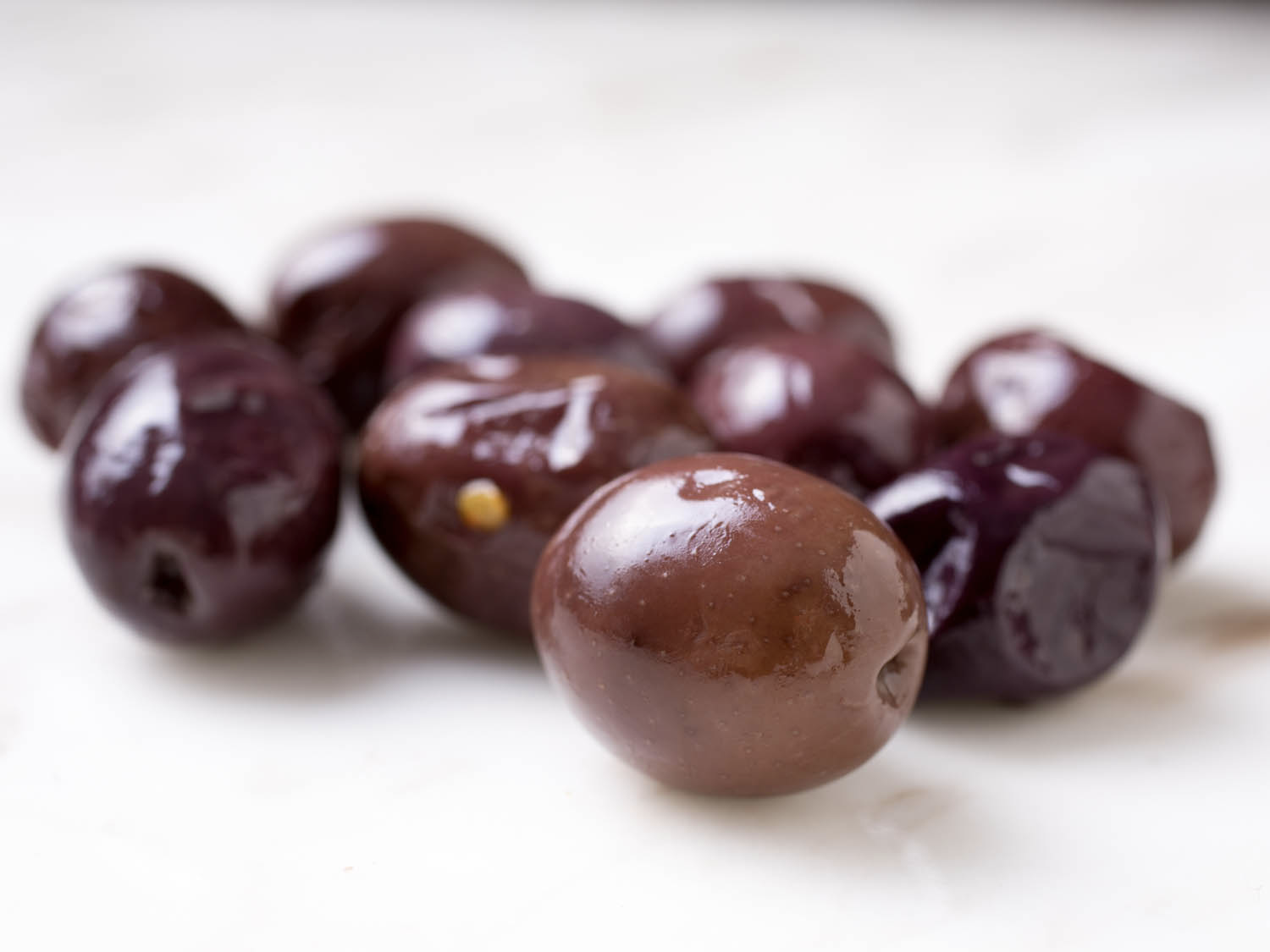 Roasting olives is a good way to get started with more olive-eating. The California Olive Industry Council (COIC) shares this suggestion: Spread olives in a single layer in a baking dish, coat with olive oil (of course!), sprinkle with lemon zest; bake at 350°F for 45 minutes. Serve as a side dish or over pasta.
And here's one more recipe from COIC (reported to be one of their favorites). I'll be serving this at our annual Memorial Day barbecue.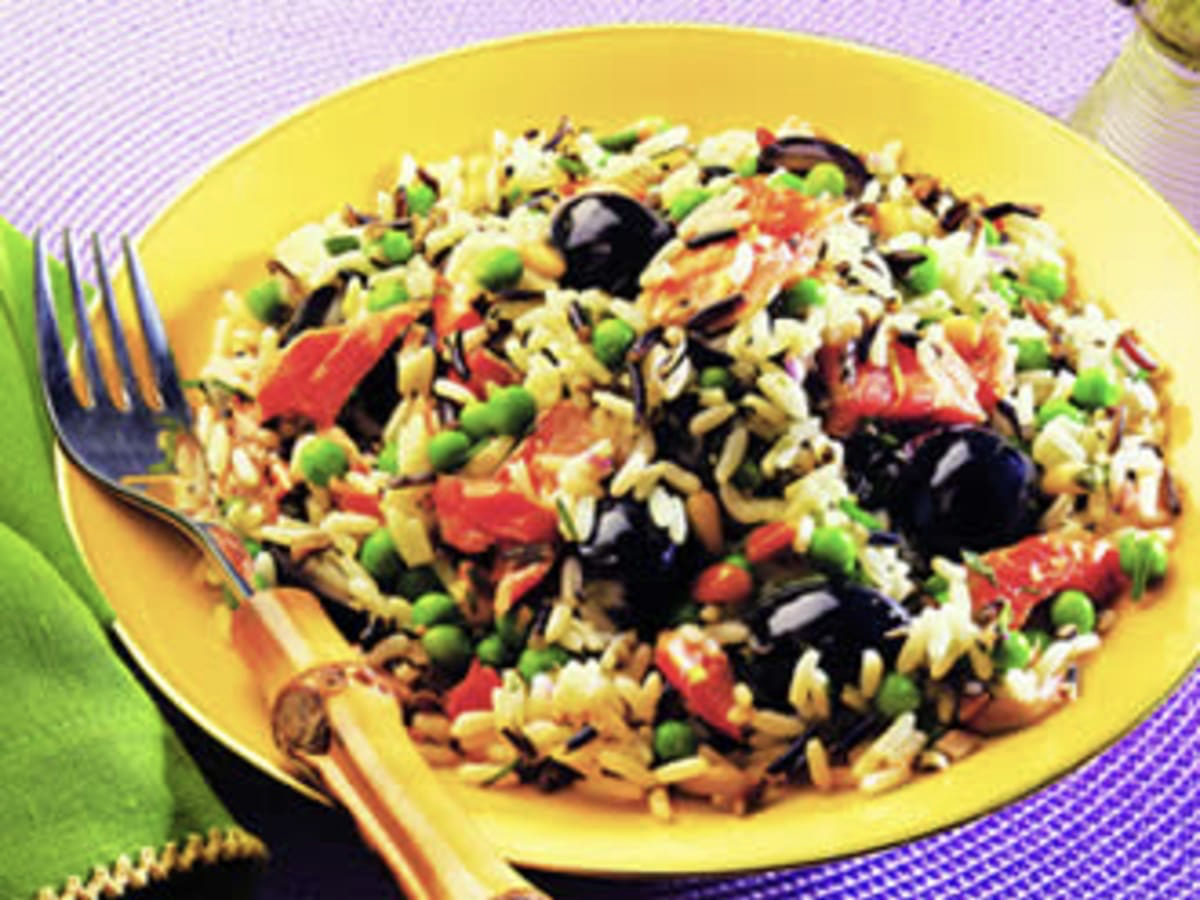 SMOKED SALMON, OLIVE, AND WILD RICE SALAD
Serving size:
4
Calories per serving:

689




Ingredients:
2
tablespoons
white wine vinegar
2
tablespoons
tarragon
, chopped
1 1/2
tablespoons
shallots
, chopped
1
tablespoon
lemon juice
1
tablespoon
olive oil
1
tablespoon
chives
, chopped (1/4-inch)
1/4
teaspoon
coarsely ground
black pepper
3
cups
cooked long grained
white rice
1
cup
cooked
wild rice
8
ounces
hot smoked
salmon
, flaked into 1-inch pieces
1
cup
green
peas
, blanched
3/4
cup
california black ripe
olives
, halved
1/4
cup
toasted
pine nuts
Directions:
Whisk together vinegar, tarragon, shallots, lemon juice, olive oil, chives and black pepper in a large mixing bowl. Add white rice, wild rice, smoked salmon, green peas, California Ripe Olives and pine nuts. Toss to evenly combine. Serve at room temperature.

Recipe formatted with the Cook'n Recipe Software from DVO Enterprises.
Add Recipe to Cook'n
Sources:
www.simplyrecipes.com
www.7emptyplates.com
www.seriouseats.com
www.jamiegeller.com

Alice Osborne
Weekly Newsletter Contributor since 2006
Email the author! alice@dvo.com