Sprouts are THE WAY to Go!
Before you know it, fresh greens from the garden will be but a memory. What to do to compensate for their loss (besides returning to buying them at the grocery store, I mean)? I like to pull out the sprouter and start a crop of sprouts — talk about practically-instant-gratification. In just 2 – 4 days, you can grow enough nutrient-rich "greens" to sprinkle on just about anything.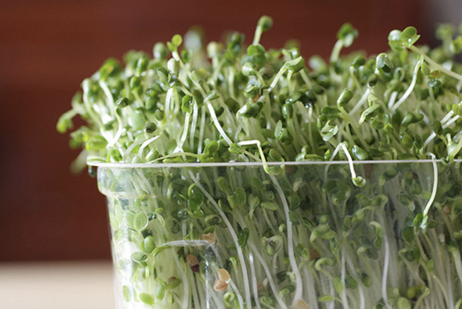 Sprouts used to be synonymous with "health food" during the natural foods movement of the 70's — especially alfalfa sprouts. Now they're pretty much mainstream. During the process of germination, seeds and grains produce vitamins (especially C) and numerous enzymes helpful in digestion and absorption of minerals. Almost any seed, bean or grain can be sprouted. All good reasons why sprouting has become so popular.
The folks from one of my favorite sites, www.sproutman.com, say this about sprouts: "Farm-to-table? Try table-to-table! We eat sprouts whole, roots and all. This is special because unlike any other vegetable, that means they're still "alive" even after they're harvested. And what's so great about "living foods?" They're loaded with nutrition, are super enzyme-rich, and especially digestible. (They also stay fresh longer than full-grown lettuces in the fridge, so say goodbye to wilted greens!)"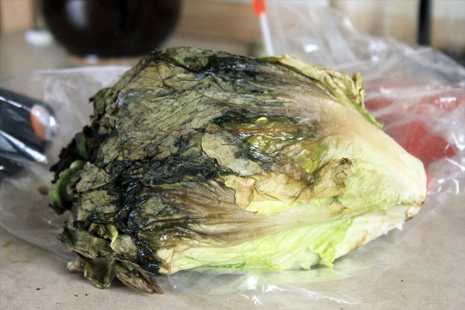 One seed scientists don't recommend sprouting, however, is the above-mentioned alfalfa. Research shows alfalfa sprouts can actually compromise the immune system. That's OK, broccoli sprouts taste even better. If you haven't tried broccoli sprouts, do so—they're a little spicy and really add a nice zest to salads. Also give mung beans and sunflower seeds a shot. Most bulk food sections in health food stores carry sprouting seeds, but wherever you get your seeds, make certain they are organic.
Over the years I've use a quart glass jar and piece of nylon stocking to grow my sprouts, which worked so-so. There are better options out there, though. This 3-tiered sprouter is nice—you can watch them grow, they grow upright and they're super easy to rinse when growing in this configuration.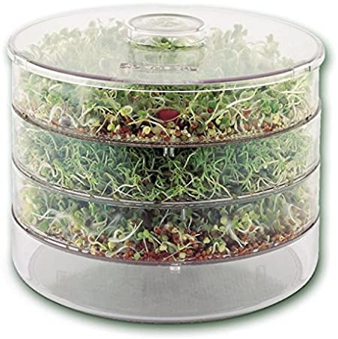 Another sprouting method is the sprout bag, made of 100% raw hemp for extra durability. Sprout bags will grow any seed, but they're perfect for all grains and beans including mung, lentil, garbanzo, adzuki, wheat, barley, rye, kamut, peanut, quinoa, cress, arugula, fenugreek, and more. Just dip and hang! Here are a few reasons why a sprout bag is preferable over other methods:
It saves time—it's very convenient.
All the sprouts get ample air; this provides good circulation which prevents mold formation.
There's 100% drainage without tilting or waiting; water never collects.
All varieties of seeds with sprout—grains, beans, even gelatinous seeds.
It's convenient; only takes 2 steps (dip bag in water, hang on hook or knob, or lay it in a dish rack.
It saves counter space and refrigerator space; the bag expands and contracts per volume.
It's lightweight, unbreakable; perfect for traveling, camping, boating.
It has a wide opening for easy handling; holds equivalent to 3/4 gallon jar.
Fabric won't shrink or mold, like cotton, burlap or cheesecloth do.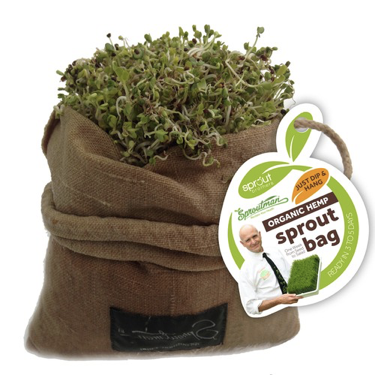 The only drawback I see (as compared to an almost free glass quart jar) is the price--$14.95. BUT, it'll last forever. The family of the man that invented it, Steve Meyerowitz (the Sproutman), is still using the one he made in 1979. I've found their marketing hype lives up to its claims. It truly is like the super convenient. The older I get, the easier I want things to be. So, if the sprout bag interests you, check it out at www.sproutman.com.
Finally, there are lots and lots of good how-to books and Internet information on sprouting, along with great recipes. Here's one that's delicious, very healthy, and easy to learn on. Garbanzo beans are one of the easiest to sprout. With a little practice, you'll find sprouts are truly the way to go!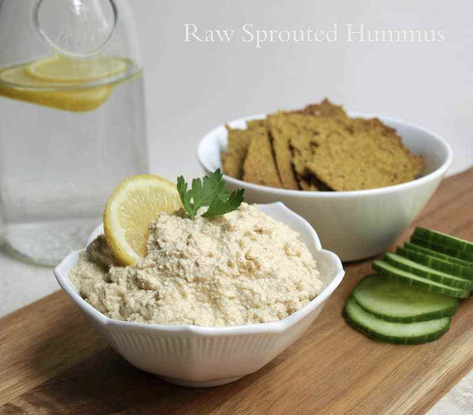 Sprout Hummus
Serving size:
1
Calories per serving:

344




Ingredients:
1
cup
garbanzo beans
sprouts
1
tablespoon
sesame tahini
1
tablespoon
lemon juice
(fresh is best, of course)
1
tablespoon
extra virgin
olive oil
plus more for serving
1
clove
garlic
more or less--to taste
3/4
teaspoon
ground
cumin
3/4
teaspoon
salt
1/2
teaspoon
pepper
Directions:
Mix all ingredients to desired consistency using a food processor.
Serve: Spread hummus on serving platter; drizzle olive oil over top; sprinkle paprika over all (smoked paprika is a nice touch). Slice cucumber, tomatoes, carrots, etc. and place around hummus.
Or, spread Hummus on flour tortilla, top with other sprouts. Roll it up. Serve whole or sliced.

Recipe formatted with the Cook'n Recipe Software from DVO Enterprises.
Add Recipe to Cook'n
Sources:
www.onegreenplanet.org
www.food-hacks.wonderhowto.com
www.amazon.com
www.sproutman.com
www.simple-veganista.com

Alice Osborne
Weekly Newsletter Contributor since 2006
Email the author! alice@dvo.com