Basic LEEK Stuff
Back in the day (maybe 10 years ago), I wrote an article on leeks that opened with the question, "Am I the only one who doesn't know what a leek is?" Well, I quickly figured it out, thanks to Google. I remember being really embarrassed about this lack of experience with what is now one of my very favorite vegetables. At the time, I felt like maybe I'd been raised in a barn, or something. It was all true, I didn't get out much, but I honestly wondered if leek-oriented cooking was all that common.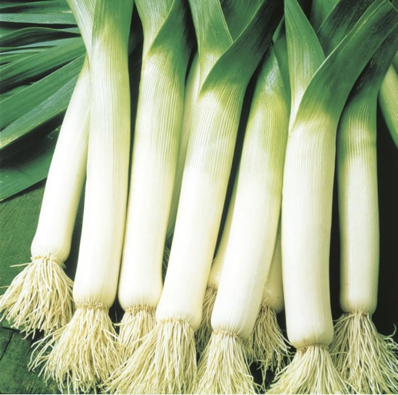 Anyway, curiosity got the better of me and I'm glad it did, because I discovered this is a very cool food. Here's what I found out (thank you for your patience in case you already know all this):
With a more delicate and sweeter flavor than onions, leeks add a subtle touch to recipes without overpowering the other flavors that are present.
Although leeks are available throughout the year they are in season from the fall through the early part of spring when they are at their best.
Leeks are related to onions, shallots and scallions to which they bear a resemblance. They look like large scallions having a very small bulb and a long white cylindrical stalk of superimposed layers that flows into green, tightly wrapped, flat leaves.
As far as health benefits go, this veggie holds its own. They stabilize blood sugar levels, protect against ovarian and other cancers, help stave off colds and flu, and they lower LDL cholesterol (the bad cholesterol) while raising HDL cholesterol (the good cholesterol).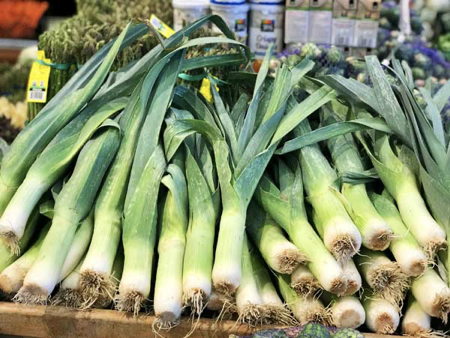 Since I'd never shopped for them, I also wondered how do you choose the best-of-the-best leeks in the produce display? I found out they should be firm and straight with dark green leaves and white necks. Good quality leeks will not be yellowed or wilted, nor have bulbs that have cracks or bruises.
Since overly large leeks are generally more fibrous in texture, only purchase those that have a diameter of one and one-half inches or less. And you want your leeks to be of similar size so as to ensure more consistent cooking if you are planning on cooking them whole. Fresh leeks should be stored unwashed and untrimmed in the refrigerator, where they will keep fresh for between one and two weeks. Wrapping them loosely in a plastic bag will help them to retain moisture.
As cooked leeks are highly perishable (even when kept in the refrigerator), they'll only stay fresh for about two days. They can be frozen after being blanched for two to three minutes, however, BUT doing this causes them to lose some of their desirable taste and texture qualities.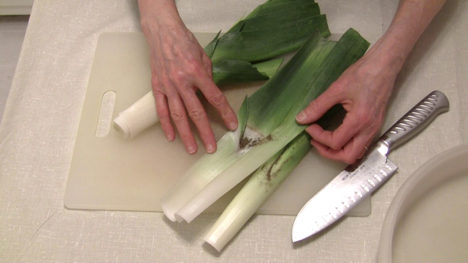 Fresh leeks store well in the freezer, though. Prep them by cutting off the ends and most of the dark green leaves (leave about 1½- to 2-inches-worth). Then soak them well in cold water (this helps remove any dirt that may be between their layers). Drain them and pat them dry. Place them in a freezer storage container and freeze. Use them within 5-6 months.
Impressed? I was and remain so. Now to finish this basic leek stuff, here's a great recipe for practicing your leek skills. This recipe gets double applause—it's yummy, and it also includes zucchini (a boon this time of year; who can't use another way to use up that prolific zucchini?)!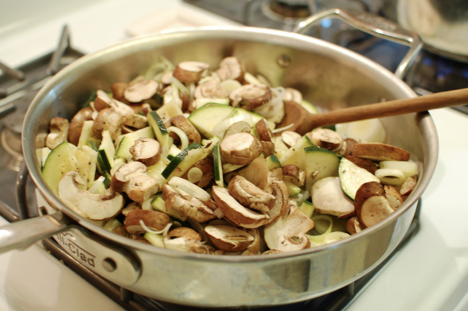 Leek and Zucchini Pasta
Serving size:
1
Calories per serving:

1,087.096




Ingredients:
3
cups
rotini
pasta
2
medium
leeks
1
medium
zucchini
julienned
2
tablespoons
extra virgin
olive oil
2
cups
sliced
mushrooms
1 1/4
cups
sour cream
1/4
cup
dry
white wine
1
teaspoon
tarragon
leaves
3/4
teaspoon
sea or Himalayan
salt
pepper
to taste
Parmesan cheese
for serving
Directions:
Discard most of the green part of the leeks; slice thinly lengthways. In a large frying pan, heat the oil over medium-high heat. Sauté the leeks, mushrooms, and zucchini for 5 minutes. Add the dry white wine and simmer for another 5 minutes. Stir in the cream, tarragon and salt. Bring to a boil and simmer until slightly thickened. While preparing sauce, cook the Rotini pasta according the instructions on its packaging. Drain thoroughly. Spoon onto plates, top with sauce, and finish with hardy sprinklings of grated Parmesan cheese. Serve immediately.

Recipe formatted with the Cook'n Recipe Software from DVO Enterprises.
Add Recipe to Cook'n
Sources:
www.reddit.com
www.healthyrecipesblog.com
www.youtube.com
www.blog.lbsgoodspoon.com

Alice Osborne
Weekly Newsletter Contributor since 2006
Email the author! alice@dvo.com