Christmas Gifts from the Kitchen: It's Time to Plan!
Over the years I've taught classes at a local university's summer adult education retreat, and one favorite series is titled,
Living Frugally with Style and Flair
. One class from this series was on creating an affordable Christmas. In preparing for it, I surveyed friends, family, co-workers, neighbors, etc., to see what folks were doing to spend less and enjoy this holiday more.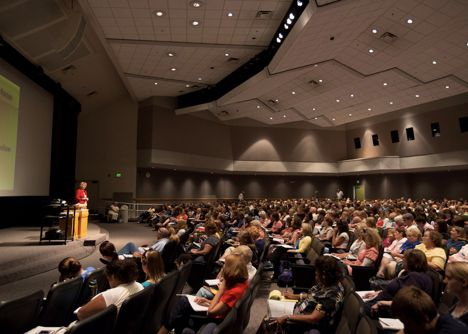 The ideas folks shared were clever and inspiring. Here's one of those ideas that I just have tell you about. One gal, who just loves to cook and bake told me this:
"I cook complete meals—entrees, desserts, breakfasts, breads, beverages, cakes, cookies, candies, snacks, etc. and freeze them in portion sizes for my family. I fill a
fifty-quart
ice chest completely full for
each of them
. This is my Christmas gift to each family.
"Then, when they come in from a long day at work, and have no time or idea what to cook, all they have to do is open their freezer and voila! There is a meal all prepared, ready to heat and eat, complete with instructions (on thawing and baking), plus the recipe! They LOVE this gift and look forward to it each year. The containers the food comes in are part of the gift, also. I scour thrift stores for Corning and Pyrex Ware with lids. The secret to this being a truly nice gift, though, is the careful attention to wrapping for the freezer. THAT'S a biggie!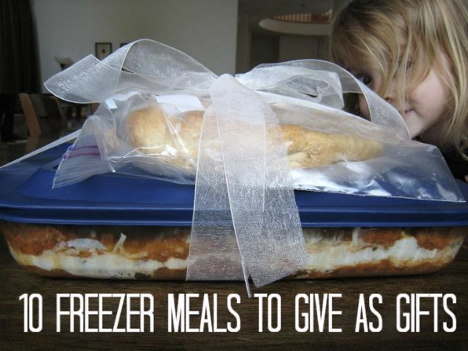 "I have to start early (the end of summer, usually) to be sure I have everything made up in time. But that's OK, because it feels so good to have things all done come the start of the holiday season." [
I can't even relate to that statement!
]
I was so jazzed with this idea that I followed her lead (but on a smaller scale) and made a week's-worth of meals for my two local daughters. With this enthusiasm, I roamed the freezer aisles to get an idea of entrees that freeze well. I figured, since the commercial food industry is selling frozen entrees, they've obviously worked out the issues as to what works and what doesn't. I found lots of inspiration from typical commercially made freezer entrees: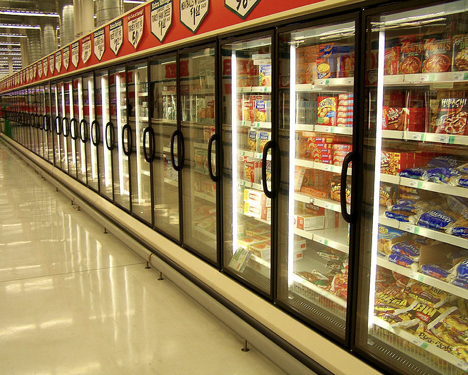 Lasagna
Chicken, beef, and vegetable pot pies
Burritos, enchiladas, and chimichangas
Soups and stews
Meatloaf with mashed potatoes
Shepherd's Pie
Macaroni and cheese
Spaghetti and meatballs
Raviolis
Chicken Parmesan
Chicken Piccata
Pizzas and calzones
Sandwiches (such as Philly-style steak and cheese panini)
Rice dishes
I shared this gift idea with a co-worker and she said she'd been doing this as well. Her approach: Whenever she made a freezer-appropriate dinner, she made extra for freezing. That way her meal-gifts accumulated slowly but without any extra workload.
That made such good sense, so I adopted that approach. And I found this related advice on the University of Nebraska website:
"If you're making extra food at one meal for future meals, separate and refrigerate the portion to be served later BEFORE you put the food on the table. This keeps food quality higher by preventing "planned-overs" from becoming "picked-overs." And most importantly, it also helps keep food safe."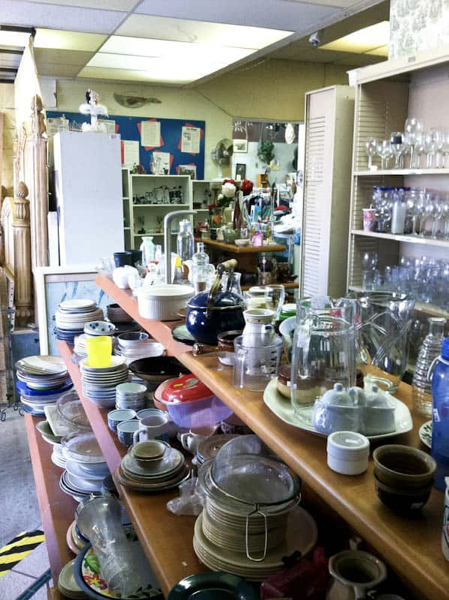 I also spent time in thrift stores (as mentioned above), looking for Pyrex and Corning Ware baking dishes with lids. Then I shopped sales on large freezer containers to complete my requirement of containers. My gift-receivers really appreciated not having to hassle with returning the entrée containers.
And lastly, I scoured the Internet for recipes that freeze well. Here's one that our family really liked. I'll close with this, and the request to let me know which are your favorite meals to freeze.
I intend to give freezer meals again this Christmas, and the more ideas, the better! (NOTE: This recipe freezes well for 3 months, so you'd want to make it around mid-October if planning to give it away.)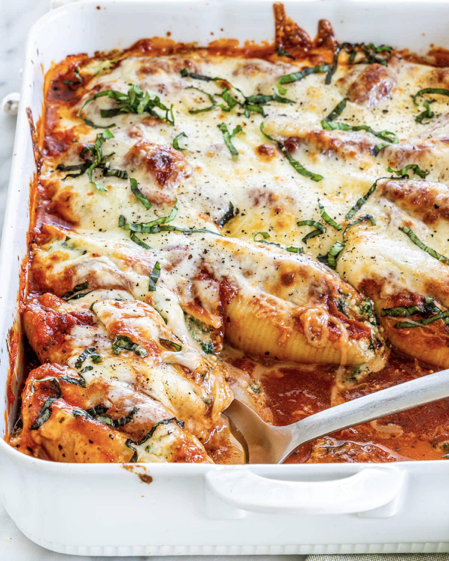 Veggie Pasta Shells
Serving size:
8
Calories per serving:

537




Ingredients:
24
uncooked, jumbo
pasta shells
1
(10-ounce) can
vegetable broth
1
carrot
minced
1
potato
peeled and diced
1
onion
finely chopped
2
cups
part-skim
ricotta cheese
1
cup
shredded
mozzarella cheese
1
egg
1/2
cup
grated
Parmesan cheese
1
teaspoon
dried
Italian seasoning
1
(28-ounce) jar
spaghetti sauce
1/2
cup
grated
Parmesan cheese
Directions:
1. Start by undercooking pasta shells. Rinse, drain, and let cool.
2. In a large saucepan, heat broth to boiling. Stir in carrots, potatoes and onions and cook 3-4 minutes until vegetables are tender. Drain vegetables well.
3. Combine with ricotta, mozzarella, egg, and 1/2 cup Parmesan cheese in a large bowl.
4. Stir in Italian seasoning.
5. Fill each cooked and cooled shell with this cheese mixture.
6. Pour 1/2 cup of the spaghetti sauce in the bottom of a 9x13" baking pan.
7. Arrange stuffed shells in a single layer on the sauce. Pour remaining sauce over top.
8. Sprinkle with 1/4 cup Parmesan cheese.
9. TO FREEZE: refrigerate at this point until cold. Then wrap, label, and freeze up to 3 months.
10. TO THAW and REHEAT: thaw whole casserole overnight in refrigerator. Bake as directed below, adding 15-20 minutes to baking time. To thaw and reheat individual shells, microwave on 40% power for 2-4 minutes until thawed. Then microwave on 60% power for 1-3 minutes until hot and bubbly.
11. Or, TO THAW and BAKE IMMEDIATELY: cover with foil and bake at 350 degrees for 20 minutes. Then uncover and bake for 10-15 minutes longer or until hot and bubbly.
Note: This is a cooking recipe, which means that ingredient amounts do not have to be precise. Use the carrot, potato, and onion you have on hand. Just use common sense.

Recipe formatted with the Cook'n Recipe Software from DVO Enterprises.
Add Recipe to Cook'n
Sources:
www.news.byu.edu
www.pinterest.com
www.showbizcheatsheet.com
www.averiecooks.com
www.jocooks.com

Alice Osborne
Weekly Newsletter Contributor since 2006
Email the author! alice@dvo.com