Gingerbread or Sugar Cookies? THAT Is The Question!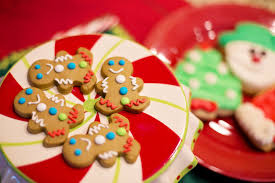 I have many memories of making cookies from my childhood. Halloween, Christmas- pretty much any special occasion where we got to help make cookies- it was always sugar! And we had such a blast decorating them as well. My mom would whip up different colors of frosting, set out several knives and a plethora of candies, and we just went to town decorating!
This year as I was scrolling through Facebook, I saw so many people posting about making gingerbread cookies as one of their favorite traditions. One of my really good friends in particular shared her mother-in-law's recipe, and I was intrigued. I realized I had never actually made gingerbread cookies of any kind, and maybe this was the year to try it! We always make cookies for Santa, and while I usually go with our basic sugar cookies, it's fun to try new things, and maybe Santa wouldn't mind some gingerbread instead of sugar cookies this year ;).
My husband however, heartily disagreed ;). He was very convinced that Santa would in fact NOT like gingerbread, and we should definitely stick with sugar cookies ;). I thought to be fair, maybe I should make gingerbread cookies for a different occasion as a test run, to see how everyone else approved of this Christmas cookie classic!
The particular recipe I made required the dough to chill overnight, so I made the dough after my kids were in bed. When I pulled it out the next day to roll it out, my kids freaked out for a second, thinking there was something horribly wrong with the dough! I had to laugh- they're used to white, clean-looking sugar cookie dough, not dark, brown, rich gingerbread dough.
We had the usual chaotic fun time of rolling out the dough and cutting out festive shapes. I used my bigger cookie cutters and the kids were so excited to see these fun characters take shape. I have to say-I think the actual baking is the best part!! The smell of gingerbread is just heavenly! It's definitely one of the iconic smells of Christmas, and that alone is almost a good enough excuse to make them!
When it came to decorating, I didn't necessarily want to use regular buttercream. I love Kneader's gingerbread men that are dipped in chocolate, but I wanted a little more variety as well. So I drizzled chocolate on ½ of our gingerbread cookies, and on the other half I made the delectable frosting from this ginger cookie recipe:
Frosted Ginger Cookies
I have yet to try these cookies, but the frosting is definitely tasty!!
Prep time:
Yield:
about 6 dozen
Serving size:
6
Calories per serving:

1,284




Ingredients:
1 1/2
cups
1-1/2
butter
, softened
1
cup
sugar
1
cup
packed
brown sugar
2
large
eggs
1/2
cup
molasses
2
teaspoons
vanilla extract
4 1/2
cups
4-1/2 all-purpose
flour
1
tablespoon
ground
ginger
2
teaspoons
baking soda
2
teaspoons
ground cinnamon
1/2
teaspoon
salt
1/2
teaspoon
ground
cloves
FROSTING:
1/3
cup
packed
brown sugar
1/4
cup
milk
2
tablespoons
butter
2
cups
confectioners' sugar
1/2
teaspoon
vanilla extract
pinch
salt
Directions:
In a large bowl, cream butter and sugars. Add the eggs, one at a time, beating well after each addition. Stir in molasses and vanilla; mix well. Combine dry ingredients; gradually add to creamed mixture.
Drop by tablespoonfuls 2 in. apart onto ungreased baking sheets. Bake at 325&deg for 12-15 minutes or until cookies spring back when touched lightly (do not overbake). Remove to wire racks.
For frosting, in a large saucepan, bring the brown sugar, milk and butter to a boil; cook and stir for 1 minute. Remove from the heat (mixture will look curdled at first). Cool for 3 minutes. Add confectioners' sugar, vanilla and salt; mix well. Frost warm cookies.
Source:
tasteofhome.com

Recipe formatted with the Cook'n Recipe Software from DVO Enterprises.
Add Recipe to Cook'n
If having super-white, beautiful frosting on your gingerbread is a top priority for you, then you may want to shy away from this particular recipe. But if you are "a fan of delicious flavor" (if you know what I'm quoting then we're automatic friends ;) ), you will definitely want to try this one! My husband is not the biggest fan of gingerbread, but even he couldn't resist eating a couple because he thought the frosting was just amazing.
The verdict? My 2 year old is not a fan of gingerbread ;), but my other kids loved it. I think for our family, it was a fun experience, and I'll probably make gingerbread cookies in future Christmas seasons. However, when it comes to the important plate of cookies for Santa, I think we're going to stick with our good ol' sugar cookies :).
Are you a fan of gingerbread? Does your family have a favorite cookie recipe to leave Santa? I'd love to hear about your family's traditions!
Sources:
http://eatcravecreate.com/
https://www.tasteofhome.com/recipes/frosted-ginger-cookies/
https://pxhere.com/en/photo/843835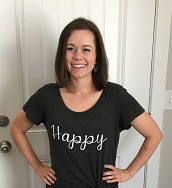 Camille Hoffmann
Weekly Newsletter Contributor since 2014
Email the author! camille@dvo.com