Take Basic Tomato Sauce to a Whole NEW Level!
This is a great time of year to cook up a batch of intensely flavored homemade roasted tomato sauce. Like any tomato sauce, it can be used in a WIDE variety of dishes. But a roasted tomato sauce takes every dish to a whole new level!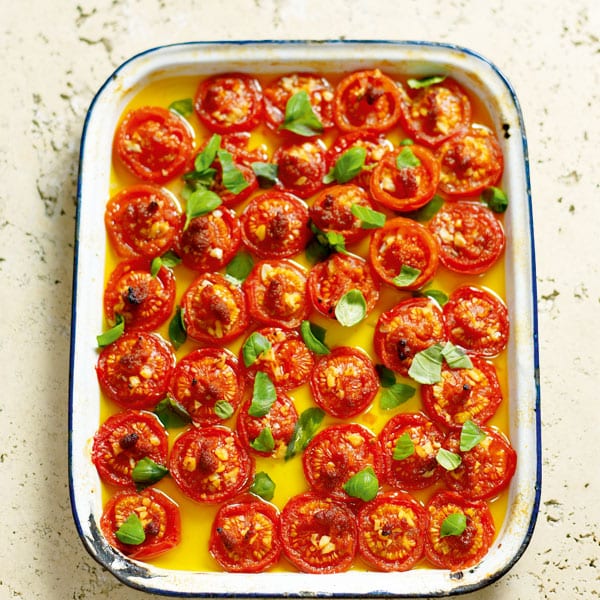 I found this idea on a favorite British cooking site, www.deliciousmagazine.co.uk. Here's what their resident chefs had to say about their suggestion: "Roasting brings out the natural sweetness of many vegetables and fruits, and one that benefits enormously from this process is ripe tomatoes. Use this sauce on pasta, pizzas, with roasted fish, diluted with stock as a soup…the possibilities are endless!"
They also included some tips for success:
For a more refined sauce, use a stick blender or a food processor to whizz the cooked tomatoes until perfectly smooth
To give the sauce a Middle Eastern flavor, add a broken cinnamon stick to the tomatoes before cooking and replace the basil with fresh coriander
For best results, look for firm, fragrant tomatoes with an intense color (tomatoes still attached to the vine tend to be sweeter).
And for real flavor sparkle, combine a mixture of cherry, medium, plum, and beefsteak tomatoes
To freeze sauce (and it freezes well, by the way), divide the cooked, cooled sauce between zippered freezer bags. Seal, label with the date and freeze for up to 3 months. Defrost in the fridge overnight before using, or you can heat gently in a pan until bubbling, if you're short of time.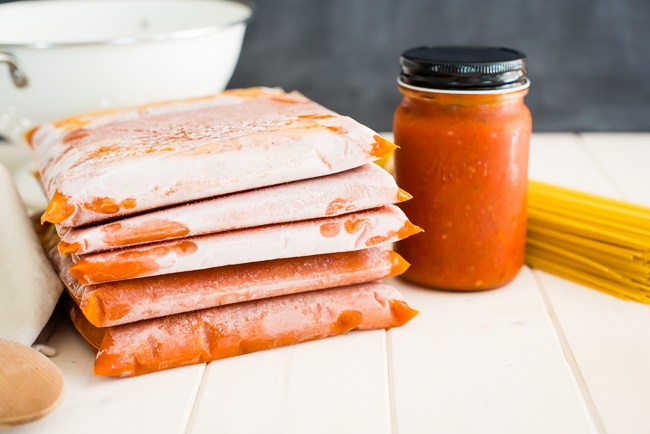 I intend to use this with the last of the tomatoes I'll be harvesting from our garden this week. But rather than just one batch, I'm going to make several, and then freeze it in amounts my favorite tomato-based recipes call for.
If this idea interests you, give their easy recipe a try. It makes enough for a 6-serving dish.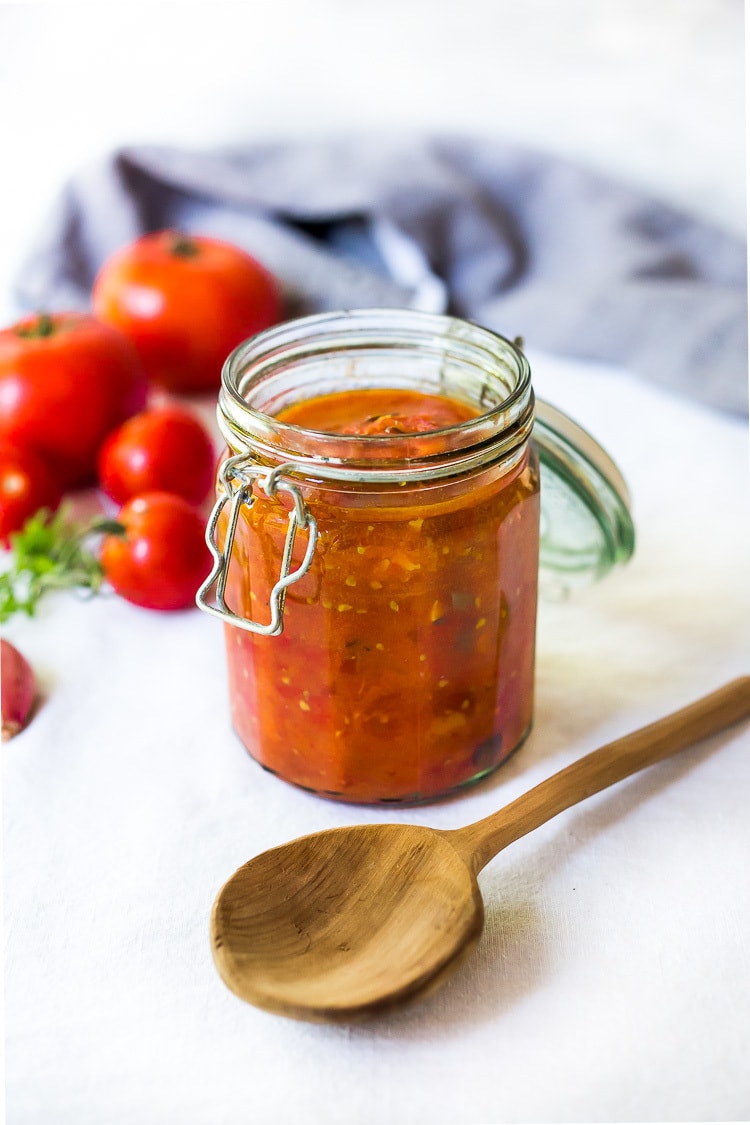 Roasted Tomato Sauce
Serving size:
1
Calories per serving:

496




Ingredients:
2 1/4 to 2 1/2
pounds
medium-sized
tomatoes
halved
4
cloves
garlic
roughly chopped
2
teaspoons
fine
sugar
2
tablespoons
pureed
sun-dried tomatoes
2
tablespoons
olive oil
1
handful, fres
sweet basil
leaves, torn
Directions:
1. Preheat the oven to 190&degC/fan170&degC/ gas 5. Spread the tomatoes out, cut-side-up, in a large roasting tin. You may need to use 2 tins if they won't fit in a single layer.
2. Press the chopped garlic pieces into the tomato flesh to submerge slightly, sprinkle with sugar, salt and pepper and dot with sun-dried tomato purée.
3. Drizzle with olive oil and roast for about 1 hour, until soft and slightly charred in places.
4. Scatter with the basil leaves, crushing the tomatoes down with a fork as you do to form a sauce.
5. Cool and keep, covered, in the fridge for up to 4 days or freeze.

Recipe formatted with the Cook'n Recipe Software from DVO Enterprises.
Add Recipe to Cook'n
And here's another take-it-to-the-next-level suggestion from Delicious. Their chefs suggest this sauce would be even better if you roasted the garlic the recipe calls for, before adding it in. Roasted garlic is much milder and sweeter than raw garlic. To do so
cut a head of garlic in half horizontall
drizzle it with olive oi
wrap loosely in foil with a sprig of thyme
roast at 325 to 350 degrees F for 30 minutes, until soft; watch closely to avoid scorchin
to use, squeeze the garlic out of its skin; stir into the roasted tomato sauce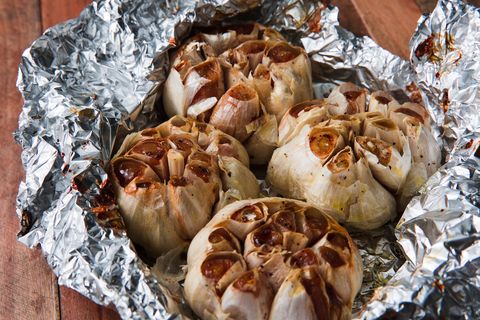 I'll close with one last thought that relates to what the www.delicious chefs said regards to how roasting brings out the natural sweetness of fruits and vegetables. What if we made it a habit, when making our fall/winter soups and stews, to always roast the veggies each recipe calls for? Roasting really doesn't take that much longer, and don't you love the idea of taking our favorite go-to recipes to a whole new level?
Sources:
www.deliciousmagazine.co.uk
www.ohmyveggies.com
www.feastingathome.com
www.delish.com

Alice Osborne
Weekly Newsletter Contributor since 2006
Email the author! alice@dvo.com