Campfire Cookies – for a Last of Summer Hurrah!
With school starting next week, my sister and I have been getting together a lot this week to do a few last fun hurrahs with our kids. One of my favorite things to do in the summertime is have campfires! I love roasting marshmallows and hot dogs and relaxing by a cozy fire in the mountains. But with all the fires this summer, our air quality here in Utah County has been awful, and we haven't been able to do nearly as many campfires as I would like! Luckily I came across this adorable idea for campfire cookies to satisfy my craving for a campfire!
These were so simple to make and so much fun! It was perfect because I had tons of green buttercream frosting I needed to use up from my son's birthday, and this was a great way to put it to use! You'll also need a basic sugar cookie- you can make them fresh and homemade or buy a mix from the store if you're having one of those weeks ;).
To create the logs, we used Tootsie Rolls. However, you could easily substitute with halved chocolate orange sticks or Charleston Chews. For the fire, we chopped up gummy bears (you can chop them up using a knife or a pair of kitchen scissors!) I also had some candy corn on hand that I had bought for a cake this summer, and I thought that was the perfect substitution for those kids that don't love that gummy texture.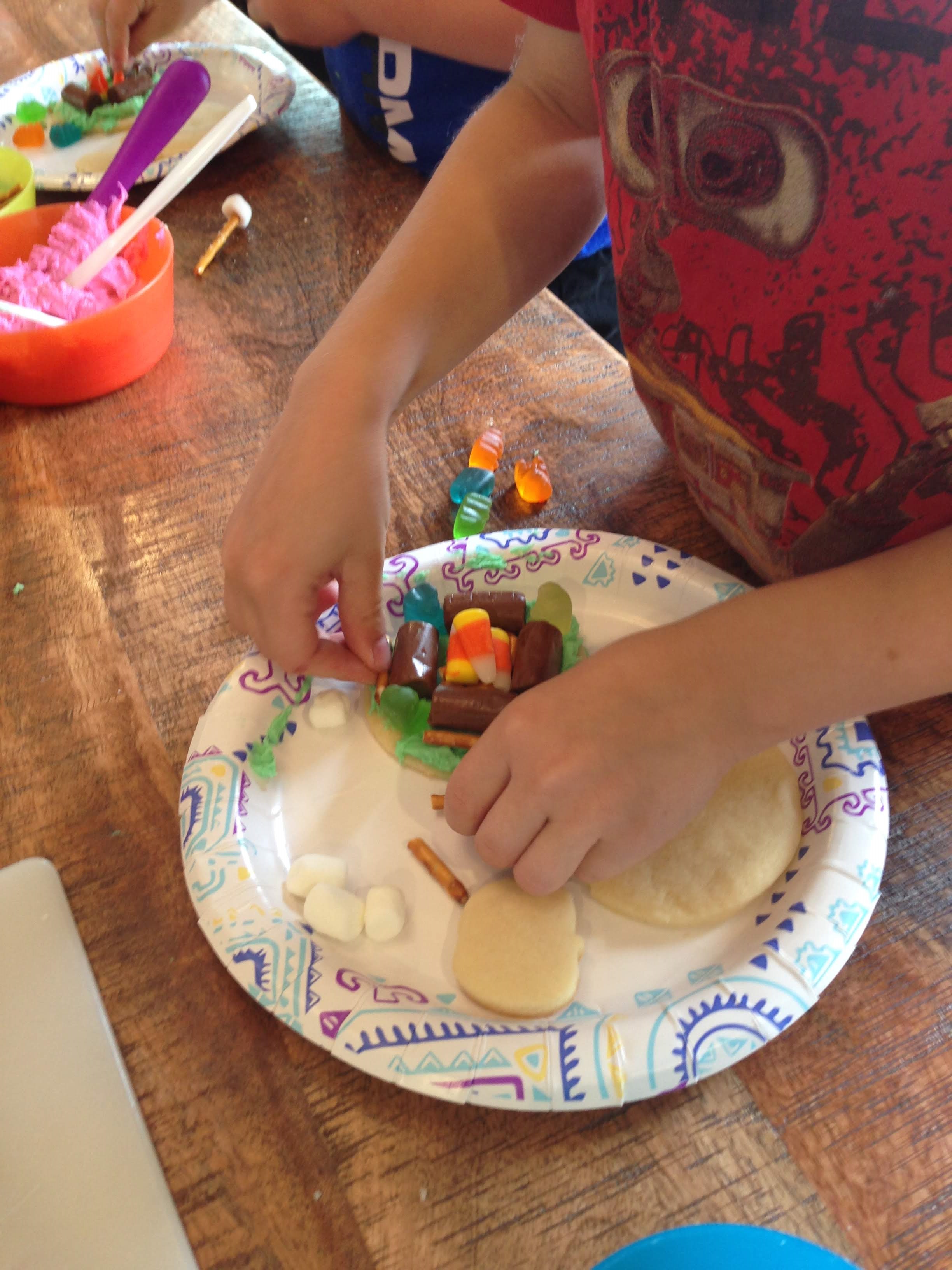 I had some leftover crushed graham crackers, and I loved the added texture they gave to the cookie! The original site where I found this idea used chopped Whoppers, but I like the crushed graham look better! (It also doesn't take over the flavor of everything else…. Not that the malt flavor is a bad thing….). And finally, pretzels topped with marshmallows finished our little campfires. If you have blowtorch or lighter, you can toast your little marshmallows too! I don't have one, so I tried it with matches……. It looks good- definitely doesn't taste good haha ;). But either way your kids will definitely have a blast "roasting" the marshmallows!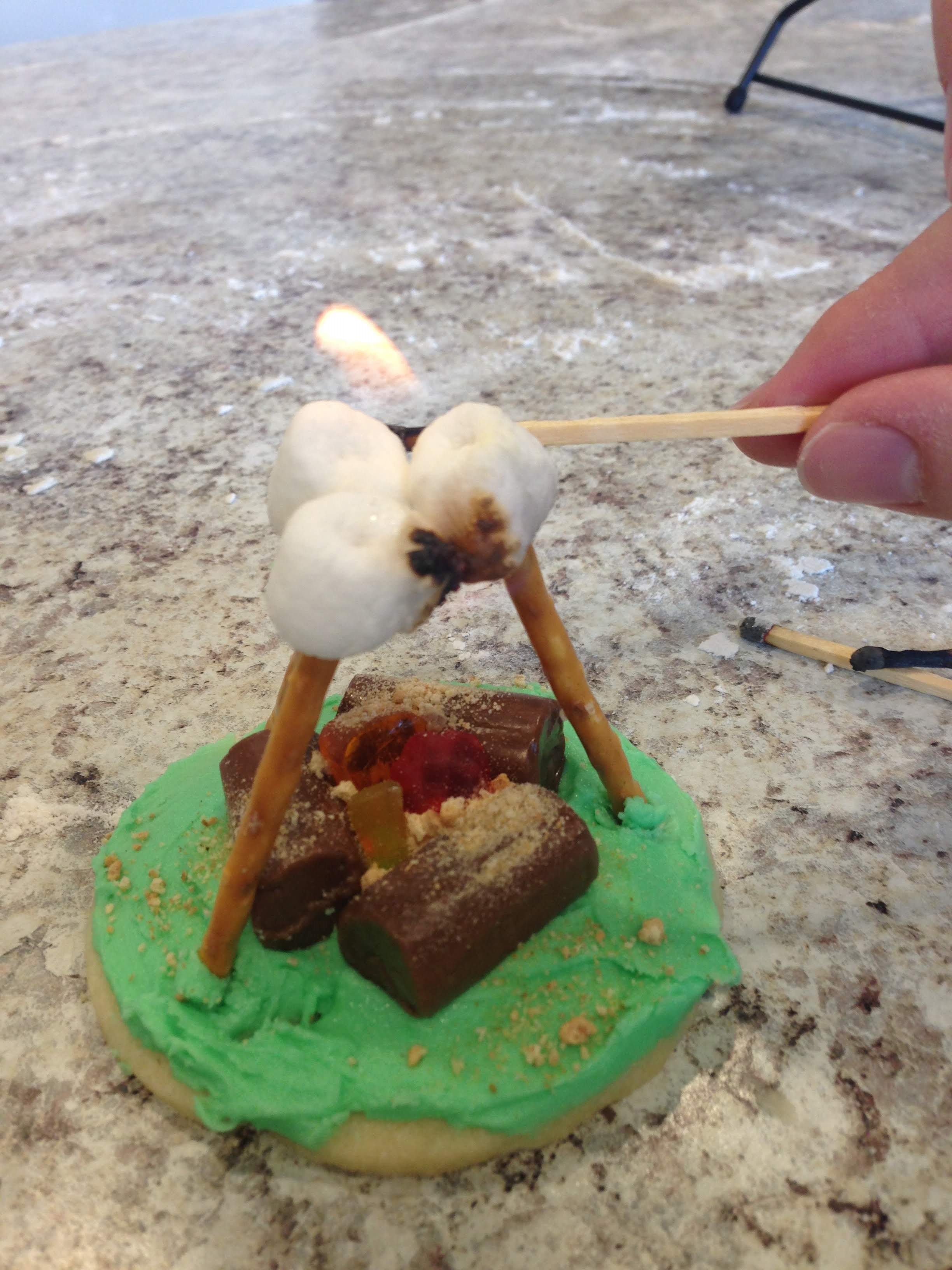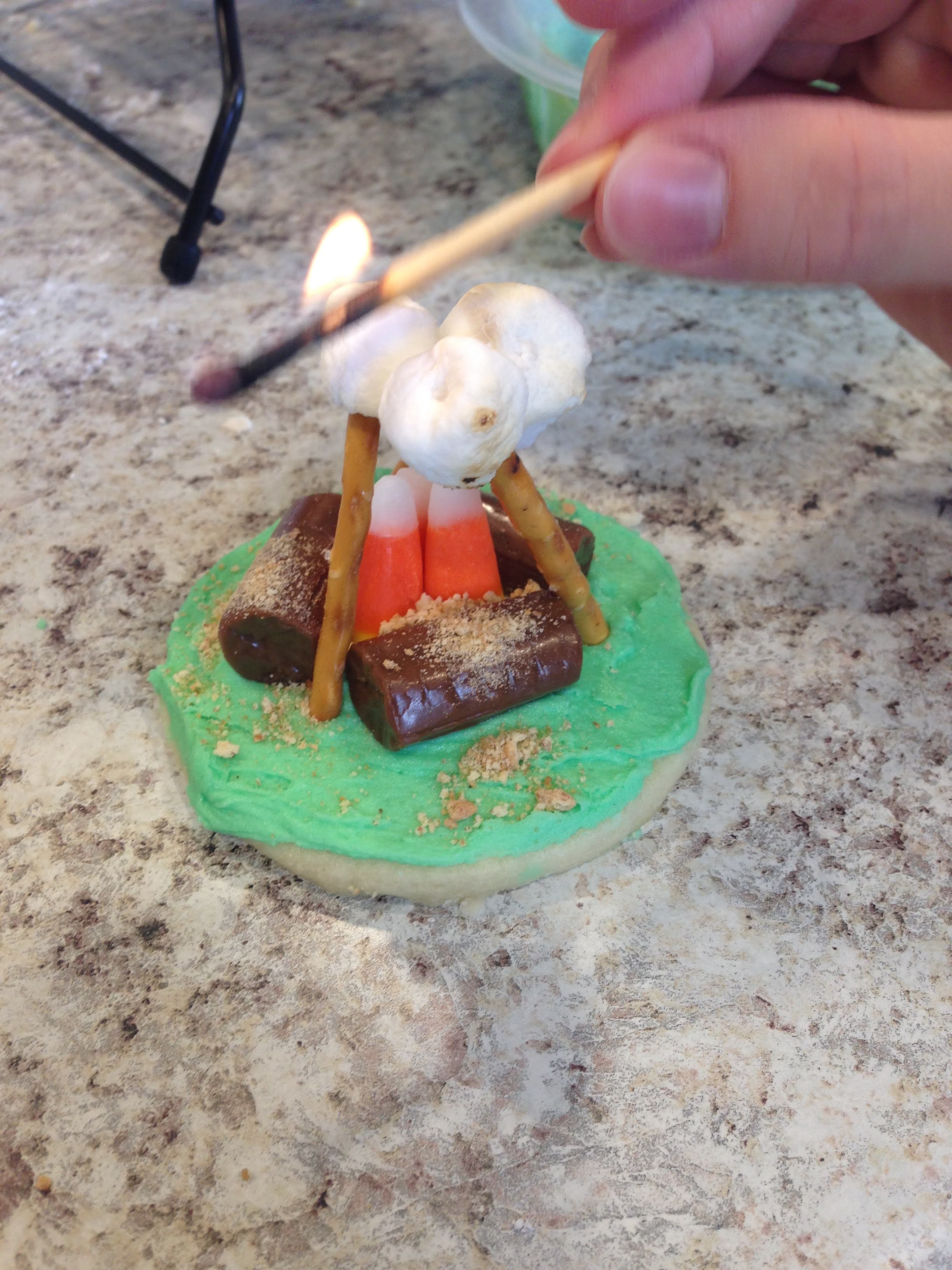 I had made a couple cookies beforehand to show all the kids, and it was so fun to see their creativity! We've made and decorated sugar cookies before, but I think having a basic idea to start actually helped to spark their creativity. Instead of trying to load the cookie with all the candy they could, they were actually creating their own versions of the cookie! They made it look like their gummy bears were roasting marshmallows, and my nephew built a mini dungeon for all his gummy bears- it was adorable and hilarious. I loved watching their creative sides come out!
Insert campfire-finishing image here
All around, these were the perfect activity to keep our kids entertained in the middle of the hot afternoon, and they were definitely a tasty treat as well! Regardless of the time of year, these are a great way to get your kids' brains working and to have some fun in the kitchen!
Sources:
https://www.facebook.com/FoodNetwork/videos/10154501785931727/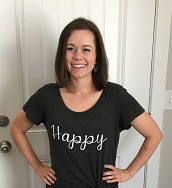 Camille Hoffmann
Weekly Newsletter Contributor since 2014
Email the author! camille@dvo.com