Another Zucchini Recipe You'll Be Glad to Have + A Very Unique Way to Use This Proverbial Veggie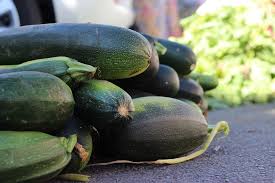 I stepped outside to snag the morning newspaper and low and behold, what did I find nicely stacked on our front porch but a goodly load of fresh zucchini!
I had to laugh. This neighborhood has lots of home vegetable gardeners. And this is, after all, zucchini harvest time. Every year we say to ourselves and each other, "I'm never planting so many zucchini starts ever again!" And then the next season comes along, and guess what we do!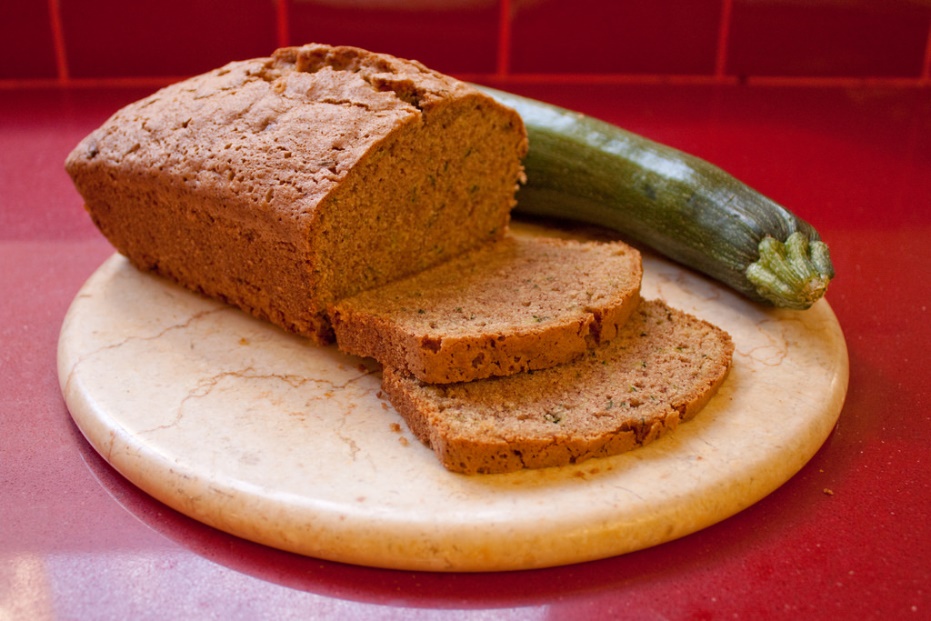 Anyway, this morning's veggie surprise is why I'm writing. What in the heck can we do with more zucchini (besides quick bread, cookies, fried patties, grilled kabobs, and shredding for winter baking)?
And I know there are other uses besides the ones I just listed. But sometimes you just want something unique. Well true to their nature, the folks at Food 52 (www.food52.com) pulled through again. One of their contributing chefs came up with a delicious use that maybe you haven't tried yet.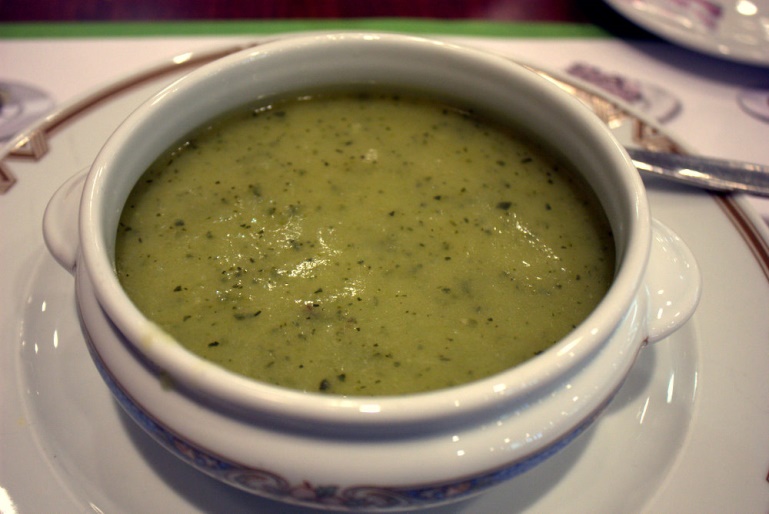 I'm talking a soup made with zucchini, of course, and fresh basil. Foodie, blogger, and chef, Sarah Fioritto, created this tasty dish to deal with summer produce that's still abundant. Since the evenings are getting cooler, soup is a nice idea and a good change from the plethora of salads in which we've been indulging.
She garnished the soup simply with Parmesan curls and toasted walnuts, but she says it's also awfully good with a couple of pesto-smeared crostini floating on top. We thank her for sharing this wonderful recipe and giving us yet another use for summer's proverbial vegetable!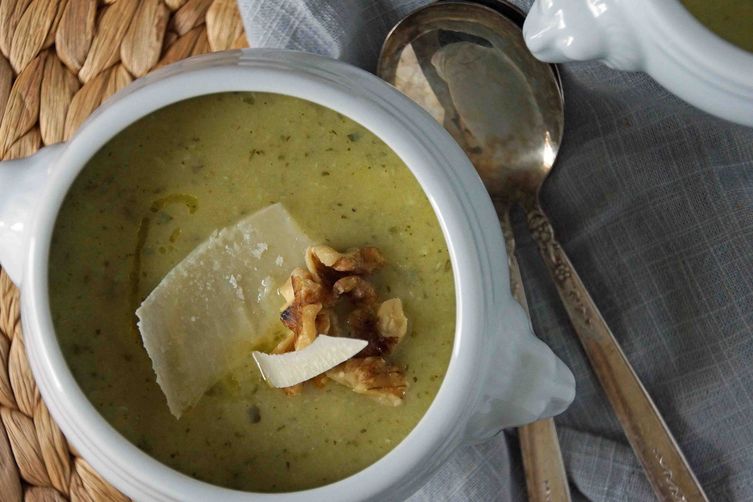 ZUCCHINI and BASIL SOUP
(serves 6)
4 medium zucchini, cut in 1/2 inch chunks
1 medium white onion, diced
1 medium Yukon Gold potato, peeled and grated
1 clove garlic, (plump) minced
4 cups vegetable or chicken stock (homemade or low-sodium)
1-2 tablespoons fresh lemon juice
Salt to taste
Freshly ground black pepper, to taste
Olive oil (for sautéing)
Toasted walnuts
1 (10 ounce) wedge Parmigano Reggiano cheese
Heat about 2 Tbsp. olive oil in a soup pot or Dutch oven over medium-high heat. Add the zucchini, onions, potato, and garlic to the pot. Stir to coat with the olive oil and season with about 1 tsp. salt. Sauté until the zucchini and onions start to color slightly. Add the stock, bring to a boil, then reduce to a simmer and simmer, partially covered, until the vegetables are tender, 20-25 minutes. Allow the soup to cool slightly.

Add the basil leaves to the soup then puree, using an immersion blender or food processor. Taste. Season as needed with salt, black pepper, and 1-2 Tbsp. lemon juice.

Reheat, if necessary. Ladle the soup into bowls. Using a vegetable peeler, make curls of parmesan to sprinkle to use as a garnish, along with a few crushed walnuts.
Add Recipe to Cook'n
If you'll remember, I talked last week about how to avoid the fresh basil wilts. I hope you're finding success? Now let's talk about some of the health benefits of zucchini just for drill. This humble vegetable is
packed with Vitamin C

abundant in Vitamin A

loaded with potassium

a great source of folate

and is almost all fiber.
All contribute to a healthy heart by decreasing the risk of stroke, reducing high blood pressure, and lowering cholesterol.
It's also a versatile veggie in that its flavor is neutral. That's why it does so well in either sweet or savory dishes.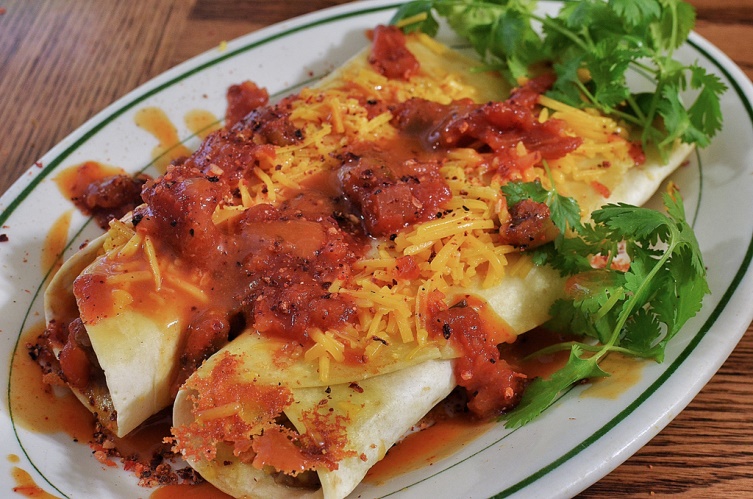 I'll close with one last zucchini use: We all shred it, yes? So this season, keep lots of fresh shreds on hand for mixing into your refried beans you'll use for your burritos and enchiladas. No one will taste it and the extra fiber and vitamins will boost the health factor of these recipes through the roof!
Sources:
www.maxpixel.com
www.flickr.com
www.commons.wikimedia.org
www.food52.com

Alice Osborne
Weekly Newsletter Contributor since 2006
Email the author! alice@dvo.com