Tarts Aren't Just for Dessert!
No sir! Fill a round of pastry with in-season vegetables, cheeses and more, and you have the makings of a fabulous meatless main dish, or a great party-starting appetizer. Here are a few ideas from a favorite site, Fine Cooking (www.finecooking.com), but with your imagination, the possibilities are practically endless.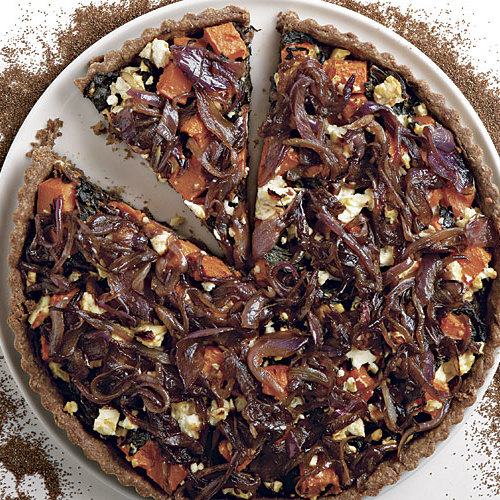 For instance, how about a
Swiss chard, sweet potato and feta tart
? And put it all in a special crust, too. Adding teff flour to this tart's crust gives it the texture of shortbread and a rich, nutty flavor. The filling is vegetable heaven—chard, sweet potatoes, and red onions—topped off with a salty sprinkle of feta. (If you don't have a whole foods or natural foods store near you, you can order teff flour online. Bob's Red Mill is a good source.)
SWISS CHARD, SWEET POTATO, FETA TART
CRUST
1 cup teff flour
1 cup all-purpose flour
¾ teaspoon salt
¾ cup cold, unsalted butter, cut into ½-inch pieces
4 to 5 tablespoons ice water
FILLING
1 ½ pounds sweet potatoes (2 medium)
3 tablespoons extra-virgin olive oil
2 medium red onions, peeled, halved, and sliced lengthwise into 1/4-inch-thick slices (4 cups)
Sea salt
2 Tbs. balsamic vinegar
3 cloves garlic, chopped
1 large bunch Swiss chard, thick stems removed, greens roughly chopped (8 cups)
8 oz. feta, crumbled (1-1/3cups)
Crushed red pepper flakes
2 large eggs
Freshly ground black pepper
MAKE CRUST:
Combine both flours and the salt in a food processor; pulse to combine. Add the butter and pulse until it breaks down to the size of small peas. Sprinkle 4 Tbs. of the ice water over the mixture and pulse again until the pastry just holds together (if it's too dry to hold together, pulse in tiny amounts of the remaining water until it holds). Transfer the dough to a large sheet of plastic wrap, and using the plastic as an aid, shape it into a thick disk. Wrap the dough in the plastic and refrigerate for about 30 minutes.
Meanwhile, position a rack in the center of the oven and heat the oven to 375°F.
Unwrap and roll the dough on a lightly floured surface into a 14-inch circle. (If the pastry cracks, just press it back together.) Wrap the pastry around the rolling pin and unroll it over an 11-inch fluted tart pan with a removable bottom. Without stretching the dough, very gently work it into the pan, pressing the pastry against the sides. Roll the pin over the pan to trim the excess dough. Use the scraps as needed to make the edge even and about 1/4 inch thick (at the narrowest points). Press gently all around the edge so the dough comes up slightly above the rim of the pan.
Prick the bottom of the crust all over with a fork, line with parchment, and fill with dried beans or pie weights. Put the tart pan on a baking sheet and bake until the edge looks dry, about 10 minutes. Carefully remove the beans and parchment and bake until the bottom is just set and looks dry, 5 to 7 minutes more. Cool on the baking sheet on a wire rack.
MAKE FILLING:
Scrub the sweet potatoes, poke them once or twice with a fork, and put them on a small foil-lined baking sheet. Roast until tender when pierced, 50 to 60 minutes. Cool, peel, and cut into 3/4-inch dice.
While the sweet potatoes are roasting, heat 2 Tbs. of the olive oil in a 12-inch nonstick skillet over medium-high heat. Add the onions and a generous pinch of salt; cook, stirring, until the onions wilt and develop dark-brown charred spots, about 10 minutes. Reduce the heat to medium low, cover the pan, and stir frequently, until softened and caramelized, 8 to 9 minutes more. Add 1 Tbs. of balsamic vinegar and stir until it evaporates and glazes the onions.
Transfer the onions to a small bowl and wipe out the pan. Heat the remaining 1 Tbs. olive oil in the pan over medium-low heat. Add the garlic and cook until fragrant and just beginning to color, 1 to 2 minutes. Increase the heat to medium high, add the chopped chard and a pinch of salt, and toss over medium-high heat until the chard is completely wilted, about 4 minutes. Sprinkle the remaining 1 Tbs. balsamic vinegar over the chard and toss it until the vinegar cooks away, about 1 minute. Transfer to a large bowl.
Add the diced sweet potatoes, about three-quarters of the cheese, and a pinch of crushed red pepper to the chard; toss gently. In a small bowl, whisk the eggs with a pinch of salt and pepper and add the eggs to the chard mixture.
BAKE TART:
Spread the filling evenly in the tart shell and scatter the remaining cheese on top. Bake the tart on the baking sheet until the cheese is nicely browned, 25 to 30 minutes.
Spoon the balsamic onions over the top of the tart, allowing bits of cheese to peek through here and there. Let the tart cool slightly, about 10 minutes; then remove the rim of the pan. Slice and serve the tart warm or at room temperature.
Add Recipe to Cook'n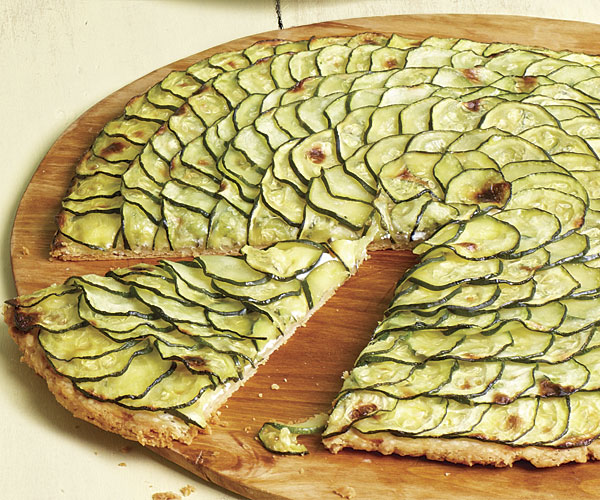 Or how about a zucchini tart?
This warm weather tart is as delicious as it is gorgeous. As one reviewer notes, the arrangement of the zucchini slices takes a little time, but the guest-worthy presentation is so worth it. Try adding lemon thyme and goat cheese for a spectacular flavor combination.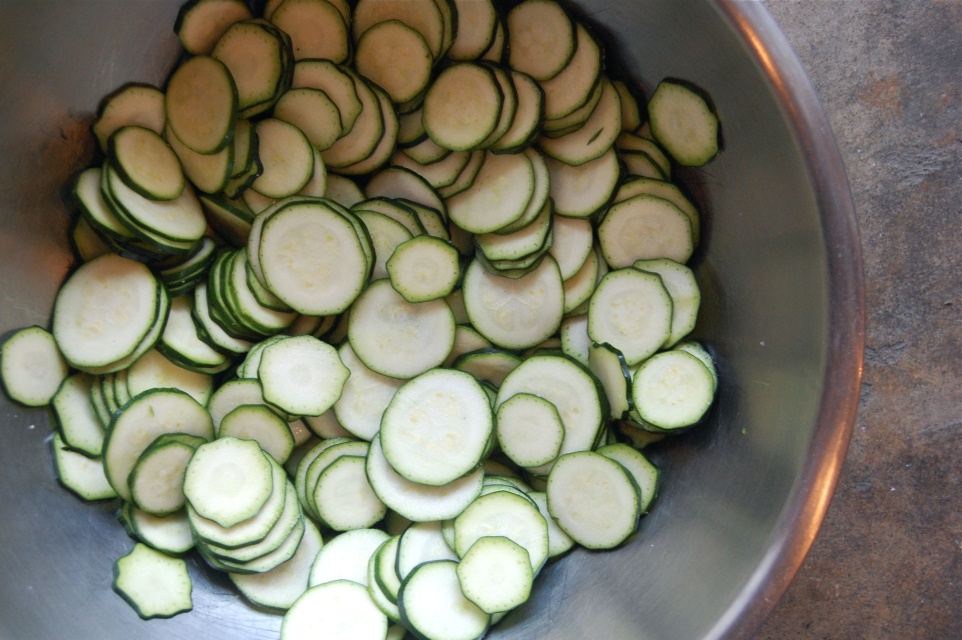 Your favorite pie crust recipe will work well here. This takes about 1 ½ pounds of medium to small zucchini. (And by the way, yellow crookneck squash would work with this as well.) To prep, cut them into 1/8-inch slices and just toss them with 2 tsp. salt in a colander and drain for 30 minutes. Gently squeeze the slices with your hands to release excess water and transfer to a medium bowl. Then toss the zucchini in extra virgin olive oil and pepper to taste, and set aside.
In a small bowl mix 1 cup or more of goat cheese with about 1 teaspoon of lemon thyme. Spread this mixture atop your rolled pie crust and then layer your zucchini slices. You can get stylishly elaborate as the photo shows, or just be sure entire crust is covered. Drizzle the whole thing with more olive oil and perhaps add a few sprinkles of garlic powder. Bake for about 55 minutes at 400 degrees. This is a clever and tasty way to use that zucchini that's showing up in your garden right about now.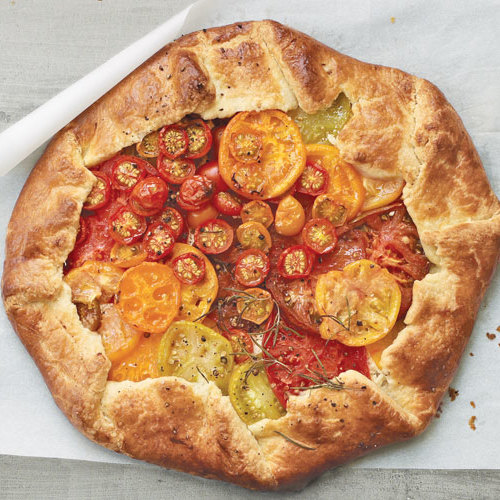 And one more idea. This is a family favorite. Fresh tomato and crème fraiche galette. We love this because it's not just scrumptious, it's so easy to make. Many varieties of summer's best heirloom tomatoes should be used for this rustic, French country-style tart. It's fantastic served with various soft cheeses mixed with practically any herb that is abundant and in season.
Roll out your favorite pie crust recipe. Then mix some softened cream cheese with crème fraiche and your favorite ratio of Italian herbs (fresh is really wonderful in this). Spread this over your unbaked crust and top with thinly sliced tomatoes. Finish with a sprinkle of finely chopped fresh herbs (basil and oregano are nice) and bake 30 to 40 minutes at 425 degrees.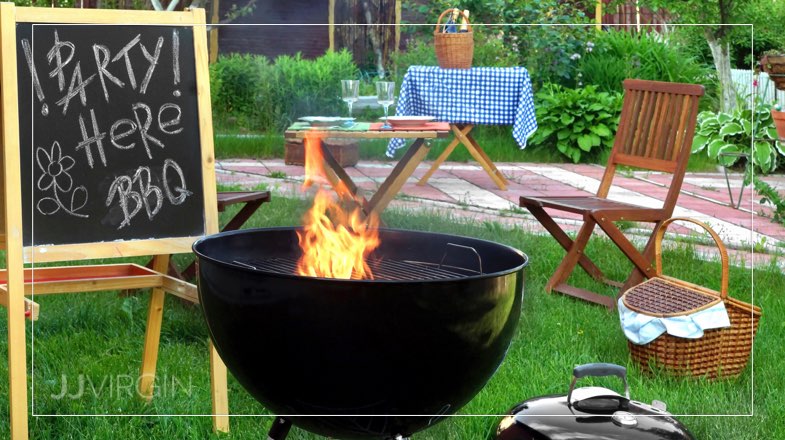 These fresh veggie tarts would make a unique and delightful addition to a backyard barbecue, don't you think?
Sources:
www.finecooking.com
www.lookimadethat.com
www.jjvirgin.com

Alice Osborne
Weekly Newsletter Contributor since 2006
Email the author! alice@dvo.com