The WISE Snacking Approach!
We all need and want a snack from time to time. And there's nothing wrong with that, as long as our snacks promote health.
To protect and promote health, then, you want NUTRITENT-DENSE snacks. This is the wise snacking approach to take!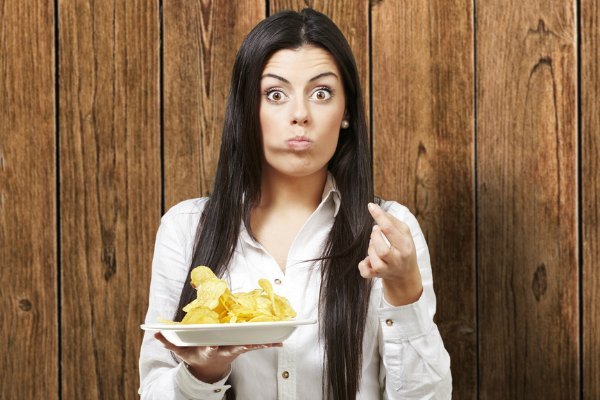 Wise snacking is not just about calorie amounts; we want to be sure we're getting a whopping load of nutrients with each calorie. And in a world flooded with processed, artificial food-like substances, finding health-promoting and health-protecting (nutrient-dense) snacks can be a trick.
That said, here are a few nutrient-dense ideas to help you snack healthier and wiser. As you enjoy these, you'll notice something: because they are so nutrient-dense, they're very filling. You won't need or want to eat many. One or two will leave you feeling pleasantly full and satisfied.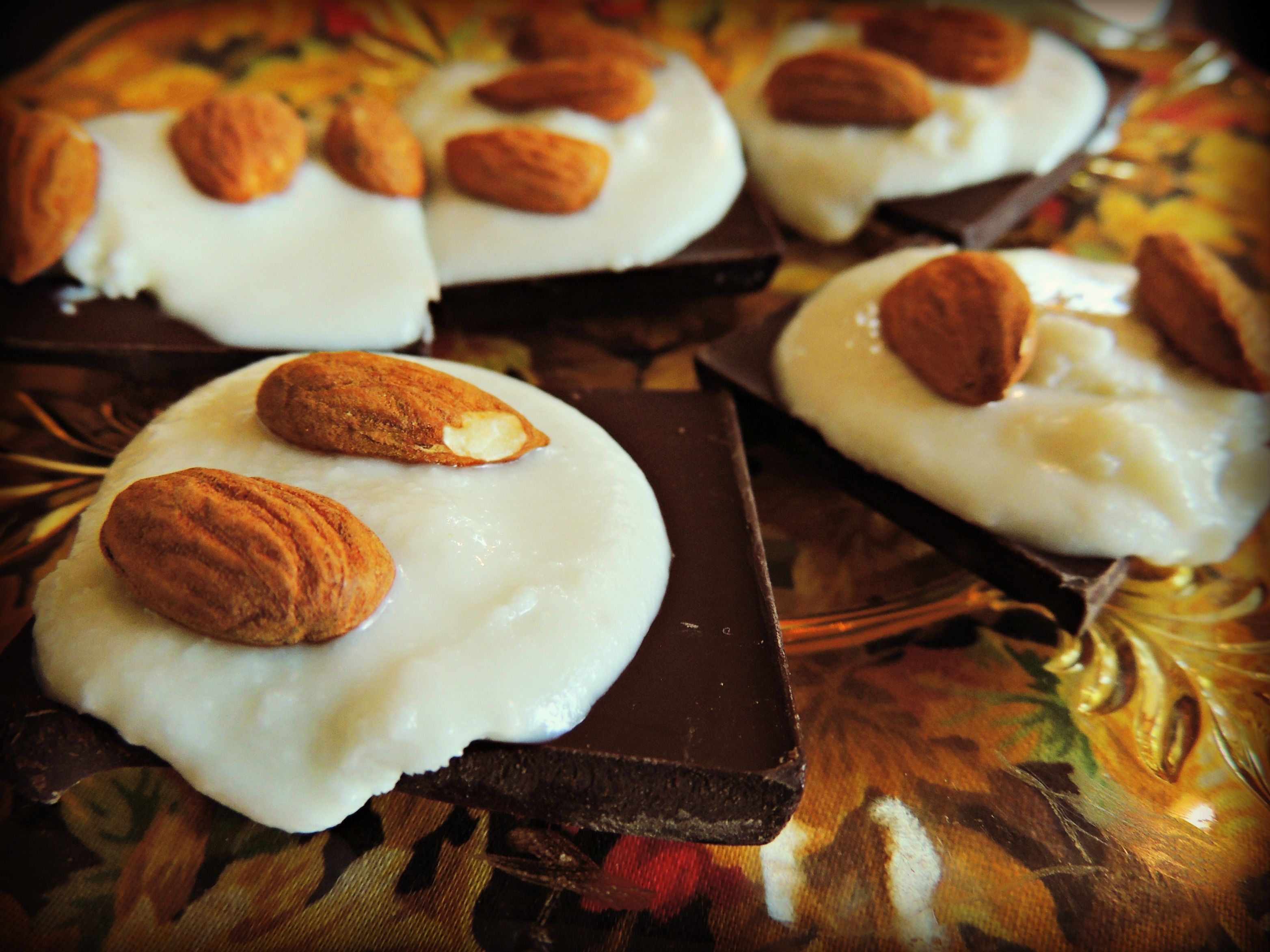 COCONUT ALMOND DELIGHTS.
Such a quick, easy, and very healthy snack! To make, simply dab some coconut cream (aka coconut spread) onto some
dark
chocolate and garnish with almonds. Because coconut oil has such a high melting point, it can become firm in the cooler months. If this occurs, just submerge the jar in warm water and stir with a knife to remix the oils prior to use. These treats are best enjoyed right away- but trust me, that shouldn't be a problem.
NUT BALLS. These are a combination of nut butter, nuts, seeds, coconut, vanilla, and organic butter (meaning it's from grass-fed cows). You can also add coconut flour (for flavor and better binding), stevia (for added sweetness), and cacao nibs (giving a chocolatey flavor with antioxidant benefit).
These snackers are not just nutrient-dense, they're a great energy-boosting tool for a busy day. If packing for on-the-go, individually wrap them or transport in small cooler or lunchbox so that they maintain their delightful bite-size shape and don't melt. Each time I make these, I experiment with the recipe—adding or varying amounts of ingredients, and chopping to different textures. And every time, I'm always thoroughly impressed by the distinctive new flavors created. Give these a try: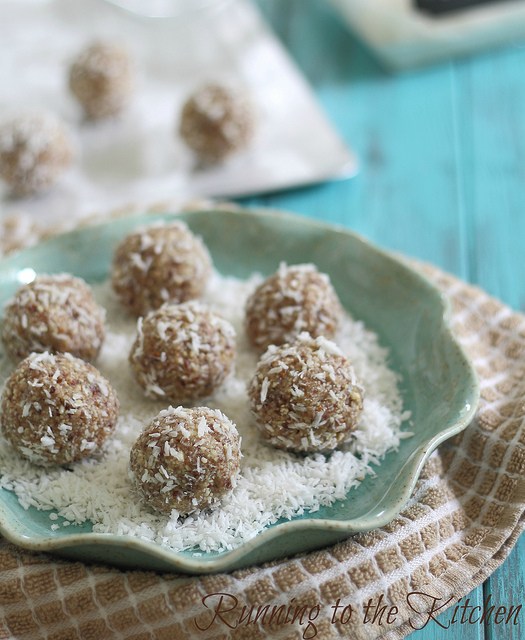 NUTRIENT-DENSE NUT BALLS
1 (8 ounce) jar nut butter (almond, hazelnut, macademia, walnut, Brazil nut, or peanut butter); stir surface oil well before using.
¾ cup (or more) nuts, presoaked and dried
½ cup sesame seeds (OR chia seeds)
1¾ cup (or more) unsweetened coconut (shredded or flaked), divided
1 to 2 teaspoons vanilla extract
½ cup butter, softened (or substitute with pure grass-fed ghee for a slightly different variation)
¾ cup raisins, optional
1/3 cup coconut flour (for flavor and better binding), optional
1 teaspoon stevia (for added sweetness), optional
1 to 2 tablespoons cacao nibs (for a chocolatey flavor with antioxidant benefit)
Using a food processor, grind or chop nuts to desired consistency (a "meal-like" texture is best).

Slightly grind or chop ¾ coconut.

In a medium-sized bowl, blend all ingredients until thoroughly mixed.

Spoon mixture in little balls; roll each ball in remaining 1 cup shredded coconut; place balls onto a wax paper-lined plate or tray.

Refrigerate at least 1 hour.
Add Recipe to Cook'n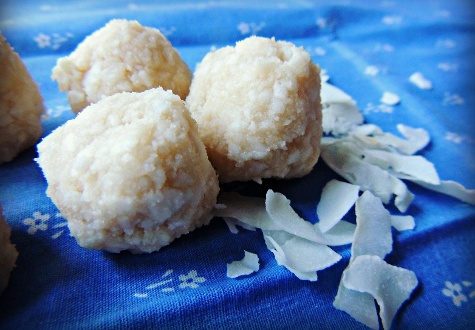 Another variation on a coconut ball uses unsweetened shredded coconut (about 2 cups), raw honey or pure maple syrup (maybe ¼ cup), coconut oil (2 tablespoons would be fine), vanilla to taste (we've found ½ teaspoon works well), and a pinch of sea salt.
Process all this in a food processor until well blended. Then refrigerate is in a parchment lined container for about one hour. Once it's firm you roll it into small snack balls. These can be easily stored in an airtight container in the refrigerator for about 2 weeks or in the freezer for the long-term. For storage, separate stacked layers of balls with parchment paper to prevent sticking. They will melt if left out for too long, so if on the go, keep them cool.
Still turning to coconut for a nutritious and satisfying snack, take a serious look at these easy-to-make spiced coconut chips. We've found them to be a more than adequate substitute for processed potato or tortilla chips. Ad they're great served as a stand-alone snack or sprinkled atop other fruit and veggie dishes (such as green beans, fresh berries, watermelon slices, or pineapple chunks).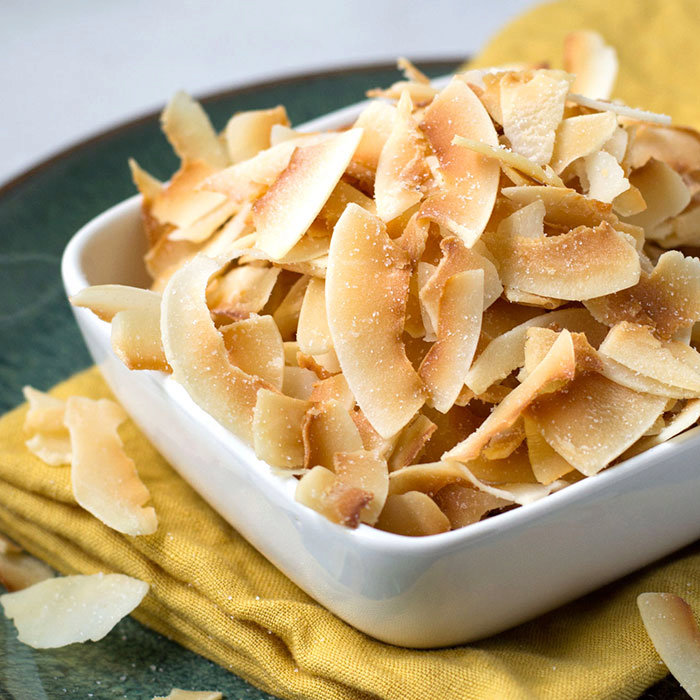 SPICED COCONUT CHIPS
½ teaspoon sea salt

½ teaspoon ground cinnamon

2 cups coconut chips

Combine 1 salt with cinnamon in a small dish and set aside.

Heat a large skillet over medium heat.

Add 2 cups coconut chips; spread evenly in the pan in a single layer.

Stir frequently until chips are lightly browned (2 to 3 minutes, maximum).

Sprinkle with cinnamon and salt mixture, tossing to coat evenly.

To preserve crunch, allow chips to cool in a single layer on a cookie sheet.

Store at room temperature in an airtight container. Do not refrigerate.
Add Recipe to Cook'n
Lastly, I'll close with a few other suggestions for nutrient-dense snacking and applaud your efforts at promoting and protecting your health!
Gogi berries

Nut butter with celery or fruit slices

Hard boiled eggs

Whole food smoothies
Sources:
www.bikebutterfly.com
www.pinterest.com
www.runningtothekitchen.com
www.radiantlifeblog.com
www.mealplannerpro.com

Alice Osborne
Weekly Newsletter Contributor since 2006
Email the author! alice@dvo.com