4th of July Food That Is "Berry" Delicious!
Independence Day is one of my favorite holidays! I love what the holiday stands for- the celebration of our freedom, the men and women who have given their lives, this great nation we are blessed to live in.
I also love the good food we usually eat!
While there's lots of ways to incorporate red, white and blue into your food fun, berries is probably one of the easiest- and tastiest! With a few berries and a little creativity, you can easily have a meal that is both festive and delicious! (And it's really a win-win because berries have so many health benefits as well!)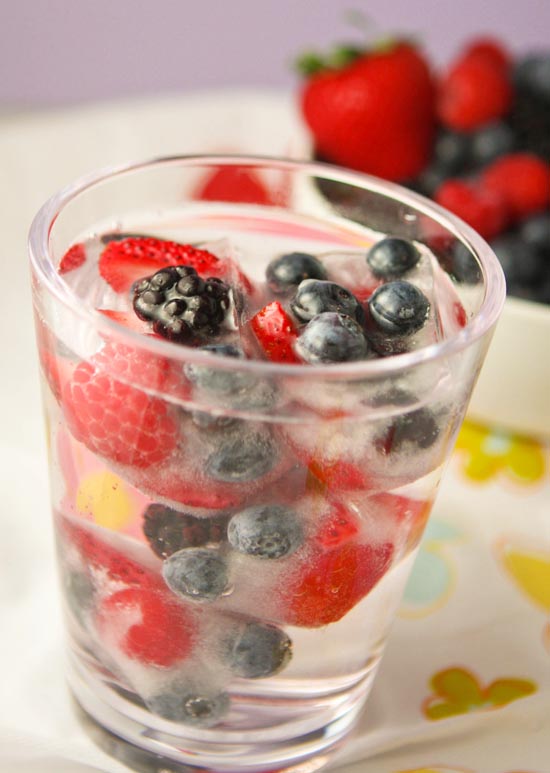 *Berry ice cubes. Freeze a few berries in water in ice cube trays and serve them in your cold drinks to make even plain, boring water a red, white and blue party! It will also give your water a small hint of berry flavor.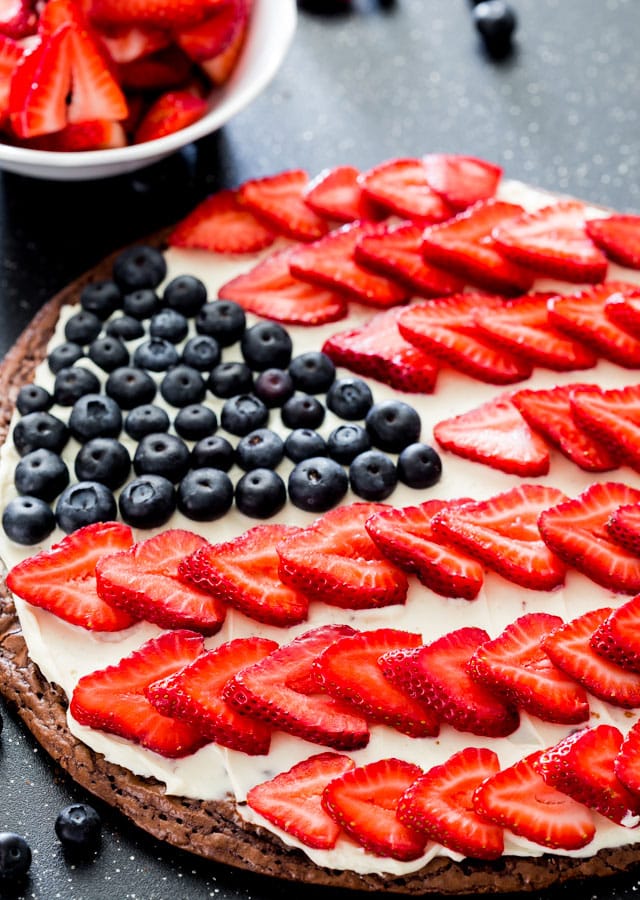 *Fruit pizza. Dessert pizza is amazing- and it will be a beautiful addition to your 4th of July BBQ! Use refrigerated pizza dough, sugar cookie dough, brownie mix- whatever base sounds good! After baking, cover with frosting, sweetened cream cheese, yogurt, or jelly and top with an assortment of berries.
*Dessert topper. If you're not feeling like fruit pizza but want something sweet, you can put berries on pretty much any dessert you're craving! Cake, cookies, brownies, cupcakes, mousse, creme brulee, cheesecake- berries make everything more beautiful, and in this case- festive!!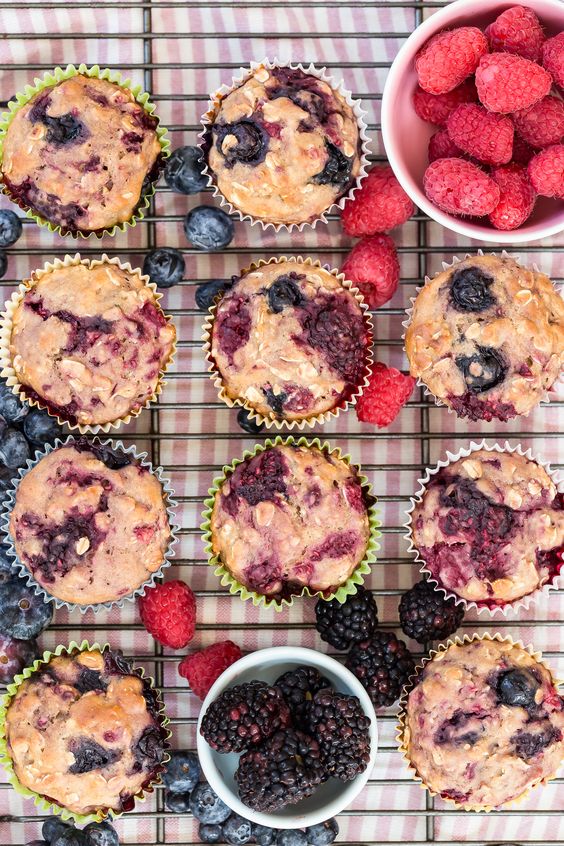 *Berry Muffins. Take an entirely different approach and put your berries IN your dessert with some berry muffins! Still beautiful, and you can bake them ahead of time!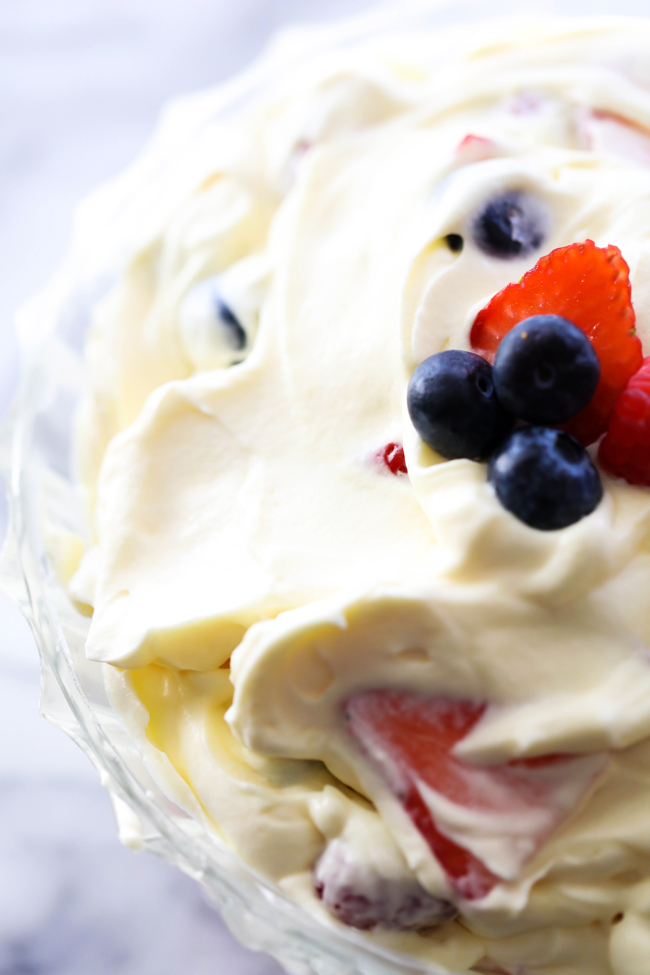 Add Recipe to Cook'n
*Berry Fluff Salad. Fluff salad is just another excuse to get dessert, right? ;) May as well get a few berries in while you're at it! This would be a beautiful addition to your picnic spread!
*Triple Berry Cream Cheese Pie. A mouthful. Of goodness. And the best part, is that you cook it in your crock pot, so you don't have to heat up the whole house to enjoy it!
Add Recipe to Cook'n
*Berry Fruit Salad. It doesn't get much easier than a berry salad! Literally throw it all in a bowl! Of course, you can spice it up with lemon juice, sugar, honey, vanilla pudding mix or yogurt ;).
*Berry Green Salad. If you want to get a little veggie with your berry, throw it on top of some romaine lettuce! Berries, feta cheese, almonds and poppy seed dressing makes a FABULOUS salad- and it will look beautifully festive, as well!
*Berry Swirl Frozen Yogurt Bark. This beautiful treat is not only festive, it's healthy! Greek yogurt, jam, and berries- your kids will think they are eating dessert when they're actually getting a good serving of fruit and protein!
Add Recipe to Cook'n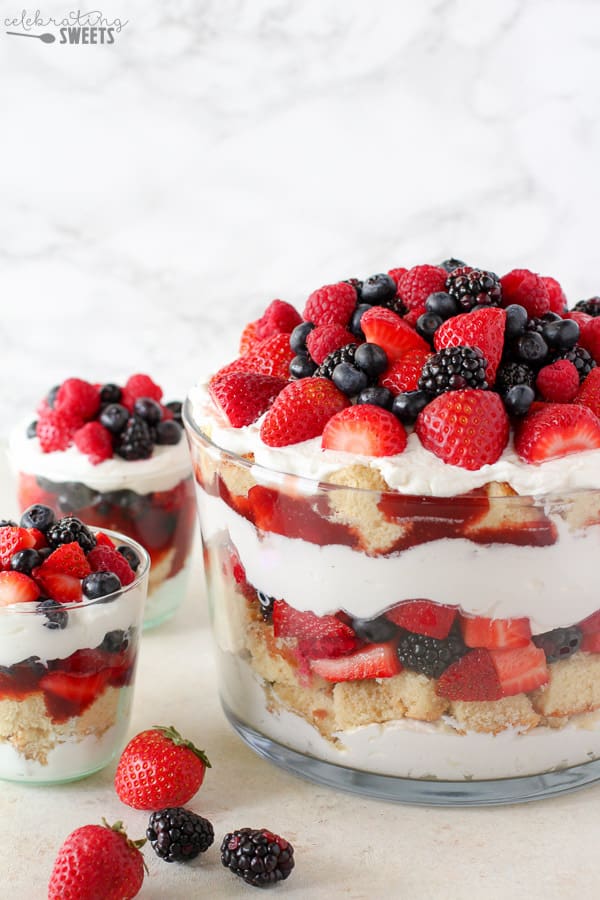 *Berry Trifle. For a truly stunning addition to your 4th of July spread. Trifles are delicious and make a beautiful centerpiece as well!
What's your favorite way to eat berries?
Sources:
https://celebratingsweets.com/berry-swirl-frozen-yogurt-bark/
https://www.chef-in-training.com/creamy-berry-salad/
https://www.jocooks.com/course/desserts-2/red-white-and-blue-brownie-pizza/
https://weelicious.com/2011/09/27/very-berry-muffins/
https://celebratingsweets.com/berries-and-cream-trifle/
https://www.pipandebby.com/pip-ebby/2011/6/19/fruit-cubes.html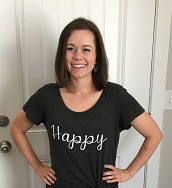 Camille Hoffmann
Weekly Newsletter Contributor since 2014
Email the author! camille@dvo.com