Help - My aspargus turns out soggy!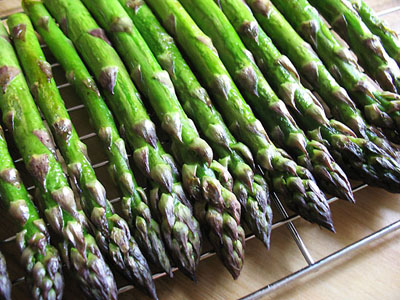 Question: My asparagus always turns out soggy when I cook it. What am I doing wrong?
Answer: If asparagus turns out soggy, you're overcooking it. The delicate, fibrous stalks turn to mush if you boil or steam them for too long. Most recipes for asparagus call for cooking until it's "crisp-tender," but asparagus will keep cooking after you take it out of the pot. That's why you should always run cold water over the stalks when you think they're done. You should also snap off an inch or so of the tough, thick end of the stalk or shave it down with a vegetable peeler so that it cooks evenly.
To steam: Set the asparagus in a strainer over boiling water and steam for 4 minutes.
To boil: Drop the asparagus in 6-8 quarts of boiling, salted water for 3-5 minutes (depending on the girth of the stalks).
I prefer the slightly charred, concentrated flavor and crisp texture of roasted asparagus.
To roast: Preheat oven to 400°F. Toss the asparagus with olive oil (about 2 teaspoons per 1 pound of asparagus). Roast in the oven for 10-12 minutes, shaking the pan halfway through cooking to rotate the spears. The stalks will be browned and wrinkly in some spots when they're finished.
For smaller batches of asparagus, you can also pan-roast the stalks in a skillet. Preheat a heavy skillet or grill pan over medium-low heat for 5 minutes. Toss the stalks with a pinch of salt and 1 teaspoon olive oil. Arrange the stalks in the heated skillet and cook for 8 minutes (or until slightly browned), occasionally shaking the skillet to turn the stalks.
I hope all that helps you with this delicious summer vegetable!