The Ultimate Blue Cheese Stuffed Burgers (Kelly Kapowski's Recipe)
You know how you can go to an opera or ballet and really enjoy the talent they have, fully-well knowing that you will never have that same talent? I enjoy watching cooking shows in that same way. I am just fascinated by their natural way of knowing which ingredients go with what, and the way they present their beautiful, delicious creations.
The good news is, while 99.99% of people, especially if you are already an adult, could never aspire to become a professional ballet dancer or opera singer, the odds are a lot better if you want to become an amazing baker or chef. Or even just improve your skills to make fabulous dinner meals by watching cooking shows on TV dramatically.
Recently, I came across a show called Dinner at Tiffani's that is on the Cooking Channel TV's website. Tiffani Thiessen, you know, the brunette babe of the 90's sitcom Saved by the Bell? AKA Kelly Kapowski? That's the one! It's a cute play off words like "Breakfast at Tiffany's" where she makes delicious food and invites over new and old celebrity friends for a dinner party at her home.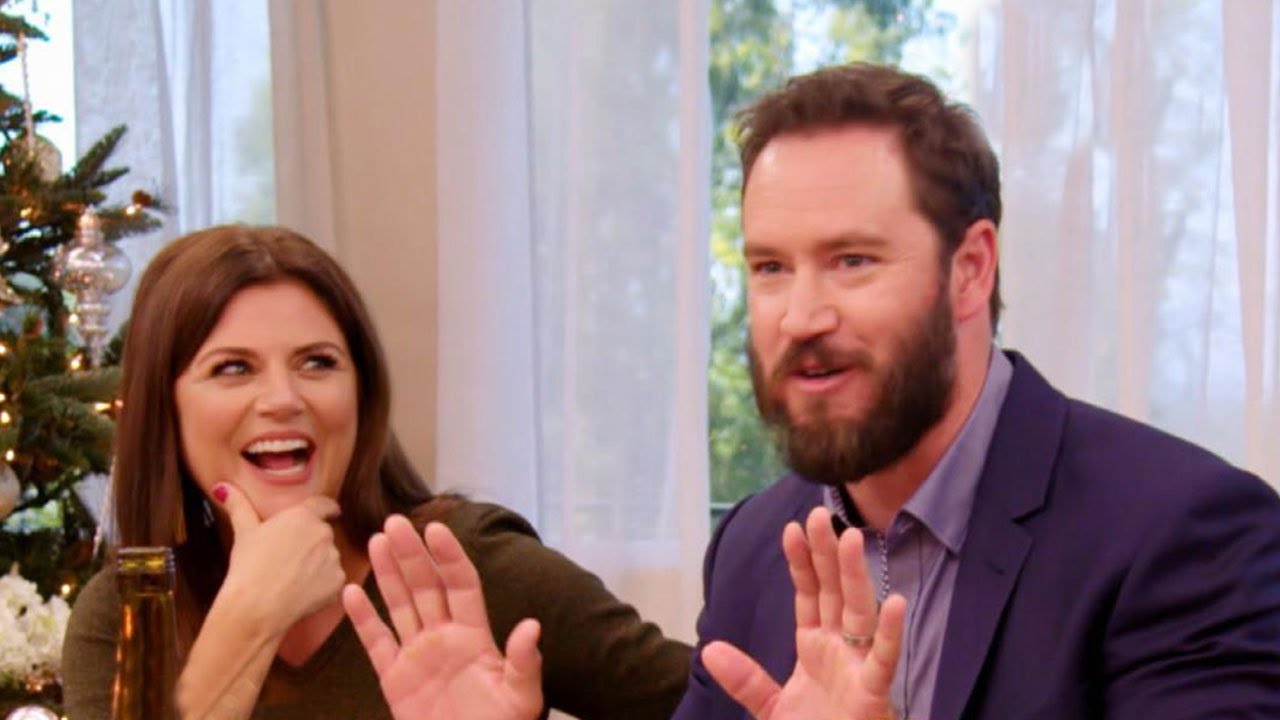 I grew up on 90's sitcoms like Saved by the Bell, so naturally I was drawn to her episodes where she eats with some of her old cast-mates like Mario Lopez and Mark Paul Gosselaar, also known as A.C. Slater and Zack Morris.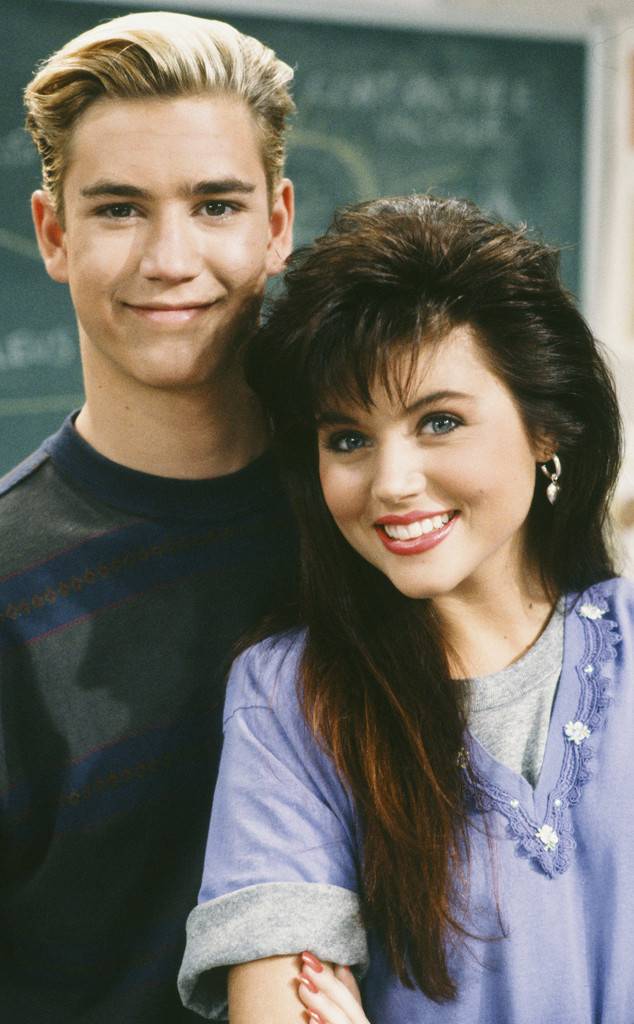 Remember these guys? Awwwww!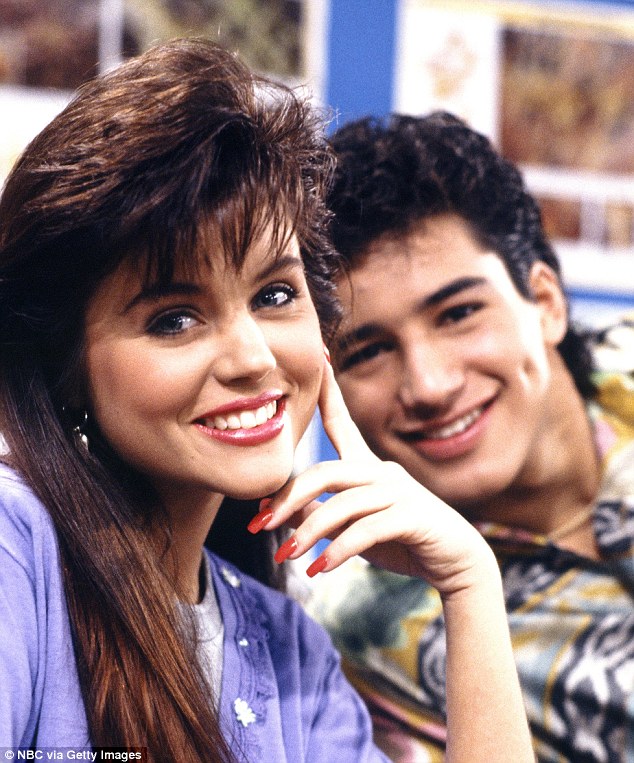 It's really fun to see her use her talents as a hostess and amazing cook to interact with her guests. She and her husband are so adorable! And her recipes are so yummy. I have had fun trying a couple of them and being inspired to host dinner parties of my own as a way to mingle with new and old friends myself.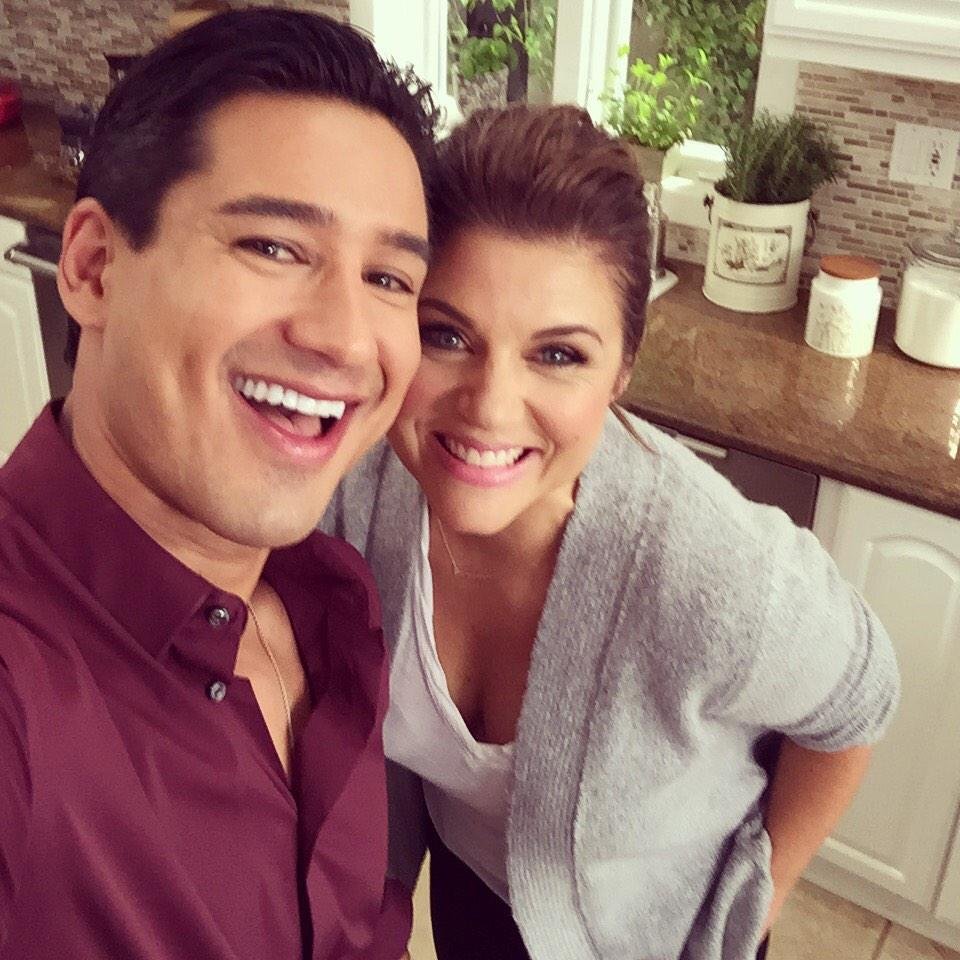 One of my favorite recipes I've tried from Tiffani was an obvious choice: blue cheese burgers where the blue cheese is stuffed inside the burger! Yum!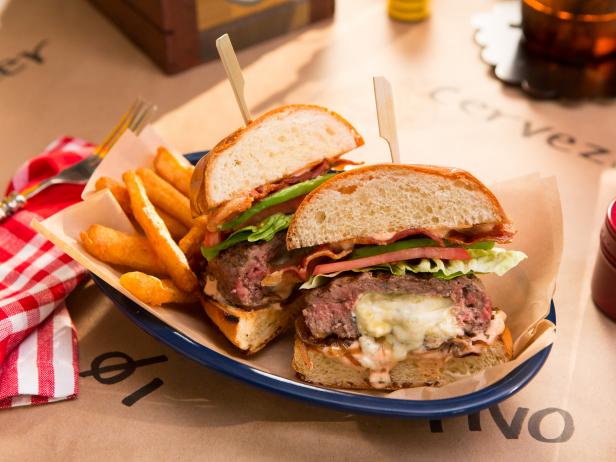 My husband has a borderline obsession with blue cheese so these taste amazing with the blue cheese kind of oozing out of the burger. It is a fun surprise because you see no clues at all from the outside that there is blue cheese on the burger! The patty part is simple with just salt and pepper and a splash of Worcestershire for the burger seasonings. After you grill or cook the burger, you add a little bit of grilled onions, a special sauce, crispy bacon, lettuce and tomato. It's a really fantastic burger. You have to try it if you like blue cheese!
I paired that with my favorite potato salad, jalapeno flavored Kettle brand chips, flipped on a little Saved by the Bell on Netflix in the background and we had ourselves a fun, nostalgic meal!
Do you enjoy watching cooking shows? What are some of your favorites?
Tiffany Thiessen's Blue Cheese Stuffed Burgers
Ingredients
Special Sauce:
1/2 cup mayonnaise

2 tablespoons ketchup

2 teaspoons very finely diced gherkins (about 2)

1/2 tablespoon sriracha sauce

1/2 tablespoon horseradish mustard
Burgers:
6 slices applewood-smoked bacon

2 tablespoons vegetable oil, plus more for oiling the grill grates

2 medium onions, halved lengthwise and then sliced crosswise 1/4 inch thick

2 pounds ground sirloin

1 tablespoon Worcestershire sauce

Kosher salt and freshly ground black pepper

10 ounces mild blue cheese, cut into 1/2-ounce cubes and chilled

6 brioche hamburger buns, split

2 medium tomatoes, sliced crosswise

6 "bun-size" leaves Boston lettuce

2 avocados, thinly sliced lengthwise
For the special sauce: Whisk together the mayonnaise, ketchup, gherkins, sriracha and mustard in a small bowl until fully blended.
For the burgers: Preheat the oven to 400 degrees F.
Line a rimmed baking sheet with parchment paper. Set a rack on the baking sheet and lay the bacon on it in a single layer. Cook until crisp, 35 to 45 minutes, turning halfway through.
Meanwhile, heat the oil in a large saute pan over medium-high heat. When the oil shimmers, add the onions and cook, stirring frequently, until the onions are golden and caramelized, about 15 minutes.
In a medium bowl, gently mix together the meat, Worcestershire, 1/2 teaspoon salt and 1/4 teaspoon pepper. Divide the meat into 6 equal portions and form each into a ball. Take one of the balls in your palm and, using the thumb of your other hand, gently poke straight into it to just beyond its center. Gently create a small cavity in the ball by pinching the meat between your thumb from the inside and your forefinger on the outside, pressing outward with your thumb and using the forefinger to maintain the round shape from the outside. Take care to leave the meat at least 1/4 inch thick. Fill the cavity with 1 to 1 1/2 ounces of the blue cheese. Gently and carefully close the opening in the meat around the cheese, being careful to seal it fully. Gently press the sphere between your palms to flatten it a bit, being careful not to create any openings. Repeat with the remaining meat and cheese.
Preheat the broiler. Put the buns on a baking sheet with the insides facing up. Toast the buns until golden, 2 to 3 minutes.
Heat a grill to medium-high heat and oil the grill grates. When hot, add 2 to 4 burgers, leaving space to comfortably flip them, and grill 2 to 3 minutes on each side for medium. Repeat with the remaining burgers.
To assemble the burgers, arrange the bottom buns on a clean, dry work surface. Spread each with 1 to 2 tablespoons of the special sauce and then top with some of the caramelized onions, a burger, tomato slice, lettuce leaf, avocado slices, 1 slice of bacon, cut in half, and finally, the top of the bun slathered with more special sauce.
Add Recipe to Cook'n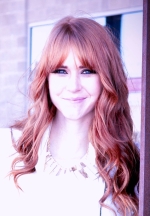 Mary Richardson
Weekly Newsletter Contributor since 2014
Email the author! mary@dvo.com