2 Delicious and Unusual Ways to Use Peaches
Peach season in our area is getting heart-stopping close. At our house we live for this time of year. Is there anything better than biting into a ripe, juicy peach (well, maybe digging into a cold ripe watermelon!)?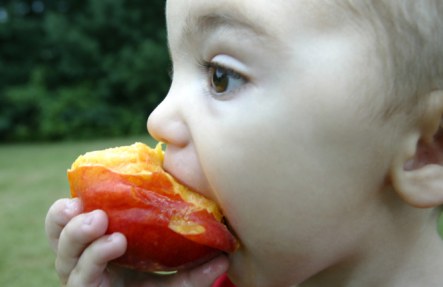 Personally, I don't know why anyone would want to eat them any other way than fresh from the hand. But then, that's the marvelous thing about peaches, they're good so many ways that it is easy to get distracted from the fresh-from-the-hand approach and branch out into baking and cooking with them. Peach pie? Peach cobbler? Peach crisp? Peach upside down cake? Peach jam? Yup, the list can go on.
So with that little introduction, here's something I just read about a favorite site, Care2 (www.care2.com). It's PEACH banana bread. Talk about amazing math: you add one incredible fruit to one incredible bread and that equals a gazillion bites of pure pleasure.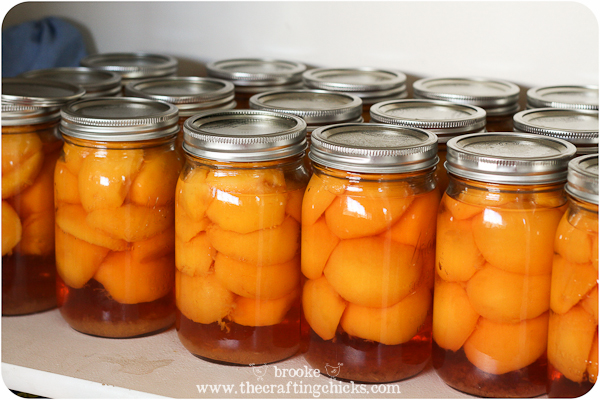 The original recipe calls for canola oil, but I don't and won't use the stuff, so I substituted melted butter instead, and that worked well. Also, you can even substitute canned peaches for fresh. This is a nice feature, since home-canners can often find themselves with unopened jars of fruit sitting on their shelves this time of year. It's always nice to have a good way to use them up to make room for the promise of fresh jars.
Anyway, try this recipe and see if it doesn't become a family favorite. And by the way, when our zucchini comes on, I intend to try substituting shredded zucchini for the mashed banana. I'm hoping the peaches will add lots of spizzaz to what tends to be a tired recipe (who really does flips over zucchini bread, after all?).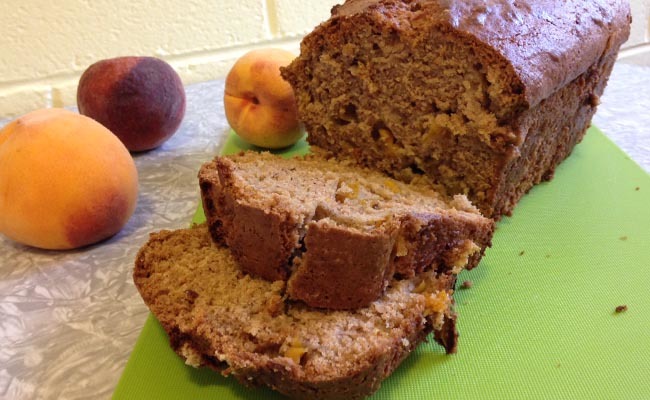 PEACH BANANA BREAD
1 ripe banana, mushed
3/4 cups applesauce
1 or 1 1/4 cup sugar (depending on your sweetness preference)
2 teaspoons vanilla extract
1/2 cup canola oil (consider substituting melted butter)
2 cups diced peaches, fresh or canned (if canned, drain well)
1 cup chopped nuts
3 cups all-purpose flour
1 teaspoon baking powder
1 teaspoon salt
1 teaspoon baking soda
3 teaspoons cinnamon
Preheat oven to 350 degrees. Grease a bread loaf pan.

In a large bowl, blend the banana, applesauce, sugar, oil, and vanilla. Add flour, baking powder, baking soda, salt, and cinnamon; mix just to combine. Stir in the peaches and nuts. Pour batter into prepared pan.

Bake for about an hour and a half, or until a tester inserted in the center comes out clean. I like to check it at an hour, hour and 15 minutes, just to see how it's doing.
Add Recipe to Cook'n
Besides astounding taste, another thing I love about peaches is that they're low in saturated fat and cholesterol and are packed with vitamins and minerals. It's because of all this that too often I've bought more than we can comfortably eat in one week, and some start to go alarmingly mushy on us.
So let's talk about what to do when you buy too many fresh peaches, can't eat 'em all soon enough. We Cook'n afficiandos know very well mushy peaches never need to go to waste. The mushers find their way to smoothies, vanilla ice cream bowls, and the aforementioned cobblers and crisps.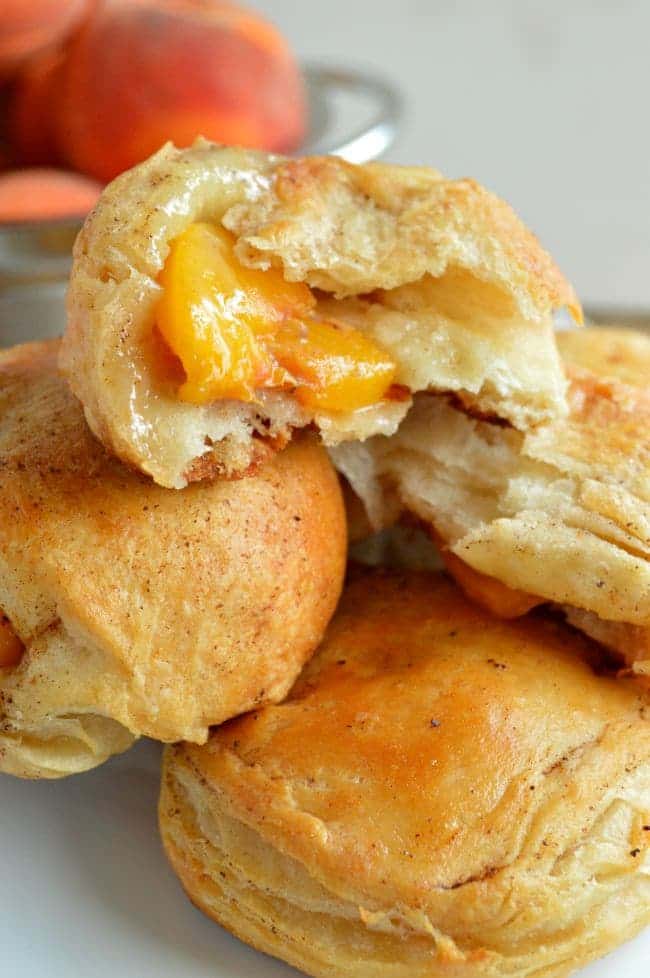 No new news there. BUT, here's an idea that's not as common. How about Peach Pie Biscuit Bombs? These are simple, delicious little treats perfect for breakfast, brunch, or with a little ice cream for dessert.
All you do is split flaky, refrigerated biscuits (the kind you find in a tube in the refrigerated cases at the grocery store) and fill them with peach slices, cinnamon and Brie (or cream cheese). It just doesn't matter if your peaches have gone mushy, because you'll be baking them anyway. All of this bakes into crusty, gooey goodness.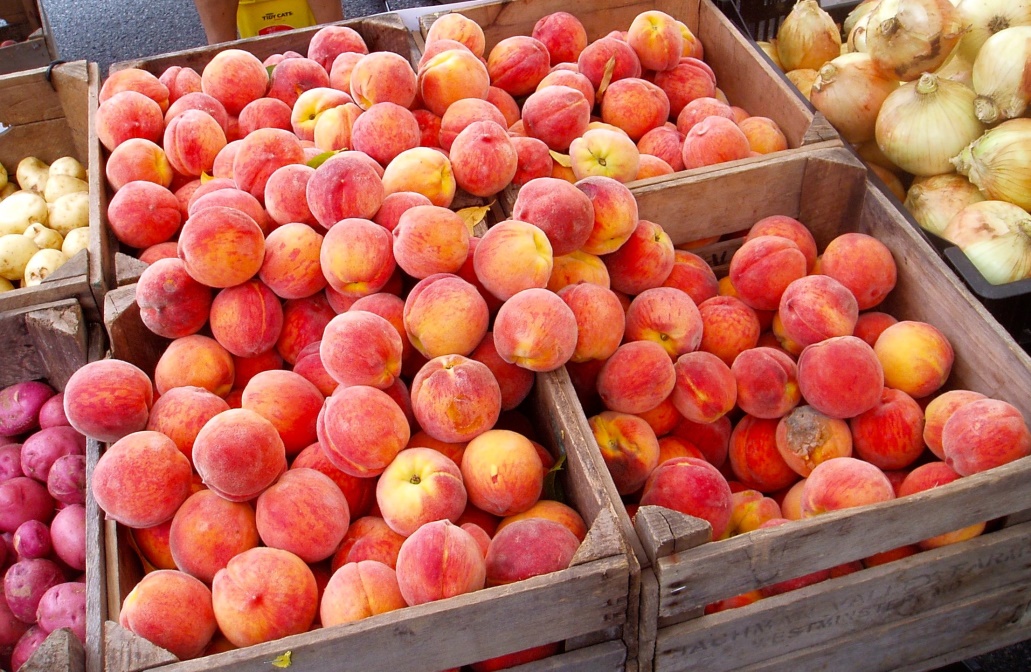 I'll close with "hats off" to fresh peach season (it can't come soon enough), and big applause for the many things we can do with this blessed fruit, starting with peach banana bread and peach biscuit bombs!
Sources:
www.realfoodforlife.com
www.thecraftingchicks.com
www.sugardishme.com
www.care2.com
www.smithmeadows.com

Alice Osborne
Weekly Newsletter Contributor since 2006
Email the author! alice@dvo.com