Classic Deviled Eggs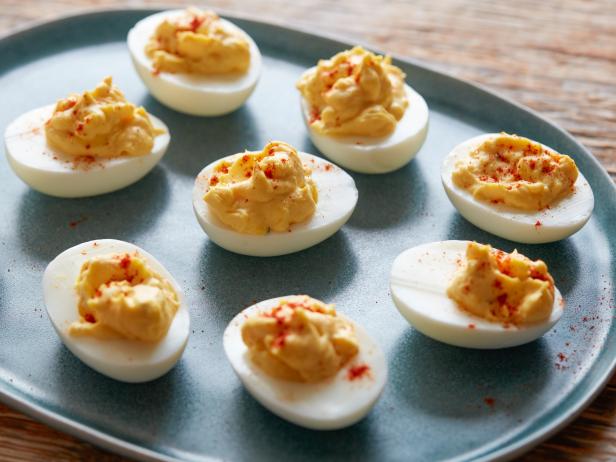 Serves:
4
Best deviled eggs ever. Adds great flavor to a classic dish!

Dovetailing Tip: In addition to the 6 eggs for todays Deviled egg recipe cook an additional 3 more, 2 to be use day 3 in Bacon-and-Egg Potato Salad and 1 to be used day 5 in Broccolini with Hard-Boiled Egg.
Prep Time:
Cook Time:
Total Time:
Ingredients:
6

eggs

1/4

cup

mayonnaise

1

teaspoon

white vinegar

1

teaspoon

yellow

mustard

1/8

teaspoon

salt

freshly ground

black pepper

smoked spanish

paprika , for garnish
Directions:
Place eggs in a single layer in a saucepan and cover with enough water that there's 1 1/2 inches of water above the eggs. Heat on high until water begins to boil, then cover, turn the heat to low, and cook for 1 minute. Remove from heat and leave covered for 14 minutes, then rinse under cold water continuously for 1 minute.

Crack egg shells and carefully peel under cool running water. Gently dry with paper towels. Slice the eggs in half lengthwise, removing yolks to a medium bowl, and placing the whites on a serving platter. Mash the yolks into a fine crumble using a fork. Add mayonnaise, vinegar, mustard, salt, and pepper, and mix well.

Evenly disperse heaping teaspoons of the yolk mixture into the egg whites. Sprinkle with paprika and serve.

Source: foodnetwork.com