Yummy Ways to Turn Cheese Nubs into Meals
I just found some information I saved almost two years ago that I knew I'd want to share with you. It's all about cheese nubs. Do you ever end up with these?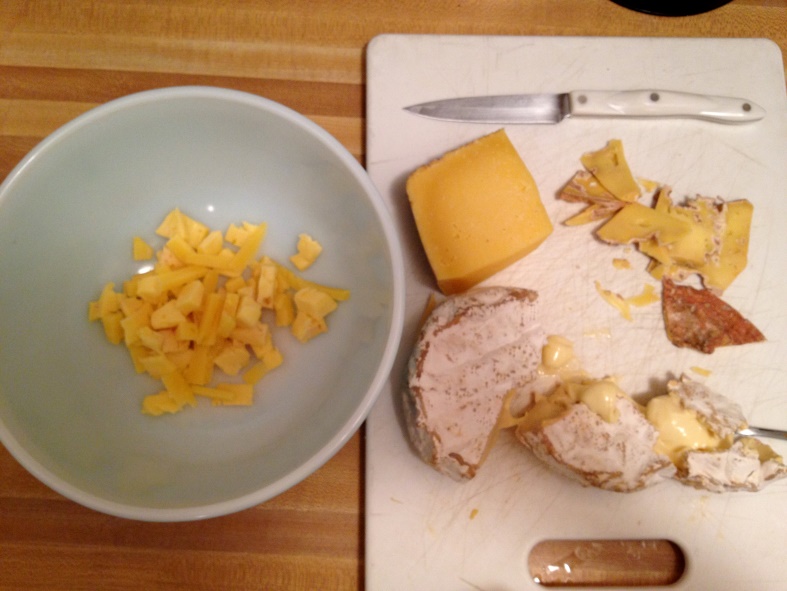 Maybe some of you aren't sure what I'm talking about. I know when I first heard about cheese nubs, I had no idea what they were. "Cheese nubs" is the label given to leftover bits and pieces of cheese. Ahh…that's why I didn't get it. We never have leftover cheese. BUT, according to the author of this interesting article, Caroline Lange (of
Food 52
), it can be a common occurrence. (Seriously?)
Anyway, Caroline says if you do happen to be lucky enough to have these little morsels on hand, there's a lot you can do with them. Here are her suggestions: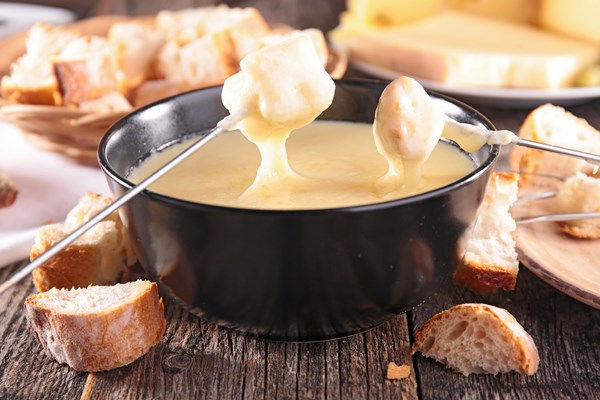 If you've got enough, make fondue.
The beauty of fondue is that you can use a mix of cheeses. And if you're already in a fridge-cleaning-out mood, you've probably found an assortment of things to dunk. Besides bread chunks there's always celery, carrot, and bell pepper sticks (or other leftovers that go well with cheese).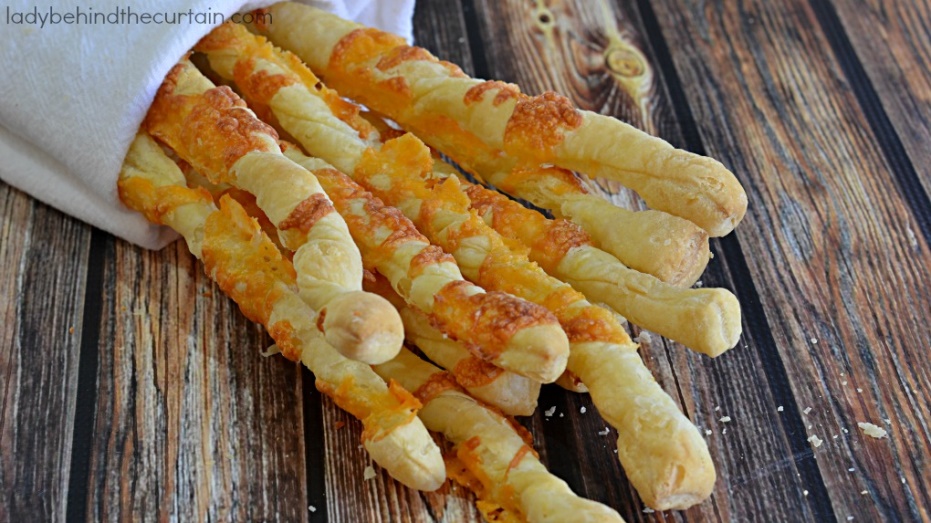 Or roll out puff pastry
. Just sprinkle grated cheese over a layer, add another pastry layer and more cheese; repeat this a few times, and then twist it all into toasty, buttery cheese straws.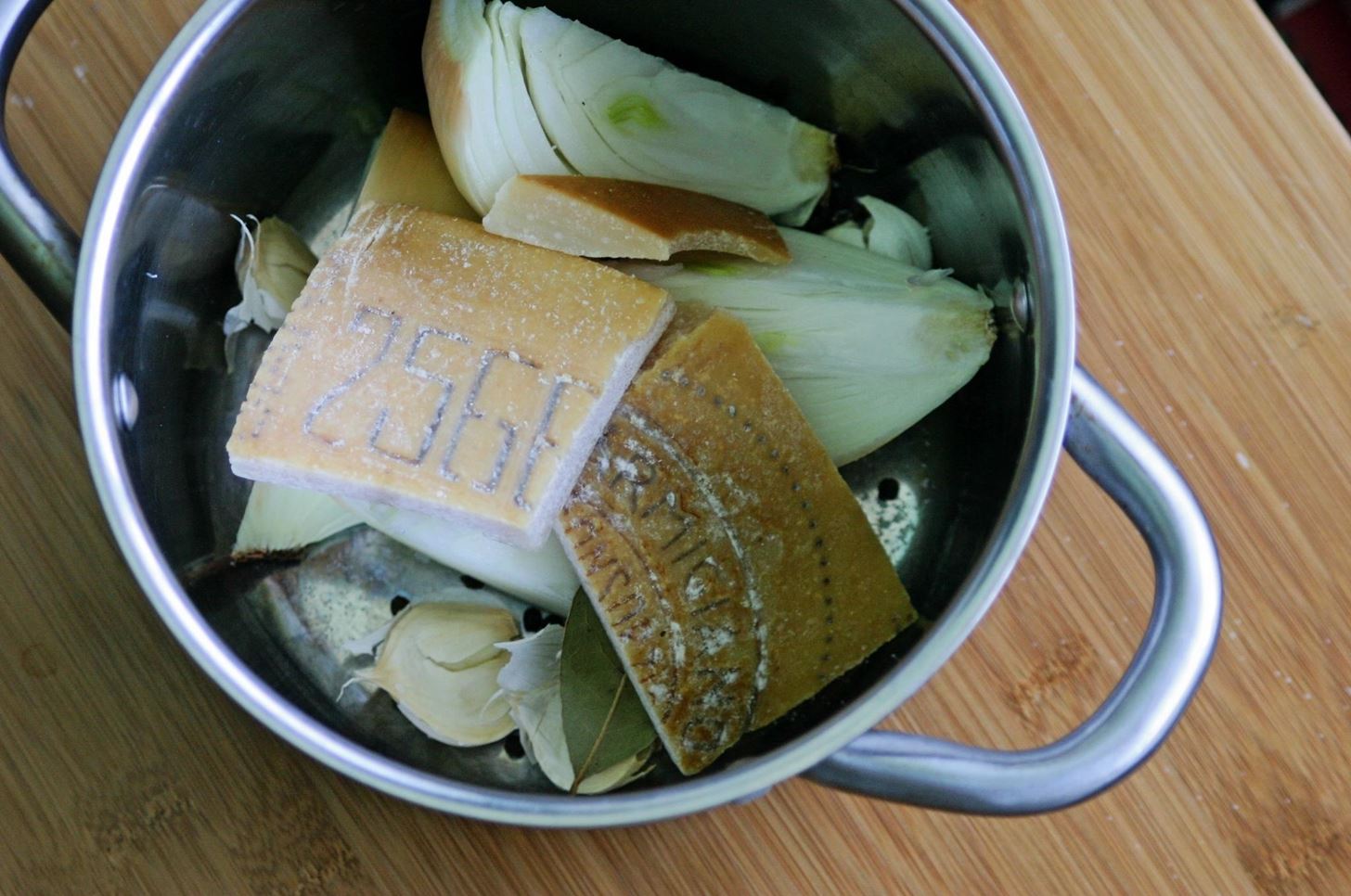 Make broth with Parmesan rinds.
Drop them in a pot of boiling water with some onion, garlic, and bay leaves; stir well until all the rinds are melted. Then use that ultra-flavorful broth to make soup, sauce, or a pot of beans.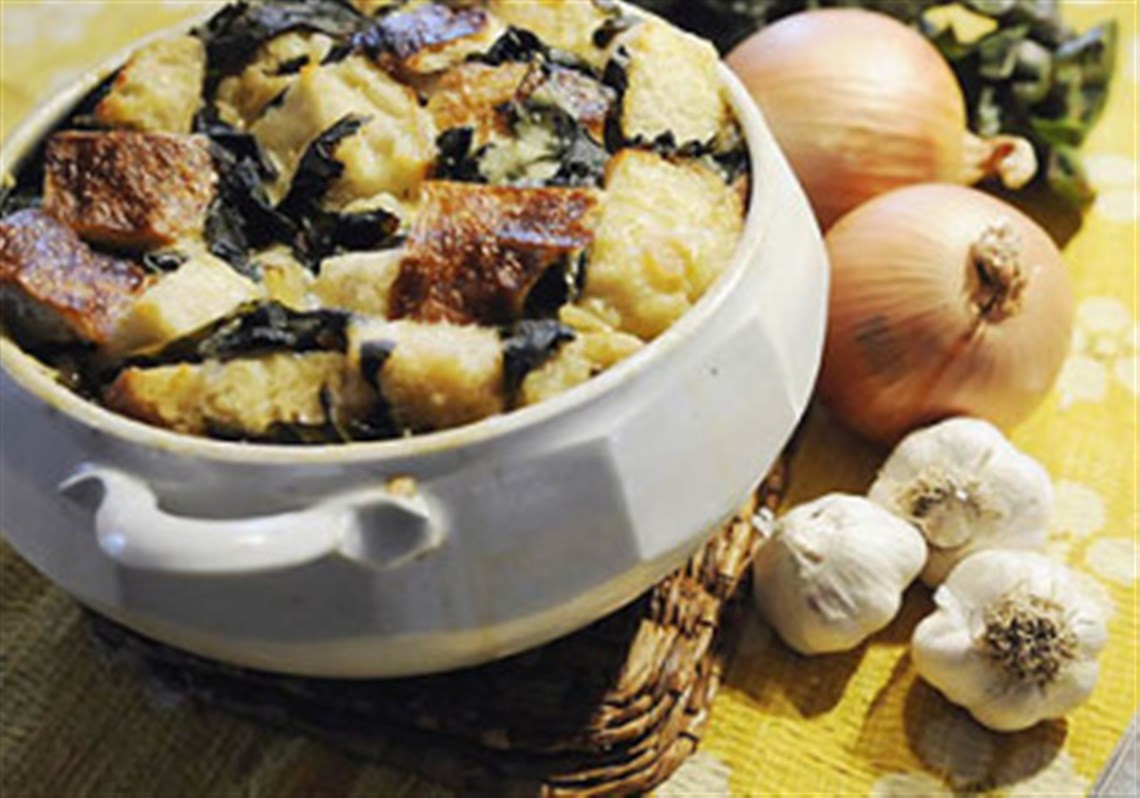 Or try panade!
This is a soup made of cubed bread and cheese broth that's then topped with more cheese. This is just delicious, so before moving on to the next leftover cheese idea, here's a delicious recipe for panade. The beauty is its versatility. It can be served as a one pot meal, or this becomes a beautiful side dish, depending on how you make it.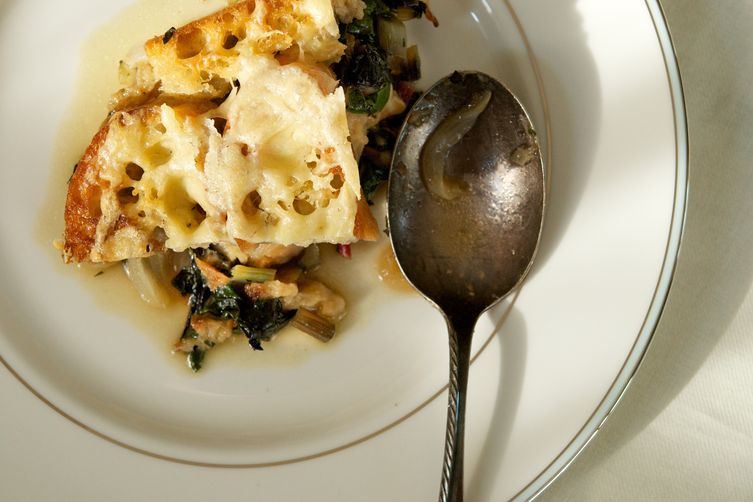 TRADITIONAL PANADE
16 ciabatta slices, half-inch thick
1/3 cup (or more) olive oil
4 cups thinly sliced yellow onions
3 garlic cloves, peeled and thinly sliced
8 cups tightly packed Swiss chard (rinsed well, dried, and stems cut into 1/8 inch pieces and leaves cut into thin ribbons)
2 teaspoons tarragon, minced
2 cups (or more) hot vegetable broth
½ pound gruyere cheese, grated
Kosher salt to taste
Pepper to taste
Heat half the oil in a large 14 inch skillet. When the oil is hot place as many of the ciabatta slices into the pan as you can fit. Brown one side until it is golden brown and delicious and then remove them to a plate and season them with salt and pepper.

After browning the bread add a little more oil and add the onions, a pinch of salt and a few grinds of pepper. Turn the heat to medium (if you haven't adjusted it already), and sweat the onions until they are soft and amber in color. Add the garlic and cook a few minutes until fragrant. Remove everything from the pan.

Add the chard and tarragon to the pan and season it with salt and pepper. Wilt the chard until it is just tender. Taste and adjust the seasoning.

While the chard is wilting preheat the oven to 350°F and oil the casserole.

Add layer of onions to the bottom then a layer of ciabatta. Now lay on half the chard and add another layer of onion, 1/3 of the cheese and bread. Now add enough broth to come to the bottom of the second layer of bread. I push down on the mixture to compact it but that is up to you.

Repeat this process finishing with a top layer of bread. Add as much broth as needed to reach the bottom of the top layer of bread. Cover with foil and bake in the oven for 35 to 45 minutes.

Remove the foil and top the panade with the remaining cheese, it should have a thick layer of cheese on top. Bake another 15 to 20 minutes or until the cheese is brown and bubbly and the edges are bubbling too. Remove and let cool for 5 to 10 minutes and serve.
Add Recipe to Cook'n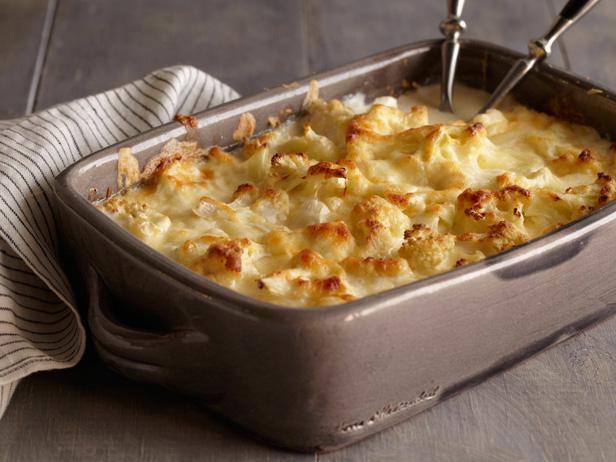 Make a savory gratin.
Whether you use root vegetables or greens, it's delicious! (Cauliflower and goat cheese gratin is pictured.)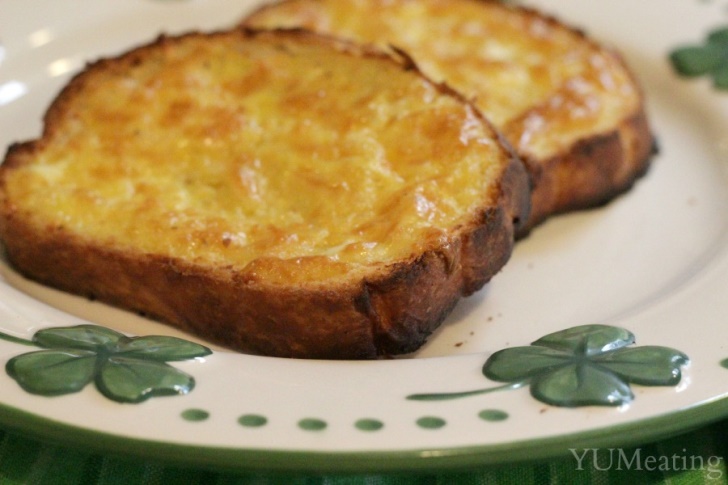 Make cheese toasts.
Go the uber-gooey route, the herby route, or the crispy-crunchy Parmesan route.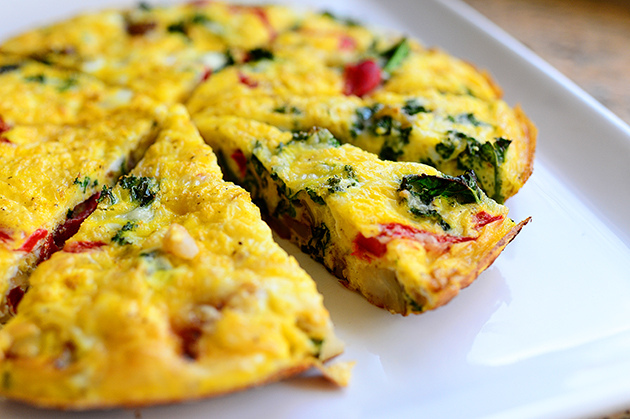 Fold grated cheese into frittatas
, omelets, bodega-style eggs, or baked eggs. Grate some more cheese over the top for good measure. (If bread isn't cheese's best friend, eggs are.)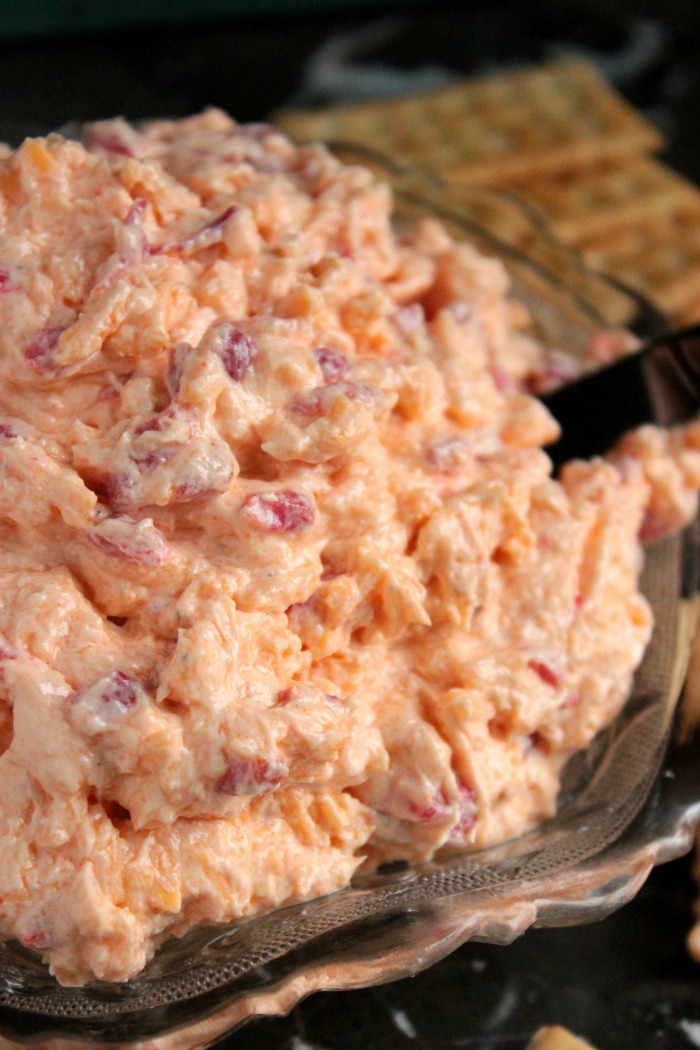 Make pimento cheese!
All you'll need is some sharp cheese (cheddar is the classic choice), mayo, and pimentos. This is one of the best ways to wake up any sandwich.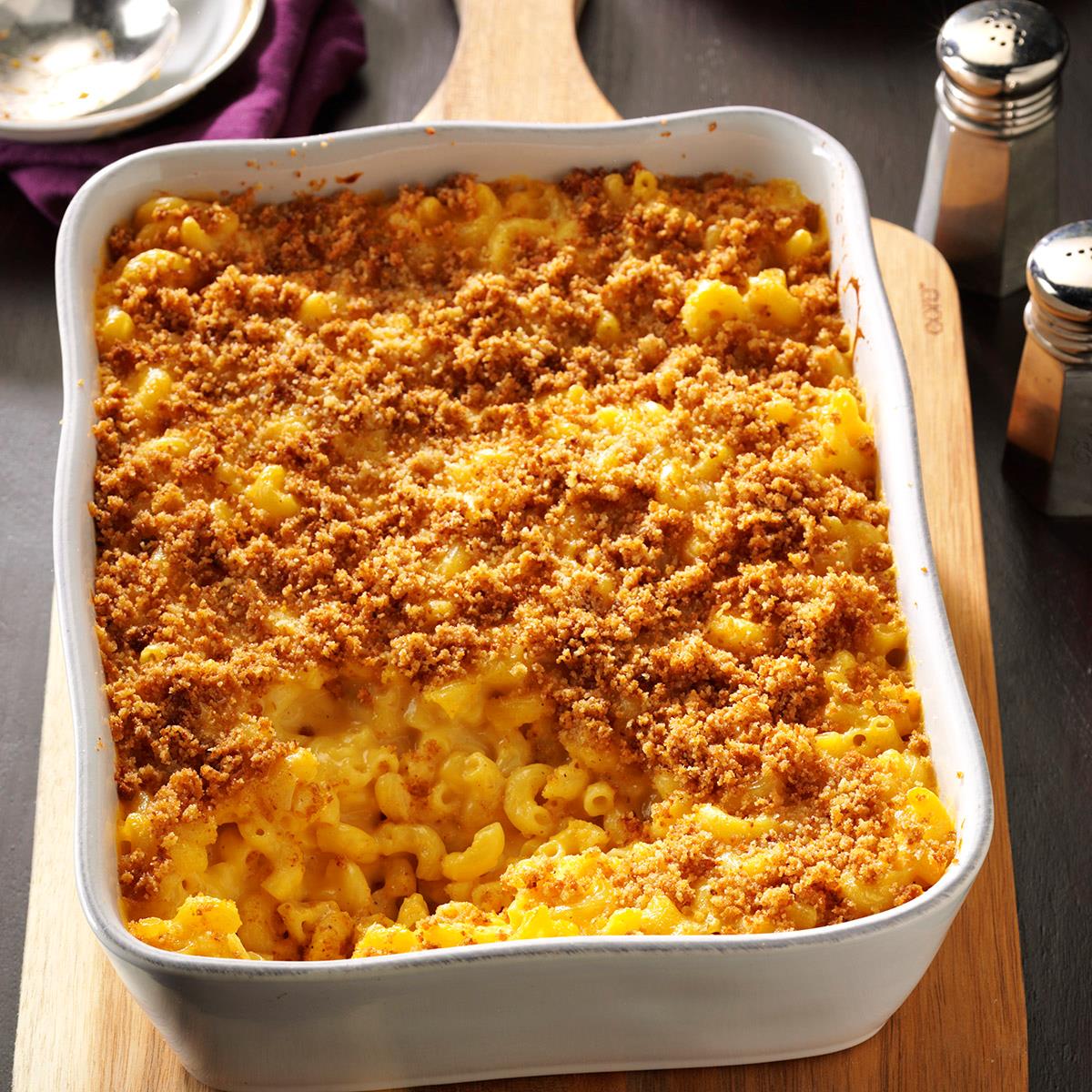 Melt cheese in milk and/or cream
, and toss with just-boiled pasta. Voila! You now have a quick and easy macaroni and cheese. Top with breadcrumbs and slide under the broiler until crispy for bonus points.
The thought occurred to me as I was writing, that these are all wonderful dinner ideas, whether I have "cheese nubs" or not. I currently have a good-sized chunk of Cheddar in my fridge, so I think I'll make a gratin for supper tonight. Meanwhile, though, it is good to know what to do in the off-chance we ever have any cheese nubs kickin' around.
Sources:
www.alagourmande.wordpress.com
www.kitchme.com
www.ladybehindthecurtain.com
www.food-hacks.wonderhowto.com
www.post-gazette.com
www.foodnetwork.com
www.nevermorelane.com
www.thepioneerwoman.com
www.bigbearswife.com
www.tasteofhome.com

Alice Osborne
Weekly Newsletter Contributor since 2006
Email the author! alice@dvo.com