BAKED Pancakes…What a Time Saver!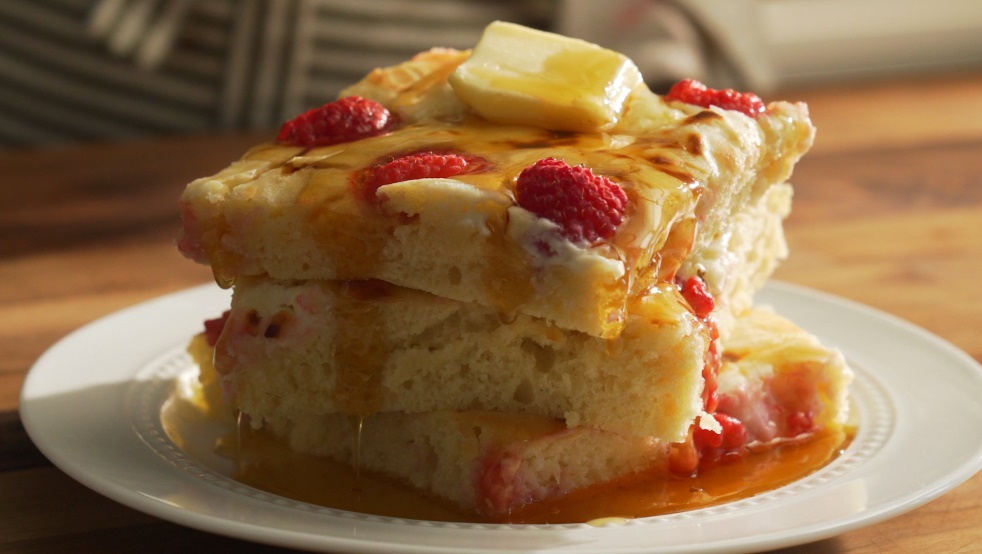 Did you know you can BAKE pancakes? Yeh, you savvy
Cook'n
readers probably know all about this. But I confess, I had no idea. So with your permission, I'd like to talk about what seems to me like a very clever way to save a bunch of breakfast-making time!
Turns out, this technique has been around for a while. On a great site, Eating on a Dime (www.eatingonadime.com), site author Carrie, explained how to do this back in 2016.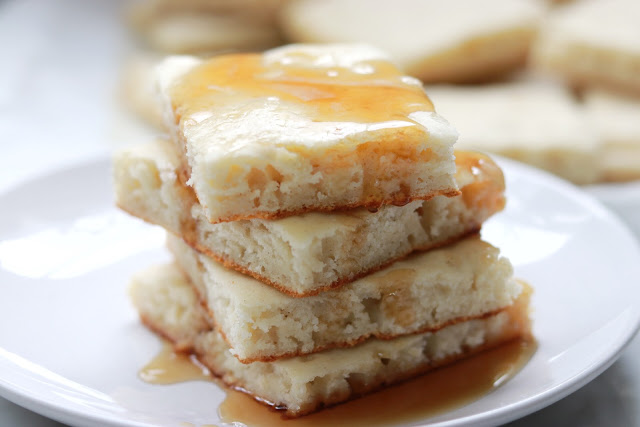 The baked pancake (also known as a sheet pancake) is a perfect way to quickly and easily feed a crowd. But, as Carrie says, "Whether you have no kids or 8 kids you are going to love this super easy recipe. Just mix, dump, bake and enjoy. This is much easier than the traditional pancakes recipe where you have to stay in the kitchen watching and flipping. In fact, my family prefers these baked pancakes over traditional pancakes, and since these are so darn easy – I am thankful they love them so much."
Here's Carrie's recipe (in case you don't already have your own):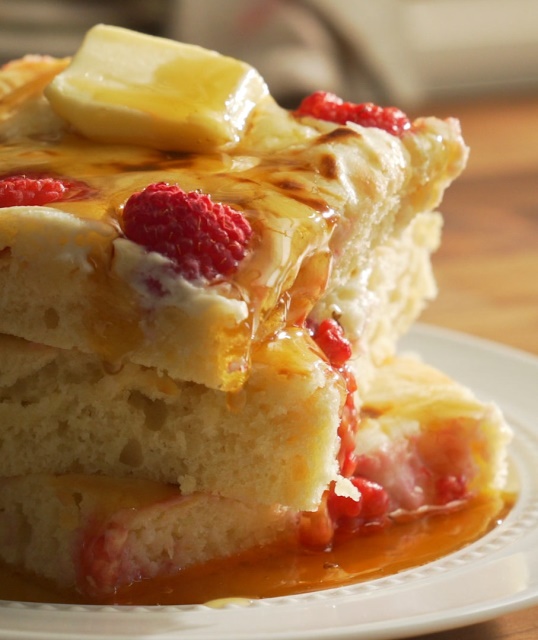 BAKED PANCAKES
3 tablespoons sugar
2 cups all-purpose flour
3 teaspoons baking powder
1/2 teaspoon salt
1 1/2 cups milk
2 – 4 tablespoons butter, melted
2 eggs
1 teaspoon vanilla extract
Preheat oven to 350 degrees. Spray a 9×13 baking dish with non-stick spray.

In a medium bowl, whisk together the sugar, flour, baking powder, and salt.

In a large, bowl whisk together the milk, eggs, melted butter. Then stir the flour mixture into the milk mixture, just until combined. The batter will be a bit lumpy.

Pour the batter into the prepared pan and bake for 25-30 minutes, until edges are golden brown and a toothpick inserted in the center comes out clean.

Allow it to cool for about 5 minutes, then cut into squares and serve with your favorite toppings.
NOTE: You can add-in berries, nuts, etc. Whatever you'd add when making traditional pancakes, you can add to this pan of batter.
Add Recipe to Cook'n
Carrie also mentions that you can add in ingredients to make this recipe uniquely your own. She suggests pumpkin, cocoa, or chocolate chips. I also think adding shredded coconut and a little coconut flavoring with the vanilla extract would be good. Here are some more ideas for different things you can do with a baked pancake: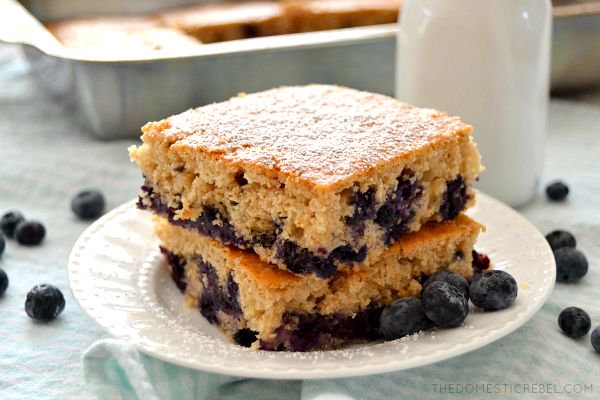 Add fresh blueberries for not just a flavor treat but an anti-oxidant boost as well.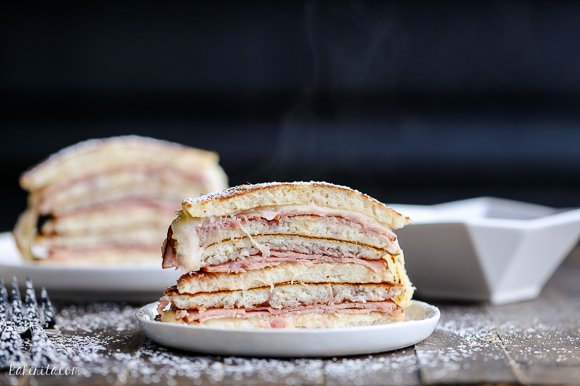 After you've baked your pancake and cut it into squares, slice each square horizontally and build a delicious version of the famous Monte Cristo sandwich. To do this, just spread your pancake slices with mayonnaise and mustard. Alternate ham, Swiss and turkey slices onto them. Beat 1 egg and milk in a small bowl (amount depends on how many sandwiches you are making). Coat the sandwich with the egg and milk mixture. Place greased skillet over medium heat and brown each sandwich on both sides. Serve hot.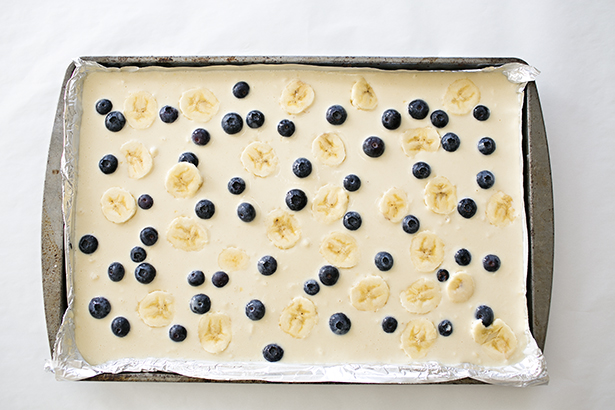 One tip I would add that would make this process even easier (and clean-up quicker, too): line you pan with foil and grease it, then add your pancake batter. Once baked, just flip the sheet of pancake out onto a cutting board, remove the foil, and cut into squares using a pizza cutter.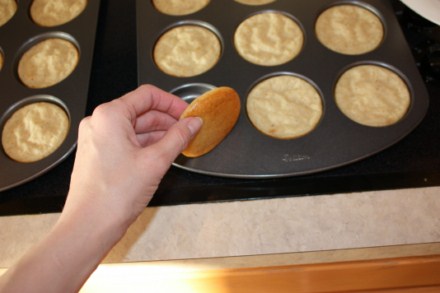 Then there's another pancake-time-saving idea. You could use a muffin top pan, drop all your batter at once into the cups, and again, bake them. Now you have pretty little individual pancake-ettes.
I'm so pleased to have discovered this baked pancake idea because it's opened my mind to a new arena of experimentation. I'm thinking that if pancake batter can be baked in a 9x13 or on a sheet cake pan, then maybe I could try the same thing with muffin batter? It would save a lot of time if I could just pour all the batter over a foiled and greased 9x13 pan, rather than tediously fill the cups of my muffin tin.
I'm going to give it a shot and I'll report back. Meanwhile, hat's off to all the clever people that come up with ways to save us time and energy. Baked pancakes…what a time saver!
Sources:
www.realsimple.com
www.fabeveryday.com
www.thedomesticrebel.com
www.bakerita.com
www.hellowonderful.co
www.lynnskitchenadventures.com

Alice Osborne
Weekly Newsletter Contributor since 2006
Email the author! alice@dvo.com