Crunchy Fresh-Herb Breadsticks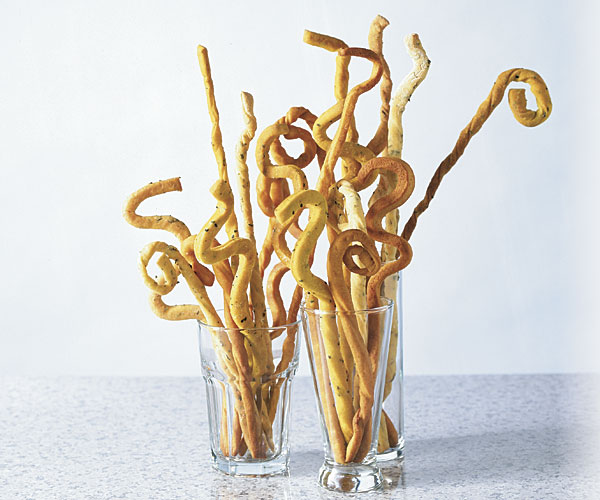 Serves:
40
This sturdy dough lasts for up to four days in the refrigerator, making it a snap to bake up a handful of breadsticks in a snap. Amounts of flour are given by weight (oz. or lb.) and by volume (cups); use either measurement.

Yield:
Yields about 40 breadsticks.
Prep Time:
Cook Time:
Total Time:
Ingredients:
1

teaspoon

active dry

yeast

1

cup

plus 2 tbs. warm

water

(85°f)

1/4

teaspoon

granulated sugar

1

pound

(3-1/2 cups) all-purpose

flour

1/3

cup

olive oil

; more for the finished breadsticks

2

teaspoons

kosher

salt

2

tablespoons

chopped fresh

chives

3

tablespoons

chopped fresh

thyme

2

tablespoons

chopped fresh

rosemary

kosher

salt

for the finished breadsticks
Directions:
Make a sponge: In a medium bowl, mix the yeast, warm water, and sugar until dissolved. Whisk in 6 oz. (1-1/3 cups) of the flour until the mixture is uniform and free of lumps. Cover with plastic wrap and let it sit in a warm place until bubbly and light and almost doubled in volume, about 1 hour.

Make the dough: Whisk the olive oil, salt, chives, thyme and rosemary into the sponge until well blended. Pour the seasoned sponge into the bowl of an electric mixer fitted with a dough hook and set to medium speed. As the dough hook turns, gradually add 9 oz. (2 cups) of the flour. Continue to add flour until the dough is only slightly sticky, but no longer wet. When the dough begins to cling to the hook and pull away from the sides of the bowl, remove the dough from the bowl and knead by hand on a floured surface until smooth and elastic, 1 to 2 minutes.

Shape the dough into a ball and let it rise in an oiled bowl, covered with plastic wrap, until about doubled in bulk, about 3 hours. Once risen, punch down the dough and refrigerate it overnight or for up to four days.

Shape and bake the breadsticks: Let the dough sit at room temperature for about 1 hour before shaping it. Heat the oven to 375°F and line several baking sheets with parchment. Roll out the dough on a floured surface into a 12x20-inch rectangle, about 1/4 inch thick. Using a pizza cutter (or a long, sharp knife), cut the rectangle lengthwise into two sections (each about 6 inches wide). Then cut each section into narrow strips about 1/2 inch wide. Stretch and twist each strip to almost twice its original length and arrange the strips, 1/4 inch apart, on the baking sheets.

Bake the sticks until golden and crisp, 20 to 25 minutes. Check them periodically as they bake, as some sticks inevitably end up thinner than others and will bake faster. They're done if they feel firm when pinched.

Sprinkle the sticks with olive oil (or sesame oil for the Moroccan flavored sticks) and kosher salt as soon as they come out of the oven. Let them cool completely before serving. They will stay fresh in an airtight container for up to 2 days.

Variations

Spicy Cheese Breadsticks: Reduce the salt to 1-1/2 tsp. and replace the chopped chives, thyme, and rosemary with 1 Tbs. sweet paprika, 1/2 tsp. ground cayenne, and 3/4 cup freshly grated Parmigiano Reggiano.

Moroccan Spice Breadsticks: Replace the chopped chives, thyme, and rosemary with 1/4 cup cornmeal, 1 Tbs. sesame seeds (preferably black), 3/4 tsp. ground turmeric, 1 Tbs. freshly ground cumin seeds, 1 tsp. freshly ground black pepper, and 1 Tbs. toasted sesame oil. Sprinkle the freshly baked breadsticks with more sesame oil instead of olive oil.

Source: finecooking.com
Add Recipe to Cook'n
---