No Drip Popsicles!
What's the one food that any kid probably associates with summer the most? Popsicles! Cold, sweet- the perfect way to cool down on a hot day, especially after swimming or playing in the sprinklers. However, what's the one thing moms associate with popsicles? Messy. So, so messy. I love letting my kids enjoy popsicles outside on a hot day, but I'm definitely not in love with the mess that inevitably comes. For reals. They somehow manage to find a way to drip them all over their faces and hands and we always end up with at least one stained shirt- which is why popsicles and swimsuits are an ideal match;).
So when I came across this recipe for no-drip popsicles, to say I was intrigued is a vast understatement. I have been dying to try them, and this week we finally gave them a shot.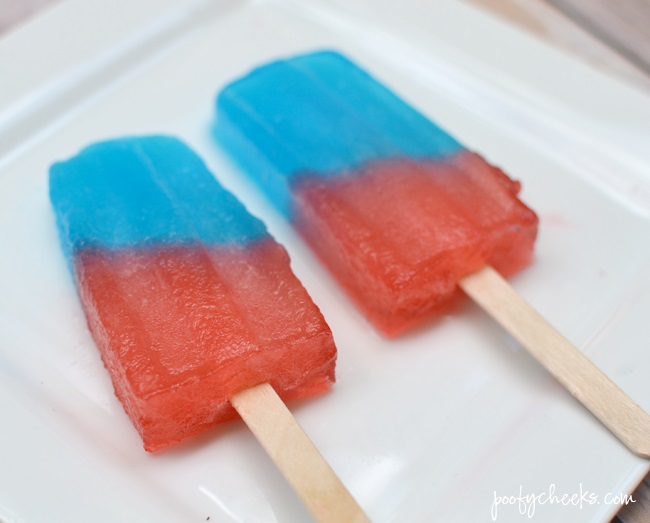 Add Recipe to Cook'n
The magic ingredient in these popsicles are Jello!! Of course! I love when people are more creative and brilliant than myself and are willing to share their genius with others ;). The other great thing about these popsicles is that they are incredibly easy to make, so of course my kids were more than willing to help (I'm sure the fact that we were making one of their favorite treats was helpful too;) ).
To make these magic popsicles, begin by boiling 2 cups of water. In a medium sized mixing bowl, mix ⅓ c. of sugar and a 3 oz. package of Jello. I had an old peach flavored one that I needed to use, so this was perfect. My source for the recipe said her kids love the Jolly Rancher flavored Jello packages for this particular recipe- I can't wait to try them for myself! It would be fun to mix different flavors too, but that's for another day :).
Once your water has started boiling, pour it into the Jello and sugar mixture and stir until the sugar is completely dissolved (a couple of minutes). Then pour 2 cups of cold water into the bowl and mix all together. Pour into popsicle molds, wait for them to freeze, and voila! All done!
My verdict: These are pretty great. I left my popsicle on a plate for 20 minutes, and there was a little bit of goo on the plate where the popsicle had been lying, but no drippy mess to mop up. My kids were still able to find a way to make a mess with these… but it probably didn't help that my popsicle molds have fancy straws and stuff. My kids play with them more than anything! But with that being said, the mess was definitely more contained than it would have been otherwise. If they had eaten them like a normal person ;), there would have been very minimal mess. Since they were holding them in their hands and throwing them at each other, I feel that it wasn't a completely fair assessment ;).
These picture shows one of these popsicles after 20 minutes outside- droopy, Jello-y, but no drip!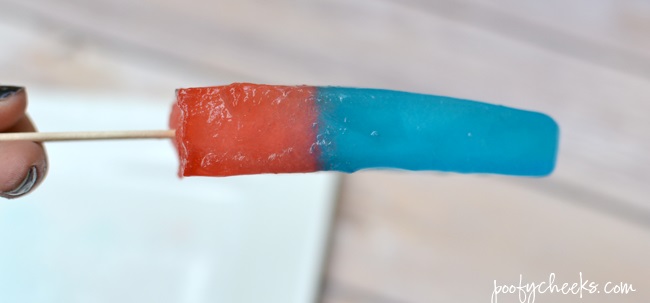 Overall I felt these were totally successful and definitely ones that we will be making again! Which flavors are you dying to try? I'd love to hear from you!
Sources:
http://www.poofycheeks.com/2015/04/jell-o-popsicle-melt-test.html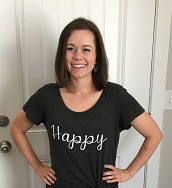 Camille Hoffmann
Weekly Newsletter Contributor since 2014
Email the author! camille@dvo.com