Leftover Gravy Can Solve the "What's for dinner?" Query
What's for dinner? Sometimes I have NO idea. But one thing I've just learned: if there's leftover gravy in the fridge, I probably have some strong dinner possibilities going on.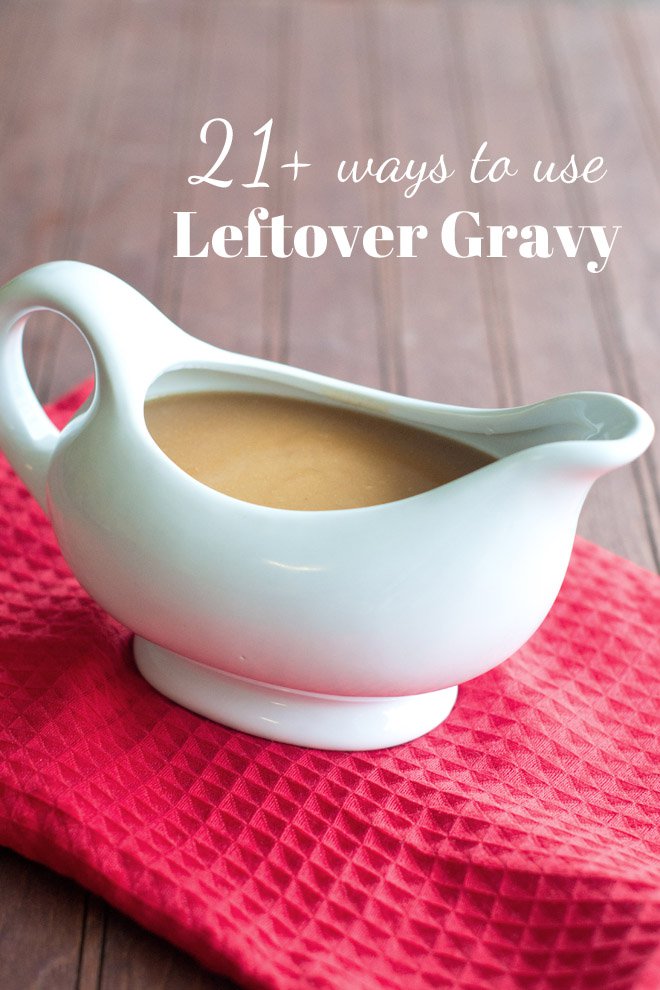 I found this valuable idea the other day on a cool foodie website,
Cook the Story
. Website author and professional recipe creator, Christine Pittman, shared 21+ things you can do with leftover gravy that really cinches the dinner deal.
Christine says good gravy is too good to waste and is so good for building a meal around. Now while most of our Cook'n readers already know this, I thought I'd share this information in the off-chance there are a few of you out there like me, who'd never really thought of capitalizing on leftover gravy. (I usually put it in a lidded container and shove it to the back of the fridge and keep it until it grows mold.)
But now that I have Christine's ideas logged into my Cook'n 12, I won't be wasting it any longer. Here are her suggestions for that yummy leftover gravy:
Freeze it: OK, this isn't technically using it. But it's keeping it until you can use it on one of the delicious dishes below. It freezes well in a air tight container. Keep it for up to 3 months.


Meatballs: Make up a batch of oven-baked meatballs and use your leftover gravy as a topper.

Soup: You can always add gravy to any soup. It's going to give it a bit of body and lots of flavor. Get some broth going in a pot with some leftover meat and veggies. Then add in the gravy. It'll spread out and be delicious.

Pasta Sauce: Gravy is fantastic as a pasta sauce. I especially love it on egg noodles. Think Stroganoff. One way to do it is to heat up your gravy and then swirl in some sour cream. And a gravy-based sauce with sauteed mushrooms over gnocchi works well also.


Shepherd's Pie: This is the thing to do if you have leftover mashed potatoes too. Fry up some ground meat and add your gravy. You want it well moistened but not soupy. Add in some veggies (leftover ones or even frozen mixed vegetables will do). Top with the leftover mashed potatoes and bake until heated through.

Fries and Gravy: You Cook'n subscribers from Central Canada know that whenever you order fries you're asked if you want gravy. Well, this culinary Canadian tradition is delicious. So why not do it at home? Make fries. Put them on a plate. Top with hot gravy. And still dip the fries in ketchup if you want. Try it and see what you think.

Poutine: Have you had this? Have you heard of it? It's wonderful. It originates in Quebec, Canada. Just put hot French fries on a plate, top with cheese and then slosh on hot gravy. The cheese melts there between the gravy and the sauce. Oh, and if you're in a hurry, try the lazy version using baked potatoes.


Newfoundland Fries: (You're thinking those Canadians like their fries and gravy, right?) Clearly. So here's another Canadian fry and gravy combo, this one coming from Newfoundland. You put hot fries on a plate, top with leftover stuffing and then add your hot gravy. If you're thinking it sounds weird, it's simply not. Think about it. Your Thanksgiving dinner plate has potatoes, stuffing and gravy and you love getting it all onto one fork. This is the same thing but done with intention. And with French fries.

Stew: It's very simple to take your gravy, add leftover meat (or new cooked meat), vegetables and potatoes. If you don't have enough gravy to justify a stew, you can make a basic sauce first. Get your meat and veggies into the pot with butter or oil. Sprinkle it all with flour, stir, then slowly add broth. Now you can add in your gravy and bring it all to a simmer.

Hot Sandwiches: This is one of the best ways to use leftover gravy. Get out some good sliced bread. Top it with hot cooked meat (leftover roast chicken…mmmm) and then add your hot gravy.

Hot Sandwiches, Take 2: Another version is to chop up the meat (and any leftover potatoes, stuffing, etc..) and mix it with the gravy. Heat it up and then spoon it onto nice bread.

Salisbury Steaks: This involves burger patties. Cook them. Fry up onions. Stir the onions into your hot gravy and then pour it all onto the patties.

Patty Melts (sort of): This is grilled rye bread topped with a burger patty, topped with a slice of ham, topped with a slice of cheese, topped with gravy – all hot and melty and good.

Chicken Pot Pie (or Any-Kind-Of-Meat Pot Pie): Chop up some cooked meat and add veggies. Add gravy and place a pie crust over top. Bake. 

Chicken and Dumplings: Add cooked chicken a veggie or two to a large pot. Mix in gravy and thin it out a bit with water or milk. Heat through; add dumplings and continue cooking until cooked until done.


Biscuits and Gravy: Cook up some breakfast sausage. Add gravy and perhaps a dash or two of hot sauce or some black pepper (sausage gravy usually has a kick to it). Spilt open some hot biscuits and ladle on the gravy.

Chicken Fried Steak: As with the Biscuits and Gravy idea above, you'll want to add a touch of heat with either hot sauce or black pepper.

Meatloaf, Diner Style: Whether or not it's leftover or new, meatloaf always has gravy on it. (For this one, you may want to sauté some mushrooms, and add them to the gravy before pouring it onto sliced meatloaf.)

Hamburger Hash: Typically you cook ground beef, add flour, stir, then add milk. It becomes a nice meat sauce. Instead, skip the flour and milk and use gravy instead. Serve over noodles or potatoes.

Curries: Add some coconut milk and curry powder or curry paste to your gravy. Add some chicken and cauliflower, maybe some chick peas. Serve with rice and Naan.

Beef Dips: A true beef dip is served with au jus (the more transluscent drippings from a roast). But swapping that out for a gravy dip is definitely an option.


Philly Cheesesteak (not!): So really, there's no gravy anywhere near a true Philly Cheesesteak. But there are professional chefs who do add unusal things onto Philly cheesesteak ingredient lists. Gravy is one of them. So load your bun up with beef, cheese and onions then pour on that hot gravy.

Eggs Benny, Kinda: English muffin, ham, poached egg, gravy. It works.

Leftovers: Why fuss with all that other stuff? If you have leftover gravy, maybe you have leftover other stuff too. Pile it all onto your plate, top it with gravy and microwave till hot.
Sources:
www.cookthestory.com
www.4theloveoffoodblog.com
www.mccormick.com
www.newfileaks.wordpress.com
www.sarcasticcooking.com
www.crazedmom.com

Alice Osborne
Weekly Newsletter Contributor since 2006
Email the author! alice@dvo.com