Let's Healthify at Least 1 of America's Top 10 Favorite Foods!
A 2013 poll revealed (as reported on www.visual.ly.com that America's TOP 10 FAVORITE FOODS are:
1. Hamburgers: An average American eats three hamburgers a week
2. Hot dogs: An average American consumes more than 50 hot dogs in a year (the most are consumed on the 4th of July!)
3. French fries: An average American eats about 30 pounds of French fries in a year

4. Oreo Cookies®: 7.5 billion cookies are consumed in America each year (wonder how much of that the "Average American" is consuming?)
5. Pizza: 94% of Americans eat pizza regularly and about 3 billion pizzas are sold annually in the United States; Americans eat approximately 100 acres of pizza a day or 350 slices per second
6. Soft drinks/soda: An average American drinks at least one soda per day

7. Chicken tenders: They are rarely made from white meat and most of a tender is made of unusable chicken fat
8. Ice cream: Americans are top ice cream consumers worldwide-eating about 48 pints per person per year


9. Donuts: Americans eat over 10 billions donuts a year
10. Potato chips: North Americans consume more potato chips than people anywhere else in the world; August 23rd is National Potato Chip Day, by the way (in case you want to hold a potato chip eating party)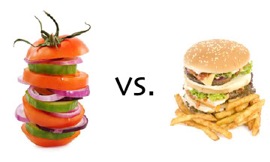 As you read this list over, are you wondering why we don't prefer fruits and vegetables instead? The Pacific Science Center in Seattle, Washington asked the same question. Their research shows that there are no surprises here-the human body craves anything made of salt, sugar, and/or fats (and that cravings start in the brain). And this
Favorites
list is made of foods that all contain excess amounts of sodium, sugar, and/or fat.
In the New York Times Sunday Magazine reporter Michael Moss wrote " The Extraordinary Science of Junk Food ," sharing his research around our "bliss point" and how food scientists and the food industry deliberately targets this bliss point in just about everything they create, using what? You guessed it-salt, sugar, and fat.
Well, I won't bore you with tedious science and scary heath data surrounding these food choices. Since there are likely a few "average Americans" reading this, the chance of my readers caring about this is slim. So instead, let's talk about an alternative to at least one of these American preferences-specifically, healthier chicken tenders.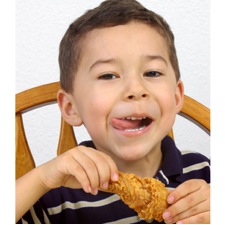 Chicken tenders just happen to be the top restaurant choice of children, too, and to cement their choice, the food industry spends more than $700 million every year marketing to children younger than 11 (fast food restaurants pushing chicken tenders, soft drinks, etc.). So looking at how to come up with a better-for-you chicken tender alternative is a good idea.
I found what's turned out to be our favorite recipe for this food in my Aunt Annie's collection of Eating Well magazines a few years ago. These crispy, Parmesan-flecked chicken tenders are super dipped in marinara sauce or in a mixture of plain yogurt with chopped fresh basil. I like to serve them with sautéed green beans and roasted sweet potato wedges.
At the time this recipe had a 4 out of 5 star rating. (I guess there'll always be a few that don't want anything but excess salt, sugar, and fat.) But if you're in the group wanting a healthified alternative to traditional chicken tenders, this might be your recipe.
PARMESAN-CRUSTED CHICKEN TENDERS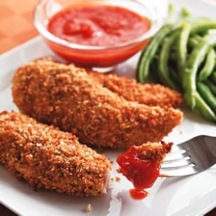 Ingredients:
olive oil

cooking spray

1/4

cup

whole wheat (or gluten-free if need be)

flour

2

large

eggs

2/3

cup

finely shredded

Parmesan cheese

1

cup

coarse dry breadcrumbs, preferably whole-wheat

1

pound

chicken

tenders

1

tablespoon

Italian seasoning

1

teaspoon

garlic powder

1/4

teaspoon

sea

salt

1

cup

marinara sauce

, heated

lemon juice

for marinating
Directions:
Marinate chicken pieces overnight (or at least a few hours) in lemon juice (in the refrigerator). When ready to prepare, preheat oven to 450°F. Place a large wire rack on a baking sheet and coat with cooking spray.

Place flour in a shallow dish. Lightly beat eggs in another shallow dish. Combine Parmesan and breadcrumbs in a third shallow dish. Toss tenders with Italian seasoning, garlic powder and salt in a medium bowl. Rinse chicken pieces free of marinade then coat each tender in flour, shaking off any excess. Dip in egg and let any excess drip off. Then roll in the breadcrumb mixture. Place the tenders on the prepared rack. Generously coat the top of each tender with cooking spray.

Bake for 10 minutes. Turn each tender over and coat with cooking spray. Continue baking until the outside is crisp and the tenders are cooked through, about 10 minutes more. Serve the tenders with marinara sauce for dipping.

Add Recipe to Cook'n
Sources:
www.headlinesciencenow.com
www.falcetti.photoshelter.com
www.ashleyleighpr.wordpress.com
www.dillypoochatter.com
www.parent24.com
www.eatingwell.com

Alice Osborne
Weekly Newsletter Contributor since 2006
Email the author! alice@dvo.com
---