Leprechaun Tricks And Treats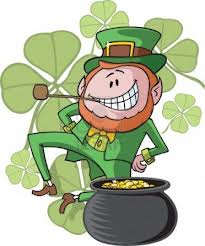 I'm not sure how many of you know, but on the night before St. Patrick's Day, leprechaun's come to our houses and play tricks and leave some treats! At least that happens at my sister's house! This fun new tradition involves trying to trap a leprechaun, because of course if you trap one he has to give you all of his gold. Leaving treats so he won't play tricks on you, and getting treats in return! I love this idea and when I have kids it's definitely something I'll be doing! Here are some ideas for you to try!
Things to do so the leprechaun won't play tricks on you:
Try building a small house for your leprechaun friend. He'll appreciate having somewhere to hang out and will be less likely to trash your house. Let your imagination run wild!
Leave little treats out for him. One article I read said that they leave out a small clover-shaped brownie, some honey and milk for the leprechaun. If you leave him a treat, maybe he'll leave you one in return!
If you're interested in trapping the leprechaun here are some ideas for you. They are pretty smart, but there are ways to catch those sneaky little creatures!
Make a trap! There are so many types of traps you can make I can't even list them all. If you google it you'll see what I mean. Personally I would go with something simple like leaving a pile of Lucky Charm marshmallows near a propped-up bowl so as soon as he goes to get them the bowl falls on top!
You could also use a super yummy treat to tempt the leprechaun. He'll get so full he'll fall asleep and you'll be able to find him in the morning! I suggest making the amazing looking chocolate bark below! It even has leprechaun bait in the title, what else could you need?
Chances are that you won't be able to stop the leprechaun from playing a few little tricks. Here are some ideas you can use to make it seem like the leprechaun was really there!
Use green paint to make little foot prints all over. Just make sure you use washable paint, my sister's porch has permanent leprechaun foot prints all over!
Stick small pieces of green felt onto windows or by the door so it looks the leprechaun got stuck while he was trying to make his escape!
Sprinkle green glitter everywhere to mark their path!
Unravel toilet paper, leave doors and cabinets open, and turn things upside-down (like framed pictures)!
Some leprechauns get brave and leave a clover-shaped kiss behind the ears of their sleeping victims!
Turn the water in the toilet green or your milk green!
Take all of the marshmallows out of the Lucky Charms cereal!
Leave little gold coins or other small treats out!
There you go—ways to prevent tricks, catch a leprechaun, and show how he really was in your house! I hope your family enjoys this tradition as much as my sister and her kids do!
As promised here is the chocolate bark (below) that can be used to help catch a leprechaun and provide your family with a yummy treat!
Sources:
http://poshedup.blogspot.com/2012/03/some-treats-from-leprechaunand-some.html
http://loveinthesuburbs.com/wordpress/st-patricks-day-festivities
http://www.makeandtakes.com/st-patricks-day-family-traditions
http://notsoidlehands.com/2014/02/saint-patricks-day-treat-leprechaun-loot-pail.html
http://fivehearthome.com/2014/02/22/leprechaun-bait-chocolate-mint-cookie-bark/
http://happyhomefairy.com/2011/03/16/leprechaun-tricks/
https://encrypted-tbn2.gstatic.com/images?q=tbn:ANd9GcR6MN7H_cNQT-i3pbyaPD44duaVl2JXzxPQ_xGh_fTwjYgeaEwi

Whitney Saupan
Weekly Newsletter Contributor since 2013
Email the author! whitney@dvo.com
---
Recipe
Leprechaun Bait ~ Chocolate Mint Cookie Bark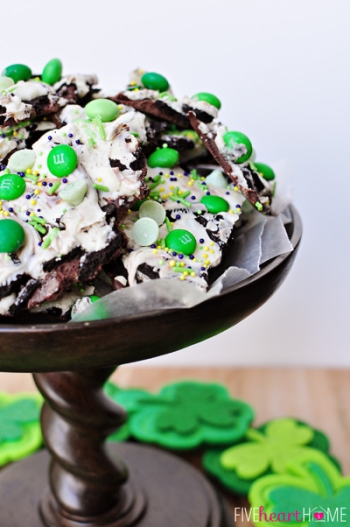 This Chocolate Mint Cookie Bark -- with its two layers of chocolate, Oreo chunks, mint chips, and mint M&Ms -- is so festive and enticing that it can even double as Leprechaun Bait!
Serving size:

7


Calories per serving:

557




Ingredients:
12 ounces

semi-sweet or

milk chocolate chips
12 ounces
white chocolate chips
2 tablespoons

vegetable shortening

(like Crisco), divided
20

chocolate sandwich cookies

(like regular or mint Oreos)
1 cup

mint chips or Andes mint bits
1 cup

green M&Ms (regular or mint)
green

colored sprinkles
Directions:
1. Line a large jellyroll pan or cookie sheet with wax paper. Roughly chop sandwich cookies into quarters.
2. Pour semi-sweet chocolate chips and 1 tablespoon shortening into a microwave-safe bowl. Microwave for 1 minute; stir chocolate well. Microwave for another 30 seconds; stir until chocolate is smooth. (If necessary, microwave in additional 15-second increments, stirring between each one, until chocolate is completely melted and smooth.)
3. Spread melted chocolate in a thin layer onto wax paper. Sprinkle with chopped cookies and mint chips (or Andes bits), pressing them down into melted chocolate in a single layer.
4. Melt white chocolate chips with 1 tablespoon shortening in a clean bowl by repeating the above process, but microwave for only 15 seconds after the initial 1 minute since white chocolate melts more quickly than regular chocolate.
5. Carefully drizzle white chocolate over cookie layer and spread in an even layer. Sprinkle with M&Ms, pressing them down into the white chocolate, and then fill in any bare areas with green sprinkles.
6. Refrigerate until chocolate is hard. Carefully break into large chunks and enjoy!
Tips, Tricks, & Variations
The shortening is added to the chocolate chips to help the chocolate harden once cooled. If you prefer, you may use dipping chocolate/candy coating instead of chocolate chips and shortening.
Source: http://fivehearthome.com/2014/02/22/leprechaun-bait-chocolate-mint-cookie-bark/

Recipe formatted with the Cook'n Recipe Software from DVO Enterprises.
Add Recipe to Cook'n