How To Serve Awesome Asparagus Like A Pro!
Are you noticing that fresh asparagus is showing up in our grocery stores now? It's one of the first signs of hope that spring is truly around the corner. It's a popular vegetable, but sadly, it's often mis-cooked.
Too much of the time asparagus shows up mushy and bland. It was with this tendency in mind that I went looking for unusual ways to serve it and specific tips on how to serve it. Read on in case there's something you didn't know about this healthy and delectable vegetable.
First, we're all familiar with lightly steamed or oven-roasted asparagus topped with melted butter and roasted slivered almonds. Several professional chefs said they like to drizzle browned butter over their asparagus. Browned butter? Yes, it makes dishes extra delicious. Solid butter is actually an emulsion of water and fat, with milk protein solids suspended inside. As it melts, the water evaporates and the milk solids are exposed to heat and start to turn brown.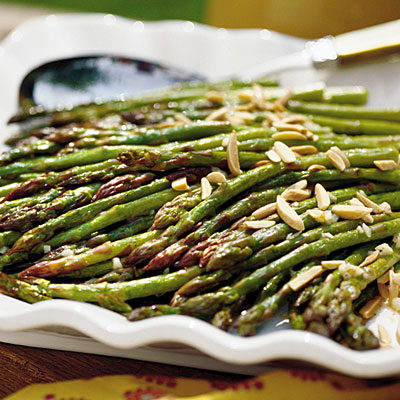 Sometimes called beurre noisette (which translates literally to hazelnut butter and is so named because it smells like hazelnuts and has a similar nutty color), brown butter has all the great qualities of regular butter, plus a nutty, toasted flavor that makes baked goods and sauces taste that much richer. And, it is a pretty brown color. Basically, it is excellent.
The hitch, though, is that it can burn quickly. So here's how to make perfectly browned butter and avoid the burning:
1 Cut a stick of butter into tablespoon-sized pieces.





2 Next, place butter in a light-colored saucepan, then melt over medium heat. According to the folks on buzzfeed.com, you need a light-colored pan because being able to see the color of your butter is VERY important. If your pan has a dark bottom, you won't be able to see how light or dark your butter is.
3 As the butter melts, stir it constantly. Constant stirring ensures that it melts evenly, and that all the butter is melted before any of the milk solids start to brown.





4 About 30 seconds after your butter is entirely melted, it will start to bubble and foam. This is good, and part of the process. This is all of the water evaporating out of the butter fat as it gets hot. Just keep stirring.

Now that your butter is melted and the water is evaporating out, the milk protein solids will start to cook—it's just like any other kind of frying; put a solid in hot oil and it will cook and brown, but leave it in too long and it will burn—and you want to keep them moving so they brown evenly. Otherwise, some of the solids will burn before others even have a chance to brown.

As the foam begins to subside, keep stirring and keep a really close eye on the color of your butter. It will start to turn a light brown. That is EXACTLY what you want. Also, your whole kitchen will smell really delicious at this point, like toasted hazelnuts.





5 QUICK! When your butter is a shade lighter than you think it should be, give it a final stir or swirl, turn off your heat and GET THE BUTTER OUT OF THE PAN. Butter will continue to brown when you take it off the heat, and perfect brown butter can turn into burnt butter in seconds.
6 Pour the browned butter into a heatproof container and give yourself a very well-deserved pat on the back. You can either use the browned butter right away, or store it in the refrigerator for later. Refrigerated, it'll keep for up to 2 weeks.





O.K., moving on from topping asparagus with browned butter, what else can we do? How about bacon-wrapped asparagus stalks-grilled or baked, it's your choice. For baked, preheat your oven to 400°F and wrap three or four asparagus spears with a strip of bacon, leaving the asparagus ends and tips exposed. Lay spears on a foil-lined baking sheet, shiny side down. Then sprinkle a mixture (to taste) of salt, pepper, garlic powder, onion powder, and paprika over the spears. Bake for 20-25 minutes or until bacon is well cooked. (George Bryant, author of Civilized Caveman Cooking, www.civlizedcavemancooking.com is who we thank for this super idea!)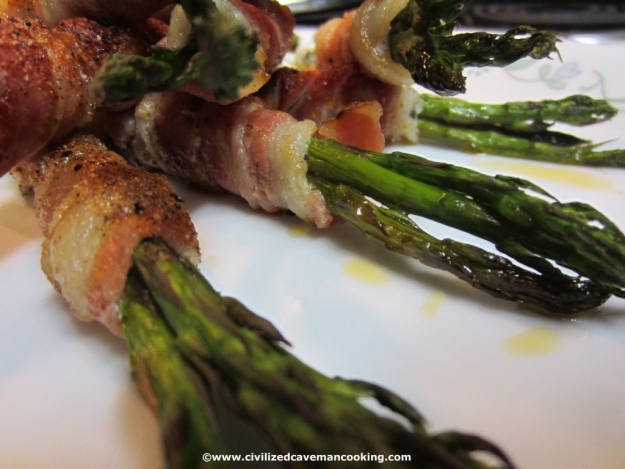 And then there's Lemon Orzo Salad-a favorite. Orzo, pasta that is similar to rice in shape, but a little thicker and larger, pairs really well with vegetables. I found this about three years ago on the site "Two Peas and Their Pod," and the creator/author, Maria, had this to say about this salad: "This salad is simple and fresh. I loved the crunchy asparagus with the tender, lemony orzo. The spinach added additional green goodness too. Make this salad for a light lunch or serve it as a side dish to any spring meal. You will be amazed by how easy it is to make and how delicious it is to eat."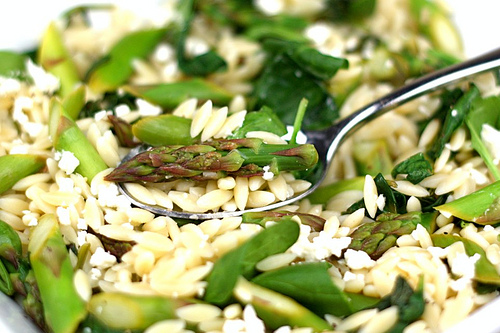 She's so right. Here's what you do: In a medium saucepan cook the orzo in about 4 cups of salted water; stir and cook about 10 minutes or until the pasta is tender. In another saucepan saut' about 8 asparagus spears, cut in 1-inch pieces, in some olive oil. Add about a cup of fresh baby spinach and continue stirring. Keep cooking until asparagus is tender and spinach is wilted. Place the pasta in a nice serving bowl, add the veggies, and squeeze the juice of one lemon over it all. Toss lightly. Then top with about 1/3 cup of feta cheese and season to taste with salt and pepper. That's all there is to it.
As we get deeper into asparagus season, be sure to try these three ideas—no more mis-cooking of this awesome vegetable!
Sources:
www.southernliving.com
www.budgetbytes.com
www.youtube.com
www.thekitchn.com
www.civilizedcavemancooking.com
www.twopeasandtheirpod.com

Alice Osborne
Weekly Newsletter Contributor since 2006
Email the author! alice@dvo.com