Pictures For The Palate
Green food everywhere. The milk has gone green, the waffles are green, even the eggs have gone green. Sounds like something out of a horror movie, or just an unused kitchen. But wait, everything is okay! It's just St. Patrick's Day!
Growing up, probably like many of you, I always had green food on St. Patrick's Day. I loved it! (If you didn't, still keep reading.) It was so fun! I thought I'd put together a few ideas that you could do if you want to keep the tradition going or start your own. It could literally be an all day thing, from breakfast to lunch to dinner.
Green may not be the most appetizing color, but it sure is fun!
NOTE TO THE QUEASY: I did try to throw in a few ideas for those who get no pleasure from dyeing their food green. My husband is a big believer in "If food isn't normally green, it shouldn't be eaten". I love him and see where he's coming from. I want him to be happy so I'm going to try to compromise this year—there are plenty of naturally green foods to try and to use. I love to be festive, so there are a few ideas in here for the whole family. (Whether they like fake greenery or not.)
BREAKFAST
Green Pancakes, Green Waffles, Green milk in cold cereal, Green Oatmeal
A very quick way to brighten everyone's day.
Garnished Biscuits and Gravy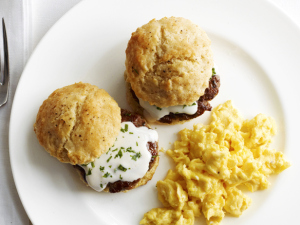 If the green idea is unappealing to you, just garnish your food with green. Shake some parsley or thyme on to your biscuits and gravy. People will appreciate the festivity. (But, if you're feeling up to it, you can dye the biscuits and the gravy green.)
LUNCH
Cucumber Shamrock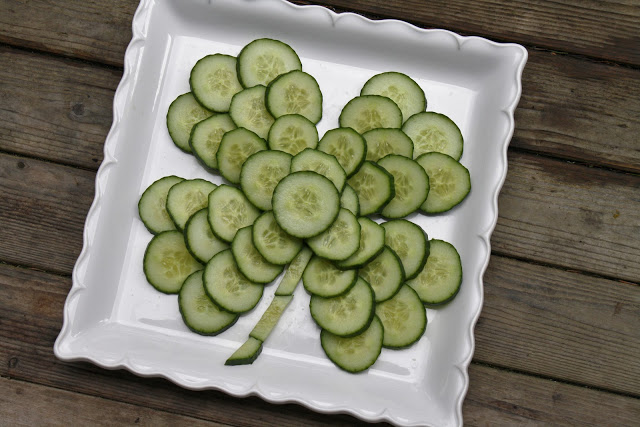 This is a pretty and fun way to eat your cucumbers! Set out a ranch dip colored with green food coloring or green goddess dressing.
SNACK
Green Smoothie
These are one of the latest fads. Doesn't just have to be kiwi, either. Make a strawberry banana smoothie with some kale for the green color and extra nutrients.
Fruits and Veggies
Kiwi, apples, celery, peas, etc. Green growth is endless!
DINNER
Green Pasta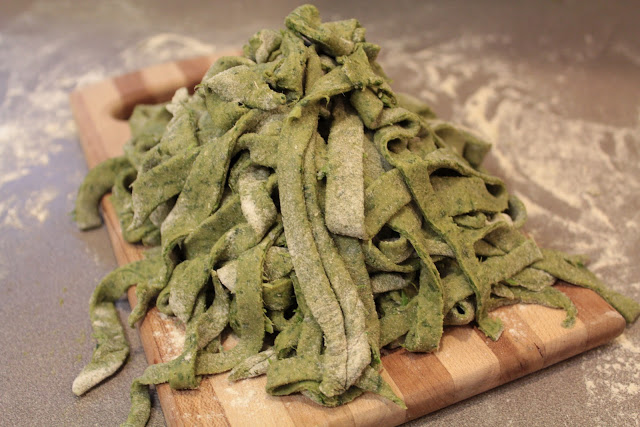 Once again, if the green food coloring idea is grossing you out, and you don't want green Alfredo pasta sauce, just have Alfredo with green noodles instead!
Salad and Green Goddess dressing
Everyone can keep their appetite with this simple side dish. Top the salad with cucumbers, green peppers, celery, and anything else green.
DESSERT
Mint Chocolate Ice Cream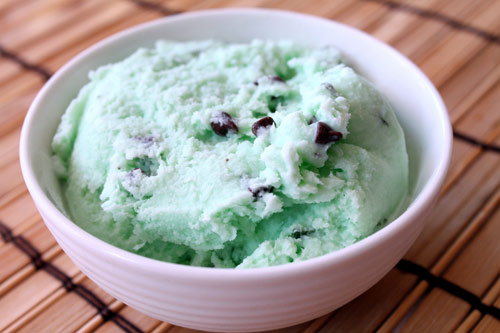 If you're busy, don't worry about it. There are store-bought green foods (even besides those veggies). Buy some mint chocolate ice cream to add that green to the day.
Mint Chocolate Chip Cookies!
Or better yet, try mint-chocolate chip cookies! This is a better way to use that green coloring, because it seems more natural that a mint food is green. (see recipe below!)
Sources:
http://www.bettycrocker.com/recipes/mint-chocolate-chip-cookies/22bebeda-ea36-441a-9909-ae78409d6da6
http://mpcasavant.files.wordpress.com/2013/04/bobby-flay-biscuits-and-gravy.jpg?w=300&h=225
http://3.bp.blogspot.com/-b7VhtHPgqCM/T1Zqf4dfMeI/AAAAAAAAEcE/kQ6YBaASfoE/s640/005.JPG
http://1.bp.blogspot.com/-go3vCdf6by0/T2S0jS6U55I/AAAAAAAACrU/veLp-CrMA6g/s640/IMG_4215.JPG
http://www.simplecomfortfood.com/wp-content/uploads/2010/05/mint-chocolate-chip.jpg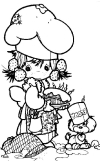 Sydney Hill
Weekly Newsletter Contributor since 2012
Email the author! sydney@dvo.com
---
Recipe
Mint Chocolate Chip Cookies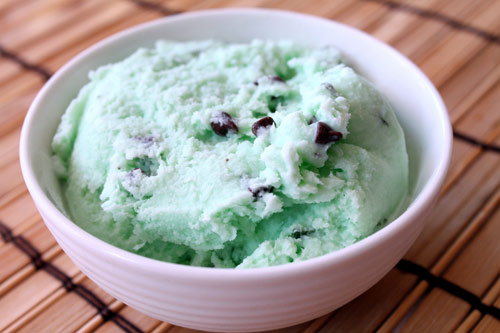 Serving size:

36


Calories per serving:

11




Ingredients:
1 pouch

(1 lb 1.5 oz) betty crocker® sugar cookie

mix
1/2 cup

butter or

margarine

, softened
teaspoon mint extract
6

drops green

food colors
1
egg
1 cup

creme de menthe baking chips
1 cup

semisweet

chocolate

chunks
Directions:
1
Heat oven to 350°F. In large bowl, stir cookie mix, butter, extract, food color and egg until soft dough forms. Stir in creme de menthe baking chips and chocolate chunks.
2
Using small cookie scoop or teaspoon, drop dough 2 inches apart on ungreased cookie sheet.
3
Bake 8 to 10 minutes or until set. Cool 3 minutes; remove from cookie sheet to wire rack. Serve warm or cool completely. Store tightly covered at room temperature.
Source: http://www.bettycrocker.com/recipes/mint-chocolate-chip-cookies/22bebeda-ea36-441a-9909-ae78409d6da6?src=SH

Recipe formatted with the Cook'n Recipe Software from DVO Enterprises.
Add Recipe to Cook'n