Here's What You Need to Know
If You're Thinking of Investing In a Stand Mixer!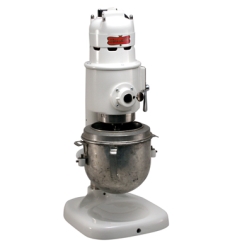 Did you know that KitchenAid debuted its first stand mixer in 1919? About ten years later Sunbeam came up with a more affordable rival, the Mixmaster. And about seven years after that KitchenAid introduced a smaller, less expensive design that hasn't been substantially tinkered with since.
As cost for stand mixers has dropped over the years, the appeal of stand mixers has grown, and today it's pretty much a standard fixture in most kitchens. At least that's what an article in my latest Cook's Illustrated said. So maybe I'm one of the few left that doesn't have this appliance on her kitchen counter? Dunno. I have been thinking seriously about purchasing one, though, but deciding which one to buy has never been more complicated.
This article on stand mixers in Cook's Illustrated sorted through all the complication for me. America's Test Kitchen (the folks that produce Cook's Illustrated) tested several stand mixers that all promised to knead, whip, and mix with even more ease and efficiency than earlier models of stand mixers.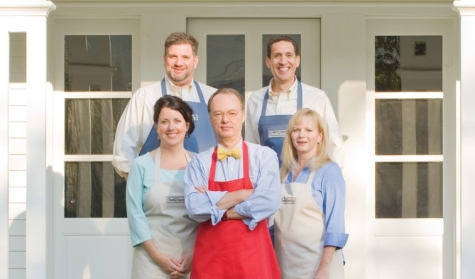 Improvements in today's new versions range from bigger bowl capacities and more horsepower to timers with automatic shutoff and easy-to-use splash guards. One thing the Test Kitchen experts wanted to know, also, was if all that bling did anything to improve functionality.
To find out, they ordered nine models, priced from nearly $230 to a jaw-dropping $849 (3 KitchenAid models, 2 Cuisinart models, a Waring, a Vollrath, a Bosch, and a Breville). Right away they noticed a wide difference in design of attachments. They assumed that one particular design within each category (whips, paddles, dough hooks, etc.) would prove to be the best. But as they put each model through a battery of tests, they noticed that the relationship between the attachment and the bowl usually mattered more than the design of the attachment itself.
Their last round of evaluations singled out a clear-cut winner: the KitchenAid Professional 600 Series 6-Quart Bowl-Lift Stand Mixer (pictured below). The runner-up was Cuisinart 5.5 Quart Stand Mixer. What made these two models stand out was their ability to perform a range of core tasks-to muscle through stiff bread dough as confidently as they beat egg whites.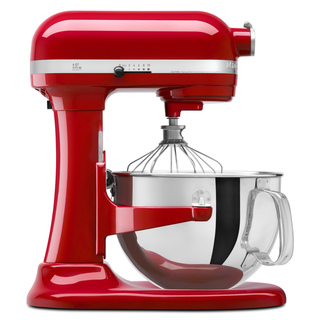 I'll conclude with why the cost-conservative Test Kitchen pros preferred the KitchenAid Pro Line Series 7-Quart Bowl Lift Stand Mixer (even at its hefty price of $549.95).
Powerful Engine: plenty of torque that could knead double batches of pizza dough and stiff bagel dough without a whimper.
Heavyweight Build: its 27 pounds kept it anchored to the counter—no walking away!
Perfect Paddle: a frame of open Y-shaped branches could thoroughly incorporate ingredients without trapping them in tight crevices. Think no waste of ingredients and ease of cleaning!
Wide-Armed Whip: the outer layer of the 22 tines are bent at nearly right angles, enabling them to reach food near the bowl's sides and bottom.
Cranking Feature: this is a super perk if your mixer lives under low cabinets because the bowl is accessed by cranking it up and down rather than by tilting the mixer's entire head up and down.
Broad Bowl, Big Handle: the wide, shallow bowl keeps contents with easy reach of attachments. Its long vertical handle provides plenty of leverage and control for pouring.
Splash On, Splash Off: the easiest of all splash guards to use. Unlike most guards, its C-shape allows it to slide on just as easily as it slips off—instant access to the bowl is a great feature.
A quick look at the above-mentioned accessories: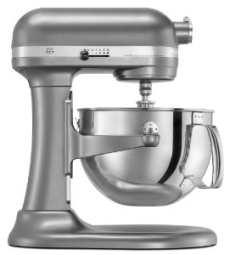 The Test Kitchen cooks concluded with this advice: "The best mixer is one that's intuitive to set up, use, and clean. So if you do a lot of heavy-duty baking [and I'll add, 'If you have family members that like to bake'] then you'll want to save up for the KitchenAid Pro Line because it meets this criteria. It's a stand mixer whose range of ability and durability make it truly worthy of investment." And my added thought: This model goes on sale frequently and it can be found for around $499 regularly at overstock.com and on amazon.com.
---
Sources:
www.bucksta.com
www.digindigin.com
www.overstock.com
www.kitchen.net
---


Alice Osborne
Weekly Newsletter Contributer since 2006