Spooktacular Halloween Treats!
Halloween comes but once a year. It's a time where kids and adults can play dress-up and nobody can say anything. It's the season of haunted houses, corn mazes, and spook alleys! It's also a great time for hosting spooky, fun Halloween parties. If you're like me and are a little too old to go trick-or-treating or don't like candy (but really who doesn't like candy?), hosting a Halloween-themed party is a great idea. There are so many awesome Halloween-themed recipes out there it can be hard to know what you want to make. I have selected a few to help you get started with your creepy menu! The recipes are yummy and frightfully fun! I can't wait to have them at my next spooktacular party!
---
Scaredy Crackers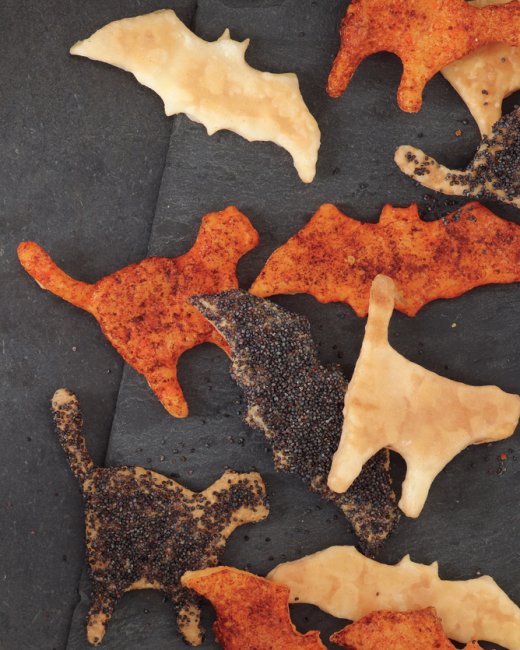 Don't be fooled by the name! These crackers are anything but scary. They can be whipped up in a jiffy and in any shape you desire, like pumpkins, ghosts or any other spooky thing you can think of. I personally like the bat and cat shapes used in this particular recipe. Your guests are sure to love dipping these fun crackers in any dip!
Yield:
Makes about 12
Serving size:

6


Calories per serving:

37




Ingredients:
1/4 cup

grated

Parmesan cheese
2 teaspoons
paprika
all-purpose

flour

, for work surface
1 sheet

frozen puff pastry
2 tablespoons
heavy cream
3 tablespoons
poppy seeds
Directions:
Preheat oven to 425 degrees. Combine Parmesan and paprika. On a floured surface, roll out puff pastry 1/8 inch thick and lightly brush with cream. Sprinkle Parmesan-paprika on one-third of the pastry, then sprinkle poppy seeds over another third (leave remaining third plain). With cookie cutters, cut out cat and bat shapes (or cut into 1 1/2-inch squares).
Transfer to a parchment-lined rimmed baking sheet, then cover with more parchment and another baking sheet (this will keep pastry from puffing). Bake until golden, 12 to 15 minutes. Remove top sheet and parchment and let crackers cool completely on sheet on a wire rack.

Recipe formatted with the Cook'n Recipe Software from DVO Enterprises.
---
Bat Wings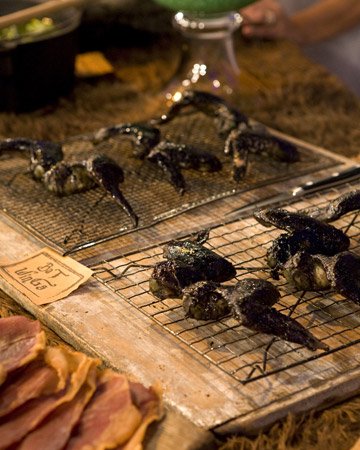 Chicken wings are a classic party food, but they aren't very creepy. The recipe below transforms chicken wings into bat wings. They look so realistic some of your guests might actually think they are eating bat! Yum!
Serving size:

10


Calories per serving:

47




Ingredients:
1 cup
soy sauce
1/4 cup

plus 2 tablespoons oyster sauce
1/4 cup
light brown sugar
1/4 cup

black beans

sauce
1 teaspoon

black paste

food coloring
20

large whole

chicken wings

with tips
Directions:
In a medium bowl, whisk together soy sauce, oyster sauce, sugar, black bean sauce, and food coloring. Set 1/3 cup soy sauce mixture aside.
Place chicken wings in a large resealable plastic bag and pour remaining soy sauce mixture over wings; seal bag. Turn bag until wings are well coated. Refrigerate, and let marinate for at least 2 hours and up to overnight, turning chicken wings every 30 minutes to coat.
Preheat oven to 375 degrees. Line 2 baking sheets with parchment paper or a non-stick baking mat; set aside.
Remove wings from marinade, shaking off any excess; discard marinade. Place them in an even layer on prepared baking sheets, arranging them so that wings are extended. Bake until juices run clear, 20 to 25 minutes, brushing with reserved soy sauce mixture every 10 minutes. Remove from oven and brush with any remaining soy sauce mixture. Let cool slightly on a wire rack before serving.

Recipe formatted with the Cook'n Recipe Software from DVO Enterprises.
---
Spooky Fingers
Not only is this recipe tasty, the spooky fingers make great decorations in a cup or lying around! It's also extremely to make. All you need is some chocolate, pretzels and pumpkin seeds. This might be the easiest spooky appetizer you make!
Yield:
1 dozen
Serving size:

6


Calories per serving:

216




Ingredients:
8 ounces

white chocolate

, chopped
20

pretzel rods
20

pepitas (pumpkin seeds)
Directions:
Line cookie sheet with waxed paper. Place chocolate in large microwave-safe bowl. Microwave on high in 30-second increments until almost melted, stirring occasionally until smooth.
Holding 1 pretzel rod at a time over melted chocolate, spoon some chocolate over pretzel to coat, leaving about 3 inches uncoated at one end. Carefully place on prepared cookie sheet. Immediately press 1 pepita onto coated tip to resemble fingernail. Repeat with remaining ingredients. Refrigerate 15 minutes to set chocolate. Fingers can be kept at room temperature in airtight container up to 2 weeks.

Recipe formatted with the Cook'n Recipe Software from DVO Enterprises.
---
Spinach Ricotta Skulls Recipe
Do your Halloween party guests have a more refined palate? If so I'm sure they will die for these skulls made out spinach and ricotta. You can serve these tasty skulls on top of any cracker, piece of hard bread or anything you'd like!

You'd never guess these tiny green skulls are actually quite wholesome for a Halloween party. They are cut from a baked custard of spinach, basil, and ricotta cheese, then arranged on crisp wafer crackers. A black cardstock "coffin" makes a fitting bed for the skeletal snacks.
Yield:
3 dozen
Serving size:

12


Calories per serving:

280




Ingredients:
1 (15-ounce) container

part-skim

ricotta cheese
olive oil,

cooking spray
1 bunch

fresh

spinach

(or a 10-ounce bag), stems removed, washed well and dried
1 1/2 cups

loosely packed fresh

basil

leaves (from 1 bunch)
1/4 teaspoon

fresh grated

nutmeg
coarse salt and fresh ground

pepper
2

large whole

eggs

, plus 1 egg white
crackers, for serving
Directions:
Wrap ricotta tightly in cheesecloth; place in a colander over a large bowl. Place a heavy object (such as a bowl or canned good) on top; let drain in the refrigerator at least 3 hours (or up to overnight).
Preheat oven to 350 degrees. Coat a 10-inch springform pan with cooking spray. In a food processor, combine drained ricotta, spinach, basil, nutmeg, 1 teaspoon salt, and 1/4 teaspoon pepper. Process until smooth, about 1 minute, scraping sides of bowl as needed. Add whole eggs and egg white; process for 5 seconds. Pour mixture into prepared pan; bake until set and just brown around the edges, 30 to 35 minutes. Let cool completely on a wire rack, then refrigerate, covered, until cold, preferably overnight. To unmold, run a paring knife around edge before removing side of pan.
Cut into quarters. Using a wide spatula, transfer to a cutting board coated with cooking spray. Cut out shapes with a skull-shaped cookie cutter coated with spray (if cutter doesn't come with eyes and a mouth, use aspic cutters to make features). Using a cotton swab, gently press skulls out directly onto crackers (leave eye and nose shapes in cutter).
Cook's Note: Be sure spinach is completely dry. Frozen spinach can be substituted for fresh: cook, drain, and press excess moisture from a colander.

Recipe formatted with the Cook'n Recipe Software from DVO Enterprises.
---
Chocolate Mice
No party is complete without at least one sweet treat. Just because it's Halloween doesn't mean you have to serve candy. Instead serve these delicious and cute chocolate mice!

These icky-cute mice feature three kinds of chocolate: semi-sweet in the creamy, cakey center and white and bittersweet in the crisp chocolate shell.
Yield:
3 dozen
Serving size:

12


Calories per serving:

139




Ingredients:
3 ounces

cream cheese

, softened
2 tablespoons

unsalted

butter

, softened
1 cup
confectioners' sugar
3.5 ounces

semi-sweet

chocolate

, melted and cooled
2

(9 inches each) round baked

chocolate

cake layers, warmed
4 ounces

white chocolate

, chopped
7 ounces

extra-bittersweet

chocolate

, chopped
1/2 cup

toasted

pumpkin

seeds
12

black

licorice

whips, cut into 3-inch lengths
Directions:
In a large bowl, beat the cream cheese with the butter, 1/2 cup of the confectioners' sugar and the melted chocolate. Crumble 1 1/2 of the warm cake layers into the bowl and beat at low speed until incorporated. Roll level tablespoons of the mixture into 3 dozen ovals, tapering one end to shape the nose. Arrange the mice on a wax paper-lined baking sheet; press a toothpick into the tail end of each. Refrigerate until firm, 30 minutes.
Meanwhile, preheat the oven to 275 degrees F. Crumble the remaining 1/2 cake layer and spread on a rimmed baking sheet. Bake for 30 minutes, stirring frequently, until almost dry. Very finely crush the crumbs.
In a microwave-safe bowl, heat the white and extra-bittersweet chocolate together on high power until three-quarters melted. Stir the chocolates until completely melted and cooled to 90 degrees F on an instant-read thermometer. Working quickly, and using the toothpick as a handle, dip the mice into the chocolate to coat; let any excess drip back into the bowl. Roll the mice in the cake crumbs and press 2 pumpkin seeds into the heads of each mouse to make ears. Refrigerate until firm, about 20 minutes.
In a bowl, combine the remaining 1/2 cup of sugar with water to make a stiff glaze. Transfer to a small plastic bag and snip off a tiny corner from one end. Pipe eyes on the mouse. Remove the toothpicks and insert a licorice whip into each indentation for the tails.
Make Ahead: The chocolate mice can be refrigerated for 4 days.

Recipe formatted with the Cook'n Recipe Software from DVO Enterprises.
---
Shrunken Heads in Cider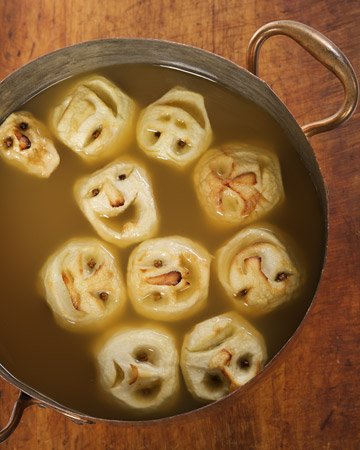 What could be creepier than going to the punch bowl and finding shrunken heads staring back at you? This yummy cider is also a great way to warm everybody up on a cold evening. There are two ways to make this treat, first without rum, if you don't drink or are having an all ages party, or with rum if you are having a more adult party. Either way it's sure to provide refreshment and chills!
Serving size:

30


Calories per serving:

128




Ingredients:
2 cups
lemon juice
2 tablespoons

coarse

salt
8

large Granny Smith

apples
32

whole

cloves
2 gallons
apple cider
2 (12-ounce) cans

frozen lemonade concentrate

, thawed
2 cups

spiced

rum

(optional)
Directions:
Preheat oven to 250 degrees. Line a baking sheet with parchment paper; set aside. In a medium bowl, mix together lemon juice and salt; set aside.
Peel apples and cut each in half through the stem; remove seeds and core. Using a sharp paring knife, carve a face, as desired, on the rounded side of each apple half. Place apples in lemon mixture for one minute; transfer to paper towels to drain.
Place apples, face-side up on prepared baking sheet and transfer to oven. Let bake until apples are dry and begin to brown around the edges, about 90 minutes. Remove apples from baking sheets and press cloves into the "eye" sockets.
Combine cider, lemonade, and rum (if using) in a large punchbowl; float shrunken heads on top.

Recipe formatted with the Cook'n Recipe Software from DVO Enterprises.
---
Sources:
http://www.marthastewart.com/933545/scaredy-crackers?czone=holiday%2Fhalloween-center%2Fhalloween-center desserts&gallery=923430&slide=933545&center=276965
http://www.marthastewart.com/314476/spinach-ricotta-skulls?czone=holiday%2Fhalloween-center%2Fhalloween-center-desserts&gallery=275177&slide=314476&center=276965
http://www.delish.com/recipefinder/spooky-fingers-recipe-ghk1012
http://www.delish.com/recipefinder/chocolate-mice-recipe-fw1011
http://www.marthastewart.com/317697/shrunken-heads-in-cider?czone=holiday%2Fhalloween-center%2Fhalloween-center-desserts&gallery=275515&slide=317697&center=276965
http://www.marthastewart.com/317690/bat-wings?czone=holiday/halloween-center/halloween-center-desserts&gallery=275177&slide=317690&center=276965
---